6 Ways to Absolutely Kill Halloween in Las Vegas
You're planning Halloween in Las Vegas. Halloween in Las Vegas! That phrase may even bear repeating a third time. Because you're headed for the biggest party night of the year in the biggest party city.
Halloween is on a Monday this year. So you might find yourself worrying if that means you'll need to curb your fun. Nope. Not in Sin City. There's no better place to do Halloween, no matter the day of the week. Whether you're looking for gory, spooky, scary, sexy, or all of the above (even at the same time), you'll find it on Halloween in Las Vegas.
And we'd suggest that you look at Halloween on a Monday night as a gift. Have you sized up that weekend yet? You get Friday night, Saturday night, Sunday night, and Monday night. That's four nights in a row of non-stop Halloween parties to choose from and get in on – plus the days!
Come along with us. We're laying down where to go, so you'll know how to…
Kill Halloween in Las Vegas at…
Wynnderland
Are you an Alice in Wonderland fan? What about Alice in Wonderland with a modern Halloween twist? That's what Wynnderland by Wynn Social promises for its Halloween 2016 extravaganza. So, Alice fans are in luck!
Each of Wynn Social's venues will be decorated differently, but all as variations on this wonderfully mad theme. Watch the teaser here, and see if that doesn't make you want to fall down the rabbit hole for mysticisms galore!
Diplo headlines Halloween night at XS Nightclub, offering up a special Wynnderland edition of his branded Mad Decent Mondays. For a Halloween night with Marshmello, head to Surrender Nightclub, where you can also vie for $10,000 in cash prizes for the sexiest costume.
If you're looking for a more traditional Halloween spooktacular, but with more scares than you can imagine, try…
Fright Dome
The Travel Channel has called it "one of the most extreme haunted houses in the world." And that's because Fright Dome at Circus Circus is the crowning achievement from the mind of hauntrepreneur Jason Egan.
The Dome is right on The Las Vegas Strip and it's open all Halloween weekend. So there's no reason that you can't get your fill of live-action haunted houses, scare zones, macabre entertainment, and spooky surprises around every corner.
Last we heard, they were looking for some very scary people to make this year's Halloween the best one yet. Your time at this Las Vegas Halloween favorite will come home with you, we're sure – if only because it'll surely haunt your dreams.
Wishing for an even more haunting Halloween? Itching to adventure past The Strip? Las Vegas delivers. How about…
Freakling Bros Horror Shows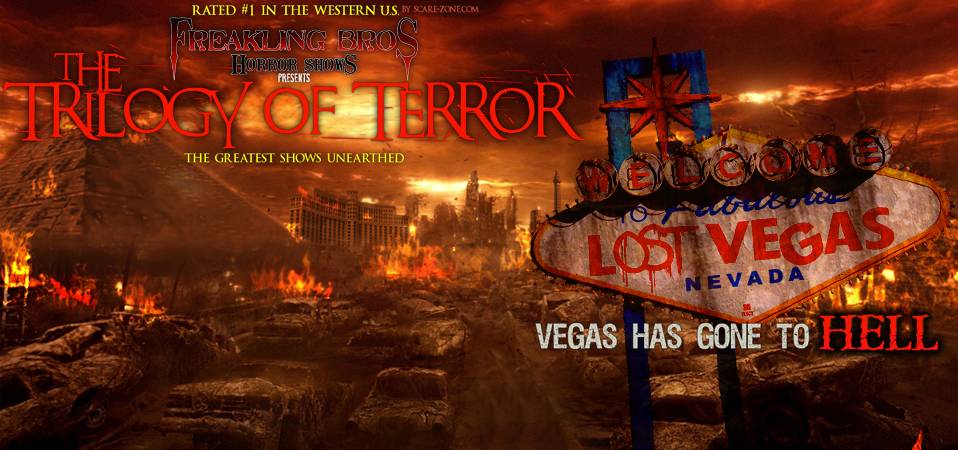 This Trilogy of Terror is like no other. But don't just take our word for it. Reviews are in.
No, really, it's Nevada's only R-rated attraction. And what's a trip to Las Vegas without a good show?
With 24 years of experience, a commitment to theatrics, and a focus on primal fears, The Freakling Bros aren't considered some of the best in this business for no good reason. They're experts at scaring adults.
Open late all Halloween weekend long, the bros are practically begging you to pick your haunted house poison: Gates of Hell (R-rated, so no one under 17 is admitted), Castle Vampyre, Coven of 13, or all three.
Maybe your poison is a night at the club. After all, you did choose Las Vegas. In that case, may we suggest…
The Balls
Join the wildest Halloween party in town: the annual Fetish & Fantasy Ball at The Hard Rock Hotel's The Joint, which goes down on October 29 this year. Costumes are required. But we didn't need to tell you that, did we? What's Halloween without a costume?
On Halloween night, slip on over to Light Nightclub at Mandalay Bay on The Strip for the Forbidden Ball featuring Disclosure. You'll have a ball alright!
Craving something sweet? Then you must must must get to…
Bellagio Patisserie
The world-renowned Bellagio Patisserie (former Jean Philippe Patisserie) serves up some of the most delicious Halloween treats you'll find anywhere. Per tradition, the shop has transformed itself into a Halloween land of skeletons, zombies, and Jack O' Lanterns – so there's some spooktacular eye candy to go along with your tasty Halloween-themed treat. And, really, what's Halloween without candy?
Bringing the family along? You should plan on…
LINQ Promenade Halloween Celebration
For five days (October 27-31), the promenade will be decked out for Halloween. Expect family-friendly music, face painting, stilt walkers, and Zombie drumlines. There's even the chance for your little monsters to Triq or Treat.
Worried you'll be bored, parents? Never fear. The costume capital offers up another Halloween costume contest for those over 21. Better get a costume together, or you're giving up a chance to win $10,000.
Plus, The Zombie Escape (open from October 8, Wednesday through Sunday 7 pm to 12 am) hosts a special celebration to close out the festivities on Halloween night. If you like The Walking Dead, just consider this your best night ever.
Plan your Las Vegas Halloween Getaway
Want to match your Halloween extravaganza with some rest and relaxation?
Get to Las Vegas early (as in, before Halloween weekend starts). Or, stay in Las Vegas a few days into November. Fall is a wonderful time to be in Las Vegas, and on either side of Halloween, you're guaranteed a more laid-back time on The Strip.
You don't have to spend everything you have to extend your trip, either. Sure, Las Vegas has a reputation for burning a hole in a wallet. But if you know where to go and what to do, it really doesn't have to.
Is this your first time? We've got you covered. Read up on our Las Vegas do's and don'ts and common travel mistakes to avoid before you head off for your Halloween jaunt in Las Vegas.
Need help planning your trip? Got a Las Vegas question? Want to stay up to date on all things Las Vegas? Reach out, and let us guide you to the best Vegas deals.