Awakening at Wynn: Why You Should See This Las Vegas Show
Las Vegas isn't just Sin City; it's also the platform for the biggest productions. Among which is this year's innovation in theatrical entertainment, Awakening.
The state-of-the-art stage and sound technology, coupled with glamorous costumes and puppetry, are only a few things that make the show worthwhile. Read on to learn why Awakening at Wynn should be on your to-do list this year!
Witness a Well-Written Magical Plot Coming to Life
Las Vegas is home to glamorous Las Vegas shows featuring elaborate plots. However, Awakening differs from typical Las Vegas production through its mythical but humane storyline.
The show tells the story of IO and her fellow travelers as they work to restore love and beauty in the world. The performance also shows how the heroine works to reunite the Darkness and Light.
The magnificent plot written by DeConnick is further emphasized with different dance performances. Serene moves strategically to elevate calm scenes. Meanwhile, excitement or anger is best expressed with modern hip-hop.
Suffice it to say, Awakening presents remarkable characters in stunning settings. You'll want to keep watching IO's tenancy, Boos' clever tricks, and the humane gods of light and darkness. Even more, the show is family-friendly, and it's suitable for audiences as early as five years old.
The "A" Team
Aside from a superb story plot, Awakening at Wynn is a product of three theatrical geniuses. The lucrative production started with Awakening producer and director Halpin.
Baz Halpin is the master behind stadium and arena tours of big stars. This includes Cher, Harry Styles, Katy Perry, Usher, and Taylor Swift.
Also, its executive producer Bernie Yurman is responsible for the record-breaking Siegfried & Roy's 25-year engagement at The Mirage. Yurman epitomizes theatrical brilliance as demonstrated by his musical On Your Feet.
Completing the A team is Emmy Award-winning character creator and designer Micheal Curry. Curry worked with top companies such as Disney, staging large-scale productions worldwide. Some of his most notable works include The Lion King on Broadway.
As a bonus, Academy Award-winning actor Anthony Hopkins narrates the spectacle these bona fides created. Harnessing the talent of an outstanding creative team, Awakening promises to be an adventure you'll love.
A Theater Like No Other
Watching the Awakening is like hitting two birds with one stone.
On one hand, you can witness a spectacular ensemble. On the other hand, you get to visit the heart of a world-class resort and casino, Wynn Las Vegas. More specifically, you'll enter the realms of a theatrical extravaganza, the 360-degree theater.
Wynn was once the venue for the aquatic show Le Rêve. The venue received a total makeover custom-made for Awakening. The theater now features a 60-foot dichroic glass stage and giant LED screens.
The audience can now enjoy an intimate theatrical play with the new stage design. There is no right or left wing in Wynn. Instead, all seats have an optimal view of the show. This allows the audience to become immersed in the whirlpool realms in Awakening.
If you desire an upgraded evening at Wynne Theater, Awakening offers a VIP package. The package includes champagne and desserts, a personal host, and a souvenir program.
Meanwhile, an Elite-level package includes a premium menu, a dedicated server and program, and a VIP Circle seat. You'll also receive a deck of playing cards and a commemorative tote. Best of all, you'll meet the show's cast for a souvenir photograph.
The Staggering Puppetry
Another sight to see in Awakening is Curry's large-scale puppets and animated figures. So keep your eyes peeled for puppet-like characters interwoven into the story. Standouts include a whale used in the Water realm scene and the phoenix rising from the ashes in the Fire world.
These standouts blend in, creating a well-crafted illusion to keep audiences guessing. Also, watch out for ingenious props that appear and disappear at pivotal moments. Yup, the 75-minute production goes beyond imaginable.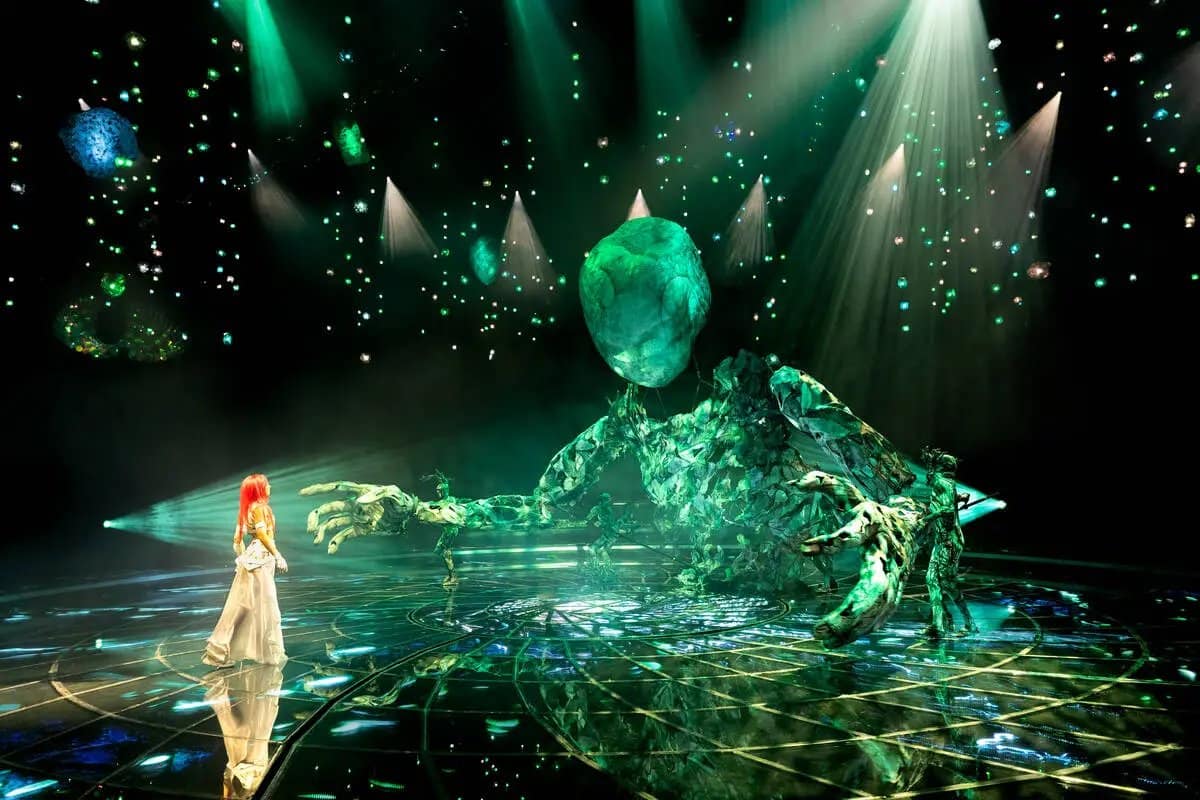 The Sound and Music
Aside from dramatic choreographies, Awakening will feature an original score by Brian Tyler. Composer Tyler worked on over 100 films, including Avengers: Age of Ultron.
This time around, he created another masterpiece. Each song lucratively expresses the emotions and characters of the cast. The score features an innovative mixture of hip-hop, electronic, and dancehall genres. Best of all, it gave each actor an authentic moment which helped enrich the story's unraveling.
To improve audio quality, Awakening employed the 3D sound system designed by Hylenski. As with the visual aspects of the performance, the sound will envelop the audience.
All the 1,6000 seats come with two mounter speakers. This way, the music moves forward and backward like a natural sound wave.
The Costumes
Awakening embodies the fun, colorful, and exuberant performance clothing Las Vegas is best known for. Designed by Soyon An, Awakening showcases more than 300 haute-couture-inspired costumes.
For instance, the stunning avant-garde black-and-white outfits during Darkness' ball. Also imbued in the designs of the costumes are the intricate details of the background. For example, An created a whimsical aquatic adventure look using under-the-sea motifs such as tentacles to illustrate the Water realm.
If you enjoy Haute fashion or like all things lavish, Awakening is a must-watch!
Convenient Location
As a tourist, you'd want to avoid the heavy traffic or the inconveniences of commuting after a night out. However, when you spend a night watching Awakening, you won't have to go far if you want to retire early. A few steps outside the 360 theater are many bedroom suites of your dreams.
Wynn's rooms feature residential touches like rare artwork and canopy beds. It's the perfect setting to end your Las Vegas awakening.
Witness Grandeur in Las Vegas: Awakening at Wynn
In the Awakening at Wynn, everything there is worth your attention. None of the elements of the play can be easily described as "ordinary."
Every piece element was custom-made for the show. Hence, a huge kudos to the Awakening team for presenting an original spectacle that uses 21st-century technology to bring its audience into a new world.
Already dying to watch the ensemble but anxious about being able to get the show tickets? Then, put your trust in Las Vegas Jaunt!
You don't need to be a local to go to the best shows and tours and get the best hotel deals in Las Vegas. With us by your side, discounted Las Vegas show tickets are a click away. So check out our Awakening Deals & Discounts before you book your ticket!