The Best Cirque du Soleil Shows in Las Vegas
Las Vegas has always been the ultimate destination for fun-filled nights and whirlwinds of endless activities. The Strip is now known for its incredible performances, which all started with Cirque du Soleil.
From the streets of Montreal, Canada, Gilles Ste-Croix and Guy Laliberté took their troupe of circus street performers on the road. What emerged was the international sensation called Cirque du Soleil. These shows take a modern spin on the timeless love of the circus. Innovative and imaginative, Cirque du Soleil continues to push the boundaries on classical performances.
You may be thinking, why are there so many shows? Aren't they all the same? The answer is no! While Cirque du Soleil shows all embrace the acrobatic grandeur of a modern-day circus, the shows are utterly dazzling in their own right. They range from sensual adults-only shows to family-friendly epic tales of adventure.
But isn't it just a circus? Hardly. You will find no animals. Cirque du Soleil cast members are highly-trained athletes who go to extreme lengths to perform dangerous stunts every night. Cirque du Soleil boasts a theater attendance of over 9,000 people per night! Check out one of the shows to see why this circus act continues to top the charts!
Where Can You Find Cirque du Soleil Las Vegas Discount Tickets?
Where can you find tickets to a Cirque du Soleil show? Las Vegas is known for its incredible performances, but they can be pricey. Cirque du Soleil tickets range from $49 to over $200. Everyone wants a deal, and we can offer discount tickets for the shows you love! Please take advantage of our special offers and promo codes. We can save you up to 50% on your favorite Cirque du Soleil performance!
The Top 5 Best Cirque du Soleil Shows
Which show should you see? We recommend you see them all! However, some shows might not be suitable for all audiences. Read on to find out more about our top 6 best Cirque du Soleil shows in Las Vegas to choose the right performance for you!
1. Michael Jackson ONE
Truly excellent performances, this show combines the best music hits from the King of Pop with incredible visual acrobatics. The sound quality will blow you away as the tunes are blasted on a state-of-the-art surround sound system. The "Thriller" performance includes an unforgettable trampoline act! You'll be dancing in your seat.
Did we mention the killer light show? It's one of a kind! Head over to Mandalay Bay to dance and sing along and celebrate this music icon's legacy.
Check out our Michael Jackson One deals & discount tickets page!
2. O
Celebrate the beauty of the ocean and all its magnificence with this incredible show that takes place underwater. Breathtakingly beautiful, swimmers dive and dance through a sizeable reflective pool full of 1.5 million gallons of water. There is even a moment when performers drop 60 feet into a pool of water!
This show appeals to theater lovers and is genuinely an unparalleled performance. There is nothing else like this on earth! O is performing twice a day at the Bellagio.
Check out our O deals & discount tickets page!
3. Beatles LOVE
All you need is love, love! Enjoy this family-friendly celebration of the Beatles as dancers and acrobats groove to your favorite tunes. Take a trip back in time to the 1960s, full of psychedelic scenery, a classic Volkswagen Beetle, and historical flashbacks of the Vietnam War.
LOVE is full of bright and dazzling costumes, and the acrobatics are impressive. You can sit back, relax, and enjoy the show in a comfy seat in the innovative round theater. Also, visit the gift shop to purchase all your favorite Beatles merchandise! LOVE is playing at the Mirage. See why this show won three Grammys!
Check out our Beatles Love deals & discount tickets page!
4. Mystere
This traditionally classic performance represents the elegance of the Cirque du Soleil shows. This show is incredibly popular and always sells out; moreover, it was the first permanent Cirque du Soleil show and had been running since 1993. It lacks a plotline and is more of just a visionary masterpiece of circus acts.
There is something for everyone–magic tricks, comedy, acrobats, and gymnastics. Where else can you see a snail that grows throughout the show and an adult-sized baby? You will be laughing and smiling throughout the entire show! Visit Treasure Island to watch this exhilarating performance.
Check out our Mystere deals & discount tickets page!
5. Ka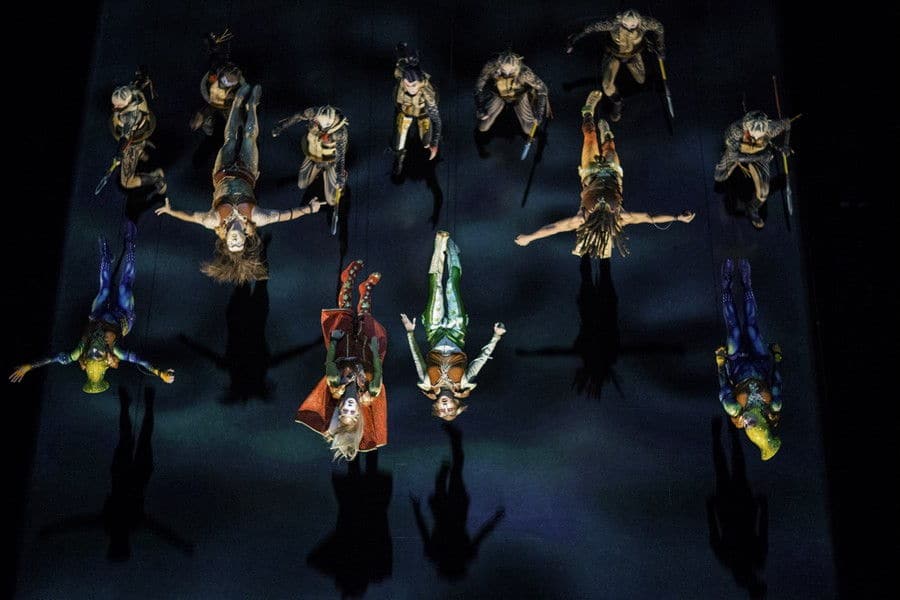 Ready to jump into an epic adventure that includes a shipwreck and dunes? Visit the MGM Grand for the magnificence of Ka, suitable for all ages. Ka is like watching the best experience play out on an epically colossal stage that rotates and spins vertical and upright. There is a definite storyline to follow (think the classic tale of good vs. evil), and children will be hooked from the start.
You will be mesmerized as the stages swap and spin mid-battle as tribes fight in combat. You will love the drama and grandeur and the intense fight scenes. Ka is family-friendly and resembles watching an action-adventure movie but in real life!
Check out our KA deals & discount tickets page!
Final Thoughts
Las Vegas is the center of entertainment, and Cirque du Soleil lives up to the hype! Round out your Vegas adventures with one of the above performances, and you are sure to have the time of your life. Leave the mundane realm of this reality behind you as you embrace one of the fanciful Cirque du Soleil shows. Get lost in the imaginative beauty and extravagant dreams that only the circus can conjure up.
What happens in Vegas stays in Vegas–except you'll be wanting to tell all your friends about your Cirque du Soleil experience!