Dive into the Best Pool Parties in Las Vegas for Summer 2023 | Day and Night 
As the scorching summer sun embraces the city, there's no better way to beat the heat and revel in the vibrant atmosphere than by indulging in the ultimate pool party experience. Join us as we dive into the best day and night Las Vegas pool parties for Summer 2023, where you can soak up the sun, dance to electrifying beats, and create unforgettable memories. From legendary venues to luxurious settings, Las Vegas offers an unparalleled pool party scene that will leave you yearning for more.
Best Daytime Pool Parties In Las Vegas
Encore Beach Club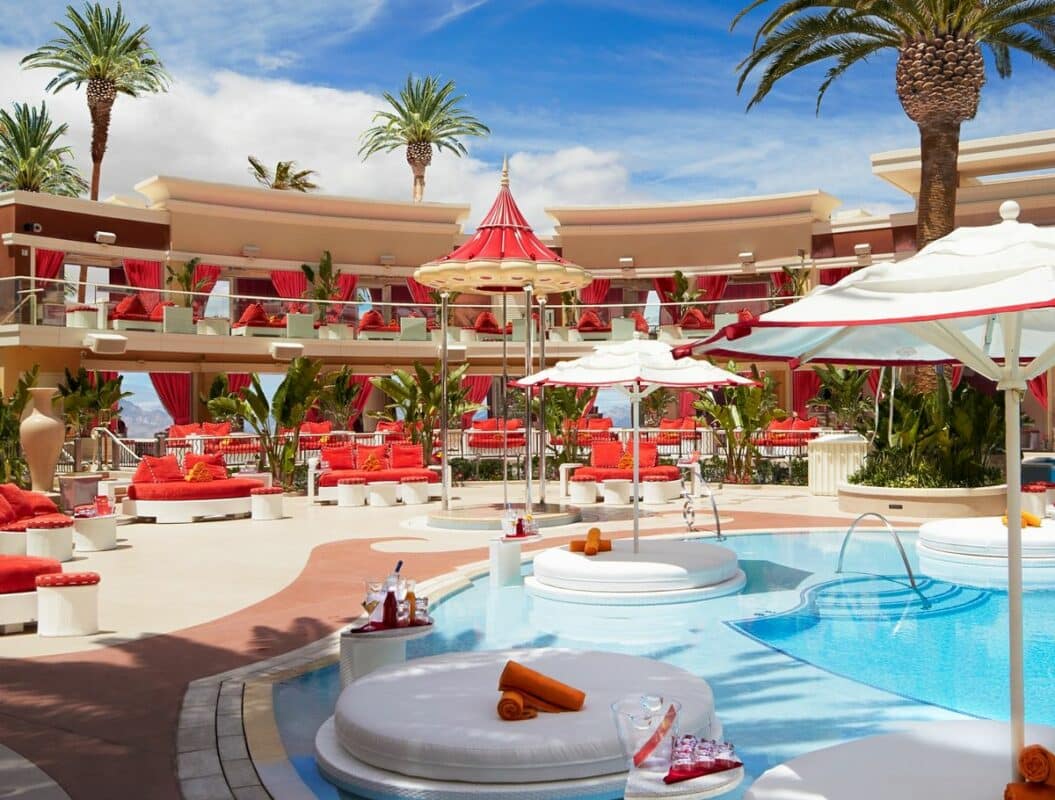 Our first stop on the pool party extravaganza is none other than the illustrious Encore Beach Club, situated at the magnificent Wynn Las Vegas. With its prime location providing a stunning view of the iconic Las Vegas Strip, this renowned party haven has established itself as a must-visit destination. Picture yourself lounging beside a pristine pool, sipping on refreshing cocktails while world-class DJs set the stage ablaze with their exhilarating beats. The vibrant atmosphere, complete with stylish cabanas and a lively dance floor, guarantees a luxurious and unforgettable experience. Get ready to immerse yourself in the pulsating energy of Encore Beach Club at Wynn Las Vegas.
15% Off Room Rates At Wynn Las Vegas
Wet Republic
Next on our list is the ever-enticing Wet Republic, located at the prestigious MGM Grand. Known for its wild parties and star-studded guest list, this pool party hotspot offers an unrivaled experience for those seeking excitement and glamor. Dive into the vibrant waters of multiple pools, sip on delicious libations from the swim-up bar, and let your inhibitions dissolve on the expansive dance floor. Wet Republic's lineup of top-tier DJs will keep you moving to the beat, ensuring that every moment is a memorable one. Prepare for a whirlwind of thrilling moments and celebrity sightings at this legendary Las Vegas pool party.
See exclusive promotions at The MGM Grand Las Vegas
Drai's Beachclub
Drai's Beachclub at the sophisticated Cromwell is the perfect choice for those seeking a more upscale and exclusive ambiance. Elevating the pool party experience to new heights, Drai's Beachclub offers a VIP area complete with lavish bottle service and an air of refinement. Immerse yourself in the elegant surroundings as you revel in the sounds of renowned DJs, indulge in signature cocktails, and mingle with like-minded party enthusiasts. With a picturesque pool, a swim-up bar, and a spacious dance floor, Drai's Beachclub promises a sublime fusion of luxury and excitement that will leave you yearning for more.
Browse Hotel Deals At The Cromwell Las Vegas
Daylight Beach Club
Situated at the magnificent Mandalay Bay, Daylight Beach Club is a vibrant and dynamic pool party destination that will ignite your senses. With its sprawling outdoor space and energetic atmosphere, this venue is the epitome of daytime revelry. Dive into the sparkling pool, relax on luxurious daybeds, and soak up the sun as world-class DJs take the stage, creating an unforgettable soundtrack for your summer adventures. Daylight Beach Club is the perfect blend of high-energy entertainment and laid-back vibes, making it a must-visit spot for pool party enthusiasts.
See Exclusive Mandalay Bay Offers
Marquee Day Club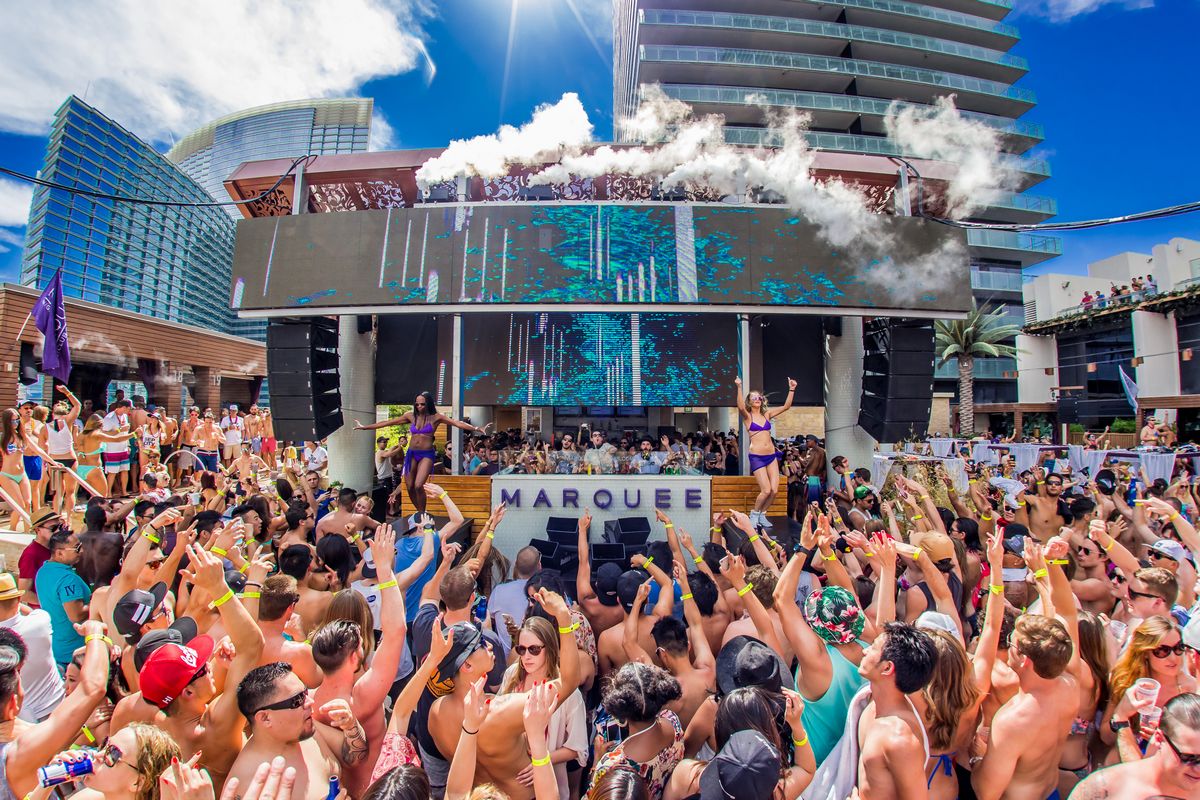 Nestled within the glamorous confines of The Cosmopolitan, Marquee Day Club is a pool party paradise that exudes sophistication and excitement. This rooftop oasis offers stunning views of the Las Vegas Strip, creating a breathtaking and awe-inspiring backdrop. Immerse yourself in the lively atmosphere as you unwind by the pool, sip on handcrafted cocktails, and enjoy the pulsating beats delivered by world-renowned DJs. With its stylish decor, expansive dance floor, and poolside gaming area, Marquee Day Club sets the stage for an unforgettable pool party experience where luxury meets electrifying energy.
Hotel Promotions At The Cosmopolitan of Las Vegas
Tao Beach
Situated at The Venetian, Tao Beach presents a captivating blend of Eastern-inspired tranquility and Vegas-style revelry. Step into a world where lush greenery, soothing water features, and Asian-inspired architecture create a serene and exotic escape from the city's hustle and bustle. Lounge on plush daybeds, take a dip in the refreshing pool, and savor delicious cuisine from the poolside restaurant. Tao Beach also boasts a lively dance floor where guests can let loose and groove to the beats of top DJs. Whether you seek relaxation or vibrant celebration, Tao Beach offers an enchanting setting that caters to every desire.
20% Off Room Rates At The Venetian
Liquid Pool
Located within the iconic ARIA Resort & Casino, Liquid Pool offers a sophisticated and intimate oasis amidst the bustling Las Vegas Strip. This boutique-style pool party destination provides a more relaxed and refined atmosphere, perfect for those seeking a respite from the city's vibrant energy. Indulge in a day of leisure as you lounge by the pool, sip on handcrafted cocktails, and enjoy personalized service from attentive staff. With its chic setting, tranquil ambiance, and stylish cabanas, Liquid Pool invites you to unwind and luxuriate in a poolside haven like no other.
See Hotel Deals & Promotions at The Aria Las Vegas
Ayu Dayclub
As Resorts World Las Vegas introduces a fresh wave of entertainment, Ayu Dayclub emerges as a cutting-edge addition to the pool party scene. Combining state-of-the-art technology, world-class performances, and an immersive atmosphere, Ayu Dayclub offers an experience that pushes the boundaries of traditional pool parties. Lose yourself in the innovative visual displays, dance to the beats of top DJs, and enjoy the stunning views from the resort's rooftop setting. Ayu Dayclub is a testament to Las Vegas' commitment to delivering extraordinary experiences, ensuring your summer adventures reach new heights.
Browse Resorts World Las Vegas Hotel Deals
Best Las Vegas Night Swim Parties
Drenched After Dark | Marquee Nightclub
Step into a world where the lines between poolside paradise and pulsating nightclub blur. Drenched After Dark at Marquee Nightclub, located in The Cosmopolitan, is the ultimate after-hours pool party experience, catering to those who seek excitement long after the sun sets. As the moon rises, the pool transforms into a vibrant dance floor, enveloped in an enchanting ambiance and fueled by high-energy beats. Let the pulsating music, stunning visuals, and electrifying atmosphere take you on a journey into the heart of Las Vegas' vibrant nightlife. Drenched After Dark is where poolside revelry meets the thrill of a nocturnal adventure.
Book Discounted Room Rates At The Cosmopolitan Now
TAO Beach Evening Tide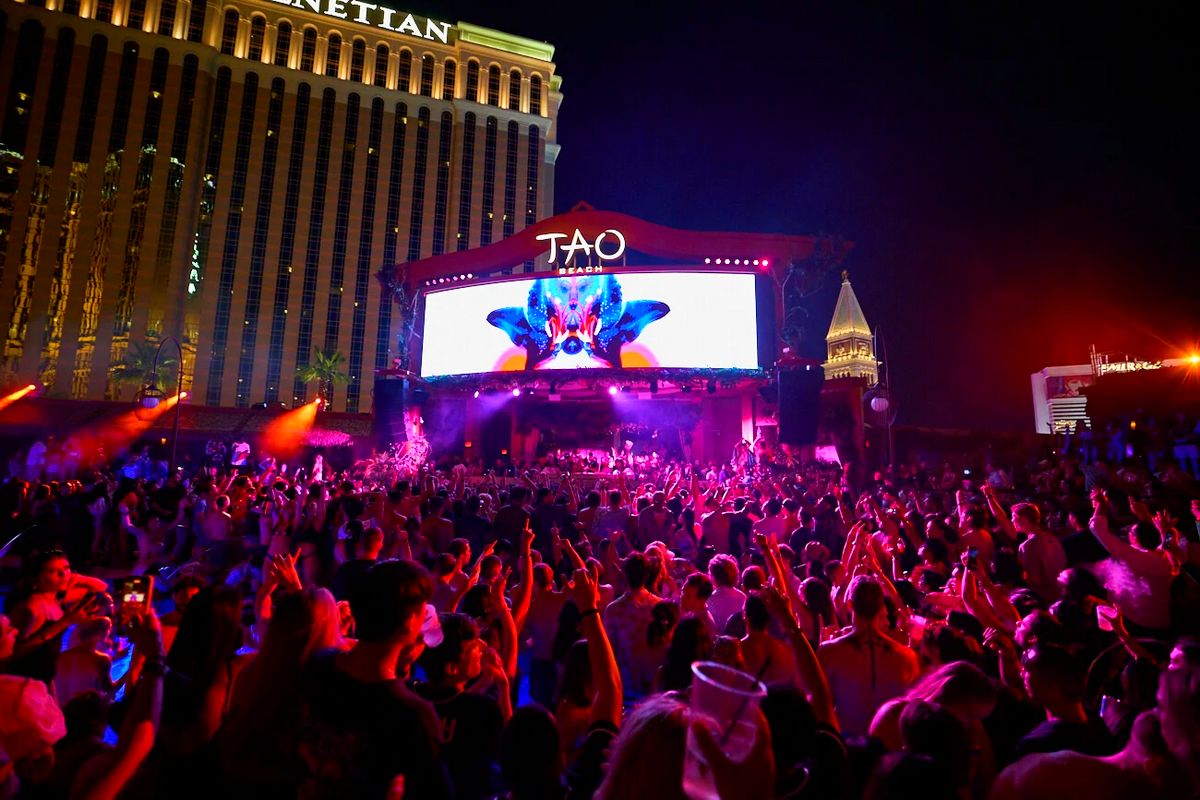 Experience the epitome of after-hours pool party extravagance at TAO Beach Evening Tide, nestled within The Venetian. As the sun sets, TAO Beach transforms into a captivating oasis where luxury meets nightlife. Immerse yourself in the enchanting ambiance, lounge by the pool, and indulge in handcrafted cocktails as renowned DJs spin electrifying beats. TAO Beach Evening Tide offers an irresistible fusion of sophistication, pulsating music, and an alluring atmosphere, creating an unforgettable evening of poolside bliss. Take advantage of this extraordinary nightlife adventure in Las Vegas. Book exclusive deals and packages through Las Vegas Jaunt for an unrivaled experience at TAO Beach Evening Tide.
Save Big On Room Rates At The Venetian
Encore Beach Club at Night
Discover the enchanting allure of Encore Beach Club at Night, where the splendor of the pool extends into the moonlit hours. Immerse yourself in the breathtaking beauty of our nighttime pool, where the captivating ambiance comes alive under the stars. EBC at Night, located at The Wynn Las Vegas, is a fusion of the aquatic delights you'd expect from a day club and the exhilaration and entertainment of the evening. Indulge in the dynamic combination of refreshing waters, vibrant beats, and a high-energy atmosphere that will ignite your senses.
XS Nightswim
XS Nightswim in the Wynn Las Vegas is a unique nocturnal extravaganza. When the sun sets, they transform the pool into a mesmerizing wonderland, illuminated by vibrant lights and pulsating with energy. Immerse yourself in the electrifying atmosphere as you dance the night away to the beats of world-renowned DJs. XS Nightswim offers a captivating fusion of luxury, nightlife, and aquatic revelry, creating an unforgettable experience that will leave you breathless.
15% Off Room Rates At Wynn Las Vegas
Find The Best Pool Parties in Las Vegas
As we conclude our journey through the best pool parties in Las Vegas for Summer 2023, we invite you to dive right into the exhilarating world of sun-soaked revelry, pulsating beats, and unforgettable Vegas memories. Las Vegas is not just a city; it's a playground of limitless possibilities. And what better way to experience the vibrant energy of this iconic destination than by indulging in the ultimate pool party experience?
Here At Las Vegas Jaunt, It's More Than Just Las Vegas Pool Parties..
At Las Vegas Jaunt, we are dedicated to curating extraordinary experiences for our travelers. With our exclusive hotel promotions and offers, we strive to make your Las Vegas adventure a seamless and unforgettable one. Book your Las Vegas stay today and get ready to embark on a journey of luxury, excitement, and unparalleled entertainment. Las Vegas awaits, and the pool parties of Summer 2023 are calling your name.