Your Guide to the Best Sushi in Las Vegas
There are plenty of temptations in Las Vegas. This jewel of the desert offers anything you might be craving. And after a long day or night of glamorous shows and blackjack, you're sure to have worked up an appetite for your favorite cuisine.
Believe it or not, Las Vegas not only boasts world-class entertainment, it's also home to some of the finest sushi restaurants found anywhere in the world. Let's take a closer look at a few places where you can indulge in the best sushi in Las Vegas.
Your Guide To The Best Sushi In Las Vegas
Do you have a hankering for some sushi? If you're craving hits during your trip to Vegas, no worries. Sin City is teaming with top sushi dining options. Each of them puts a unique twist on the Japanese delicacy you can't get enough of.
Tao at Venetian
Location: Venetian Resort & Casino
This place isn't just a trendy dinner spot, it's a must-see for anyone wanting an unapologetic Las Vegas experience. The menu includes Japanese, Thai, and Chinese dishes, as well as an amazing selection of Asian-inspired cocktails.
Tao is part beach club and part nightlife paradise. The sushi list will blow your mind, and you'll want to eat to your heart's desire before getting into line for the nightclub.
Sushisamba In the Grand Canal Shoppes at The Venetian
Location: Venetian Resort & Casino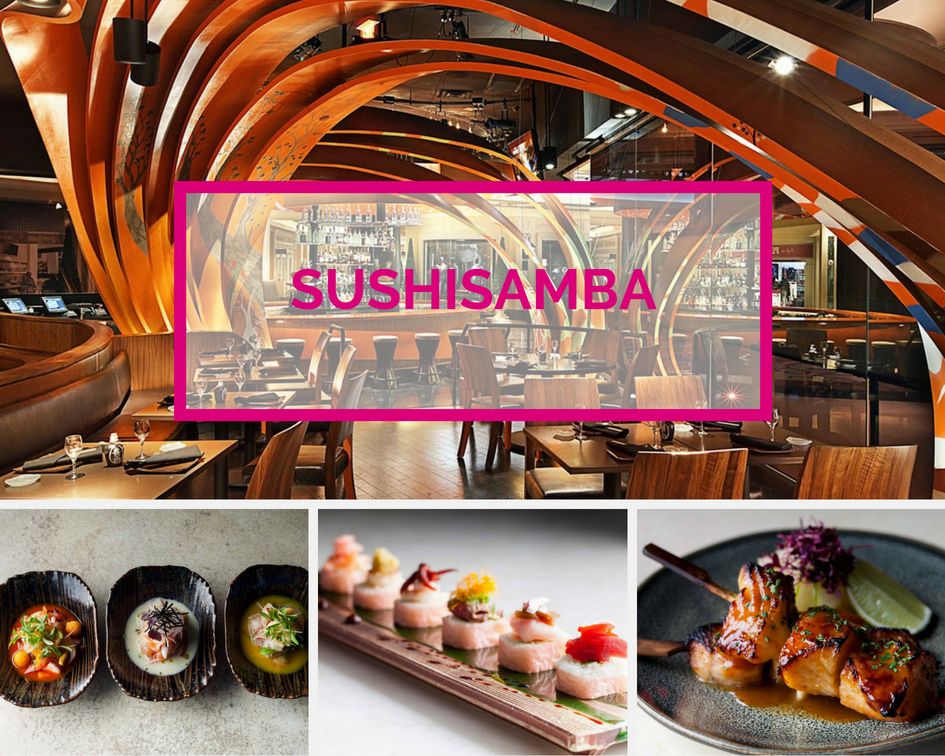 Nothing in Sushisamba resembles your run-of-the-mill California roll.
These dishes take inspiration from Japanese and Peruvian culinary traditions. Everything on the menu is a flavorful adventure, especially the Amazonia, with its Portobello mushrooms, collard greens, and wasabi-onion soy sauce.
Kumi at Mandalay Bay
Location: Mandalay Bay Resort & Casino
Come prepared to be spoiled by Michelin-awarded Chef Akira Back.
This is modern Japanese food with a Korean-American flare. Best experienced family-style, we suggest starting with an appetizer like the Kobe beef tacos or tuna tatami. Next on the menu, of course, is the sushi. Among the favorites is the hot mess roll, with crab, sashimi poke, Screaming O Sauce, and avocado.
Nobu Restaurant Caesars Palace
Location: Caesars Palace Hotel & Casino
This is the largest Nobu in the world, as well as the first in a hotel. This Las Vegas jewel boasts a number of decadent menu choices. You'll definitely want to indulge in the truffle tasting experience, along with the imported A5 Japanese Wagyu prepared for you on teppanyaki tables.
Other dishes you won't want to miss out on include the Japanese snapper with dry miso, yellowtail with jalapeno, and rock shrimp tempura with creamy spicy sauce.
Kame
Location: 7331 W Lake Mead Blvd
This is a reservation-only restaurant that offers in-season dishes and live seafood. Chef Eric Kim offers delicacies such as kamashida tuna from Spain, uni from Hokkaido, kurasumi from Taiwan, and live sea conch.
Sushi Roku at the Forum Shops at Caesars Palace
Location: Caesars Palace Hotel & Casino
If you'd like to enjoy an amazing view while indulging in some of the finest sushi in Las Vegas, the dining room at Sushi Roku boats amazing views of the Vegas Strip.
And speaking of amazing, the sushi dishes themselves look like works of art. In fact they are so gorgeous it's almost a shame to eat them. Our recommendations include the master chef's signature style sushi.
Katsuya by Starck at SLS Las Vegas
Location: SLS Hotel & Casino
This is one of several locations around the world and is the creation of interior designer Philippe Starck and master sushi chef Katsuya Uechi. Though the focal point at Katsuya is the sushi, the menu includes Wagyu steaks, seafood yakisoba, and miso-marinated black cod.
Yonaka Modern Japanese
Location: 4983 W Flamingo Rd, Suite A
Having been open for only a few short years, Yonaka has already developed a reputation for innovative modern Japanese dishes. Most of their seafood is flown in from Japan, a fact that is reflected in the high quality of their menu items.
They offer both cool and hot plates, with a selection of sushi and sashimi for diners to choose from. Yonaka has a distinctive style, with innovative dishes including fried duck and tea brined ribs, along with Spicy Savory Donuts as an appetizer.
Wazuzu at Encore at Wynn Las Vegas
Location: Wynn Resort & Casino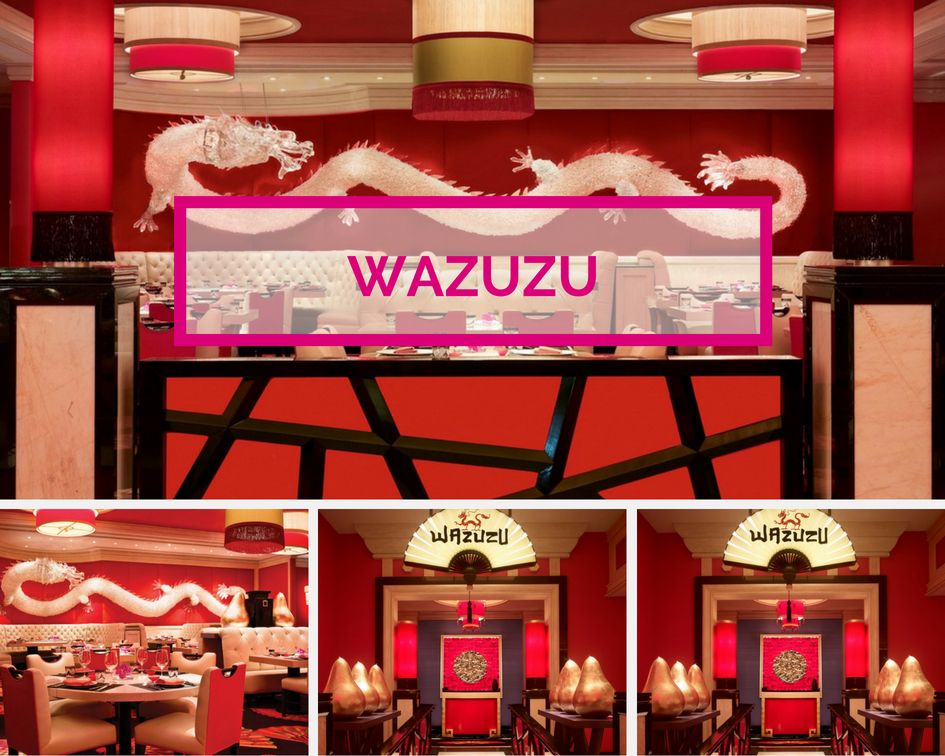 Chef Matsu has created something truly phenomenal at Wazuzu. Both the Wazuzu Roll and Hamachi Chili rise to the top of the list of menu items that rank second to none.
Some of their sushi pieces are not cheap but this is some of the best sushi in Vegas and a dining experience that will leave a truly lasting impression.
MOzen Bistro
Location: Mandarin Oriental Hotel
MOzen is an all-day bistro located at the Mandarin Oriental and is a top choice for Las Vegas sushi. They offer a delightful sushi bar with such treats as the tempura shrimp spicy tuna roll. We also recommend the eel banana roll with deep-fried shallots and cream cheese, and the Mandarin octopus roll with scallions and olive aioli.
If you plan to extend your stay in Vegas for the entire weekend, MOzen's Sunday brunch sushi bar is full of tantalizing treats you will not want to miss.
A World of Sushi to Explore
These are our selections for some of the best sushi in Las Vegas, but we encourage you to explore the city for yourself. If you love sushi as much as we do, you might be tempted to try them all.
Everyone enjoys something different, and Las Vegas has a multitude of great choices for every taste. Take your time, explore, and discover amazing dining experiences that will bring you back year after year.
Click here to see 10 Las Vegas travel tips everyone should know.