Celebrating New Year's Eve Along the Las Vegas Strip!
If you didn't think it was possible for Las Vegas to kick it up a notch or two, then consider spending this New Year's Eve on the Strip. Here you will find a celebration like no other, as you join over 300,000 people bringing in 2016 with all the excitement you can imagine. The city closes down the entire Strip to traffic on this evening, resulting in a four-mile block party where partygoers and even celebrities join in on the fun.
What To Expect
Starting around 6:00 pm, the Strip becomes one big pedestrian mall, from Mandalay Bay all the way to the Stratosphere. Naturally, people dress in an array of crazy hats and costumes but one thing to keep in mind: IT WILL BE FREEZING! Temperatures can get down to the low 30's, and if there is a breeze, it will feel even colder. Another good piece of advice, make sure to wear comfortable shoes if you plan on walking along Las Vegas Boulevard. Due to the number of people, no one will be staring at your shoes, so there is no need to dress up, unless of course you plan on going to the nightclubs, an upscale restaurant or show. If you have New Year's reservations when the Strip is closed to automobiles (this includes cabs!), plan your travel needs accordingly and well in advance. The only public transportation allowed along the four-mile stretch is the Monorail, but be prepared for crowds.
Keep in mind that this holiday brings a host of inconveniences to this town that truly never sleeps at night, especially on New Years Eve. This means long lines and long waits for everything from transportation, restaurants, even for elevators in the hotel. Most travelers though, expect this sort of thing and chalk it up to the experience of spending New Year's Eve in Las Vegas. However, when traveling with a large group, it is best to be vigilant as this is the perfect time for pickpocketing. Don't bring anything of value, nor large amounts of cash if you are out on New Year's Eve, especially if you will be on the Strip.
Because this is a peak time to travel to Las Vegas, be prepared to spend more money as prices increase during this holiday. Everything from food, drinks, hotels, shows and entertainment are more expensive at New Year's. If you are going on a strict budget and looking for deals, this may not be the time to visit.
Depending on the number of people, most, if not all of the hotels along the Strip close their doors at 11:00 pm and reopen around 12:30 am. Why? Crowd control. Therefore it's necessary to plan bathroom breaks according to those who have celebrated on the Strip in prior years.
Midnight!
When the clock strikes midnight on the Strip, all you need to do is look up to see a magnificent eight-minute firework show. This year, fireworks will be shot from seven different hotels along the Strip and synchronized to music. The hotels are:
ARIA Resort & Casino
MGM Grand Hotel & Casino
Planet Hollywood
Caesar's Palace
Treasure Island
Venetian
Stratosphere Tower
With over 80,000 explosions and an array of bright colors, the Las Vegas sky is guaranteed to light up like no other celebration. Once the display is over, police will start slowly clearing out the pedestrians and by 3:30am, cars are usually allowed back on Las Vegas Boulevard.
Other Celebrations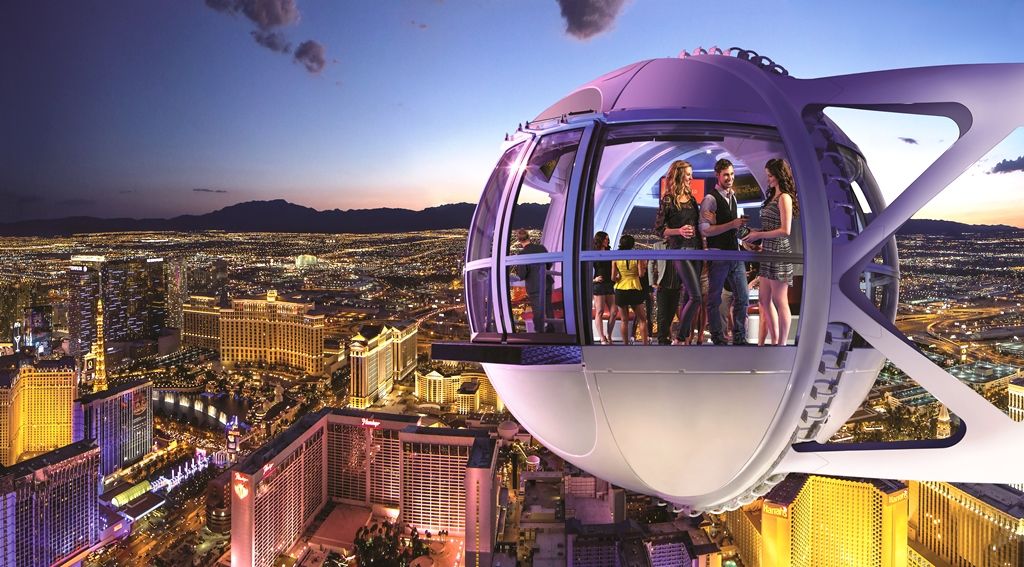 Not everybody's idea of fun is to walk along the Strip with thousands and thousands of people on a cold, New Year's Eve. Fortunately, hotels and casinos make sure to book the best entertainment so there is something for everyone.
With several nightclubs offering New Year's celebrations, including Omnia at Caesars Palace and Hakkasan at MGM Grand, other attractions, such as the High Roller and Stratosphere, also have events planned. For example, if the idea of sitting above Las Vegas Boulevard in a glass-enclosed cabin on the High Roller suits you, grab your wallet as individual tickets start at $250 per person for a lower cabin, full bar and champagne at midnight. If you have even deeper pockets, a private cabin overlooking the Strip begins at $6,250, yet you can count on priority boarding, an open bar, unparalleled views, and toasting with special champagne when the clock strikes midnight.
As of now, top entertainment at the various hotels on New Year's Eve includes:
On New Year's Day, Michael Buble will be at the MGM Grand.
Finally, A Few Tips And Reminders
Make reservations early for restaurants, hotels or shows.
Traffic will be a nightmare during the holiday. Plan accordingly.
The weather will be chilly, so bundle up.
Hotels may close between 11:30pm-12:30am on New Years for crowd control.
For best firework viewing, sit on the top of parking lots or enjoy a spot inside one of the many bars and restaurants, like at the miX Lounge at Delano Las Vegas or the Foundation Room at Mandalay Bay. But get there early! And call ahead in case reservations are required.
Be prepared to pay premium prices, especially at the nightclubs.
Obey the laws. Police are out in full force on this night, and they mean business.
If parking in the hotel and casino lots, remember that you won't be able to leave until well after midnight.
For Las Vegas aficionados, spending New Year's Eve in Sin City at least once is a must, and for many, they come back again and again. For die-hard fans, there simply is no better way to bring in the New Year than a stroll down the Las Vegas Strip with over 300,000 of your closest friends. Enjoy all what this amazing city has to offer, plan ahead and be prepared for a wild and crazy time.
Photo Credit: Steve Marcus / Las Vegas Sun