Are You Ready for Circa Las Vegas?
When it comes to Vegas, the show must go on. Amid all the splendors reopening in Las Vegas post-COVID-19, look for the grand opening of a new attraction that already has the town buzzing — Circa Resort & Casino. CEO and developer Derek Stevens revealed that the Downtown Las Vegas property will welcome guests as of October 28, 2020, two months prior to its originally scheduled date. The early Circa Las Vegas opening gives guests 60 days of extra time to soak up this one-of-a-kind Vegas gem.
The property will boast 777 rooms, a two-level casino, sportsbook and pool amphitheater. The massive parking hub, dubbed the Garage Mahal, makes it easy for guests driving in from all over the country to park and play as soon as they hit their destination.
Over 1,000 employees will cater to guests, who can explore Circa Las Vegas' first five floors on opening day.
Adults Only
While Las Vegas is known for its don't-tell attractions, Circa Las Vegas is Sin City's only adults-only resort and casino. Kids are great, but there are tons of destinations geared toward them already. Isn't it time adults had a place where they can kick back and enjoy being an adult?
Float While Watching the G.O.A.T.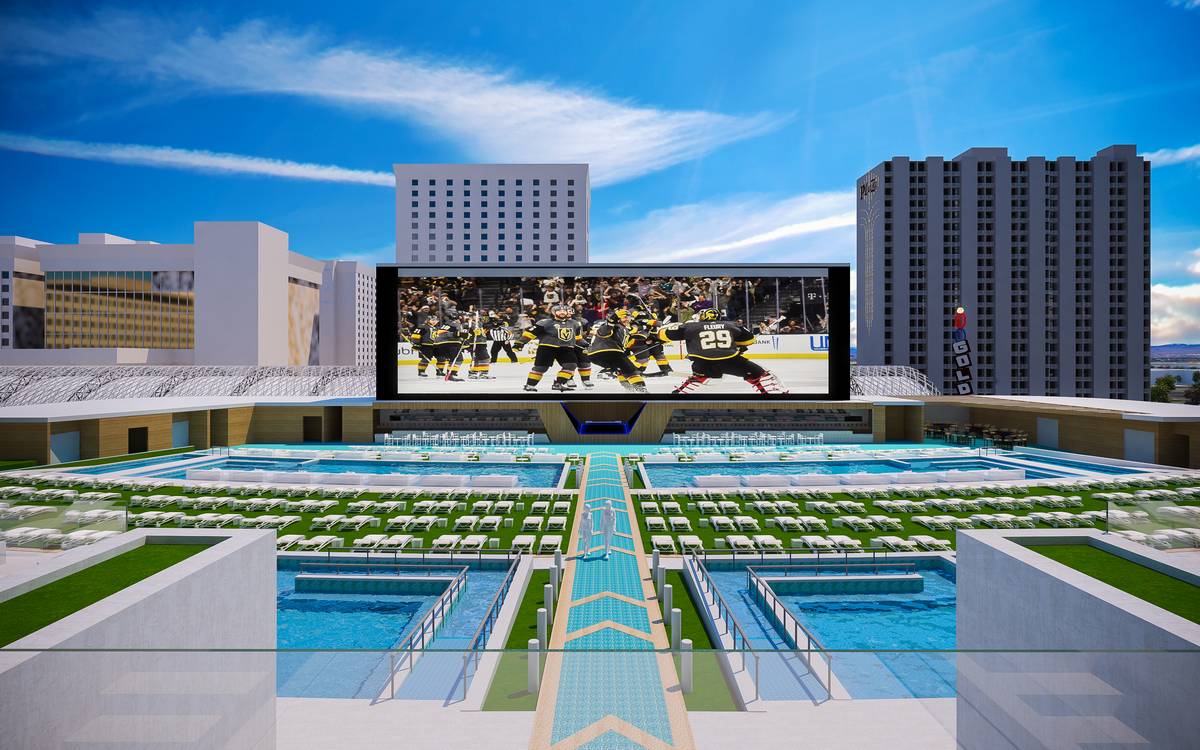 Watch the greatest sports action happening on a 40-foot screen as you float in one of Circa's six pools. Not a sports fan? Not a problem. There will be plenty of people-watching available on the three-level Circa Las Vegas pool deck named Stadium Swim.
To beat the Las Vegas heat, the pool amphitheater will operate 365 days a year. It aims to attract events and parties for guests from around the globe. When you come to Circa, bring a bathing suit with bling to shine in one of the resort's six temperature-controlled pools. To fully relax, guests can soak in one of the two state-of-the-art spas and watch the 14-million-pixel screen.
World's Largest Sportsbook
Ready to place your bets? After check-in, check out the world's largest sportsbook. Everything looks bigger in Vegas, but this attraction is definitely slated to be larger than life. The Circa Las Vegas sportsbook will feature a stadium-style arena that stretches three stories and hosts a 78-million-pixel HD screen so large you can see it throughout the property's two-story casino.
Be one of 1,000 guests to enjoy a ringside seat for boxing matches, basketball and Vegas' other favorite sports. You won't have to work hard to imagine yourself in the arena with the tiered seating, but there's 0% chance of getting rained out.
Circa Sports, Stevens' betting venture, will occupy the third floor and include a broadcast studio for Vegas Stats and Information Network (VSiN), which will broadcast daily! This is the place to pick up betting tips and in-depth analysis from experts in the industry. You can take full advantage of these cheats before stepping up to place your bets. Industry professionals and athletes are highly likely to attend, so stay tuned for surprising content at Circa Las Vegas sportsbook.
Original Restaurants
As the newest resort and casino in town, Circa Las Vegas will host restaurants with original concepts unique to the property. From simple fare to 5-star flair, you can find whatever you're in the mood for. Try Saginaw's Delicatessan for decadent, to-die-for sandwiches and entrees from the one and only Paul Saginaw.
Barry's Downtown Prime is the vision of restaurateur and Chef Barry S. Dakake. You might be in the desert, but the surf and turf specialties in this eatery will put a smile on your face. Meanwhile, Project BBQ transports Carolina barbequed ribs, chicken and more west in heavenly proportions. Victory Burger & Wings Co. brings all-American Coney Island fare to Vegas.
Are You Here to Gamble?
The crowning jewel of Circa Las Vegas, the two-story casino offers 1,350 slot machines and a smorgasbord of games across 49 tables. Have we mentioned that Circa will be the only adults-only resort and casino in Las Vegas? Well, this is where what happens here stays here happens!
Expect the loud music and high energy of a fabulous casino experience but also watch out for boundless opportunities. You have great odds of having a great time as cocktails flow and the dice roll. You won't even get bored waiting for your drinks at the bar thanks to 138 bar top games. From slot machines to roulette, try your hand at the newest place in town.
Vegas Vickie
Resurrected from Las Vegas circa 1980, Vegas Vickie has found a new home. The neon kicking cowgirl debuts her makeover at the Circa Las Vegas opening in October 2020. Say hello to Vickie in the resort's lobby. This beauty once dazzled Downtown Vegas but her new home on Fremont Street allows guests to snap a photo with the icon without straining their necks.
Garage Mahal
The Garage Mahal is a first of its kind integrated ride-share hub. Garage Mahal has well-designed, high-tech features to take the hassle out of parking and transportation in this busy city. Well-lit, clean and safe, Garage Mahal offers stunning art installations for guests to admire while waiting for their Lyft or Uber in a rapid-moving line that features an air-conditioned bridge connector to the casino and resort.
Contact Us Today to Book Your Vegas Venture
Circa Las Vegas sportsbook and pool amphitheater promise to be an experience that sets tongues wagging, even if you can't talk about it once you get home!
For exclusive bookings for the Circa Las Vegas opening and help planning your vacation, we recommend that you check out our website's Hotel Deals section. Come to us first for Las Vegas deals, promos, and discount codes!
If it's happening in Vegas, you can find it here and we can help get you in.