Day Trips From Las Vegas: Exploring Natural Wonders Beyond the Strip
Las Vegas is a vibrant city renowned for its unparalleled entertainment, exhilarating nightlife, and loud slot machines. But did you know that beyond the dazzling lights and endless excitement, Las Vegas also offers a gateway to captivating natural and cultural attractions? Embarking on day trips from Las Vegas opens the door to immersing yourself in a captivating natural realm, where awe-inspiring landscapes and untamed beauty await.
From breathtaking landscapes to ancient wonders, there is something for everyone just a short distance away. Whether you're a nature lover, adventure seeker, or history buff, these day trips offer an escape from the bustling city and a chance to connect with the remarkable world beyond the Strip.
Imagine venturing into the mesmerizing beauty of Red Rock Canyon National Conservation Area, a natural oasis mere minutes from the city. Or perhaps you're drawn to the ancient mysteries and awe-inspiring formations of Valley of Fire State Park. For those fascinated by engineering marvels, the iconic Hoover Dam awaits, a testament to human ingenuity and a source of power and water for the entire region.
But the adventures don't stop there. Just a few hours' drive from Las Vegas lies the awe-inspiring Grand Canyon, a world wonder that leaves visitors speechless with its vastness and grandeur. And for those seeking an encounter with extremes, Death Valley National Park beckons with its scorching temperatures and surreal desert landscapes.
Here Are Six Breathtaking Day Trip Spots You Don't Wanna Miss
This article will guide you through an exploration of these remarkable day trip destinations from Las Vegas. Whether you're a seasoned traveler or a first-time visitor to the area, prepare to be captivated by the natural wonders and cultural treasures that await you. So, put on your adventurous spirit and embark on a journey beyond the Strip, as we unveil the hidden gems and unforgettable experiences that make these day trips from Las Vegas truly extraordinary.
Stunning Scenery in the Mojave Desert
To the west and north of Las Vegas in the Mojave Desert, red sandstone from the Mesozoic Era shifted into layers leaving formations of red rocks, shale, limestone, and conglomerates.
Red Rock Canyon National Conservation Area
Nevada's first national conservation area, Red Rock Canyon, is located on State Route 159 about 17 miles west of the city. It features rocky bluffs lined with layers of red rocks, grey stones, and light sand.
Red Rock Canyon offers an array of activities and attractions that cater to outdoor enthusiasts and nature lovers:
Hiking trails for all skill levels: Several organized trails are marked with maps provided at the visitor's center. Lace up your hiking boots and explore the network of trails that wind through the canyon. From leisurely strolls to challenging hikes, there's a trail for every level of fitness and adventure. Discover hidden rock formations, lush vegetation, and panoramic vistas as you traverse the diverse landscapes. Horseback riding and mountain biking are also popular.
Scenic drives with viewpoints: If you prefer to take in the stunning vistas from the comfort of your vehicle, a one-way, 13-mile scenic drive winds through the park with pull-off points for hiking and taking in the sweeping views.
Rock climbing opportunities: For thrill-seekers and climbing enthusiasts, Red Rock Canyon presents an ideal playground. The towering sandstone cliffs provide a challenging and rewarding experience for climbers of various skill levels. Whether you're a seasoned climber or a beginner looking to try your hand at this exhilarating sport, Red Rock Canyon offers an impressive array of routes and challenges.
Wildlife spotting and nature photography: Delight in the diverse wildlife that calls Red Rock Canyon home. Keep your eyes open for sightings of desert bighorn sheep, coyotes, bobcats, and a variety of bird species (Although most are nocturnal).
When planning your visit to Red Rock Canyon, it's important to come prepared. Here are some essential tips for a memorable experience:
Entrance fees: There is an entrance fee to access Red Rock Canyon. At the time of this writing, the fees are: Car/Truck: $20 per vehicle | Motorcycle: $10 per vehicle | Bicyclist: $8 per bicycle | Pedestrian: $5 per person
Appropriate clothing: Wear comfortable clothing suitable for outdoor activities. Be mindful of the weather conditions and bring a hat, sunscreen, and sunglasses to protect yourself from the desert sun.
Water and hydration: Carry an ample supply of water to stay hydrated during your time in the arid desert environment. It's recommended to bring at least one gallon of water per person per day.
Transportation: Having your own vehicle provides the flexibility to explore the area at your own pace. Alternatively, guided tours are available for those who prefer a knowledgeable guide and transportation arrangements.
Stop by The Visitor's Center: Red Rock Canyon's impressive visitor's center also offers educational displays, wildlife exhibits, and a gift shop.
Embark on a day trip to Red Rock Canyon National Conservation Area, and you'll discover a natural paradise just a stone's throw away from the glitz and glamour of Las Vegas!
Valley of Fire State Park
Less than an hour northeast of Las Vegas on Interstate 15, a Scenic Byway exit weaves through Nevada's oldest and largest state park, Valley of Fire State Park. It covers almost 40,000 acres of sandstone cliffs and petrified dunes surrounded by swirls of pinkish sand. When the sun shines directly on the red rock strips contrasting with the dark stones of the rocky bluffs, the layers appear to be on fire.
Within Valley of Fire State Park, you'll find a treasure trove of unique features and attractions that showcase the park's geological and cultural significance. Here are some highlights you won't want to miss:
Rainbow Vista and Fire Wave trails for scenic hikes: These well-marked paths lead you through a kaleidoscope of vibrant colors, as the sun illuminates the red sandstone formations. Prepare to be captivated by the ever-changing hues and breathtaking vistas along the way.
Arch Rock, Elephant Rock, and Mouse's Tank for geological wonders: Marvel at the incredible rock formations that have been shaped by centuries of natural forces. Arch Rock, with its delicate stone arch, stands as a testament to the power of erosion. Elephant Rock looks like a majestic pachyderm frozen in stone, while Mouse's Tank showcases a natural basin that collects rainwater, creating a serene oasis amidst the arid landscape.
Petroglyphs and ancient Native American rock art: Step back in time and explore the park's rich cultural heritage. Valley of Fire State Park is adorned with 3000-year-old petroglyphs and ancient Native American rock art, offering a glimpse into the lives and stories of the indigenous people who once called this land home.
To make the most of your visit to Valley of Fire State Park, here are some recommendations:
Best times to visit: The park's natural beauty is on display year-round, but spring and fall tend to offer more comfortable temperatures. The mild weather and blooming desert flora make these seasons particularly delightful. However, if you're prepared for the heat, summer can also be a rewarding time to explore the park, with fewer crowds.
Entrance fees: Please note that there is an entrance fee to access Valley of Fire State Park. The fee is $10 for Nevada vehicles and $15 for vehicles from outside Nevada. Be sure to have the appropriate payment ready when you arrive.
Sunscreen, comfortable shoes, and a camera: Protect yourself from the desert sun by wearing sunscreen, a hat, and sunglasses. Comfortable shoes are essential for navigating the trails and rocky terrain. Lastly, don't forget to bring a camera to capture the vibrant colors, unique formations, and ancient rock art that make Valley of Fire State Park a photographer's paradise.
Prepare to be transported to a world of extraordinary beauty as you venture into Valley of Fire State Park. With its stunning red sandstone formations, scenic hikes, geological wonders, and cultural treasures, this park offers an unforgettable experience for nature enthusiasts and history lovers.
Lake Mead National Recreation Area
Lake Mead's 110-mile northern edge is less than six miles outside the Valley of Fire's western boundary. The scenic region shows silhouettes of layered cliffs behind the desert basin and glimpses of blue water framed with red rock bluffs.
Set on the Colorado River, Lake Mead is the largest reservoir in the United States.
Here's what you can expect to experience during a day trip to Lake Mead:
Water-based activities: Take advantage of the vast expanse of Lake Mead by indulging in a variety of water-based activities. Enjoy swimming in the refreshing waters, rent a kayak or paddleboard for a leisurely exploration, or try your hand at fishing.
Boating and cruising: Due to the size of the lake, you need a boat to fully appreciate the sheer magnitude of Lake Mead. You can rent a jet ski, pontoon, canoe, and a variety of other recreational items at one of the marinas.
Beachside relaxation: Unwind on the sandy shores of Lake Mead's beaches. Bask in the warmth of the sun and have a picnic with your loved ones in this tranquil ambiance.
Hiking and nature trails: Explore the scenic hiking trails and nature trails that surround Lake Mead and be rewarded with panoramic vistas of the lake. For more unusual things to do, you can explore abandoned railroad tunnels and deserted mines in the area
Whether you're seeking thrilling water sports adventures or seeking solace in the tranquility of nature, Lake Mead offers a diverse range of recreational opportunities for everyone.
As you plan your day trip to Lake Mead, remember to bring sunscreen, swimwear, and appropriate outdoor gear. Pack snacks, plenty of water, and consider renting or bringing your own equipment for water activities. Make sure you respect the rules and regulations of the park to ensure a safe experience.
Escape the bustling energy of Las Vegas and discover the serenity and beauty of Lake Mead. With its vast waters, stunning landscapes, and a myriad of recreational possibilities, this enchanting destination provides an idyllic respite from the city's excitement.
Hoover Dam
Once known as Boulder Dam, Hoover Dam was named one of America's Seven Modern Civil Engineering Wonders. It's also listed as a National Historic Landmark.
The massive dam was constructed during the Great Depression (President Franklin D. Roosevelt attended the dedication ceremony for Hoover Dam in 1835) and plays a pivotal role in providing water and electricity to the region, making it an essential landmark in the area's history and development.
Fun fact: As the Hoover Dam is built on the border of Nevada and Arizona, you will enter a different time zone as you walk or drive on the bridge (Pacific Standard Time on the Nevada side and Mountain Standard Time on the Arizona side).
The visitor experience at Hoover Dam offers a fascinating glimpse into the inner workings of this monumental structure. Here are some of the highlights and attractions awaiting you:
Guided tours inside the dam: Embark on a guided tour that takes you deep inside the dam, where you can witness the intricate machinery and learn about the engineering feats that made Hoover Dam a reality. Expert guides provide insights into the construction process, the dam's significance, and the ongoing maintenance efforts.
Walk across the dam for panoramic views: Take a leisurely stroll across the top of Hoover Dam and soak in the breathtaking panoramic views of Lake Mead, the vast reservoir formed by the dam, and the mighty Colorado River.
Visitor center with exhibits on construction and history: Explore the visitor center, where exhibits delve into the construction and history of Hoover Dam. Learn about the challenges faced by the workers during its construction in the 1930s and gain a deeper understanding of the dam's impact on the region. Engaging displays and multimedia presentations bring the story of Hoover Dam to life.
When planning your visit to Hoover Dam, here is some important information to keep in mind:
Tour options, ticket prices, and restrictions: Several tour options are available, ranging from comprehensive guided tours of the dam's interior to shorter tours that focus on the visitor center and the surrounding grounds. Ticket prices and availability may vary, so it's recommended to check the official Hoover Dam website or contact the visitor center for the most up-to-date information. Note that certain restrictions may apply, such as age restrictions or limitations on large bags or backpacks.
Driving from Las Vegas: Hoover Dam is approximately 30 miles southeast of Las Vegas. To reach the dam, take US-93 South from Las Vegas towards Boulder City. The drive offers breathtaking desert views and glimpses of Lake Mead along the way. Follow the signs for Hoover Dam and continue until you reach the entrance. If you don't have a car, there are several bus tours offered from Vegas to Hoover Dam. You can choose a 2-hour tour or stay half the day if you are interested in touring the dam
A visit to Hoover Dam offers an unforgettable experience that combines education and awe-inspiring vistas. Don't miss the chance to explore this iconic landmark and delve into its remarkable story.
Death Valley National Park
Located about two hours west of Las Vegas in the Mojave Desert, Death Valley National Park is the lowest, driest and hottest spot in North America (The exact lower point is Badwater Basin at 282 feet below sea level). The highest reported temperature in the world (134 degrees Fahrenheit) was recorded at Furnace Creek on July 10, 1913.
Over 1000 plant species live in Death Valley including 50 endemic species of plants found nowhere else in the world. Visiting Death Valley is a photographer's dream. In addition to the plants and wildflowers on the valley floor, rifts of sand dunes, rugged canyons, sand flats, snowy mountaintops, and colorful badlands provide diverse colorful scenes.
Within the vast expanse of Death Valley National Park, there are several must-see attractions and activities that showcase the park's diverse offerings. Here are some highlights:
Badwater Basin, the lowest point in North America: Journey to Badwater Basin and stand at the lowest point in North America, approximately 282 feet below sea level. The vast salt flats stretch as far as the eye can see, creating a surreal and otherworldly landscape.
Mesquite Flat Sand Dunes for photography opportunities: Discover the mesmerizing Mesquite Flat Sand Dunes, where windswept sands create ever-changing patterns. As the sunlight dances upon the dunes, capturing their textures and contours, photography enthusiasts will find themselves immersed in a visual feast.
Artist's Drive and Zabriskie Point for colorful rock formations: Embark on a scenic drive along Artist's Drive, a route that weaves through stunning geological formations, including the vibrant and multi-hued Artist's Palette. For panoramic views of the park's unique rock formations, don't miss Zabriskie Point (Especially at sunrise and sunset).
When planning your visit to Death Valley National Park, it's important to keep these essential tips in mind:
Carry extra water and stay hydrated: Death Valley's extreme temperatures make proper hydration essential. Carry an ample supply of water with you at all times!
Protect against sun exposure: Shield yourself from the intense desert sun by wearing sunscreen, a wide-brimmed hat, sunglasses, and lightweight, breathable clothing that covers your skin. Consider seeking shade during the peak heat of the day.
Avoid peak summer months: Due to scorching temperatures that can exceed 120°F, it's advisable to visit Death Valley National Park during the cooler months of fall, winter, and spring when temperatures drop below 100°F. If you must visit during summer, plan your outdoor activities for early morning or late afternoon when temperatures are relatively cooler. The desert heat in the summer at such low elevations can be brutal!
Camping in Death Valley: Although the park is open year-round and provides nine campgrounds, the extreme heat keeps most of the low-elevation campgrounds closed during the hottest months of May to September. Furnace Creek Campground stays open as well as campgrounds in the mountainous areas (Mesquite Spring, Emigrant, or Wildrose). Furnace Creek offers camp stores, car services and gas, and places to eat. Those services can also be found at Stovepipe Wells Village and Panamint Springs.
Immerse yourself in the unforgettable landscapes of Death Valley National Park, where extreme beauty and natural wonders converge. From the lowest point in North America to captivating sand dunes and vibrant rock formations, the park offers a myriad of experiences for nature lovers. Remember to come prepared, stay hydrated, and protect yourself from the desert sun as you explore the remarkable wonders of Death Valley.
Mount Charleston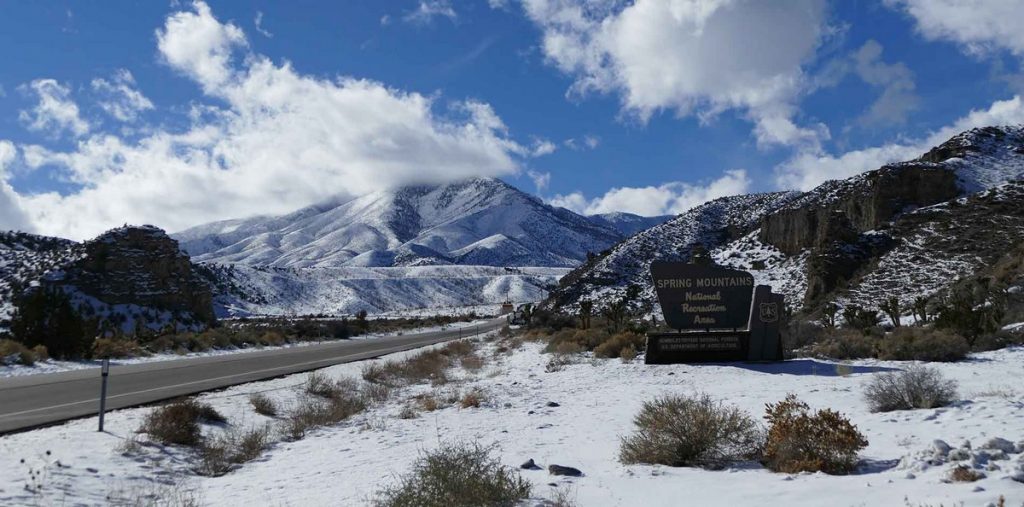 Just a scenic 35-mile drive northwest of Las Vegas, Mount Charleston stands tall as a majestic alpine retreat. To reach this serene mountain destination, take U.S. Route 95 north from Las Vegas and then exit onto State Route 157, also known as Kyle Canyon Road. As you wind your way up the mountain, you'll be treated to breathtaking views and a gradual change in scenery from the desert landscape to the cool, pine-filled slopes of Mount Charleston.
Here's what you can look forward to during a day trip to Mount Charleston:
Scenic beauty and hiking trails: Explore the breathtaking beauty of Mount Charleston's lush forests, meadows, and scenic trails. Embark on an adventure through picturesque landscapes, where you can discover hidden waterfalls, encounter diverse wildlife, and enjoy panoramic views from the mountain peaks.
Skiing and snowboarding: During the winter months, Mount Charleston transforms into a winter wonderland, attracting snow enthusiasts from near and far. Hit the slopes and enjoy skiing, snowboarding, or even tubing down the snow-covered mountainside.
Picnicking and relaxation: Take advantage of the peaceful atmosphere and set up a picnic amidst the tranquil surroundings of Mount Charleston. Breathe in the fresh mountain air, savor a delicious meal, and unwind as you appreciate the beauty of nature.
Lodges and cabins: Extend your day trip into an overnight stay by booking a cozy lodge or cabin nestled within the mountain range. Enjoy the warmth of a crackling fireplace, marvel at the star-filled night sky, and wake up to a breathtaking sunrise over the mountains.
When planning your day trip to Mount Charleston, consider the following tips:
Weather and seasonal variations: Be aware of the weather conditions and any seasonal variations that may affect access to certain trails or activities. Check for road closures and plan accordingly.
Appropriate clothing and gear: Dress in layers and wear sturdy footwear suitable for hiking. If you're visiting during the winter, ensure you have warm clothing and appropriate gear for snow activities.
Pack essentials and supplies: Bring water, snacks, sunscreen, and insect repellent. It's also recommended to have a map or guidebook of the area and a fully charged phone for emergencies.
Escape the desert heat and discover the natural splendor of Mount Charleston. Whether you seek adventure on the hiking trails, excitement on the ski slopes, or tranquility amidst nature, Mount Charleston promises an unforgettable day trip experience.
Unleashing the Beauty: Exploring Nature and History Beyond Las Vegas
Las Vegas offers much more than its famous Strip. By venturing beyond the city limits, you can discover stunning natural wonders, man-made marvels, and unique landscapes that will leave you in awe. From the scenic red rocks of Red Rock Canyon and the ancient rock formations in Valley of Fire to the engineering feat of the Hoover Dam and the extraordinary landscapes of Death Valley, these day trips promise unforgettable experiences.
When you get back to your Las Vegas Hotel, you can relax and decide what to do next. Wake up early and hit the greens at a championship course, go shopping at the designer outlet mall, lounge by the pool with an umbrella drink or head down the road for another Las Vegas day trip!
If any readers have visited the places mentioned, please add helpful details or tips. Do you have favorite places to explore near Las Vegas?