First Impressions: Newly Renovated Palms Casino Resort
Off the Strip is where you'll find the newly renovated Palms casino. Built in 2001, it was the premier place for celebrities like Britney Spears and Michael Phelps to party at.
Unfortunately, it became overshadowed by high-end casinos like the Cosmopolitan and the Wynn during the development of the Strip we know today. These places had everything the Palms didn't—bi-level suites, celebrity chef-owned restaurants, and the appeal of a younger crowd.
Today, it's thriving with a more polished inside interior and a well-kept exterior. The $620 million renovation (the city's most expensive one yet) redesigned the Palms as a "modern art museum" with top-notch restaurants, decked-out suites, a rooftop bar, and one-of-a-kind art pieces by Damien Hirst and Andy Warhol.
Keep reading for an in-depth review of the Palms and the first impressions that came with it!
​Initial Thoughts
Upon arrival, the landscape hinted at what to expect on the inside. It's well-kept, bushes were groomed with gorgeous exotic flowers lining the pathway to the entrance. The sidewalk was nearly spotless; no trash or debris on it.
Walking into the newly renovated Palms casino, you're greeted at the main entrance by a gigantic dissected shark contained in three large display boxes. This spectacle, made by contemporary artist Damien Hirst, is part of the Unknown bar (named after the art piece) which leads into the gaming area.
Overall, it's well-lit and has a more modern aesthetic than before. It's decked out from ceiling to floor with grand light fixtures throughout the space, creating a warm and inviting atmosphere.
As far as other casinos off the Strip go, ventilation is great. Walking in you aren't welcomed with puffs of smoke or lingering cigarette smells. In other words, those with respiratory issues won't feel suffocated.
​Gaming
Most of us visit Vegas to gamble, right? The Palms has plenty of gaming areas and machines available. It's home to high-tech gaming, with virtual Craps and Roulette tables where groups of people gather to play together. There's also virtual Baccarat.
Blackjack tables are aplenty for those who prefer screen-free gaming.
There are 1,500 different slot games to test your luck. Some start at a penny but for those who like to walk on the wild side, there are secluded High Limit Rooms where you can bet up to $100.
The Palms also has its own Race and Sports Book area to bet on the latest races, fight nights, and college sports. It's equipped with 1,200 feet of high-def TVs, comfy lounge chairs, and a bar serving the best spirits.
Atmosphere
Despite it looking like a high-end casino, the feeling isn't the same. But that's a good thing. Sure, you see people strolling around in suits and designer dresses but other than that, it's a pretty casual atmosphere.
It's a very adult-centric casino; you don't see little kids wandering around. Good news for those who don't have kids and want to be able to let loose without getting dirty looks from nearby parents.
​Dining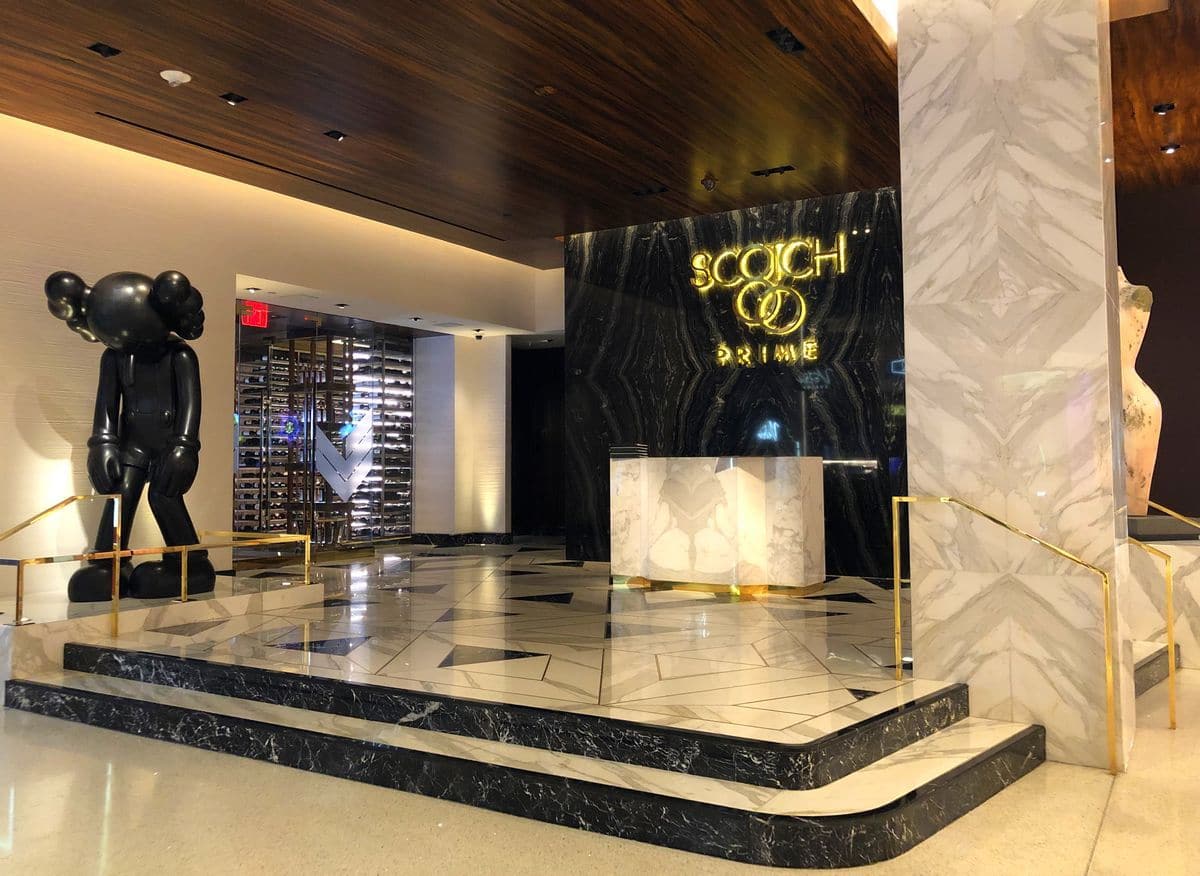 At the Palms, you aren't constricted to only their high-end choices like Bobby Flay's Shark restaurant. There are plenty of options that suit everyone's budget.
Their more expensive dining experiences include, as stated above, Shark by Bobby Flay which features fresh seafood and sushi with a Latin twist. For those craving meat, Scotch 80 Prime carries only the finest steak entrees, including a massive 42-ounce Tomahawk Ribeye. Pair that with their rare whisky options and you're good to go.
For those wanting great food but with a smaller price point, Laguna Pool House serves breakfast staples like steak and eggs any time of day along with lunch and dinner offerings. Another delicious food joint is the Lucky Penny where you can have breakfast for dinner and dinner for breakfast.
Recommended dishes from Lucky Penny: General Tso Chicken (served with sticky rice on the side) and the Reuben Panini. If you're visiting Vegas by yourself or with a friend, have your meal at the bar. Not only can you get draft beer but there are charging stations for when your phone is nearly dead.
There's also the all-you-can-eat A.Y.C.E buffet for when you want a little bit of everything. For a quick bite, there's a food court located near the movie theater.
​Entertainment
Looking to catch a movie? There's a self-service movie theater fit with a concession stand that serves alcohol along with staples like buttery popcorn and candy. You simply use one of their kiosks to buy and print tickets then scan it to get into your designated theater.
If you're not looking to catch a movie but rather dance the night away, KAOS has your back. It's a 100,000 square foot club home to exclusive residencies like Marshmello, Deadmau5, and Skrillex.
If nightclubs aren't your thing, KAOS also hosts "dayclub" events which normally start around 11 AM. Their Early Bird specials also mean discounted tickets.
Get out in the fresh air and experience sky-high adventure at the APEX Social Club, located on the roof of the Palms. There's plenty to drink and for the ultimate high-roller experience, opt for their bottle service. To go all out, you can even book your bachelor or bachelorette party there.
Don't expect to see any arcades or kid spaces—technically, the only entertainment for family is the movie theater.
​Experience the Palms for Yourself
Before renovations, the Palms lacked finesse. It was dark, a little dingy, and not much to do. Other casinos were more appealing.
Now, it's grand, adopting the modern aesthetic from casinos you see on the Strip. It's the place you want to be, to bring your friends and settle in for a crazy experience.
Ready to see the new Palms for yourself? Check out our deals and discounts today!