A Guide To The Best Vegas Pools!
No matter what your preference, Las Vegas has a variety of one-of-a-kind, amazing, and jaw-dropping swimming pool complexes that will fit any vacation agenda. Do you prefer a relaxing experience, with maybe a poolside massage? Or perhaps a loud, outrageous pool party with celebrity DJ's, and plenty of booze with some of the most gorgeous bathing suit-clad employees around? It's all here, with everything in between, showcasing the best pools in Vegas
If you are planning on an upcoming visit to Sin City, then take a look at our favorite picks for the best swimming holes in all of Vegas. Here you will find a variety of pool styles with many geared toward families and some strictly adult only. From massive water features that spread over two acres, to more intimate and secluded outdoor retreats, it's all here.
Best Pool Parties in Las Vegas
If a poolside adventure is what you crave, here are some of the best escapes Las Vegas has to offer:
Rehab at Hard Rock Hotel and Casino
Returning in the Spring of 2016, the Rehab pool parties are legendary for hosting some of the craziest events in all of Vegas. Known for originating the pool parties in Vegas, The Hard Rock knows how to throw one heck of an event. Featuring a sandy walk-in beach-style pool, here you will discover LCD flat-screen televisions, lounge chairs, personal cabana (reservations required), poolside dancing, SKYBAR and massage therapists. Past celebrity hosts have included Wyclef and Drake. Crowds are allowed in at 11:00 am and everyone must be 21 to enter.
Wet Republic at MGM Grand
Along with Rehab, the Wet Republic offers a wild time along with some of the largest crowds. Dancing, drinking, and music are provided by some of the top professional DJ's in the business, this is when it's best to get here early to find a seat. Cabana and daybed reservations are required, but be prepared to depart with some cash as they are not cheap. For additional information, contact MGM Grand.
Tao Beach at The Venetian
Here is an 18,000 square foot oasis with two dipping pools, an amazing 30-foot bar, as well as cabanas that feature air conditioning, plasma televisions, gaming consoles, WIFI and minibars. Guests report that this area is more intimate than other pool parties, like REHAB, which makes it more attractive for those avoiding the much larger crowds other venues seek. Music is provided by sought-after DJ's, and when you have had enough sun, TAO allows for re-entry with a wristband. visit the TAO beach website.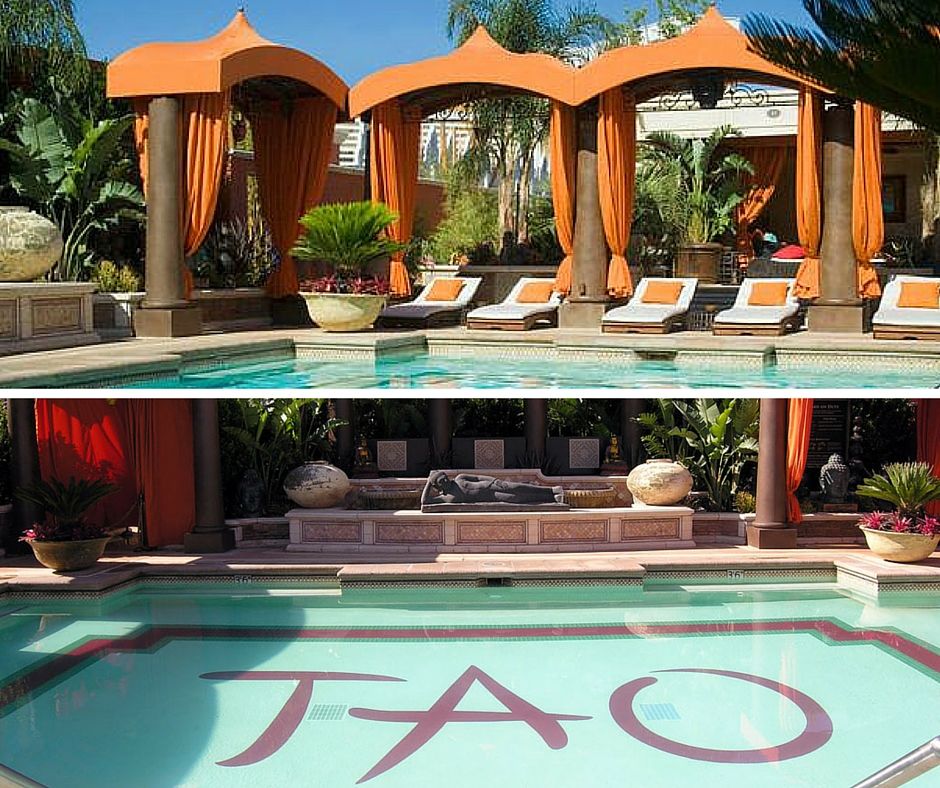 Best Topless Pools in Las Vegas
That's right, Las Vegas is home to several adult-only pools that offer bathing suit top optional, or, as they say in Vegas, "toptional." Here are some of the more popular and sought-after European pools along the Strip.
Bare Pool Lounge at The Mirage
Just like its name implies, this is one of the original topless pools in all of Vegas. Providing seclusion, there are two luxury dipping pools, cabanas, as well as VIP beds and daybeds.
Naked Pool at Artisan
This is a smaller pool than many of the others and can be quite crowded on weekends and holidays, so keep in mind if you want to avoid lots of people or prefer a quieter atmosphere. Secluded, thanks to many large palm trees, there are no lounge chairs, but rather day beds and cabanas. This pool is open to the public and there is no charge. Check-in advance as there are often themed events each day that may or may not interest you, such as Topless Tuesdays and Finger Paint Saturdays.
Venus at Caesars Palace
Here, Caesars Palace puts the luxury in European sunbathing. With all the elegance this hotel offers, this 10,000 square foot outdoor space offers lounges, an air-conditioned bar with flat-screen televisions, and of course, beautiful cabanas for those that want to take their vacation a step further. Music is provided by DJ's. Visit the Venus Pool website.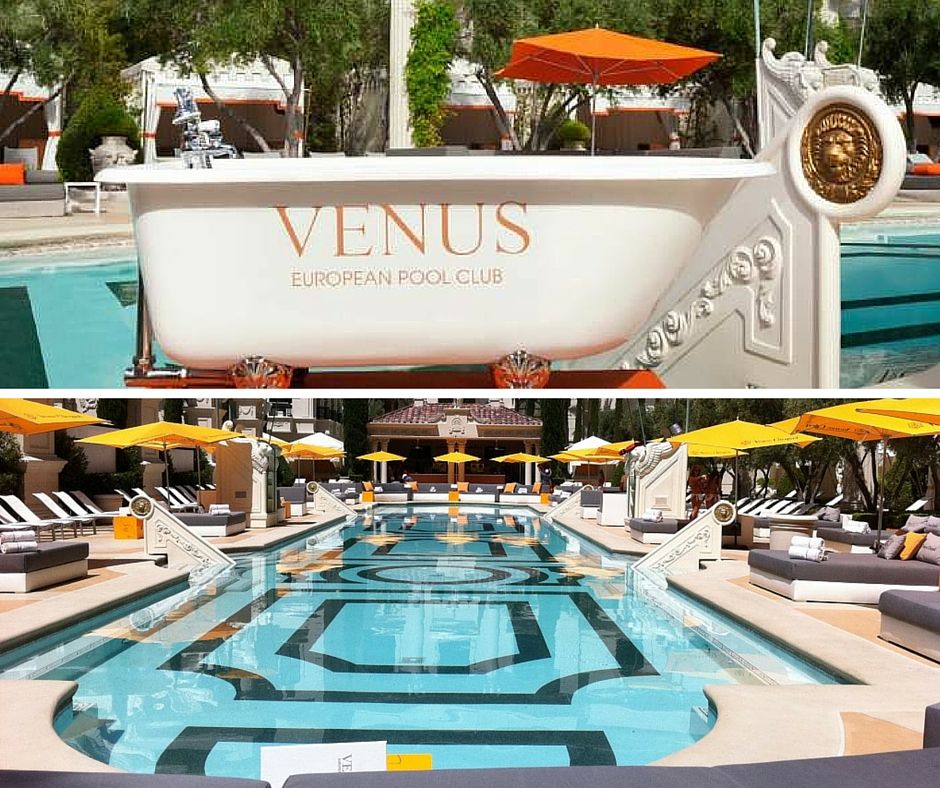 The Wynn & Encore European Pool
Both of these elegant partner hotels offer secluded, adults-only European pools for their guests. Each includes a DJ, outdoor bar, and food, however, at the Wynn, the menu is more upscale and includes items from their Botero Steakhouse. You will also find gaming tables with craps and blackjack. visit the Wynn Pool Website.
Other adult-only pools can be found at Tao Beach at The Venetian, and Moorea Beach Club at Mandalay Bay.
Best Family Pools in Las Vegas for Kids
Ready for some G-rated fun? Here are some of the most sought-after family-friendly pools in Las Vegas. When traveling here during the summer, there is a good chance you will be at the pool during those hot days. Here are the places to have the most fun!
Mandalay Beach at Mandalay Bay
Perhaps no other pool has the reputation as the best family pool in Las Vegas. In fact, it's not only a great family pool, but it has something for everyone. Keep in mind, that during the summer, this place can get extremely crowded, and finding a chair can almost be impossible. However, if you get there early, be ready to have a great time. What makes this pool so exciting? Maybe it's the huge wave pool with the sandy beach or the quarter-mile-long lazy river. With two other pools, and all on 11 acres, with lots of restaurant choices and a full-service bar, many visitors plan their vacation around this pool alone. Visit the Mandalay beach website.
Tank Pool at Golden Nugget Hotel & Casino
The Tank Pool contains a three-story (30 foot) secured water slide that travels through a shark tank, adding extra fun and excitement for every member of the family. The good news? This pool is heated and stays open all year round. Another plus is you can schedule a behind-the-scenes tour of the aquarium where over 300 types of fish and 16 sharks live. Visit the Golden Nugget pool website.
Grand Pool complex at The MGM Grand
Like the hotel itself, it's no surprise that the MGM has a massive pool complex over 6.5 acres in size. Including four pools, a lazy river, a waterfall, and cave-like grottoes, it is important to arrive fairly early in order to gather seating if you have a larger family. Keep in mind that you must rent the tubes for the lazy river, and they aren't cheap. Visit The MGM Grand pool wesbite.
The Mirage Pool
This is a stunningly beautiful pool area, with water not too deep that makes it easy for families to have fun. In fact, complimentary life jackets are available to children upon request. The pool is interconnected with lagoons that have water slides, waterfalls, and bridges, which are just a few reasons this pool was voted by Family Vacation Hub as one of the top three best pools in Vegas. visit The Mirage pool website.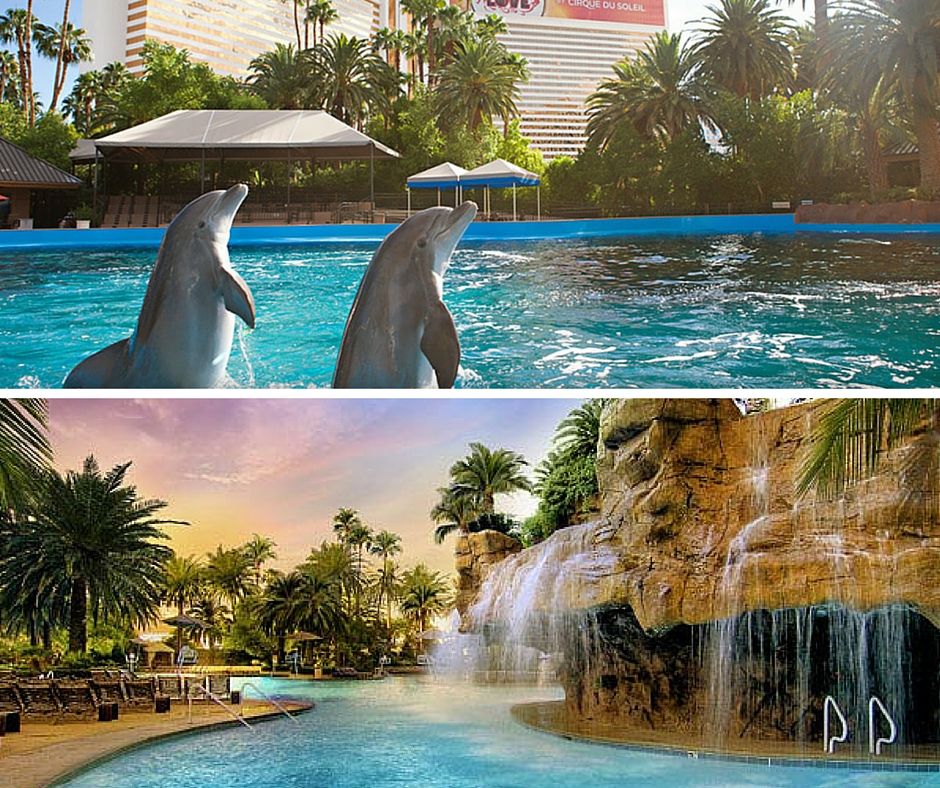 Cancun Resort
With a Mayan pyramid as the focal point, this is a pool that is simply huge and gives you a little taste of Mexico without crossing the border. Discover built-in waterfalls, and four water slides, as well as one smaller swim area. There are several hot tubs scattered about, and floats and foam noodles are available at no charge. With a restaurant next to the pool, the Cancun Resort offers a more reasonably priced stay, yet it is off the Strip. Visit the Cancun Resort website.
Now that most Las Vegas pools are getting ready to open as spring is just about here, it's time to start deciding what type of pool experience you desire if you are visiting here this summer. When making your hotel reservations, inquire about the pool hours, as well as information in securing cabanas as they can go quickly during the hotter months. And don't forget the sunscreen!