How to Get Around Las Vegas Without a Car
Las Vegas is a city that never sleeps, and with so many exciting attractions, shows, and casinos to explore, transportation is a crucial factor in making the most of your trip. While renting a car might seem like the most convenient option, there are actually many other ways to get around Las Vegas without a car.
By using public transportation, taxis, ridesharing services, walking, biking, or shuttle services, you can easily navigate the city and enjoy all it has to offer. This guide will take you through the various transportation options available in Las Vegas and provide tips for using each one effectively.
Whether you're a first-time visitor or a seasoned local, knowing how to get around Las Vegas without a car is essential for a stress-free and enjoyable trip. So, let's dive into the different transportation options and discover how you can easily explore all that Las Vegas has to offer.
Public Transportation in Las Vegas
Las Vegas has a comprehensive public transportation system operated by the Regional Transportation Commission (RTC). The RTC's buses run throughout the city and offer a convenient way to get around, especially for those on a budget. The most popular bus for tourists is the Deuce which offers the most economical way to get around the Vegas hotspots.
1. The Deuce
With its red, double-decker facade, you can't miss the ubiquitous Deuce buses traveling on Las Vegas Boulevard. This 24-hour bus runs from the South Strip Transfer Center north to the Fremont Street Experience and provides a great view of the city's iconic landmarks. The Deuce stops at most major Strip hotels. Just be sure to pay attention to the route schedule and know if you're getting on a southbound or northbound.
To use the public transportation system, you can purchase a transit pass or pay with exact change on board the bus. You can also download the RideRTC app, which provides real-time bus tracking, schedules, and fare information.
2. The Deuce Prices
At the time of this writing, the Deuce pass fares are:
2-Hour Pass: $8
24-Hour Pass: $8
3-Day Pass: $20
Note that buses can get crowded during peak hours, so plan accordingly and allow extra time for your trip. Also, be aware of your surroundings and keep your valuables secure while using public transportation.
Using public transportation in Las Vegas is an affordable and convenient way to get around the city. Whether you're exploring the Las Vegas Strip or venturing off to other areas, the RTC has you covered!
Taxis and Ridesharing in Las Vegas
Taxis and ridesharing services such as Uber and Lyft are available in Las Vegas and offer a convenient way to get around, especially if you're traveling with a group or need to get to your destination quickly.
1. Taxis
For quick and simple transportation, nothing beats a Las Vegas cab ride. Virtually every resort hotel in the city has a taxi stand operating 24 hours. This designated area is the only place taxi drivers can pick up or drop off on the Strip. If you're hoping to get dropped off somewhere right on Las Vegas Boulevard, forget it. These stands were created to reduce congestion on the already-busy Strip. However, you can pretty much get dropped off anywhere you want if you're headed to other spots in the Valley.
Taxi stands, which are located at a hotel's main entrance near the valet, usually have short waits. However, lines can build up on evenings and weekends. Don't worry, they move fast. If you feel like being social, you can even share a cab with some fellow travelers. This is a great way to reduce Las Vegas taxi fare, which starts at $3.50 just to get in the car. From there, the price is $.23 every 1/12 mile ($2.76 a mile). Expect surcharges for a ride to or from the airport ($2 per passenger) and a $3 fee if you use a debit or credit card to pay.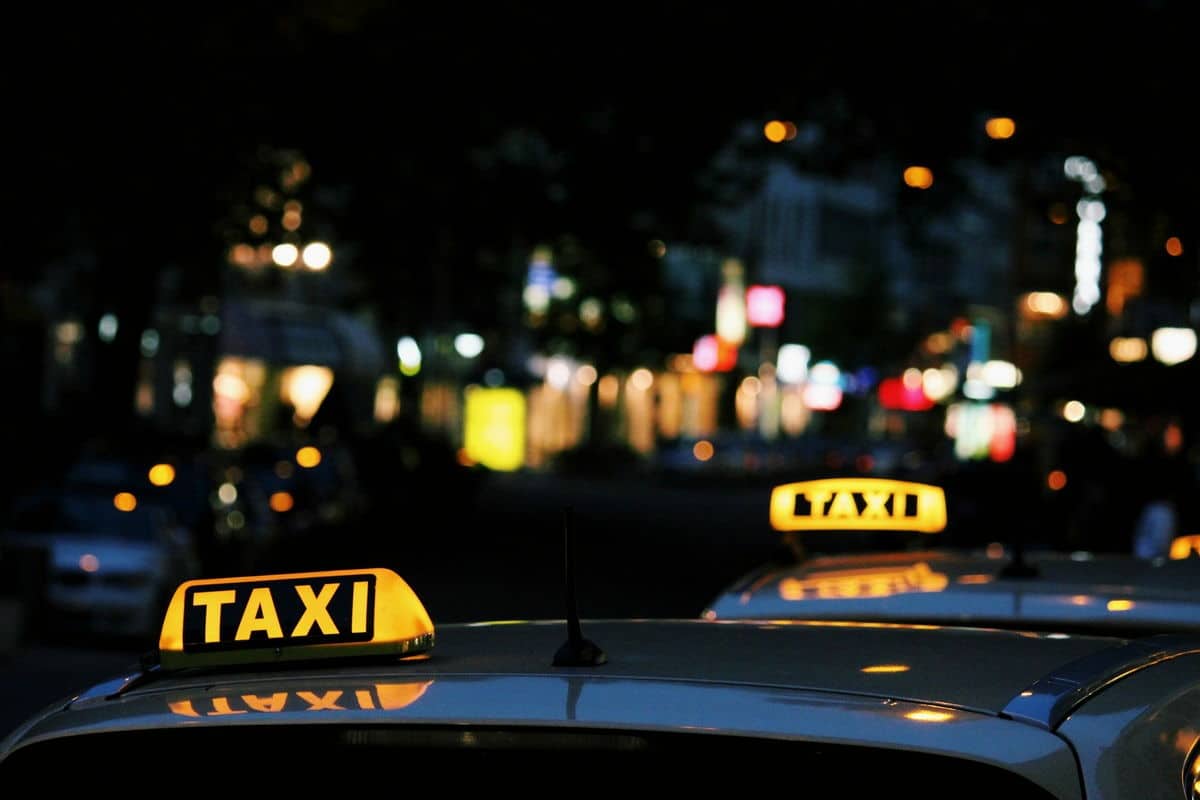 Taxi Fare From Harry Reid Airport
If you need to catch a taxi from Harry Reid International Airport to your hotel, rest easy knowing that you can't be long-hauled anymore. Las Vegas taxis are now operating on a flat rate zone-based pricing system, which means that the fare you pay depends on which zone your destination hotel falls within. Here are the 3 zones:
Zone 1 – $19: Alexis Park, Delano, Desert Rose Resort, Excalibur, Virgin Las Vegas, Luxor, Mandalay Bay, MGM Grand, OYO, and Tropicana.
Zone 2 – $23: Aria, Horseshoe, Bellagio, Elara, Marriot Grand Chateau, New York-New York, Paris, Park MGM, Planet Hollywood, Polo Towers, The Cosmopolitan, The Orleans, The Signature at MGM Grand, Travelodge by Wyndham and Vdara.
Zone 3 – $27: Artisan, Caesars Palace, Circus Circus, Embassy Suites by Hilton Convention Center, Encore, Flamingo, Gold Coast, Harrah's, Hilton Grand Vacations, Las Vegas Convention Center, Las Vegas Marriott, Palace Station, Palms, Resorts World, Rio All-Suites, Sahara, The STRAT, The LINQ, The Mirage, The Palazzo, The Venetian, The Westin, Treasure Island, Trump International, Westgate, and Wynn.
By dividing the city into three zones, the flat fare system makes it easy for visitors to budget for transportation costs and avoid unexpected expenses. So the next time you're heading to Las Vegas, be sure to check which zone your hotel falls within so you can plan your travel budget accordingly.
2. Ridesharing
Ridesharing services such as Uber and Lyft are also popular options in Las Vegas. You can use their apps to request a ride and get an estimate of the fare before you confirm your trip. With a ridesharing service, you can also track your driver's location and estimated time of arrival in real-time.
If you're planning to use a ridesharing service in Las Vegas, it's worth noting that pickup and drop-off locations may be different from taxis and other vehicles. Many hotels have designated areas for ridesharing pickups and drop-offs (Check out our guide of all Las Vegas Strip rideshare locations for pickups).
The Las Vegas Monorail
The Las Vegas Monorail is one of the fastest and most convenient ways to travel the Strip. This transit system stretches 4 miles along the east side of Las Vegas Boulevard from the MGM Grand North to the SLS Las Vegas at Sahara Avenue. The train, which reaches speeds of up to 50 mph, makes seven stops, including one at the Las Vegas Convention Center. Not surprisingly, it is quite popular when major trade shows are in town.
One of the benefits of using the monorail is avoiding traffic congestion on the Las Vegas Strip. The monorail is also a fun way to see the Strip from above and offers great views of the surrounding area.
It's worth noting that the monorail may not be the most cost-effective option if you're only traveling a short distance, as ticket prices can add up quickly. However, if you plan on using the monorail frequently during your trip, it's worth considering a multi-day pass, which offers unlimited rides for a set period.
Las Vegas Monorail prices start at $5.50 for a single ride. An unlimited 24-hour pass is $13.45. You can also save more by opting for the two, three, four, five, six, and even seven-day passes.
Hours of Operation:
Monday: 7 AM to Midnight
Tuesday – Thursday: 7 AM to 2 AM
Friday – Sunday: 7 AM to 3 AM
Las Vegas Monorail Tickets:
Book your Monorail tickets online and save!
Four-Day Pass: $39
Five-Day Pass: $47
Six-Day Pass: $62
Free Transportation In Las Vegas – Free Trams
You also have the option to ride three other trams in Vegas and those ones are free:
Mandalay Bay – Excalibur Tram:
This free monorail links Mandalay Bay, Excalibur, and The Luxor with a stop at each of them. There is also an express tram that doesn't stop at Luxor.
Hours of operation: Monday – Friday: 11 AM to 10:30 PM / Saturday – Sunday: 11 AM to 12:30 AM
Mirage – Treasure Island Tram:
This free tram takes you from the Mirage to Treasure Island.
Hours of operation: Monday – Thursday: 9 AM to 1 AM / Friday – Sunday: 11 AM to 2 AM
Bellagio – CityCenter – Monte Carlo Tram:
This one is also known as the "Aria Express" and has 3 stations: 1 between the Aria and the Park MGM, another one at the Crystal shopping mall, and the third one between the Vdara and the Bellagio.
Hours of operation: Monday – Sunday: 8 AM to 4 AM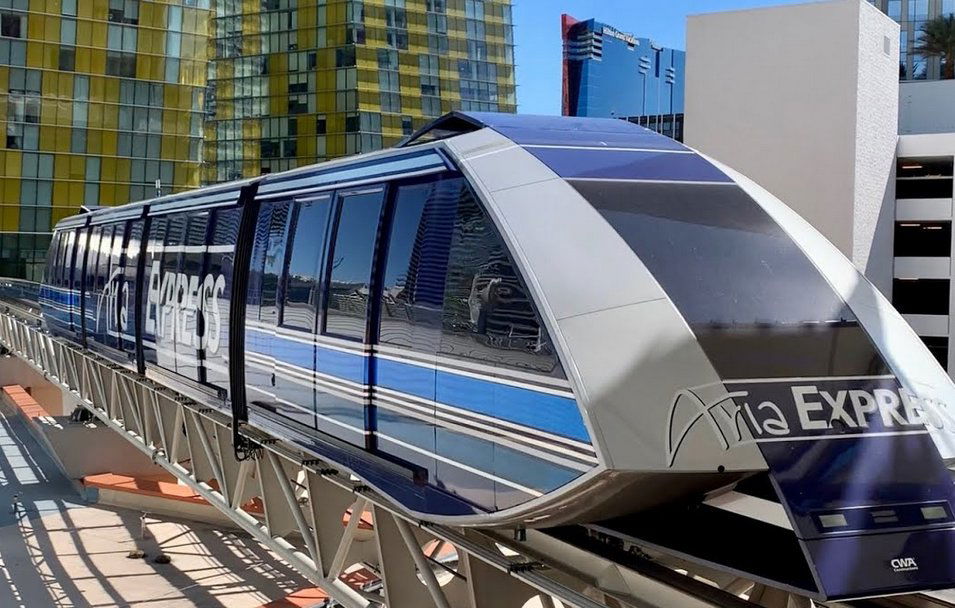 The Vegas Loop by The Boring Company
A new transportation option in Las Vegas is the Vegas Loop.
The Vegas Loop is a system of underground tunnels (developed by The Boring Company, owned by Elon Musk) that uses Tesla electric vehicles to transport passengers between different locations in Las Vegas. The project is developed to alleviate traffic congestion and provide a more efficient way for people to move around the city.
The Vegas Loop currently has 4 stops at the Las Vegas Convention Center (West, Riviera, Central & East) and 1 stop at Resorts World.
If you're attending a convention at the Las Vegas Convention Center, you can enjoy complimentary rides within the campus. If you're staying at Resorts World and need to travel to the Convention Center, you can purchase a day pass for just $4.50. Click here to buy your tickets.
The Loop is a game-changer for anyone who needs to get around campus quickly. Gone are the days of a 45-minute trek – now you can ride from one end to the other in just a couple of minutes. The Boring Company has plans to expand to 69 stations across Las Vegas, with the City of Las Vegas and Clark County having already approved expansion plans.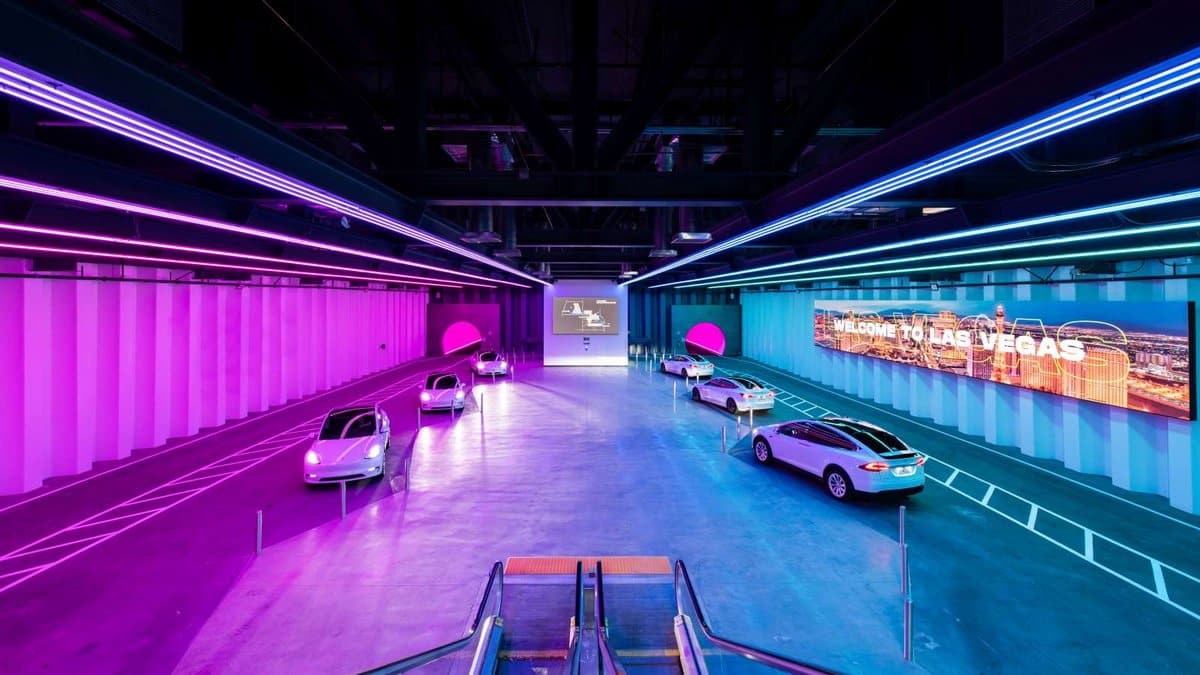 Walking and Biking
1. Getting Around Las Vegas on Foot
Walking is a great way to explore Las Vegas, especially if you're staying on or near the Las Vegas Strip. Many of the city's popular attractions, including casinos, restaurants, and shopping centers, are located within walking distance of each other.
The Las Vegas Strip is also pedestrian-friendly, with well-maintained sidewalks and crosswalks and many pedestrian bridges that make it easy and safe to cross this always-busy boulevard. However, keep in mind that Las Vegas is a desert city, and temperatures can soar during the summer months. If you're planning on walking during the day, be sure to wear sunscreen, stay hydrated, and take breaks in the shade when possible.
2. Popular Pedestrian-Friendly Areas in Las Vegas
There are several pedestrian-friendly areas in Las Vegas that are great for walking and exploring. The Fremont Street Experience in downtown Las Vegas is a popular destination that features a pedestrian mall with live music, street performers, and light shows. The LINQ Promenade is another popular pedestrian-friendly area located on the Las Vegas Strip, with a variety of shops, restaurants, and entertainment options.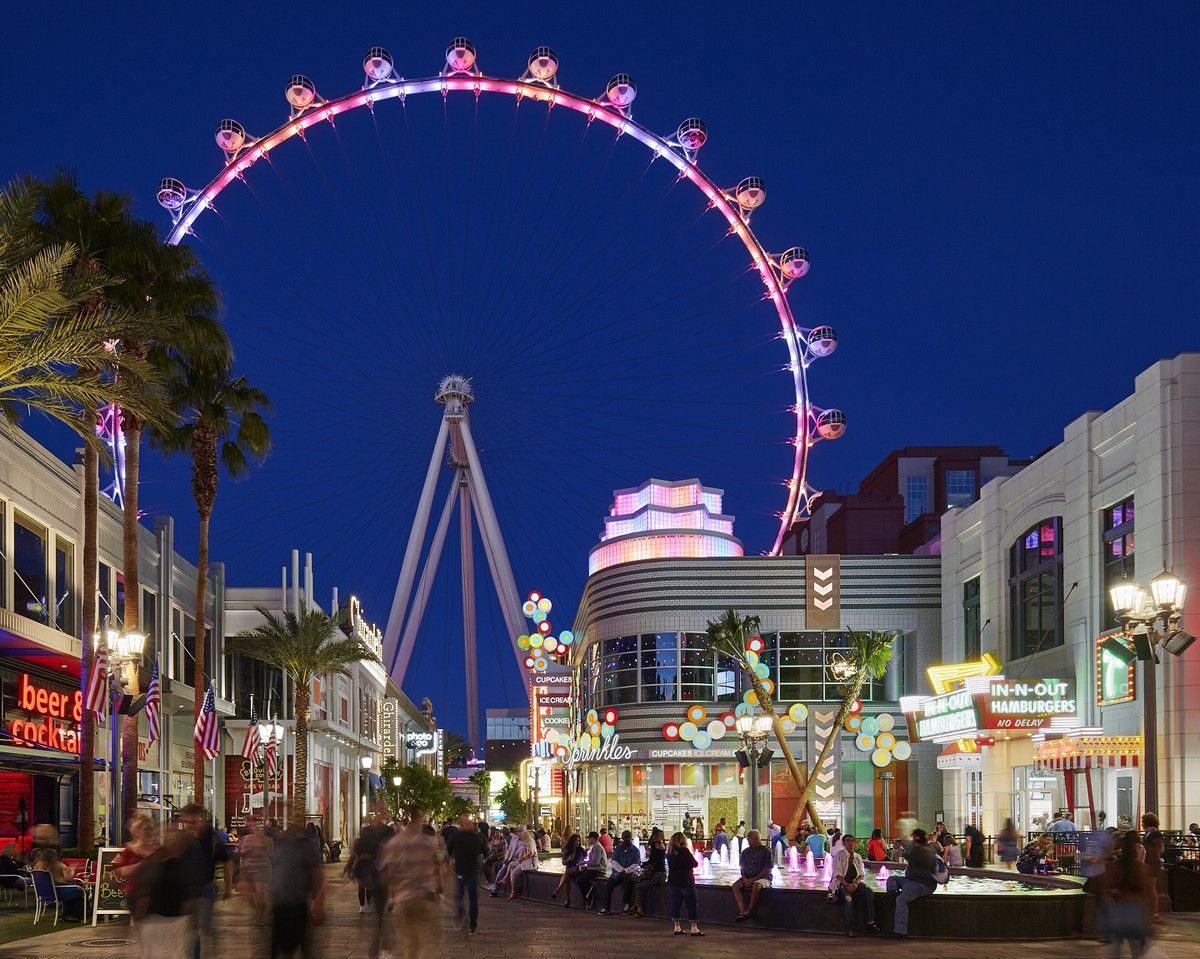 3. Bike Rentals and Bike-Sharing Programs in Vegas
If you prefer to bike around Las Vegas, there are several options for rentals and bike-sharing programs. Many hotels offer bike rentals for their guests, and there are also several bike rental companies in the area.
Additionally, Las Vegas has a bike-sharing program called RTC Bike Share. The program has over 21 stations located throughout in Downtown Las Vegas, where you can rent one of their 200 classic and electric bikes available 24/7. Their Dasher Pass costs $5 per day for unlimited 30 minute rides ($4 per 30 minutes after the first 30 minutes).
4. Tips for Walking and Biking in Las Vegas
Whether you're walking or biking in Las Vegas, it's important to stay aware of your surroundings and follow basic safety precautions. Avoid walking or biking alone at night away from tourist areas, stay on designated paths or sidewalks, and obey all traffic signals and signs.
If you're biking, be sure to use proper hand signals when turning, wear a helmet, and use bike lights or reflectors when riding at night.
Walking and biking are great options for exploring Las Vegas and enjoying the city's unique sights and sounds.
Vegas Transportation From Airport – Shuttle Services
If you're looking for an affordable and convenient way to get around Las Vegas, shuttle services are a great option. There are several shuttle companies that operate in the city, offering transportation to popular destinations such as the airport, hotels, and attractions.
Types of Las Vegas Shuttle Services
There are several types of shuttle services available in Las Vegas, including:
Hotel Shuttles: Some hotels offer complimentary shuttle services to and from the airport, as well as to other popular destinations on the Las Vegas Strip. Check hotels' websites to see if they offer this service.
Airport Shuttles: Several shuttle companies provide transportation to and from Harry Reid International Airport, including shared-ride and private shuttle options.
Attractions Shuttles: Some attractions, such as the Papillon Helicopter Tours or Battlefield Vegas can pick you up at your hotel when you book in advance.
Shuttle services are a convenient and cost-effective way to get around Las Vegas, especially if you're traveling with a group or visiting popular attractions. Just be sure to plan ahead and check the details of your shuttle service before booking.
Choosing What's Best for You
Las Vegas offers a variety of transportation options to suit different needs and budgets. From public transportation to taxis, ridesharing, and the monorail, there's a mode of transportation for everyone. Each option has its own advantages and disadvantages, so it's important to consider your destination, budget, and travel plans before deciding which one to use. Discover some of the latest developments on the Las Vegas Strip now!
Tips for Choosing the Best Las Vegas Transportation Option Based on Your Needs and Destination
When deciding which transportation option to use in Las Vegas, there are a few factors to consider. First, think about your destination and how far it is from your starting point. Next, consider your budget and how much you're willing to spend on transportation. Finally, think about how quickly you need to get to your destination and how much time you have to spare.
Here are some tips to help you choose the best transportation option based on your needs and destination:
Use public transportation if you're on a budget and have time to spare,
Use taxis or ridesharing services if you need to get to your destination quickly or if you're traveling with a group,
Consider purchasing a multi-day pass if you plan on using the monorail frequently during your trip.
Importance of Planning Your Transportation Ahead of Time to Ensure a Smooth Trip
Planning your transportation ahead of time is crucial for a smooth and stress-free trip to Las Vegas. It's important to research your transportation options and decide which one is best for your needs before you arrive. This will save you time and money and help you avoid any unexpected delays or confusion.
Here are some tips for planning your transportation ahead of time:
Research the transportation options available in Las Vegas and their schedules,
Consider purchasing tickets or passes in advance to avoid long lines or sold-out tickets,
Check with your hotel for any recommendations for transportation and ask them if they provide free shuttles,
Plan your route and allow extra time for unexpected delays or traffic congestion.
By following these tips and planning your transportation ahead of time, you can ensure a smooth and enjoyable trip to Las Vegas. And if you're really light on cash, remember that most of Las Vegas Boulevard is very walkable. Just be aware that the areas just off the Strip and Fremont Street can get sketchy at night.
Learn How You Can Save Money in Las Vegas: Tips for Budget-Friendly Travel here.