Jewelry and Honor
Boxing greatness gets rewarded with a belt, Golf champs get Green Jackets, Olympia top finishers deserve medals and Poker players get bracelets as a symbol for extraordinary achievement since 1976.
From June 2nd to July 11th, daily ceremonies take place on the stage of a Brasilia Room packed with players and journalists in order to honor the latest winners of a World Series Of Poker (WSOP) bracelet. Usually, the ceremony is held in the early afternoon except if there is a big-field tournament starting in the morning. In that case, the ceremony is sometimes postponed to a bit later. Usually, the new champions are honored by tournament director Jack Eiffel or WSOP historian Nolan Dalla and it is followed by a brief official photoshoot.
This year, the renowned jewelry company Jostens is again the official bracelet designer and manufacturer.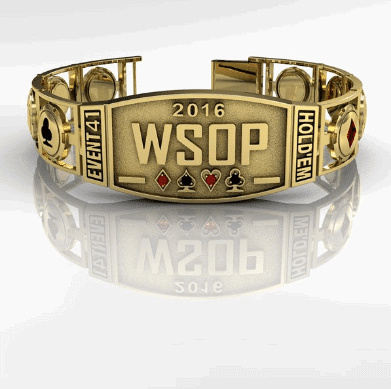 Of course, all winners' pictures are available on wsop.com .