Las Vegas Beyond the Buffet
Some Of The Most Unique And Extravagant Las Vegas Dining Experiences
What a difference a few decades makes. At one time, Las Vegas was known for only two things: gambling and entertainment. If you wanted a good meal, you needed to travel elsewhere because there was a dearth of good restaurants available. Yet today, the city is home to over 300 restaurants just on the Strip alone and many hold top award distinctions. It's safe to say, that Las Vegas is no longer a joke where food is concerned.
Top hotels in Las Vegas have upped the ante when creating new restaurants by spending millions and millions of dollars developing new and modern creations to go above and beyond their competition. And tourists and locals are responding. Vegas is now considered a "foodie" city, where celebrity chefs, master sommeliers, and Michelin Star-rated restaurants thrive.
Here are some of the top restaurants, fun eats, and unconventional dining experiences Las Vegas is offering now.
GIADA:
Everyone is talking about this newer restaurant from The Food Channel host, Giada De Laurentiis. Located in The Cromwell boutique-type hotel, here you will find comfortable, intimate seating, with one-of-a-kind views of the Strip and the Bellagio fountains.
A bright, airy space, with natural wood floors and off-white decor, the design was intended to replicate Giada's personal home. Menu items include some of her most famous recipes, including lemon chicken and other Italian favorites as well as drinks named after her grandfather, producer Dino De Laurentiis, famous movies.
BLUE RIBBON FRIED CHICKEN:
Speaking of chicken, we would be remiss if we didn't include Blue Ribbon Fried Chicken in downtown Las Vegas. One of the top choices in good old comfort food, this classic, yet casual restaurant serves some of the best fried chicken anywhere. With just the right amount of seasonings and perfect side dishes including collards and smoked bacon, you can get your fried fix right here. And they even deliver.
BEIJING NOODLE No. 9:
Here you experience a visual as well as a taste treat. Surrounded by hundreds of goldfish in impressive and gigantic water tanks, this highly praised restaurant features so many items, their menu is nine pages long, which means you will rarely order the same thing twice. Exoctic food items include braised pork belly, ox, tongue, and jellyfish to family favorites such as chow mein, fried rice, and every kind of noodle dish imaginable. Located in Caesars Palace, this was voted "Best Noodles" by Las Vegas Review Journal for 2015.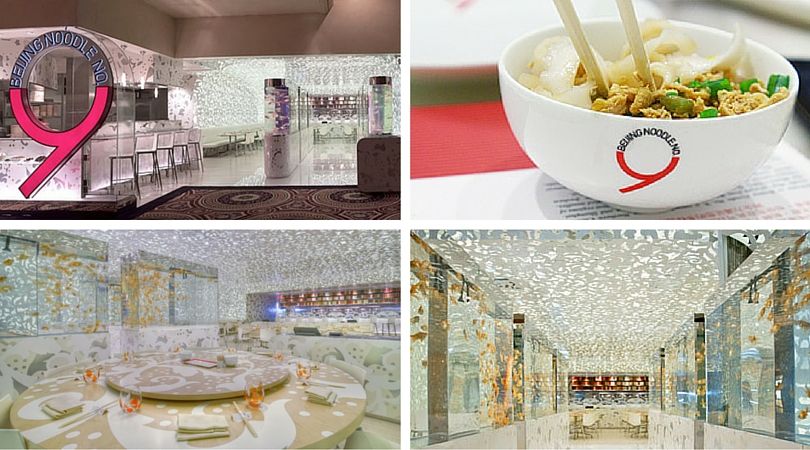 MICHAEL'S GOURMET ROOM:
Off the strip, this classic steak restaurant is a local favorite and provides a unique experience reminiscent of yesteryear. Complete with velvet banquets, uniformed staff, intimate surroundings, and first-rate service, you will find traditional menu selections like veal saltimbocca, escargot, and chateaubriand for two. The desserts are amazing as well.
JOEL ROBUCHON, MGM Grand:
Forbes Magazine calls this "simply the best fine dining restaurant in the country if not the world." This once-in-a-lifetime experience is the creation of the restaurant's namesake, Joel Robuchon who is the most Michelin-starred and decorated chef in history. But this is not for the budget conscious. A degustation menu for two can go for over $1,000. However, you will find an ever-changing menu, spectacular service, and a decor that is unlike anything you will see anywhere.
While we have only listed a few of the restaurants that are gathering accolades today in Las Vegas, here are just a few more to put on your shortlist:
BLT BURGER (Mirage)
GLUTTON (Downtown)
ITSY BITSY RAMEN & WHISKEY (Downtown)
LAGO (Bellagio)
OTHER MAMA (Cocktails & raw bar)
PUBLIC SCHOOL 702 (Downtown)
While buffets and Las Vegas go hand in hand, with so many unique and acclaimed restaurants in the city today, it seems almost a shame not to venture out and experience those dining options earning raves from the locals and food critics. Many of these restaurants require a reservation, so plan early and bon appetit!