Tie the Knot: 6 Places to Get Hitched in Vegas
After saying "yes" to the person of your dreams, it's time to start planning all those minute details for the perfect wedding. You'll need flowers, dresses, tuxedos, an officiant, and oh yeah, a venue!
Sometimes, nailing down the venue is the most frustrating part of wedding planning. You and your fiancé have to agree on a place that'll work for both of you and your families.
If you've picked Vegas as your top venue choice, you're in luck! There are plenty of beautiful places to get married at.
Not only that but no matter your style or tastes, you'll find the city very accommodating.
Curious to know the best places to get hitched in Vegas? Read our picks below!
Mandalay Bay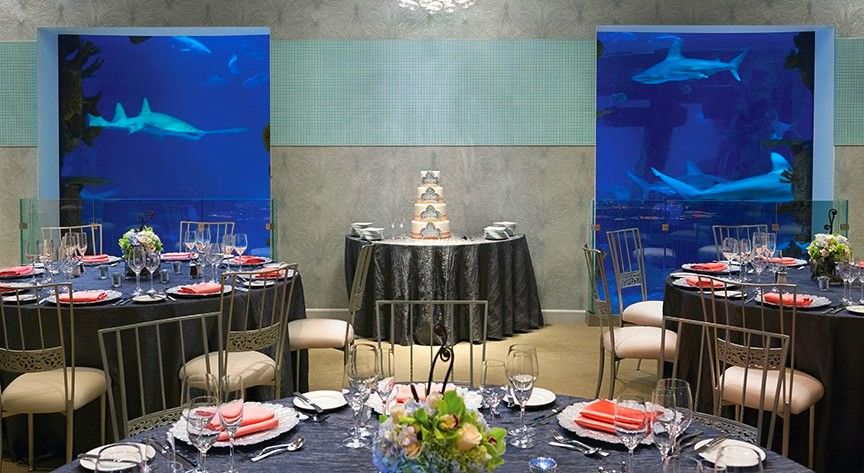 How would you and your fiancé love to get married underneath the sea? The Mandalay Bay makes it easy with one of your venue choices under their shark reef.
There, hundreds of fish and other sea creatures are your audience while you both say "I do" right underneath the acrylic archway.
Are fish not really your thing? Instead, you can get married on right on the beach!
Mandalay Beach is their exclusive location for those wanting a romantic, intimate experience. There's ambient lighting to set the mood and the water looks as if it's glowing. The perfect setting for those looking for a unique venue.
Red Rock Country Club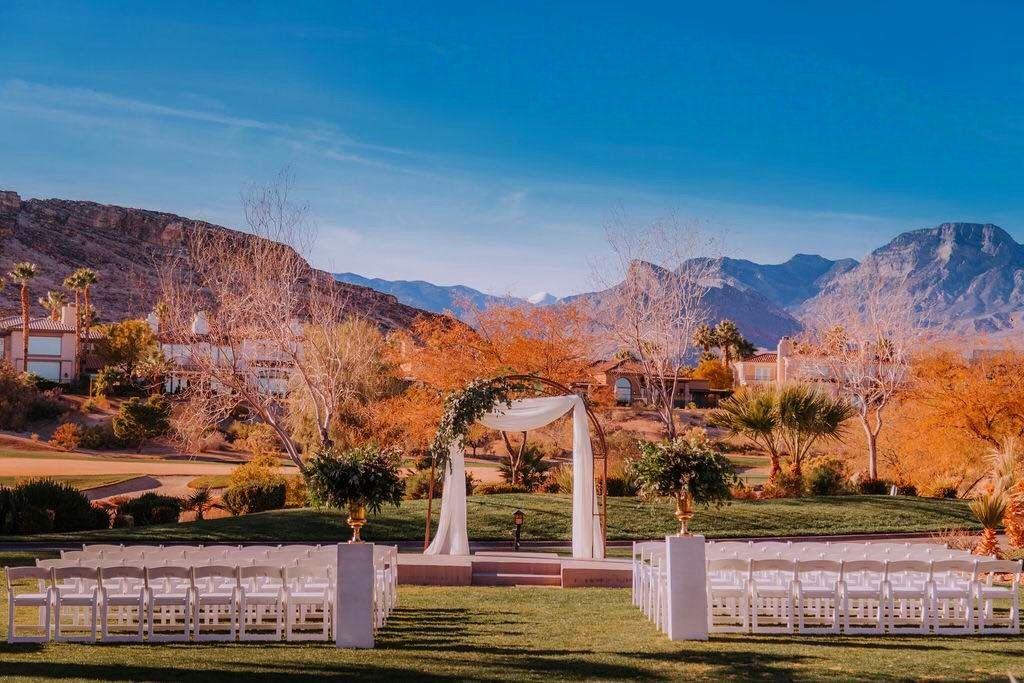 Be close to nature when you book your perfect day down at Red Rock Country Club! Their private ceremony location overlooks a wondrous waterfall while you and your fiancé tie the knot on their green golf grounds—all surrounded by mountains.
Every wedding package includes an open bar and a sit-down or buffet-style dinner. They also take care of those painstaking details like booking the DJ, supplying linens, and setting up a photo booth to capture all the memories.
If being on a golf course has you worried, rest assured no other event will be going on while your wedding is in progress.
Helicopter Wedding
Let's face it, weddings can be a tad boring (and frustrating) sometimes. You spend months booking and reserving all things needed like florists, caterers, and bartenders. After all that, you spend your day worrying whether things will go right.
Where's the excitement?!
Booking a helicopter tour is where it's at. Fly above the illuminated Strip at night, soaking in the sights while reciting your vows to your loved one.
Papillon offers a Wedding Package with Canyon landing. They take care of everything:
Private helicopter for your wedding party of up to 4 passengers plus officiant
Luxury limousine service from the hotel and back
Dozen-rose bouquet (either a cascade or hand-tied) and groom's boutonnière to match
(6″) Six-inch wedding cake
Minister to officiate the ceremony
This venue is for the daring couple that doesn't mind heights. It also makes for the coolest wedding story too!
Caesars Palace
Feel as if you stepped into the heart of Rome when you make Caesars Palace your wedding destination. Their gorgeous venue locations are luxurious in every way, from the chandeliers to the stained glass windows.
Their Tuscana room represents Old World Tuscany in every essence. The neutral color palette along with ornate details makes it seem like you aren't in Vegas but Italy. The lighting is warm and inviting, making it the perfect intimate space for close friends and family members to witness the love between two people.
Want to take your wedding outside? There's no better place than the Venus Garden. There, you're surrounded by tall palm trees and Roman architecture.
You and your fiancé will stand underneath a stone gazebo to exchange vows. The stone benches seat up to 114 guests so even extended family can be there.
Along with a stone aisle you'll both walk down, there's a tranquil koi pond for a relaxing atmosphere. When you choose this as your venue, you'll forget you're even in the bustling city that's Las Vegas.
Magnolia Chapel
What's Vegas without all the glitz and glam? The Magnolia Chapel inside the Chapel of the Flowers is lavished in silver.
Complementing the marble mosaic tiles are crystal curtains, sure to capture you in your best light when it's time to take pictures. For more luxury, the chandeliers are draped with dozens of sparkling crystals. Even the floral décor is decorated with crystals!
This venue is suited for those wanting to experience the glamorous side of Las Vegas. While the room itself is small, it makes for a more intimate ceremony.
Springs Preserve
We went over extravagant rooms and luscious gardens but how about a desert-theme location? At the Springs Preserve, you have your options of different ceremony locations throughout the vicinity.
Their Gardens package allows you to have your ceremony in their lively Garden Arbor surrounded by trees and beautiful blooms or their gazebo. This package also includes a cocktail hour in their rustic Frame House, the Cactus Alley where you're surrounded by, you guessed it, cacti, or their more casual DLC Rotunda.
The second package available is the Desert Living Center. Your ceremony will be either in the Courtyard Plaza or Gardens Amphitheater.
The Courtyard Plaza is where you'll say your vows in front of a unique structure while the Amphitheater is a spacious amphitheater that's then dressed to the nines with floral décor and chiffon fabric banners.
Last but not least, their Origen package includes a ceremony on their Springs Amphitheater stage fit with a large screen so guests in the back can see what's happening. It's also in front of a large mountain-like structure and surrounded by trees.
For the couple that loves to be up close and personal with nature, the Springs Preserve is the place to be. Afterwards, everyone can head to the beautiful botanical gardens!
Say "I Do" to These Wedding Venues
Your wedding should be one to remember. And what better place to get hitched than Las Vegas? There's a wide array of venues suited for every type of couple imaginable—from the glamorous to the daring.
Why not make Las Vegas your honeymoon destination as well? Book your hotel in advance today!