Beyond the Strip: Unusual Things to Do in Las Vegas
When Vegas comes to mind, we think of a few things like cocktails, nightlife, and extravagant casinos. But if you're a frequent visitor to this glitzy city, you become blind to all the flashy excitement.
It was great when you first landed but now…you're lusting for a different experience.
You don't want to see another Cirque du Soleil show nor another concert. Instead, you want to do things that are more thrilling.
How would you like to take a helicopter ride to a winery? Or better yet, team up with your friends to fight hordes of gruesome zombies?
Now that we have your attention, keep reading to discover even more unique and unusual activities Las Vegas has to offer!
Operate an Excavator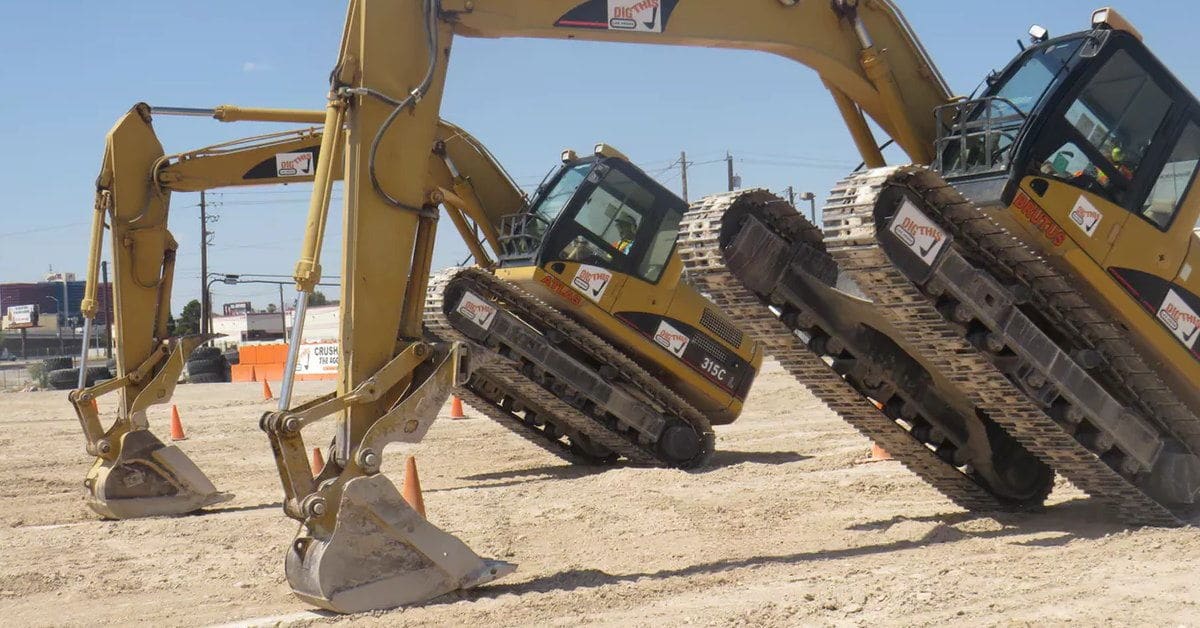 At Dig This Las Vegas, you can operate big machinery free-range style. You can dig, grind, and crush piles of dirt and rocks.
Depending on which session you choose, each comes with a different type of machine and things to do.
For example, the Big Dig Excavator experience comes with your choice of a 313FL or 315CL excavator. From there, you'll have a guide to teach you how to create huge mounds, dig trenches, and stack 2,000-pound tires!
However, there are a couple of catches. For starters, you need to pass a breathalyzer test. If you fail, your money on this experience is non-refundable.
And before you start going crazy with the huge machinery, you'll need some beginner lessons first. The instructors guide you through some warm-up exercises before they let you roam free.
Packages start at $169!
Click here for the best deals & discounts on Dig this Vegas tickets!
Visit the National Atomic Testing Museum
Curious to know about America's nuclear weaponry? They're tested down at the Nevada Test Site.
The museum is dedicated to educating the public about this advanced weaponry and how it plays a part in present and past history. On display are personal weapons like the Backpack Nuke and the Davy Crockett Weapon System, which is a recoilless gun.
You'll learn more about how the Nevada Test Site was established along with weapon and machine replicas like the Control Point. To enhance your experience further, there's a Ground Zero Theater which simulates an above-ground test.
In an expansive 8,000 square-foot establishment, it's fun for the whole family! Think of it as the best interactive history lesson you'll get to experience.
You can buy your tickets directly with the Museum at $22 for general admission. Discounted rates for active military, seniors, students and local residents with ID for $18. Children six years old and under are free.
Ride in a Helicopter to a Wine Tasting Destination
Forget your average helicopter tour. Sundance Helicopters takes it a step further with your destination being a wine tasting, including a four-course meal.
You'll start in Las Vegas, where the helicopter leaves from. From there, you'll experience the breathtaking views of Red Rock and Mount Charleston. You'll go over the "hump to Pahrump" where your wine and dinner awaits at the Pahrump Valley Winery.
Once you arrive, you can enjoy more beverages and exquisite food at their Symphony Restaurant. When you're ready to depart, your trip back includes sights of Spring Mountain and the Vegas Strip lit up at nighttime.
Seriously, what better way is there to experience Vegas (and the outside of it) than with a helicopter ride that includes dinner and wine?
Since this is such an extravagant experience, make sure to set a good amount of time to include it in your day. Time from place to place is approximately four hours.
Drink a Scorpion
Yes, this is a real thing. After all, you're in the desert so it only makes sense to drink a scorpion, right?
You can experience this unique delicacy down at any Nacho Daddy location. Whether you're on the Strip, downtown or in Summerlin, you'll find their world-famous "Scorpion Shot."
The shot includes their in-house brand of Nacho Daddy Patron Anejo along with a pickled scorpion, salt, and a lime wedge. If you're brave enough to do this, it'll be one cool story to tell your friends and family back home. Don't forget to document this on social media using their hashtag #gotstung.
After downing the scorpion, go ahead and try their gourmet nachos smothered in queso and salsa made in-house every day.
Game On with Virtual Reality
VR is becoming an increasingly popular way to game. Instead of buying the expensive headset yourself, just head down to the MGM Grand for their Virtual Reality Gaming experience!
With up to eight players, you and your friends can fight zombies and robots along with solving puzzles in a 2,000 square-foot arena. It's an entirely immersive experience made for heart-racing fun.
Some of the games you can choose from are:
Zombie Survival; you and your team must battle your way through a zombie apocalypse. When you take down all the waves of zombies and rebuild safety structures, you'll then succeed by being lifted out of danger by an extraction team.
Singularity; you're inside a secret military base station where something has gone horribly wrong. You'll have to solve the mystery while fighting robots and drones. Did we mention it's in zero gravity?
Engineerium; escape to a magical world filled with colorful creatures and otherworldly spectacles. Best for players of all ages, you'll work together to solve puzzles in order to progress.
Outbreak Origins; last but not least, you and your team must stop a deadly virus from taking over the world. People infected are running rampant with attack helicopters trying to keep the virus from spreading. Amidst the chaos, you must fight your way through hordes of enemies to find a cure.
Click here to book your tickets directly with MGM Grand for Virtual Reality By Zero Latency!
Experience Las Vegas in a New Way
Rather than go for cocktails at a casino bar and watch other people lose all their money, you can experience the really fun things Vegas has to offer. Whether you want to operate an excavator or drink a scorpion, nothing is off limits!
Want to live like a VIP while in Las Vegas? Sign up to become a VIP member to see all of our unlisted deals and promo codes!