Vegas on $20 a Day: Where to Go and What to Eat
Las Vegas hasn't always been a pricey vacation destination. Even as recent as 10 years ago, you could still find dollar shrimp cocktails and bargain buffets both off and on the Strip. Today, however, you'd be hard-pressed to find a single meal on the Strip for less than $20, let alone an entire day of dining out. And while the entertainment options in Vegas are more varied than ever (selfie museums or indoor skydiving, anyone?), they're also more costly as well.
But good deals can still be found if you know where to look. Follow our dining and entertainment guide and enjoy 24 hours in Las Vegas for just $20 or less.
Where to Go for Breakfast
Garden Buffet
Where: South Point Hotel & Casino
Cost: $13.95 with Player's Card or $16.95 without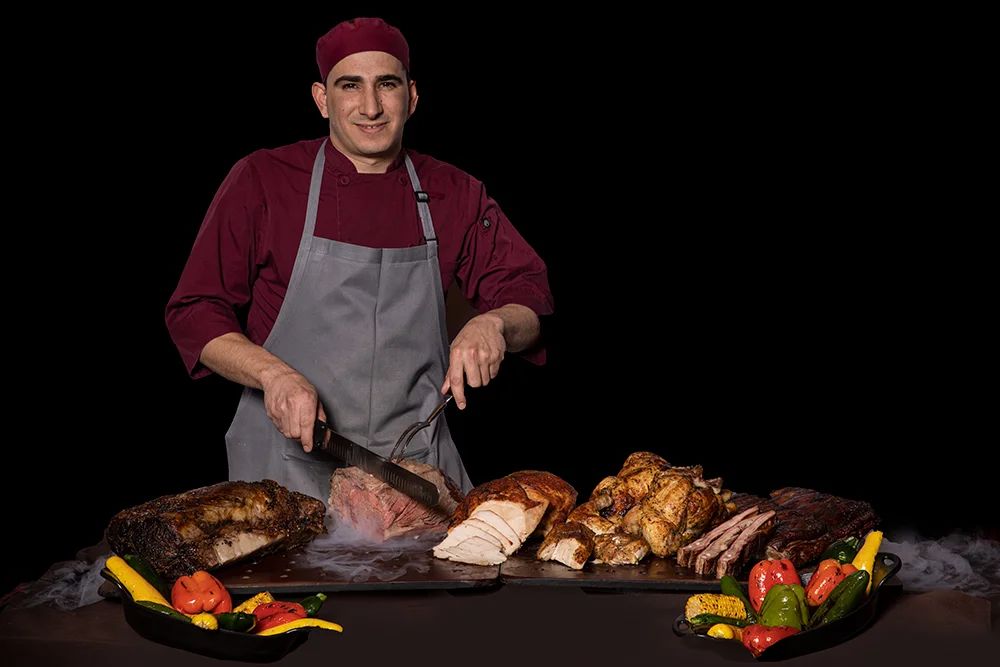 While the South Point Hotel and Casino is located about a 15-minute drive from the Las Vegas Strip, the trip may be worth it for the money you can save on a tasty buffet breakfast. For less than $14 (with a Player's Card) you can enjoy an all-you-can-eat breakfast buffet. Carb load on pancakes, French toast, and fresh-made waffles or fill up on their tasty made-to-order omelets.
Buffets on the Strip can easily set you back anywhere from $25 to nearly $80 a person, which makes the Garden Buffet one of the best bargains in town. Breakfast is served daily between 7:00 and 10:00 a.m.
Where to Go for Lunch
Ocean One Bar and Grill
Where: The Miracle Mile Shops on the Strip
Cost: $4.99
At Ocean One Bar and Grill, everything on the lunch menu is $4.99. This means that for under $5.00, you can have your pick of everything from a half-pound sirloin burger or a grilled salmon salad to a penne pasta or marinated skirt steak with cabernet sauce, and more. Beers are just $3 and cocktails are relatively inexpensive (just $10 each). What's more, if you order three cocktails, you'll get three for the price of one.
Where to Go Sightseeing
Calico Basin Trail
Where: Red Rock Canyon
Cost: Free
Vegas casinos offer a number of free attractions, such as the Bellagio Fountain Show or the Bellagio Conservatory and Botanical Gardens, but if you're looking to explore away from the tourist corridor, Calico Basin is a great choice. Calico Basin is located 30 minutes outside the city and is within the famous Red Rock Canyon (think: stunning sandstone cliffs and red boulders the size of cars). But unlike the Red Rock Canyon National Conservation Area, which charges a fee to enter, Calico Basin is 100 percent free.
The basin is a popular hiking and rock-climbing destination, but if you're looking for something less strenuous, there's a boardwalk that winds through a natural spring (it's even stroller and wheelchair-friendly).
Where to Go for an Afternoon Drink
Bird Bar
Where: Flamingo Hotel & Casino
Cost: $.50 beers
The Bird Bar is a fun place to visit even if you're not a big drinker, thanks to the flair bartenders as well as the bar's Strip-side location (the patio makes for some great people-watching). The beer pong tables are also an added bonus.
But the Bird Bar's feature attraction is its Happy Hour special. Every day between 5 pm and 6 pm, the bar serves $.50 cent beers. This is easily one of the best happy hours on the Strip and an unheard-of deal for a city where $10 beers are often the norm.
Where to Go for Dinner
Tacos El Gordo
Where: The Gold Key Shops on the Strip
Cost: $2.00 tacos
Tacos El Gordo has been a locals' favorite for authentic, inexpensive Mexican food since it first opened in Las Vegas in 2010. With three locations across the city (two of which stay open until two am), it's also a top-pick for a post-drinking snack.
Tacos and tostados start at just $2.00, but other items on the menu are similarly affordable, ranging in price from $4.00 for quesadillas (with meat), sopes and mulas and $10 for carne asada fries.
Where to Go for an Evening Drink
Ellis Island Brewery
Where: Ellis Island Hotel, Casino & Brewery
Cost: $2.50 for a 20oz. glass of beer
Located just off the Strip inside the Ellis Island Hotel & Casino is one of the city's best-kept secrets: The Ellis Island Brewery. The brewery serves six permanent beers as well as several seasonal brews, and was voted "Best of Las Vegas" two years in a row by the Las Vegas Review-Journal.
You'd think with all the recent hype the brewery would up their prices. But thankfully, they're still serving up 20-ounce beers for just $2.50.
Where to Watch Free Live Music
Fremont Street
Where: Fremont Street Experience in Downtown Las Vegas
Cost: Free
The six-block stretch of historic downtown Las Vegas that encompasses the "Fremont Street Experience" is worth visiting for the people watching alone. On any given day, dozens of costumed characters pose for photos in the street and scantily clad dancers gyrate on bar countertops as tourists stumble happily from casino to casino in various stages of intoxication. It's quite the spectacle.
But the biggest draw happens every night at 6 pm when bands and DJs take the stage to perform for the crowds. The performances run into the early morning hours and feature everything from 90s cover bands to country singers to techno DJs and more. Fremont Street has three stages, so if you don't like the music at one stage, you can easily switch venues.
All of the concerts are free and the alcohol and food are relatively cheap (by Vegas standards). Some of the bands that have played on Fremont Street in 2021 have included Plain White T's and 3 Doors Down. Barenaked Ladies are scheduled to play on October 9.