Work Hard, Play Harder. Make Las Vegas Your Home Office
From seasoned telecommuters to those who've never worked remotely before now, just about anyone who is anyone is working from home these days. It's pretty much the new norm—for a little longer, at least.
If the new norm is already getting old, and you're up to putting travel on your to-do list, MGM Resorts International recently unveiled its Viva Las Office getaway. The promo is billed as the ultimate home-away-from-home office experience for jet-setting professionals. Those who book one of three packages for a three-night minimum stay at the Bellagio Resort & Casino or Aria Resort & Casino may receive:
Flexible check-in as early as 8 a.m. and check-out as late as 6 p.m.
A dedicated executive assistant (a.k.a. personal concierge) to coordinate details and reservations
Daily food and beverage credits at any open MGM Resorts-owned outlet
A Safety Amenity Travel Kit with mask, hand sanitizer and a stylus pen
Discounted fares through JSX, a hop-on jet service, available at Burbank, Orange County, Oakland, Dallas and Seattle airports
The Packages
For the Viva Las Office promotion, there are three different tiered packages to choose from at two different resorts, each with slightly different perks. Please note that the prices below do not include taxes and resort fees:
The Associate:
If you book The Associate package, you will receive either a Bellagio Resort King (510 square feet) or an ARIA Deluxe King room (520 square feet), a $50 food and beverage credit per night, $75 off a roundtrip JFX flight, an executive assistant, early check-in and late check-out. This package starts at $101.80 per night for a 5-night stay.
The Manager:
The Manager package puts you in a Bellagio Fountain View (510 square feet) or ARIA Deluxe Strip View room (520 square feet) with a $50 food and beverage credit per night, $100 off round-trip JFX flight, an executive assistant, early check-in and late check-out. You also receive two VIP pool day passes and a relaxing neck and shoulder massage poolside. This package starts at $147.80 per night for a 5-night stay.
The Executive:
When you climb the corporate ladder and book The Executive, you crash in a Bellagio Salone Suite (853 square feet) or an Aria Corner Suite (920 square feet) with a $75 food and beverage credit per night, $125 off round-trip JFX flight, executive assistant, early check-in and late check-out. You will also enjoy a full-day cabana rental and a relaxing poolside massage. This package starts at $281.80 per night for a 5-night stay.
Best of Both Worlds
Viva Las Office is really the best of both worlds for working travelers, according to Atif Rafiq, President of Commercial and Growth for MGM Resorts.
"We understand that working from home every day can become taxing and monotonous," he said in a press release. "We are excited to offer a safe and curated experience here at Bellagio and Aria that combines work and play."
MGM Resorts International isn't the only company enticing visitors with a work-from-home promo. Sin City's hometown airline Allegiant Air teased a similar work-from-home package with nonstop airline tickets and a hotel room during an earnings call in late June. Additional details will be available later this month, according to a company spokesperson.
Bellagio Versus Aria
Not sure if you want to stay at the Bellagio or Aria? You really can't go wrong at either of these Las Vegas Strip properties. Plus, they are connected to one another via a quick tram ride, so it's easy to go back and forth.
The AAA Five Diamond Bellagio Resort & Casino is home to world-class dining, spa, shopping and the breathtaking Conservatory & Botanical Gardens. The iconic Bellagio fountain show, out front, is captivating and world-famous.
With its unique architecture, sustainable design and public fine art collection, Aria Resort & Casino is also a AAA Five Diamond property with excellent dining, spa and shopping. Its located within the CityCenter, which includes Vdara Hotel & Spa, and the upscale Crystals shopping mall.
Rooms and suites at Bellagio and ARIA are all office-ready with a spacious work setting, reliable wi-fi, desk and a chair.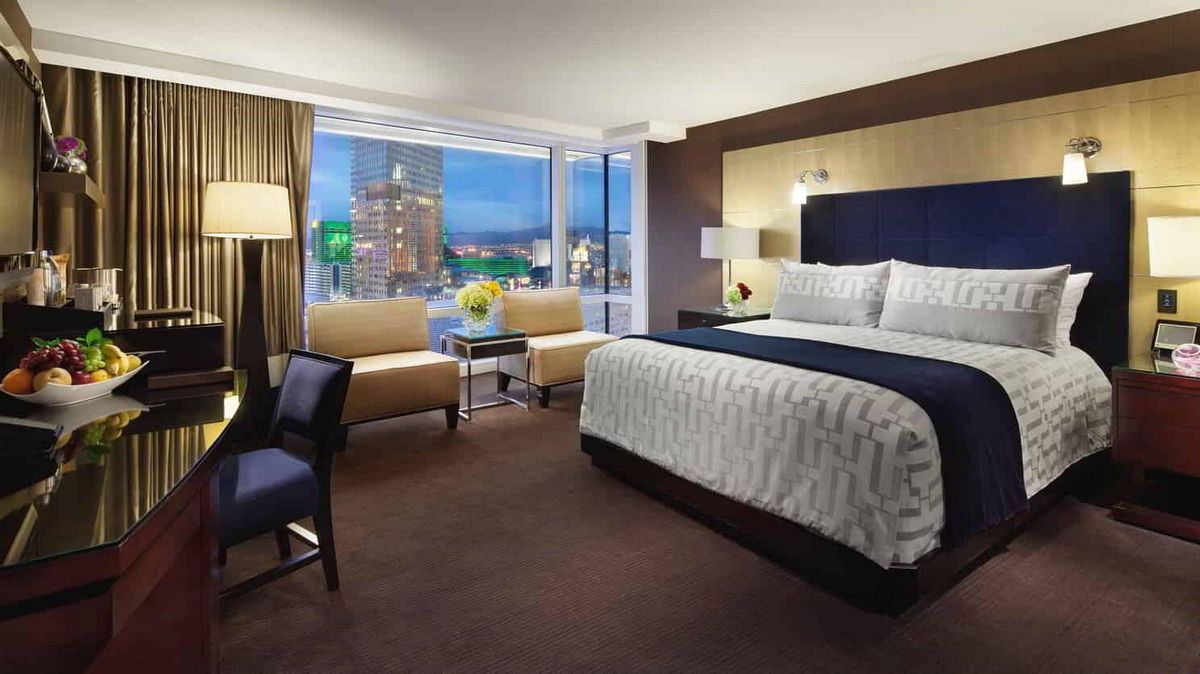 Just remember, while Las Vegas is currently welcoming guests, not every property or venue is open just yet. Those which are open and operating are required to follow an array of health and safety protocols.
As expected, visitation to Las Vegas remains lower than normal due to the pandemic. The Las Vegas Convention and Visitor's Authority (LVCVA) reported that visitor volume in June was down 70.5% from the previous year, and occupancy at only 40.9%, following the gradual re-opening of the gaming industry on June 4. As for convention attendance: 0%.
The LVCVA encourages travel to Las Vegas but reminds in a press release: "We don't have a lot of rules, but wearing a mask is one of them." In the agency's COVID-19 updates, LVCVA reminds that businesses have the right to asks guests without masks or face coverings to leave.
Don't Forget Your Fluffy Co-Worker
You're not the only one whose life changed when you started working from home. Your dog has probably gotten used to having you around and might give you some serious puppy eyes when you start packing your bag.
Fortunately for Fido, Bellagio and ARIA are both dog-friendly properties. You can throw your dog a bone and bring him or her along for your work excursion. You and your furry bestie will be pleased to find pet relief areas and a variety of add-on amenities, including dog-walking services, dog babysitting, a special food menu and a box filled with toys and treats.
Other Hotel Deals
If the Viva Las Office promo isn't for you, but you still want to come to Las Vegas, you're in luck. There are more hotel deals than ever, from 5-star to budget hotels on the Las Vegas Strip and in Downtown Las Vegas. Check them all out on our Las Vegas hotel deals page!