Your Ultimate Guide To The Best Spas In Las Vegas
There's an old saying that says 'what happens in Vegas, stays in Vegas'. This statement can actually hold true for some things in the city that never sleeps because you simply cannot find those things outside of Vegas.
This holds true for many spas in Las Vegas. There are simply no other spas that can hold a candle to the luxury and elegance of visiting a spa here. Whether you're looking for a specialty service such as a facial, or you want the works, there is a spa here in Vegas that will make your toes curl.
The trick to finding the best spas in Las Vegas is to be on top of your Vegas travel research so you can see what's trending and places that people favor the most. That's why we're detailing 10 of the best Las Vegas spas for you. Keep reading to learn more!
The Top 10 Best Spas in Las Vegas
Deciding on a spa in Vegas can be a bit intimidating at first. There are plenty to choose from but if you know which experience you're looking for, you can choose which spa best suits your interests. Check out this top ten list with selections for every taste and budget.
ESPA at Vdara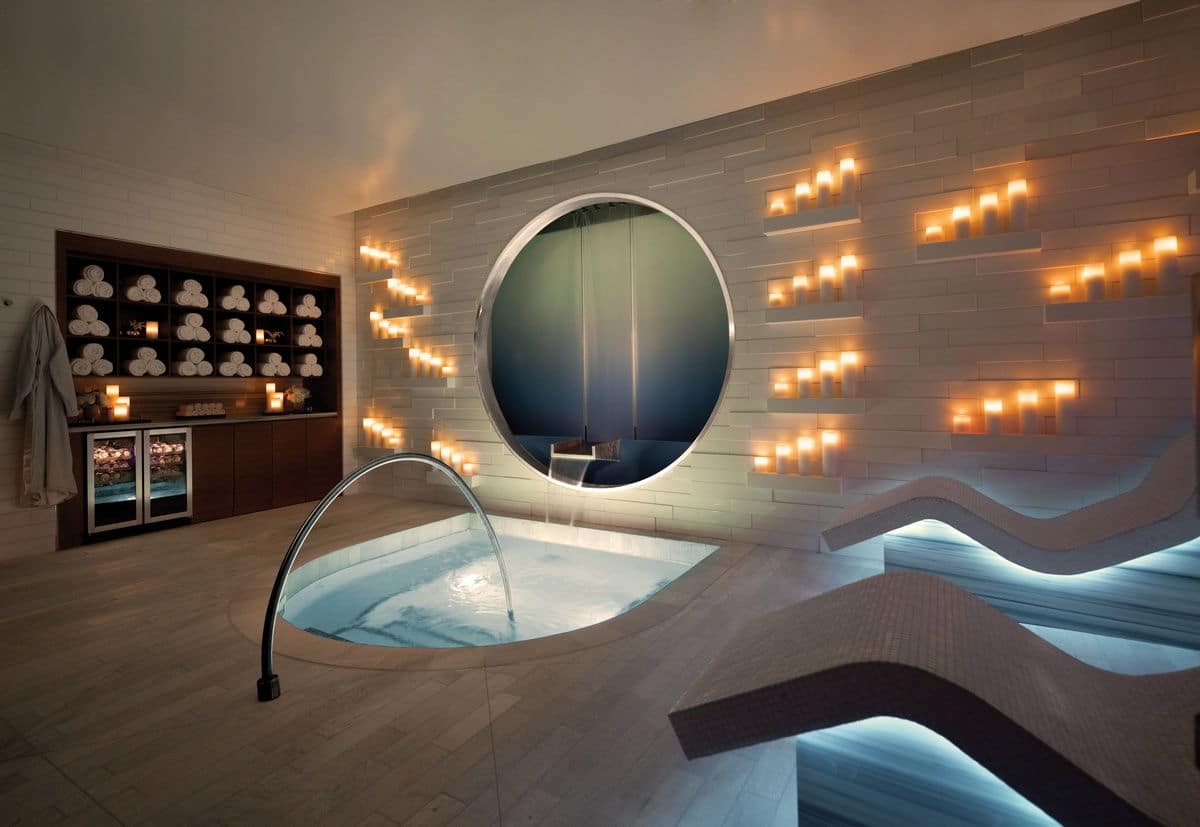 For a truly luxurious escape, don't skip the ESPA at Vdara. Each treatment is tailored to the individual so you can expect a unique experience.
You'll start with a signature European heat experience which offers a therapeutic temperature change in a multi-functional room where you can retreat for an entire day. Next up, the signature On The Rocks treatment which is a 110-minute chakra balancing session designed to relieve your stresses from head to toe. Finalize your visit with a light facial and scalp massage.
The Spa at Encore Las Vegas
Location: Encore Resort & Casino
The spa at Encore offers 51 luxurious treatment rooms all with inspired elements of water, sunlight, and limestone. It has been awarded the Forbes Five-Star Award which is based on their Travel Guides.
You'll also enjoy the movement studios which offer yoga, spinning, and private meditation classes that make this spa a truly idyllic retreat.
Qua Baths & Spa at Caesars Palace Las Vegas Hotel and Casino
Location: Caesars Palace Hotel & Casino
In true form with the name of this classic hotel in Vegas, the Qua Baths & Spa at Caesars Palace is inspired by ancient Roman traditions pertaining to relaxation. You'll enjoy the serene setting with a backdrop of cascading waterfalls accented by an abundance of natural light streaming throughout.
The signature massage is the Mojave Rain Aromatherapy Massage inspired by Native American traditions that include sacred plants and oils.
The Spa at Waldorf Astoria Las Vegas
Location: Waldorf Astoria Hotel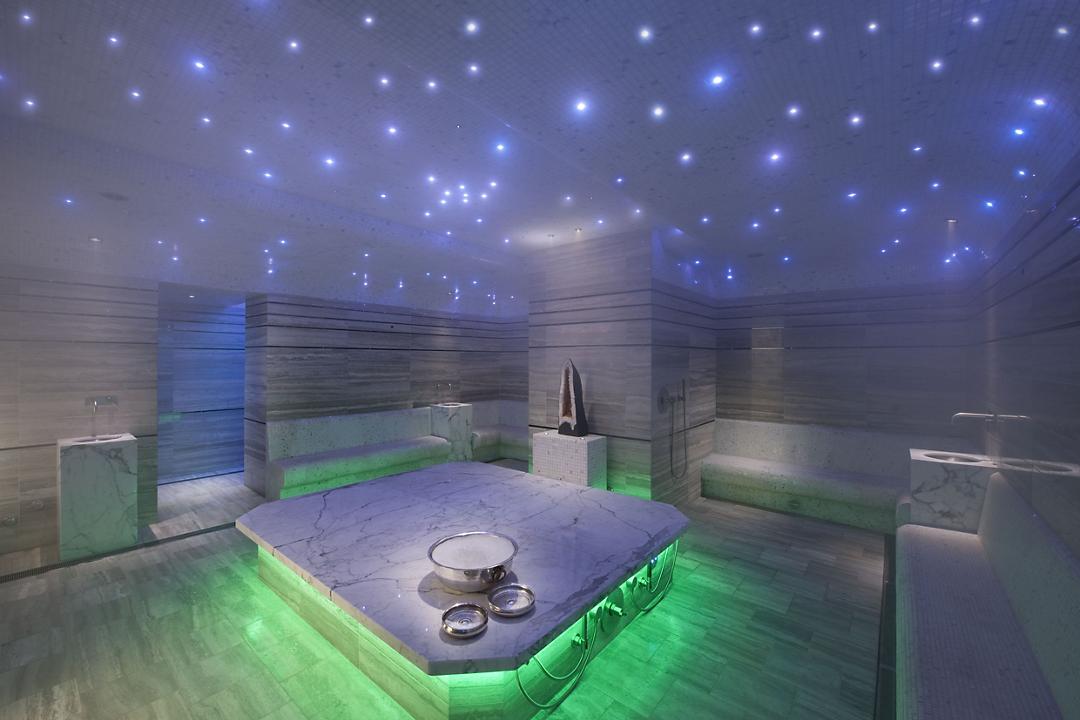 Often mentioned as the best spa in Vegas by vacationers and locals alike, the Spa at Waldorf Astoria is a true Oasis inspired by traditional Eastern philosophies. The signature of the spa is the Hamman which is a tranquil steam room featuring mosaic tiles and soothing lights.
Ask for the Luxury of Time massage which is a two-hour massage session with a focus on pressure points and energy centers in your body.
Sahra Spa and Hamman at the Cosmopolitan
Location: The Cosmopolitan Hotel & Casino
For a taste of decadence, you simply must visit the Sahra Spa and Hamman at the Cosmopolitan. With the Moroccan Journey treatment, you'll have access to the exclusive use of the 1200-square foot Hamman for a full experience of what this spa has to offer. You'll also enjoy the smaller spa treatment suites and private steam rooms if you opt for a more traditional treatment instead.
The Spa at Aria
Location: Aria Resort & Casino
The Spa at Aria is a vast, 80,000-square foot space where guests can completely remove themselves from the heat of the desert and relax on heated stone ganbanyoku beds which are the only of their kind in the United States.
If you need some fresh air, you can enjoy the Shio Salt Room where you'll rest on comfortable lounges and breathe in therapeutic salt air. Don't forget to check out the pool that overlooks the resort's outdoor pool.
The Spa at Trump International Hotel Las Vegas
While the Spa at Trump International only has nine treatment rooms, you won't be disappointed with the service. The vision here is for guests to have a holistic experience with unique treatments that are centered upon spiritual and physical wellbeing and include principles of healing, revitalization, calm, purity, and balance.
Orsi Skin Care
Location: 2470 Chandler Ave Ste. 4
Orsi Skin Care is a top-rated Spa in Vegas for spectacular facials. It's a fairly small business but the customer service goes a long way. Many customers go for the facial and end up getting a massage along the way.
Boracay Massage
Location: 9340 W. Tropicana Ave. Studio 15
Boracay Massage is located at Studio 15 inside the Sola Salon. The services offered include Couples Massages, Deep Tissue Treatments, and Swedish Massages. You can also request hot stone therapy, aromatherapy, body scrubs, and other wellness therapies in a relaxing ambiance with a professional therapist for affordable fees.
Bella Vita Boutique Spa
Location: 2700 East Sunset Road Suite #33
Hidden off the beaten path near the McCarran Airport, the Bella Vita Boutique Spa is an intimate setting with a sincere passion for wellness which is defined by the Spa as 'Beautiful Life'. Locals especially find this retreat special because it's away from the hustle and bustle of the strip.
Final Thoughts
There are plenty of reasons to visit a spa whether you're in Las Vegas or not. But, Vegas is a one-stop-shop for some of the most luxurious spas on the planet. You can rest assured that you'll find one that offers the services and courtesy that you desire.
Searching for the best spas in Las Vegas doesn't have to be an overwhelming experience. Just keep these top spas in Las Vegas in mind the next time you're in town so you can find exactly what you're looking for.
When you're ready for the ultimate vacation in the one and only Las Vegas, Nevada, don't hesitate to contact us! We have the keys to your best Vegas deals.