Las Vegas vs Atlantic City | A City Show Down
Las Vegas and Atlantic City. Brace yourself for an exploration of these two meccas that have lured countless adventurers seeking exhilarating experiences. From the glitz and glamour of the Las Vegas Strip to the timeless charm of Atlantic City's Boardwalk, we'll dissect the distinct offerings, from entertainment and dining to nightlife and, of course, the thrill of the game.
Table of Contents
Las Vegas – The Unrivaled Gem of Entertainment
This desert oasis needs no introduction in the Atlantic City vs. Las Vegas debate. It is the epitome of a glamorous, dazzling party that never sleeps. The sheer magnitude of its casinos, top-tier entertainment, and luxurious hotels makes it an unrivaled haven for pleasure-seekers. From the iconic Las Vegas Strip to its year-round sunny weather, this city offers a non-stop extravaganza that captivates all who venture into its neon-lit embrace.
Vegas is not just about gambling. This destination is a sensory overload that caters to every whim. You can indulge in world-class fine dining experiences from Michelin-starred restaurants like Blackout, where your sense of taste is heightened in pitch darkness, to celebrity chef establishments like Thomas Keller's Bouchon or Gordon Ramsay's Hell's Kitchen.
Atlantic City – America's Playground with a Beachfront Twist
Let's set our course eastward, 2,500 miles away, and arrive in Atlantic City, affectionately known as AC. While some may claim that this city seems to be fading away, don't let the rumors fool you. Atlantic City holds its own with its spectacular casinos and a blossoming fine dining scene. Plus, it has one unique feature that Vegas can't boast. It has beautiful beaches and an oceanfront setting.
What sets Atlantic City apart is its beachfront charm. The allure of sipping cocktails by the sea and hitting the slots in the evening is undeniable. However, it's essential to note that AC doesn't bask in year-round sunshine like its Vegas counterpart. Winter months can get chilly, and light snow might even surprise you.
Here are our favorites if you are looking for the top hotel picks for each city.
The Top Five Hotels in Atlantic City
In Atlantic City, the top hotels and casinos come together to create an unforgettable experience, combining history and beachfront charm for an escape like no other.
Caesars Atlantic City
Step into a world of Roman-inspired opulence and excitement at Caesars Atlantic City. Located along the historic boardwalk, this iconic hotel and casino promise thrilling gaming experiences, exquisite dining options, and a touch of ancient luxury.
Borgata
Get ready for a high-energy escape at the Borgata, a premier resort known for its upscale amenities and chic ambiance. While there, indulge in a diverse selection of gaming options, savor delectable cuisine at award-winning restaurants, and immerse yourself in the vibrant nightlife scene.
Bally's Atlantic City Hotel and Casino
History meets modern flair at Bally's Atlantic City Hotel and Casino. This is a spot where the allure of classic casino gaming merges seamlessly with contemporary interior design. You can enjoy a mix of traditional and innovative gaming experiences and many entertainment and dining choices.
Ocean Casino Resort
Breathtaking ocean views and stylish ambiance await you at the Ocean Casino Resort. This beachfront gem offers an ideal blend of relaxation and excitement, with a world-class casino, luxurious accommodations, and a variety of dining options to satisfy every palate.
Hard Rock Hotel and Casino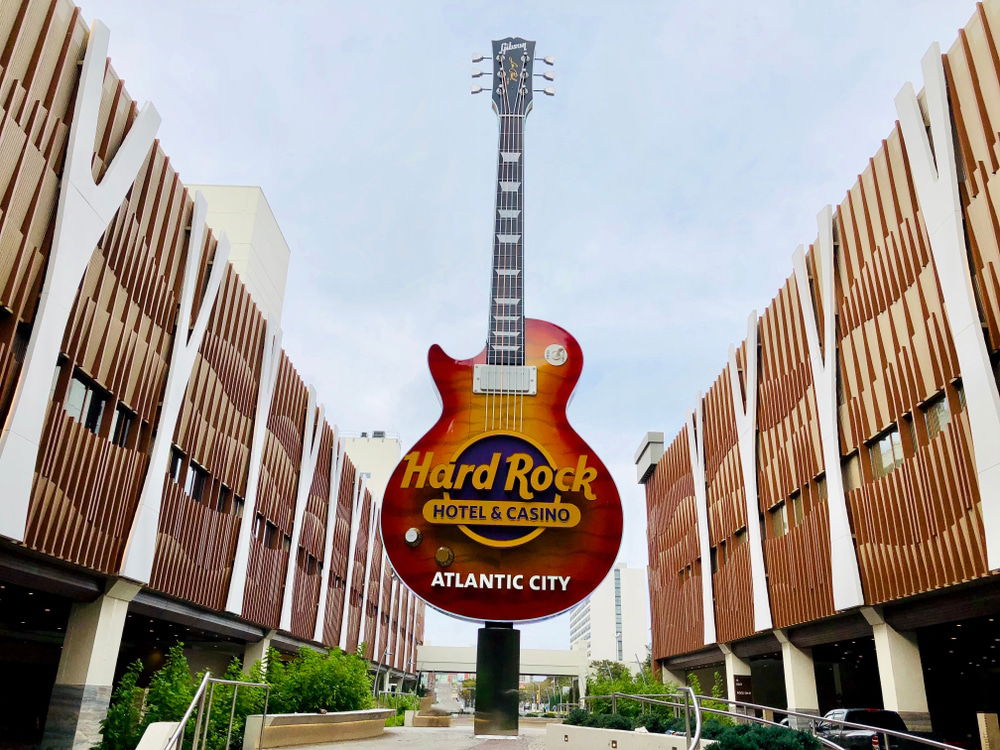 Get ready to rock and roll at the Hard Rock Hotel and Casino. Music and entertainment take center stage at this hotel. This lively resort offers a unique experience with its music-themed decor, electrifying live performances, and thrilling gaming action.
The Top Five Hotels in Las Vegas
In the glitzy oasis of Las Vegas, the top hotels redefine luxury and create a world of extravagant experiences that leave guests in awe.
Resorts World Las Vegas
Discover the epitome of luxury and entertainment at Resorts World, the newest gem on the Las Vegas Strip. This integrated resort offers a lavish escape with its modern design, a wide range of dining options, a sprawling casino, and a vibrant nightlife scene. With its stunning rooftop infinity pool and immersive technology, Resorts World redefines the Las Vegas experience.
The Wynn Resort
Experience elegance and luxury at its finest at Wynn Las Vegas. This iconic resort is known for its exquisite rooms, upscale dining establishments, and captivating entertainment. With its serene pool areas, lush gardens, and the enchanting Lake of Dreams show Wynn offers a tranquil yet vibrant retreat on the Strip.
Aria Resort
Aria is a modern masterpiece, combining contemporary design with cutting-edge technology. From its stylish rooms to its world-class restaurants and the electrifying Liquid Pool Lounge, Aria is a place where luxury and innovation converge to create an unforgettable Las Vegas experience.
Bellagio Resort
Immerse yourself in the timeless beauty and sophistication of Bellagio. Famous for its iconic fountains, this luxury resort offers elegant rooms, gourmet dining options, and the renowned Bellagio Conservatory and Botanical Gardens. Bellagio is the epitome of classic Las Vegas charm and opulence.
The Cosmopolitan
Embrace contemporary chic at The Cosmopolitan of Las Vegas. This trendy resort elevates the Las Vegas experience with its modern allure, extensive gaming options, and vibrant nightlife scene that is perfect for the hip and happening crowd.
Las Vegas vs Atlantic City – Which Is the Better Choice?
Is Vegas better than Atlantic City? It all depends on what you're looking for in a casino experience. Las Vegas might be your jackpot if you crave the sheer magnitude of gaming options and larger-than-life casinos. It's a 24/7 party that will leave you in awe of its grandeur and non-stop action.
On the other hand, if you want a taste of casino fun with a side of sun and sand, Atlantic City might be your winning ticket. The beachfront setting and vibrant boardwalk atmosphere add a splash of fun that you won't find in the desert.
In the Atlantic City vs. Las Vegas debate, AC does have its seaside charm and exciting casinos. However, Las Vegas is well-known as the ultimate destination for those who want a luxurious and thrilling vacation. Being Las Vegas Jaunt, we are a bit biased, so we'll always vote for Las Vegas as the premier spot for Hotels, Casinos, and Entertainment.
Get Ready for a Trip of a Lifetime!
When you want to take that vacation to Sin City, Las Vegas Jaunt is ready to help. With our unbeatable hotel deals and expert knowledge of the city, you can create memories that will last a lifetime. When you're ready to plan your next Las Vegas adventure, we can deliver the ultimate experience at the best possible price.