10 Las Vegas Attractions You Won't Want to Miss
If you're planning a trip to Las Vegas, you have likely set aside some funds to play at one of the many local casinos.
Gambling is certainly one of the top Las Vegas attractions that pull millions of people there every year. But Sin City offers so much more to its visitors than slots and Blackjack.
Take a look at some other Las Vegas attractions you won't want to miss on your trip!
1. The Strip
Let's get this one on the list right away. You simply can't have a real Las Vegas experience unless you check out the Strip. It runs from Mandalay Bay on the south side to the Stratosphere casino on the north end.
The Strip features many of the large Las Vegas hotels like the Luxor and the MGM Grand, as well as other iconic landmarks. It is best to walk it at night when the casino lights brighten up the desert landscape.
2. Bellagio Dancing Fountains
One of those iconic attractions you'll see along the strip is the Bellagio with its incredible fountains. Every 15-30 minutes, the fountains fire away with choreographed "dances" that sync up with lights and music. It is a great sight whether you are there during the day or night time.
If you decide to go inside the Bellagio, you will find a fine art gallery as well as botanical gardens within. Not to mention a luxury hotel, several restaurants, and Cirque du Soleil's "O" show.
3. Fremont Street
Though it doesn't cover nearly as much space as the Strip, Fremont Street has a pleasant charm all its own. There you will find the Mob Museum, food stands, souvenir shops, and a zip line that travels about 10 stories above the pedestrian walkway.
If you're up for a show, then be sure to look up and see the immense Viva Vision light show with 12.5 million LED lamps and a 550,000-watt sound system playing music in the background. It runs once every hour in the evening.
4. The Strat
Looking for a thrill while you're in Las Vegas? Look no further than The Strat and its heart-stopping rides. The Strat is the tallest building in Nevada and features the Big Shot, X-Scream, and Insanity: the Ride.
For something even crazier, you can take a leap from the SkyJump, a controlled free-fall that sends daredevils hurtling toward the ground from 829 feet up. No Las Vegas attractions compare to the thrills of the Stratosphere.
5. Neon Museum
To see some Las Vegas history, take a tour of the Neon Museum, a 2-acre outdoor exhibit that is home to more than 200 pieces of old Vegas signage. Known as the "Boneyard", the guided tour includes signs from iconic landmarks like Caesars Palace, the Golden Nugget, and Stardust.
The museum offers day tours as well as night tours if you prefer to see the signs lit up. Make sure to bring your camera to capture a shot of these old Vegas icons.
6. High Roller Observation Wheel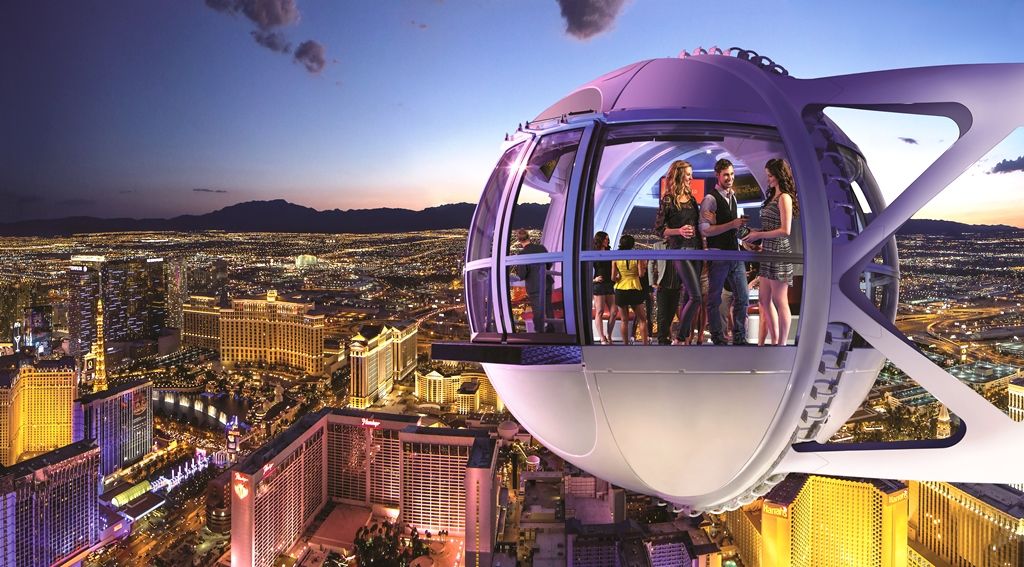 For a more relaxing experience with a great view, you can take a ride on the High Roller Observation Wheel. At 550 feet tall, the High Roller beats out the London Eye as the tallest observation wheel in the world. You'll have a 30-minute ride offering a bird's eye view of the entire city of Las Vegas.
Each of the 28 pods can hold up to 40 people. One of the pods also offers a complimentary open bar during your trip around the wheel.
7. Caesars Palace Casino and Shops
Arguably one of the most popular casino hotels is Caesars Palace. Since its opening in the 1960s, it has been featured in films such as "Showgirls," "Iron Man," "Rain Man," and "The Hangover."
With an ancient Rome theme, it houses about 160 specialty stores, also known as the Forum Shops. It also boasts a newly revamped Fall of Atlantis animatronic show and an aquarium.
8. The Venetian Casino and Grand Canal
Take a trip to Italy without having to cross the Atlantic by visiting the Venetian Casino. Go on a gondola ride, watch street performers, and take a look at the Grand Canal shops.
Inside You'll also find a wax museum, 10 pools, and the TAO nightclub. The casino also boasts one of the largest varieties of slots and table games.
9. Mandalay Bay Casino and Aquarium
With a man-made beach and a 1.6 million gallon wave pool, you can enjoy an oceanside vacation at Mandalay Bay without ever leaving the desert. There are a variety of pools and a lazy river available as means to cool off from the southwest heat.
Once you're finished at the beach, you can head over to Shark Reef, a massive aquarium that houses more than 2,000 animals, including sea turtles, crocodiles, stingrays, and sharks. It's an experience for all ages.
10. Hoover Dam
If you're up for a short drive, then take a quick 30-mile trek down to Hoover Dam. As one of America's most recognized landmarks, the dam is visited by more than one million people each year. It confines Lake Mead, which is the largest reservoir in the United States by volume.
You will also cross the state border between Nevada and Arizona on the dam. Feel free to stop at the visitor's center or check out one of their daily tours.
Want More Info on Las Vegas Attractions?
You can check out the Strip, visit Fremont Street, or watch the Bellagio dancing fountains and still have plenty of Las Vegas attractions to see.
Are you planning a trip to Las Vegas? Be sure to sign up for our VIP member list for access to unlisted deals and promo codes. For more tips on Las Vegas attractions, check out our blog.