Best Happy Hour in Las Vegas | 2023 Strip Edition
Get ready to crank up the excitement and elevate your Las Vegas experience with the most exhilarating happy hours along the electrifying Strip! From The Strat to Luxor, we've handpicked a lineup of absolute gems that will not only tantalize your taste buds but also make your wallet happy.
Here's our list of the best Happy Hour spots In Las Vegas!
Bardot Brasserie at Aria Resort and Casino
When you want to bring a touch of Parisian elegance to your happy hour, make sure to head over to the Bardot Brasserie. This happy hour is perfect for indulging in sophisticated French flavors while enjoying the chic ambiance. From 5:00 pm to 7:00 pm every day, you can enjoy select $7 shots, $5 beers, and four different cocktails priced at just $12. Treat yourself to your favorite libation and soak up the atmosphere at this Vegas hot spot.
Trevi at Caesars Palace
If you're looking for a great happy hour experience, head over to Trevi located in The Forum Shops. They offer amazing deals from Monday to Friday between 3:00 pm and 5:00 pm, such as $5 frozen classic bellinis, $6 bottled beers, $7 wines by the glass, and four $9 cocktails to choose from. You can also enjoy some delicious $8 Trevi bites or treat yourself to a delightful $10 margherita or pepperoni pizza.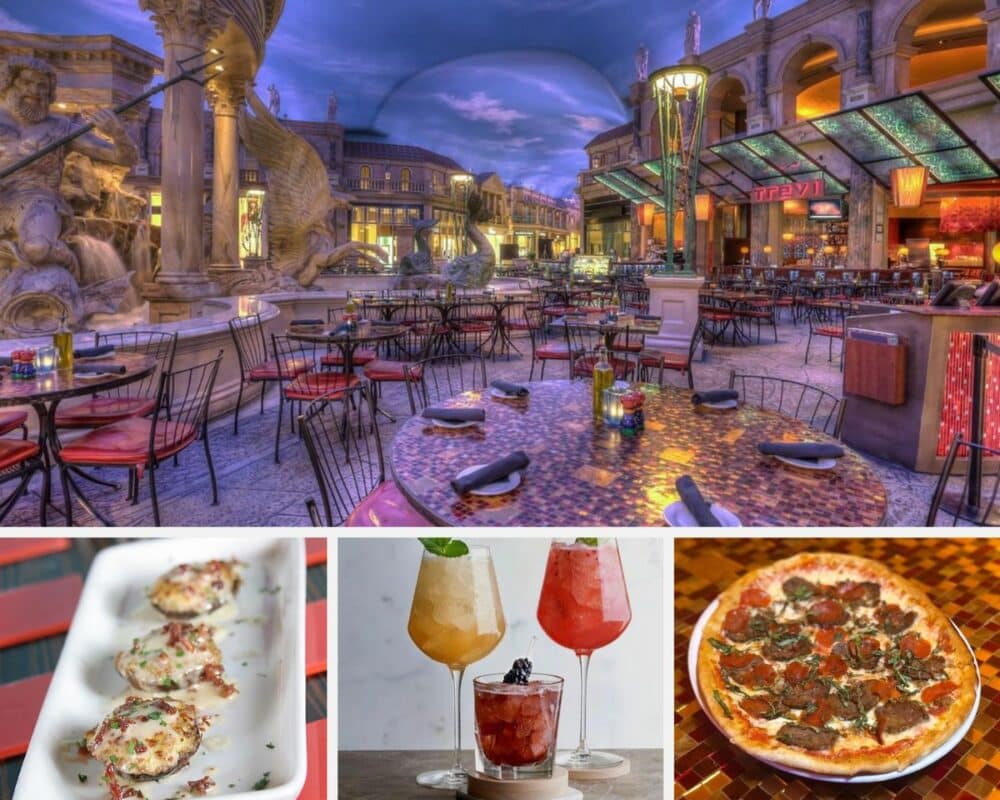 Jaleo at The Cosmopolitan
Do you want to transport your taste buds straight to Spain without ever leaving The Strip? Jaleo will take you on a mouthwatering journey. From 5:00 pm to 7:00 pm every day, indulge in $7 sangrias and Spanish wines while savoring a mouthwatering selection of tapas for their sangria hour. From a Jaleo favorite, crispy patatas bravas, to savory chicken croquettes, there's something for every palate at Jaleo. Sangria hour is the perfect time to immerse yourself in the vibrant atmosphere, soak up the flavors of Spain, and make some unforgettable memories with your friends and loved ones.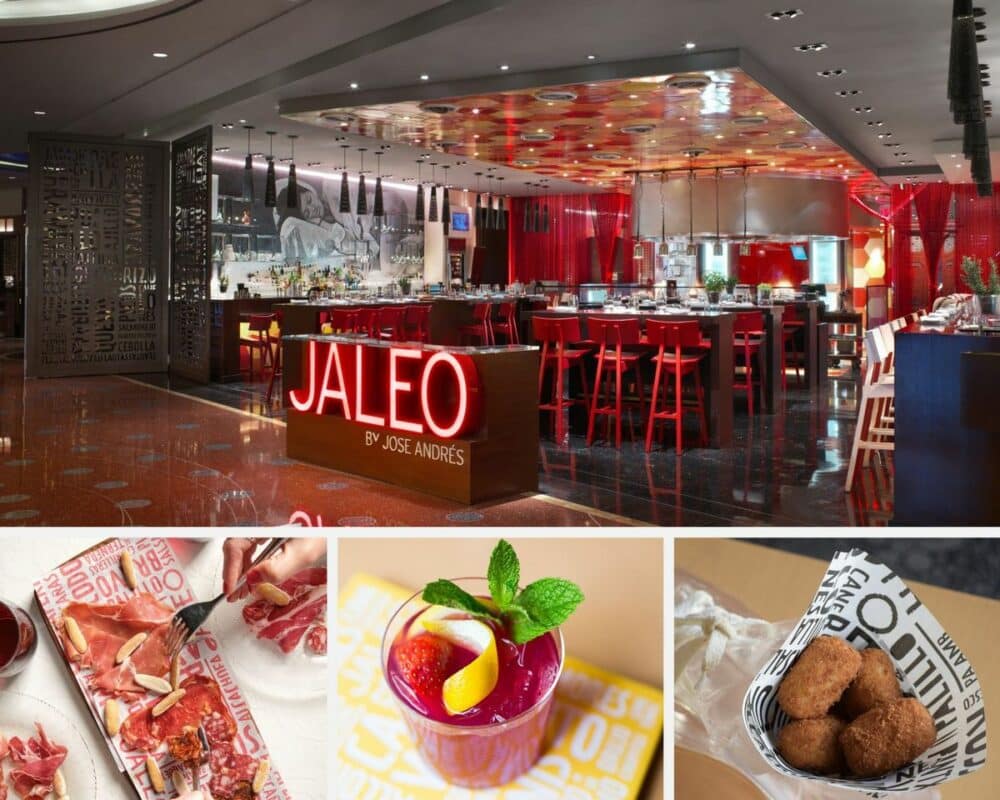 STK at The Cosmopolitan
Another sophisticated happy hour experience is located at STK. With a mouthwatering selection of dishes available Monday through Thursday from 4:00 pm to 6:00 pm, you can indulge in a range of delectable options, including salmon or crab cake sliders, truffle fries, beef tartare, and more. Don't forget to quench your thirst with half-priced specialty cocktails and $10 glasses of wine. From the elegant ambiance to the irresistible flavors, STK's happy hour is the perfect blend of sophistication and taste. Take advantage of this fantastic opportunity to treat yourself to a night out!
High Roller Observation Wheel at The LINQ
Not all happy hours are created equal. With stunning views of the Las Vegas skyline, you can sip on your favorite drinks while taking in all the sights and sounds of Sin City, starting at just $60 per ticket for a happy half-hour. This is the perfect opportunity to elevate your happy hour experience and create lasting memories with friends or loved ones. You can take advantage of a special offer with up to 25 of your 21+ friends that includes a full 30-minute rotation of the wheel and an open bar. Book your tickets today and get ready for an unforgettable experience atop the High Roller Observation Wheel.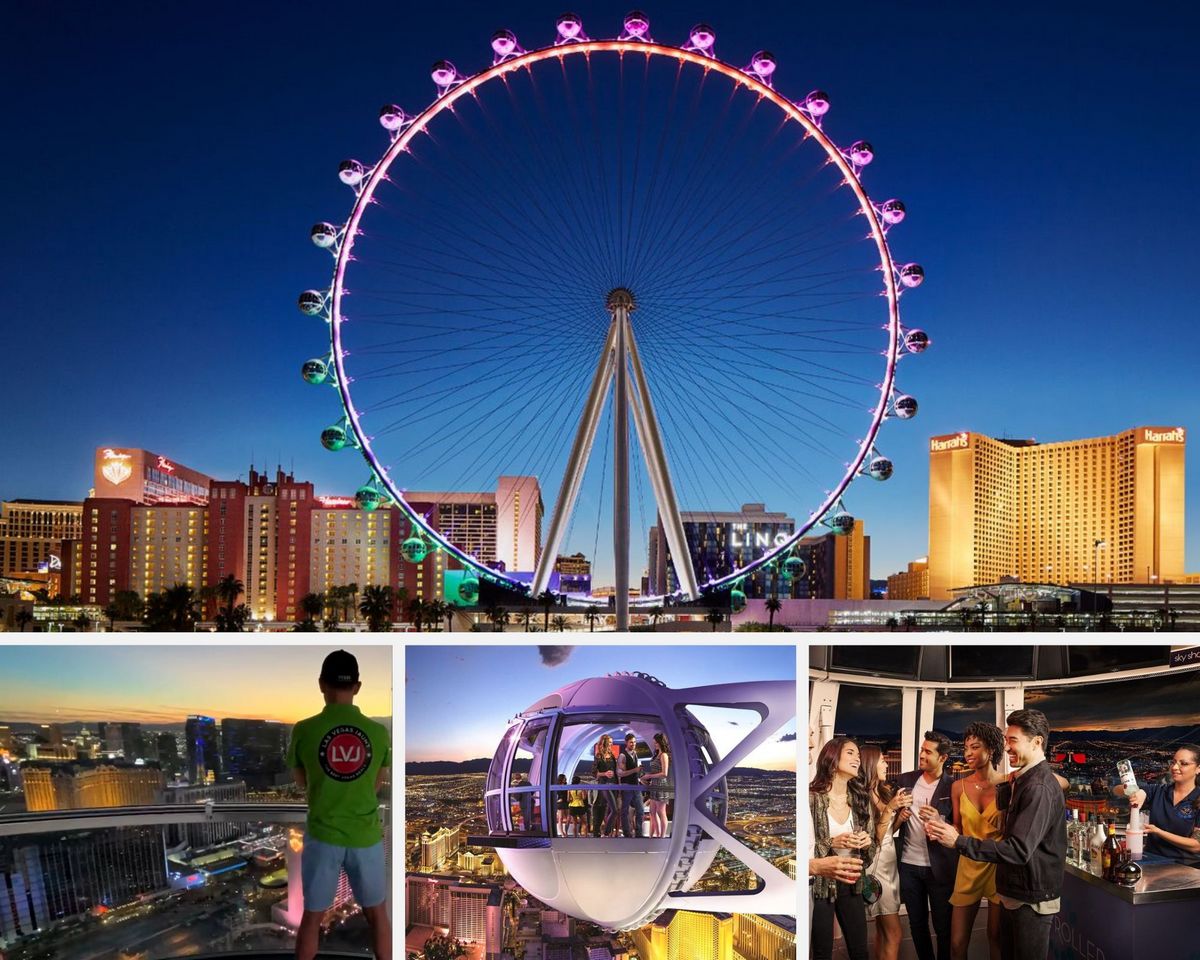 Bar at Times Square at New York New York Hotel and Casino
Immerse yourself in the bustling energy of Times Square at this lively happy hour spot. From Monday to Friday, 4:00 pm to 7:00 pm, sip on well-crafted $8 cocktails and refreshing $6 draft beers. Let the vibrant atmosphere of the Bar at Times Square transport you to the heart of New York City.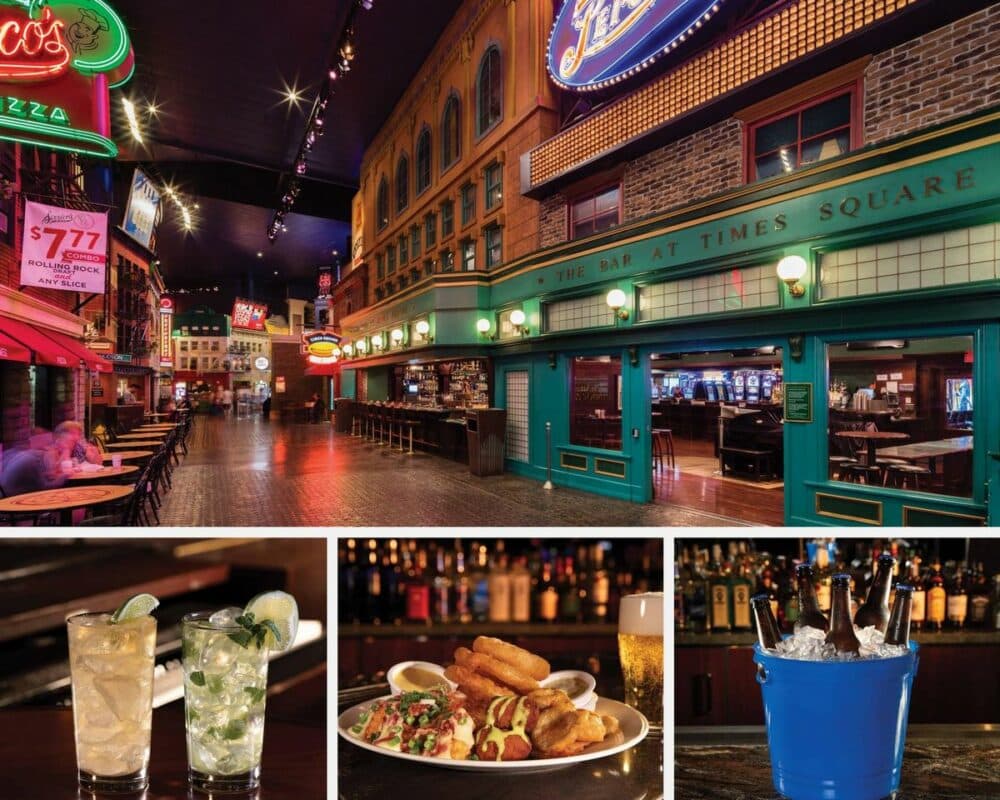 Cabo Wabo Cantina at Planet Hollywood
If you're looking for a festive happy hour, head to Cabo Wabo Cantina. Their happy hour runs from Monday to Friday, 3:00 pm to 7:00 pm, and offers an array of drink specials. You can sip on house drinks, rum drinks, and ice-cold beers while feasting on tasty bites like tacos, taquitos, chimichangas, and sliders. Don't miss out on this happy hour fiesta!
Flights Restaurant at Planet Hollywood
Prepare for takeoff at Flights Restaurant. This might be the best happy hour in Las Vegas. With happy hour every day offering three for $15 all day and an hourly-rotating happy hour with specials like bloody mary and mimosa flights from 9:00 am to 3:00 pm and other flights at different times throughout the day. You can enjoy different drink specials and keep your spirits soaring with a trip to this happy hour spot.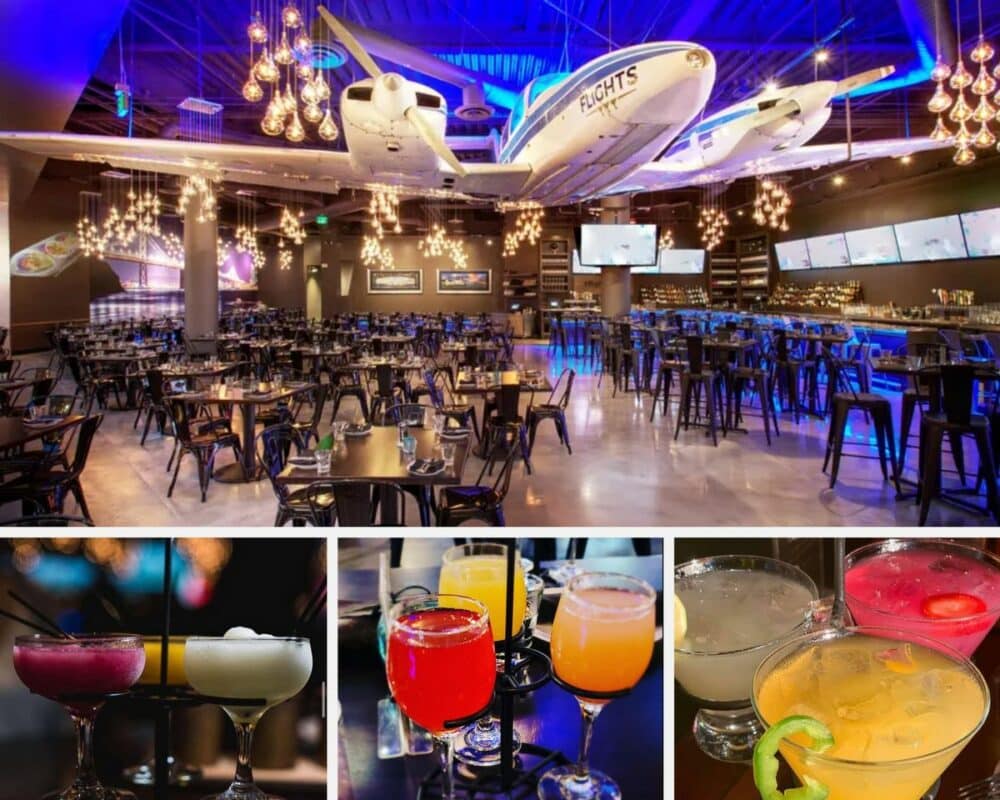 Viva at Resorts World Las Vegas
Experience the vibrant happy hour at Viva, located in Resorts World. Viva offers an enticing happy hour from 3 pm to 5 pm every day. Sip on refreshing draft beer and house wine, priced at just $6 each, as you unwind and indulge in the lively atmosphere. But it doesn't end there. Delight your taste buds with delicious food items such as a wood-fired quesadilla, guacamole, or churros, perfectly complementing your choice of libation. Join us at Viva and elevate your happy hour experience with great drinks, delicious bites, and a lively ambiance that will leave you feeling uplifted.
Buddy V's Ristorante at The Venetian
Step into the vibrant atmosphere of Buddy V's Ristorante, nestled within the fabulous Grand Canal Shoppes. When it comes to happy hour specials, Buddy V's brings the heat with a lineup that will make your wallet jump for joy from 3:00 pm to 5:30 pm every day of the week. Picture this: $5 domestic bottles, $5 sangria, $5 house wine, and $5 bloody marys. These irresistible concoctions will quench your thirst and set the tone for an unforgettable dining experience. Check out their Happy Hour menu here.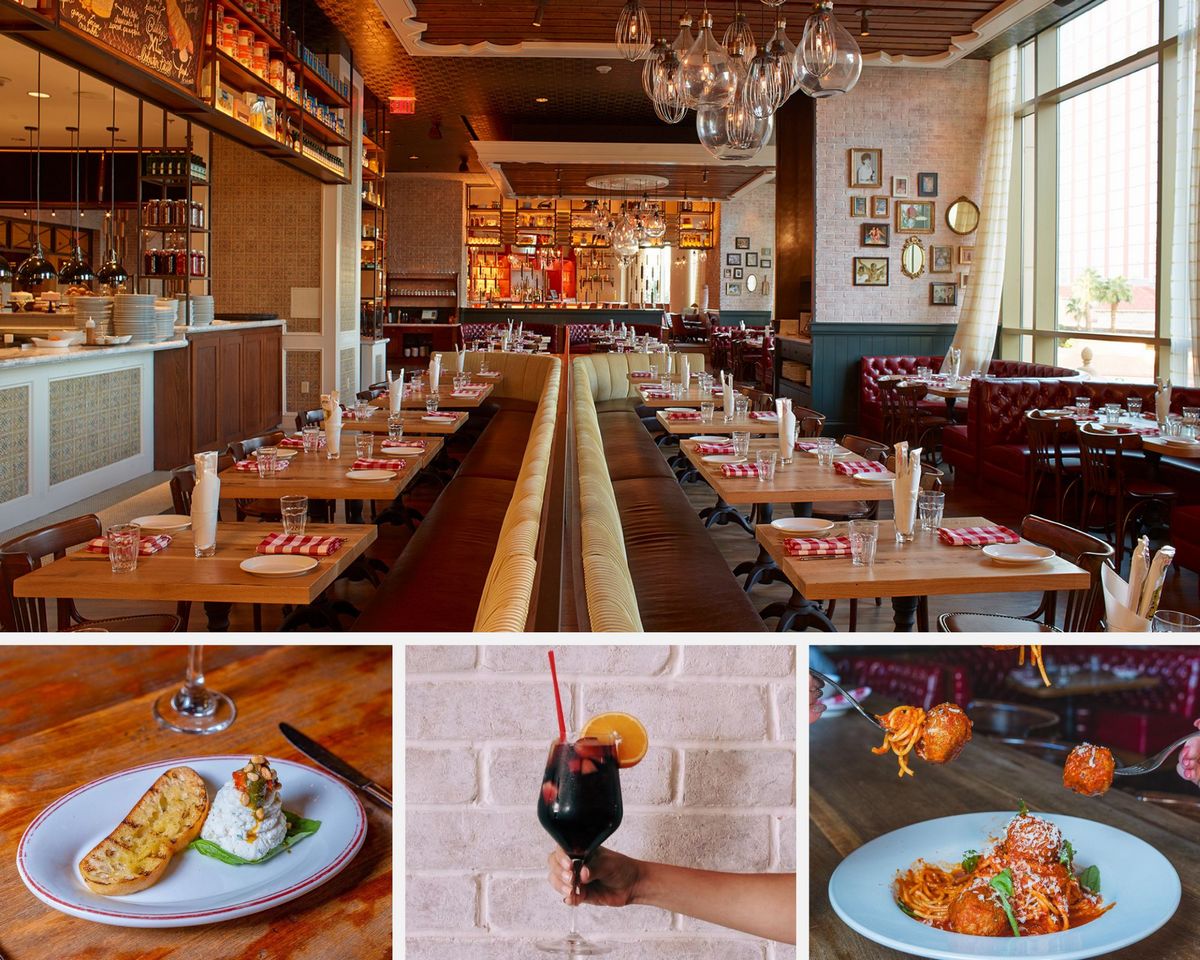 Sugarcane Raw Bar Grill at The Venetian
No trip to The Venetian's Grand Canal Shoppes is complete without stopping by Sugarcane Raw Bar Grill. This spot is a must-visit place during happy hour from 3:00 pm to 6:00 pm daily. Sip on $8 cocktails and savor appetizers ranging from $5 to $8. You will want to sip wine at $8 a glass and draft beer for $7 each or indulge in fresh oysters for $2 each with a minimum of 6 per order.
Find The Best Happy Hour In Las Vegas
Explore these exciting hotel happy hours in Las Vegas and make your trip deliciously delightful! Bring your friends and enjoy an unforgettable adventure in the entertainment capital of the world. Here's to good times and great food and drinks!
Need help to find the best hotel deals, exciting Las Vegas attractions, and unforgettable Grand Canyon tours? Las Vegas Jaunt is the perfect source for everything Las Vegas! We offer exclusive hotel promotions and amazing show ticket sales to ensure a seamless and unforgettable experience in Sin City. Start planning your perfect adventure today, and be sure to book your getaway with Las Vegas Jaunt.