Cirque du Soleil's "Mad Apple" Puts Las Vegas in a New York State of Mind
It's been a minute since Cirque du Soleil debuted a brand-new show in Las Vegas.
The modern circus company opened "R.U.N" at the Luxor Las Vegas in October 2019, but hit the brakes in March 2020, when the pandemic shut down the Las Vegas Strip. While most Cirque du Soleil shows reopened in 2021, "R.U.N" and sexy older sister, "Zumanity" at New York-New York, retired to the circus in the sky.
Now, Cirque du Soleil has stepped up its game with a new show, "Mad Apple." The show debuted at New York-New York on May 26 with Vegas-style pomp, circumstance, and paparazzi on a pink carpet featuring the cast, creative team, and notable local entertainers and athletes like Vegas Golden Knights players, "Blue Man Group" cast members, "Chippendales" men, a handful of "Fantasy" girls and plaid suited magician Mac King.
There was also confetti. Lots and lots of confetti.
'the Greatest Night Out in New York'
Like the hotel where it's staged, "Mad Apple" captures the electric vibe of New York City nightlife culture and recreates it on a sparkling Las Vegas stage (from one city that never sleeps to another) with energetic musicians, dancers, comedians, magicians, and circus performers.
It's a "completely new approach to Cirque du Soleil entertainment," the company's president of resident and affiliate show divisions Eric Grilly said in a press release.
"It's an action-packed experience designed for today's audience, who increasingly want to consume entertainment as they do content – in an exciting, highly compelling, and ever-shifting manner," he said. "With 'Mad Apple,' you never know what's coming next – from vocals, off-script comedy, and live music with our horns and drum line to acrobatics – all wrapped in an incredibly fun party atmosphere that differentiates it from other shows."
Co-creator and executive producer Simon Painter, creator of the "Illusionists" franchise, explained at a press conference, prior to opening, that "Mad Apple" is a departure from story-driven Cirque du Soleil shows, such as "Mystere" at Treasure Island, "O" at Bellagio and "KA" at MGM Grand.
"They're not playing characters," he explained of the 48-member global cast. "There's no storyline."
Instead, he describes "Mad Apple" as "the greatest night out in New York."
Concept co-creator and director Neil Dorward, an acclaimed choreographer, and director added: "The most important thing is the talent on stage" as well as "the audience experience."
Mad Apple is the first Cirque du Soleil production in creative collaboration with Painter and Dorward. Painter's company The Works was purchased by Cirque du Soleil in February 2019.
What to Expect at "Mad Apple"
"Mad Apple" takes place in the former "Zumanity" theater at New York-New York. The two-story, 1,200-seat theater and box office are conveniently located near an exit to (or entrance from) The Park Vegas outdoor mall. Tickets for the 80-minute show start at $59.
Though showtime is 7 p.m. and 9:30 p.m. Fridays through Tuesdays, the show really starts when the doors open, 45 minutes before curtain. As audience members filter into the theater, they mingle as guests at a Studio 54-style party with live music, crowds, people-watching, and upscale bars mixing specialty cocktails – such as a Proper New York Gin Martini or a Manhattan in a souvenir flask – both upstage and downstage. Bottle service is also available for $300.
Two UpStage Bars showcase nearly 600 bottles, filled with an illuminated color-changing LED liquid, while the DownStage Bar transforms before the crowd into a stage at showtime. Flair bartenders and street performers interact with the audience as they fill the theater, adding to the fun and festive atmosphere, which continues throughout the show.
Whether performers are leaping across the Brooklyn Bridge, dancing near a yellow taxi or artfully balancing by one hand atop an enormous steel Empire State Building, New York is ever-present. The set includes architectural nods to all five boroughs of NYC and its iconic skyline, crowned by a 31-foot-long Statue of Liberty-inspired tiara. An aerialist, at the top of the show, is lowered to the stage by a glittery, apple-shaped disco ball. We also spied a hot dog cart, a Central Park sign spinner, the New York Times Crossword and a failed "drug deal."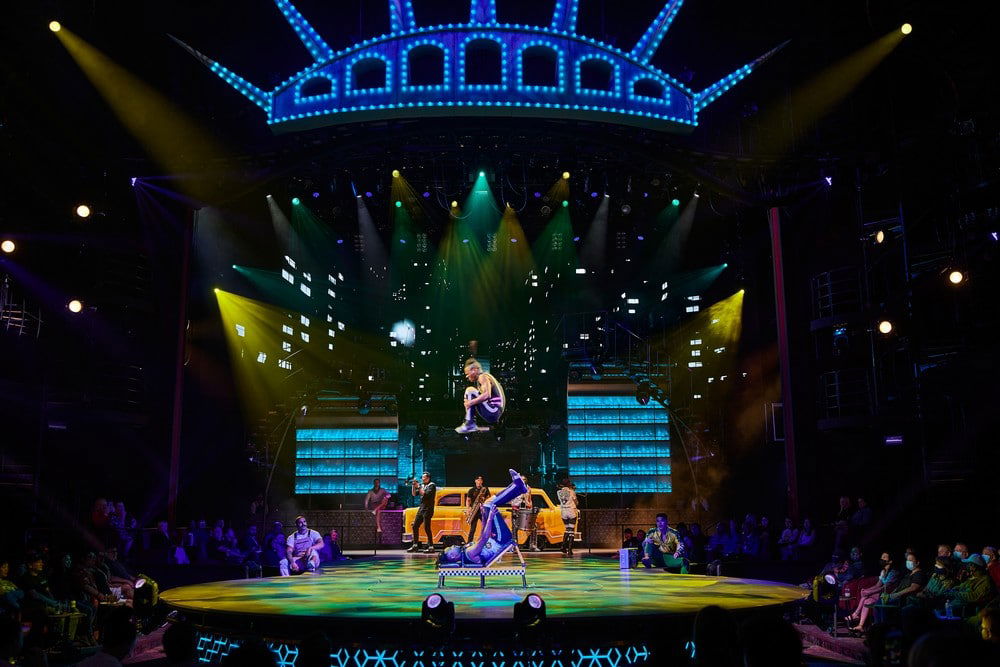 Families beware: Due to adult language and themes, children under the age of 16 are not permitted at "Mad Apple" and guests under 18 must be accompanied by an adult.
Don't Send in the Clowns
Another big difference between "Mad Apple" and other Cirque du Soleil shows: Instead of clowns, there are comedians.
"Mad Apple," which will have a rotating cast of performers, currently features stand-up comics Brad Williams and Harrison Greenbaum, and British freestyle comedy rapper Chris Turner. The funnymen were told not to hold back in their acts, adding to the authentic New York feeling.
"We're not speaking in French, were not in a boat on a pool, we just get to be ourselves," Greenbaum told the press. A New Yorker tried and true, he noted that when he first arrived at the hotel, he saw a few people in the lobby who looked homeless, "so I felt very at ease."
Lead comedian Brad Williams jokingly added: "This is an authentic New York Show. We're actually going to pipe in the smell of piss."
Along with the comedians, dancers, and acrobats, the cast includes five lead vocalists and a five-piece band, helmed by musical director Xharlie Black (real name Eddie Cole). Together the musicians perform a combination of iconic NYC hits like "New York State of Mind" and "Empire State of Mind" as well as original songs.
"We are thrilled to get the joyous Mad Apple party started in Las Vegas," Painter said in a press release. "From the moment guests enter the theater, they are whisked away to one of the most beloved cities in the world with a show that fuses hilarious acts from multiple comedians and daring acrobatics with the entertainment and eclecticism of New York City."
Get tickets for Mad Apple here, and thank us later!