7 National Parks to Visit as You're Leaving Las Vegas
Have you seen everything there is to see in Vegas?
Considering all the amazing attractions Las Vegas has to offer, your answer is probably no. Still, the time has come to get on the road and continue your vacation–or head for home.
Either way, there's no need to rush anywhere. Now that you've had your fill of the big city, it's time to unwind and enjoy what Mother Nature has to offer.
In 2016, more than 330 million people visited a national park. Want to join their ranks this year?
You're in luck. There are at least seven national parks within a day's drive from downtown Las Vegas.
In this post, we'll reveal which national parks you can visit when leaving Las Vegas. Read on to learn more!
1. Grand Canyon National Park, Arizona
The Grand Canyon is probably the first national park that comes to mind when thinking of leaving Las Vegas. In fact, it's one of the closest parks on our list.
While a helicopter tour above the Canyon is a sight to behold, there's nothing like standing on the rim itself. Leaving Las Vegas, you can reach the famous glass Skywalk in just over two hours. Plan 4-5 hours if you're driving to the park's main entrance at the south rim.
You'll have no shortage of activities to do once you're there. You can hike around the rim or down into the Canyon, or you can ride a mule or go whitewater rafting down the Colorado River.
Want to sit back and admire the awesome view? You can do that, too.
2. Zion National Park, Utah
Next on our list is Zion National Park in Utah, which is a mere 168 miles from Las Vegas. You can easily reach it in under three hours, and it's a spectacular drive along the way.
One thing we love about Zion is the free shuttle that takes you to various points of interest around the park. This way, you don't have to worry about driving–you can simply enjoy the vistas.
Popular activities in Zion include camping, horseback riding, biking, and tubing down the Virgin River.
3. Death Valley National Park, California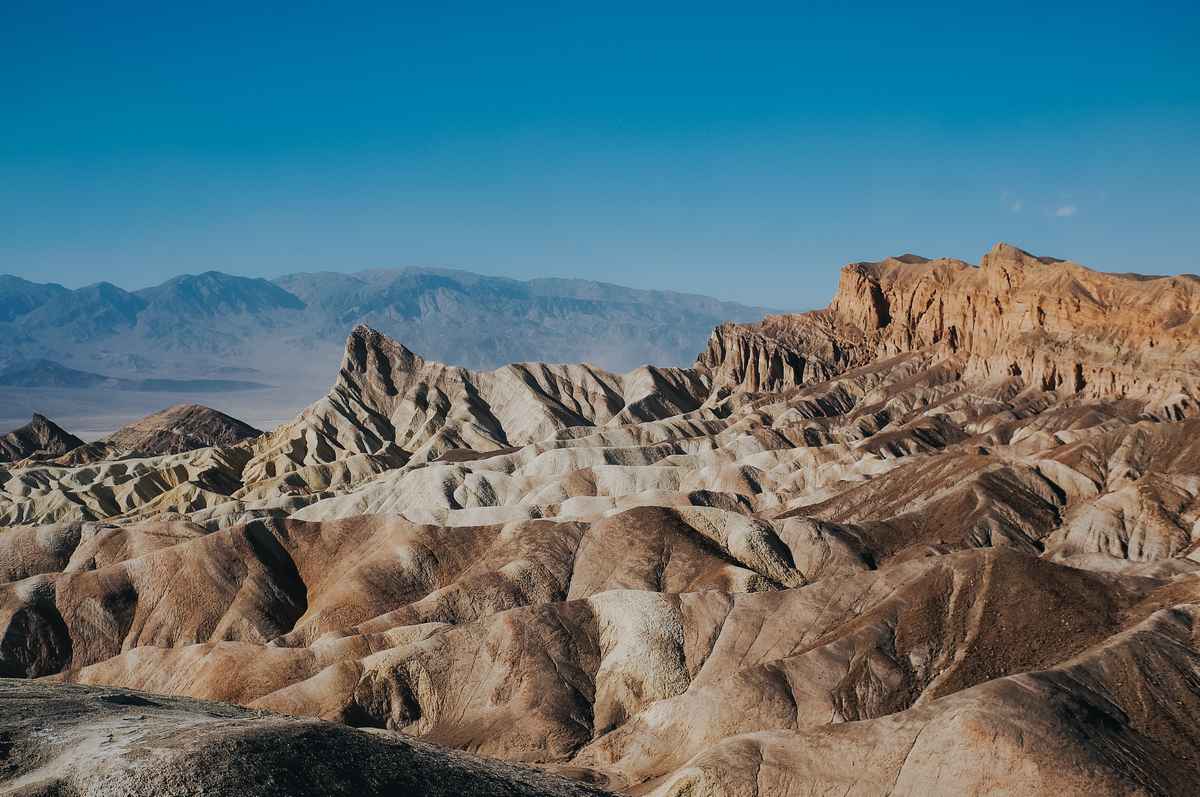 If you're headed for the west coast when leaving Las Vegas, take a drive through Death Valley along the way.
At 282 feet below sea level, Death Valley is the lowest point in the entire United States. Visitors flock here to enjoy the other-worldly scenery, including dramatic salt flats and sand dunes.
Stargazers will marvel at the clear night skies, free from any light pollution. During the day, you can enjoy a hike or a game of golf at the Furnace Creek Resort.
A word of caution though: Beware the summertime temperatures! The hottest temperature ever recorded on the planet was here in 1913–a blistering 134 degrees Fahrenheit!
4. Bryce Canyon National Park, Utah
Just over 200 miles outside Las Vegas, Bryce Canyon is a popular day-trip destination.
Like other parts of the Desert Southwest, you can marvel at the bright red sandstone formations that seem to defy time. Choose a guided or unguided hike of the area, or bring your mountain bike along to enjoy the park's many biking trails.
If you're leaving Las Vegas during the winter, stop off at Brian Head Ski Resort on your way and enjoy a few runs through the powder.
5. Monument Valley National Park, Utah & Arizona
Although it's about an 8-hour drive from Las Vegas, the effort is more than worth it to visit Monument Valley.
The backdrop for many famous westerns, including several John Wayne films, this spectacular national park will take your breath away. Marvel at the wide-open landscape dotted with enormous red sandstone buttes.
If you're interested in Native American history, this is the perfect place to learn more. Most of the park's inhabitants are Navajo, and you'll find traditional villages as well as a cultural center near the park's entrance.
It's the perfect area to drive through as part of a bigger road trip, but it's also a great place to camp. If you'd prefer to sleep indoors, book a room at the historic Goulding's Lodge, where film stars of the past used to stay.
6. Arches National Park, Utah
If you're leaving Las Vegas headed northeast, add a stop at Arches National Park to your itinerary. It's about 500 miles from Las Vegas, but you won't regret the journey or the destination.
Here you'll be amazed at the bright red natural stone arches, forged by wind erosion over eons of time. It's one of the most dramatic examples of geology in the Desert Southwest–and that's saying a lot.
Make a base for yourself in the artsy town of Moab, located just outside the park entrance. From here, you can explore the park on foot, by bike, on horseback, or through your rolled-down windows.
7. Yosemite National Park, California
No list of national parks would be complete without Yosemite. The 450-mile drive from Las Vegas is well worth your time and effort because it's one of the most popular and beautiful national parks.
Here you'll see the incredible monolith known as Half Dome, made famous by Ansel Adams' black-and-white photography. It's also home to Yosemite Falls, the highest waterfall in North America.
Need more reasons to go? How about the grove of sequoia trees–the largest trees on earth–some of which are over 1,500 years old?
There's also an abundance of outdoor activities to choose from, including camping, hiking, rafting, and mountain biking.
Where Will You Go When Leaving Las Vegas?
So, which of these national parks interests you most?
Whichever one(s) you choose, you're sure to have just as much fun leaving Las Vegas as you did when you arrived.
Looking for more helpful advice on everything Vegas? Check out our latest blog posts for the best insider tips!