The Quad Soon to Become The Linq Hotel & Casino
On October 30, 2014, The Quad will be renamed The Linq Hotel & Casino!
The Quad will only have lived for two years since it replaced the Imperial Palace in September 2012.
The Quad was popular among travelers who don't want to spend a lot of cash in rooms and seek a good location. Indeed, located between The Flamingo and The Harrah's and with room rates starting as low as 20$/night, The Quad was a perfect option to stay in the middle of the action for a very reasonable rate.
Although The Quad offered a brand new casino, the rest of the operation was not much more than just a renaming of the former Imperial Palace since, with only $2.3 million invested, most of the aged rooms of the hotel remained unchanged (cockroaches included according to some traveler reviews…)
CAESARS ENTERTAINMENT invests $223 Millions
In July 2014, Caesars Entertainment group announced that the hotel would be renamed again as The Linq Hotel & Casino with an investment of $223 million promising this time a real transformation of the resort. $78 million would be spent on renovating the rooms.
This operation follows the opening of the Linq Promenade which happened in Autumn 2014. This pedestrian street includes shopping, restaurants and the remarkable « High Roller », the world's tallest observation wheel.
The resort will offer 2 256 brand new rooms starting at 84$/night including 204 suites all with floor-to-ceiling windows and views of either The High Roller or the Strip, and a completely renovated welcome experience built around a signature lobby bar, all new retail and spa amenities and a new pool deck to deliver an entirely new experience. The pool area is completely redesigned with two sections, including a "day club" swimming pool with DJ offering a pool party atmosphere.
A resort for "socially engaged travelers"
Caesars promised a high-tech resort with modern features such as automated check-in, touchscreen capabilities in the VIP lounge and a concierge desk to research and make restaurant or show reservations.
Tariq Shaukat, Caesars Executive CP & CMO, said: "The resort will provide guests with a highly social and connected environment, with all the great restaurants, shops and experiences available at the LINQ Promenade right at their fingertips."
"The Linq Hotel and Casino will immerse guests into social lifestyle experiences through provocative yet approachable modern offerings. This new hotel is bold, graphic, social and digital with dynamic community spaces designed for the socially engaged traveler." Said Bob Morse, Caesars' President of Hospitality.
Also, the 5th floor 21 000 square-foot Vortex roof deck will welcome "fashion shows, live concerts, weddings with remarkable views of the Strip"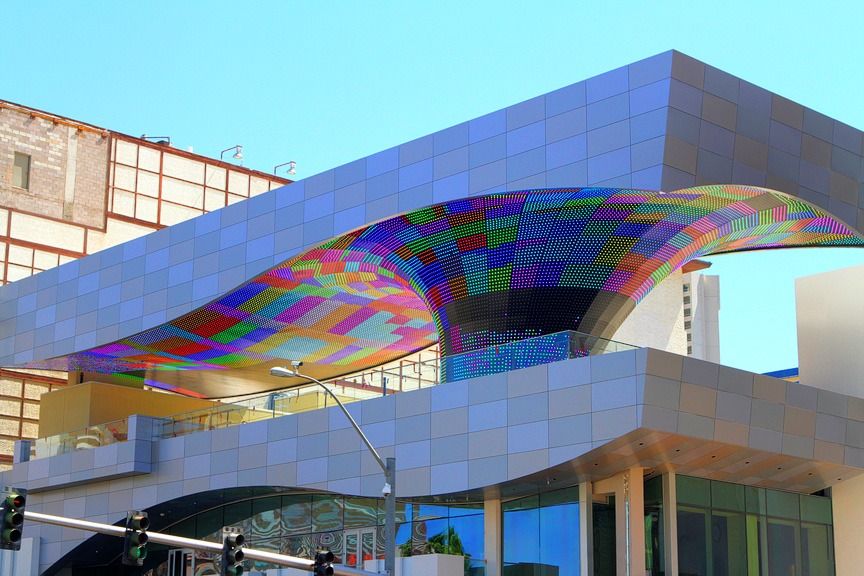 The grand opening of The LINQ will occur on October 30th, 2014, you can already book your room!
Click here for more info on the Linq as well as discounts & promo codes!