The 13 Most Luxurious Suites of Las Vegas
The fabulous city of Las Vegas is known for its huge number of casinos and its spectacular shows, and also because Las Vegas has the highest number of hotel rooms in the world.
It is indeed difficult to choose between the 130,000 rooms scattered across the city; that's why Christophe of CasinosAvenue.com has put in the hard work to show you the thirteen most luxurious hotel rooms in Las Vegas.
This should give you some ideas for your next Vegas vacation…
The One 80 Suite of the Red Rock Casino Resort & Spa Boasts a Stunning View
The One 80 Suite at Red Rock Casino Resort is so named because from your posh balcony, you enjoy a 180° view of the city.
Immerse yourself in one of Las Vegas' most peaceful and relaxing atmospheres, expertly created by the dark colors and carefully chosen textures of the furniture and decoration. In The One 80 Suite, you're surrounded by plush velvet and polished steel.
So, how much is it to stay in the One 80 Suite at Red Rock? The room is priced at a mere $15,000 per night.
Click here for more details and rates.
The Wynn & Encore Duplex Apartment Is More Than Just an Oversized Suite
Let's meet on the 63rd floor of the Encore Tower.
The Duplex Apartment, basically the Encore penthouse, is a true stunner. Welcome to your new home away from home; the incredible 20,000 square foot suite offers three bedrooms, four bathrooms, a personal snooker room, and a massage room, but the coolest feature may just be a private elevator to reach the second floor of your suite.
That's right. There are two floors.
You're probably wondering, how much is a night at the Encore penthouse? If you want to spend the night during the week, the Duplex Apartment is a bargain at $6,000, though the price tag goes up to $8,000 during the weekend.
Click here for more details and rates.
The Palms Casino Resort's Hardwood Suite Invites You to Become a Basketball Star
This one is for the hardcore NBA fans, the ladies and gents that never miss a match.
The Hardwood Suite at The Palms Casino Resort makes your NBA dreams come true. Dribbling is actually encouraged in your hotel room, which is shaped like a basketball half-court. There are even cheerleaders in order to recreate the atmosphere of a real match! Become Michael Jordan for a night…unless you're a Lebron James fan.

How much is the Hardwood Suite at The Palms? It will only set you back a measly $25,000.
Click here for more details and rates.
The Caesars Palace Nobu Penthouse at Nobu Hotel Is Serious Squad Goals
The 14,000 sq ft penthouse in Caesars Palace features five awesome rooms, so bring your friends. Think about this: if you live in an average 2,000 square-foot house, the Nobu Penthouse at Caesars Palace is as large as 7 of your house.
In unrelated news, if you book the penthouse for your next vacation, can we be friends?
Nobu Penthouse is one of the cheapest suites featured in this post. How much is a night at the Nobu Penthouse? A minuscule $3,150 night.
Click here for more details and rates.
The Skylofts at MGM Grand Include an Incredible Pool
Want to head out for a dip? Book one of the Skylofts at MGM.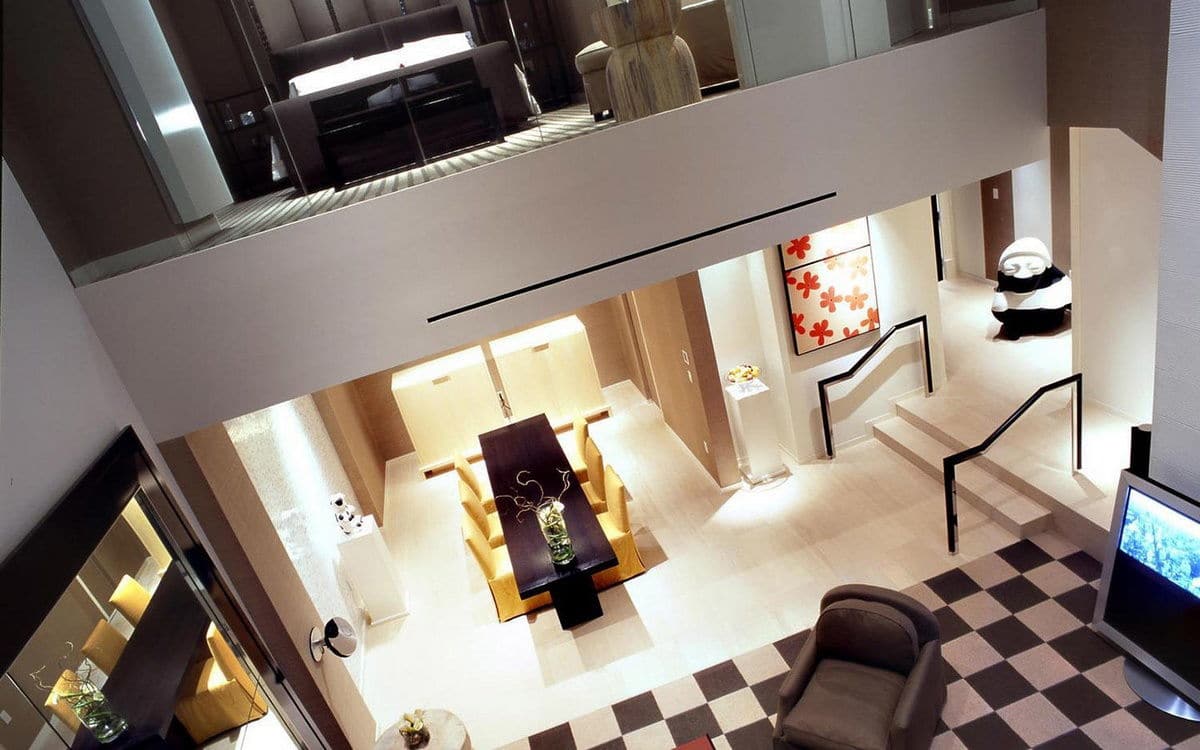 The MGM Grand suites have lofts with access to private pools with views over Las Vegas. Cool off in a killer pool while you gaze out at the Vegas skyline.
How much are the MGM Skylofts per night? Price starts at $800 for each night – that's the best value on this whole list!
Click here for more details and rates.
The Waldorf Astoria Presidential Suite Is a Modern Marvel and a Pleasure for Your Ears
Audiophiles, take note: the Presidential Suite at the Waldorf Astoria is your new favorite getaway.
Those who like contemporary interiors and music lovers will definitely appreciate this red, black, and white 3,000 sq ft suite with a high-quality Bang & Olufsen sound system and a Grand piano. Classy, right?
How much is the Emperor Suite at Waldorf Astoria? It's a steal at $15,000 a night.
Click here for more details and rates.
The Cosmopolitan of Las Vegas Chelsea Penthouses Combine Luxury and Modernity
The Chelsea Penthouses at Cosmopolitan will blow your mind. Choose between three different luxurious penthouses, all of which include a private pool, a jacuzzi, a fully equipped kitchen, and an outdoor bar.
Like everything at the Cosmo, the penthouses are chic, modern, and opulent in the best way. Don your designer shoes, sip a cocktail, and live the high life.
How much are the Cosmopolitan West End Penthouses per night? Prices start at $5,500 a night, which isn't too shabby.
Click here for more details and rates.
Aria Sky Villas Are the Most Sophisticated Suites in Las Vegas
The Sky Villas at Aria combine luxury and comfort, artfully fulfilling all your needs and desires. With a whopping 20,000 square feet of space, the Aria Sky Suite overlooks the most stunning view of Las Vegas and the surrounding desert, which is probably prettier than you think.
Live like royalty. Everything is done for you. Sensory systems wake you up gently to a perfectly climate-controlled room, which is important in Las Vegas. Private elevators give you exclusive access, iPads are provided for your use, and you and your friends can enjoy the superb artifact collection.
The royal treatment doesn't end when you leave your room, either: get exclusive spa treatments, private dining at Aria restaurants, or ask the concierge to organize your visit for you.
How much do the Sky Villas at Aria cost? The princess experience is more affordable than you might think – this all-inclusive experience starts at $3,500 a night.
Click here for more details and rates.
The Bellagio Presidential Suite Helps You Feel at Home if Your Home Was a Palace
Bellagio's Presidential Suite is just like home, except better, because room service.
Enjoy the cozy atmosphere of the Bellagio's Presidential Suite where you can contemplate the sunset, sip a glass of fine wine, and nestle in by the fireplace with someone you love.
How much is a night at the Bellagio Presidential Suite? Your home away from home starts at a scant $6,000 a night.
Click here for more details and rates.
The Palms Casino Resort Sky Villa Has the King of Pools
The Two-Story Sky Villa at The Palms is for people who know what they want and expect to get it.
The crowning jewel of the Sky Villa is a superb cantilevered swimming pool, but you also get a private elevator, a massage room, a sauna, and even a butler service.
Details, right?
With everything taken care of, how much does it cost to stay at the Sky Villa at The Palms? This 8,500-square-foot suite is priced at $40,000 a night.
Click here for more details and rates.
The Villas at the Mirage Is a Relaxing Oasis
Want to unwind and relax in an exceptional setting? The Villas at The Mirage are thoughtfully designed to give you the impression of being in an oasis.
The colors and textures of the furniture immerse you in a relaxing atmosphere with a classic style. Relax at the swimming pool, have a rest in one of the luxurious rooms, or enjoy the high-quality entertainment system.
How much is a night in one of the Villas at The Mirage? For a villa with three rooms, rates start at $1,400 on average.
Click here for more details and rates.
The Bellagio Grand Lake View Suite Is Truly Gorgeous
The Grand Lake View Suite gets its name from the gorgeous view of the hotel's lake and fountains.
Not that you couldn't have guessed.
This 3000 square foot suite feeds your delusions of grandeur with two huge bedrooms furnished with opulent king-size beds, two marble bathrooms – including one with a Jacuzzi – a huge living room, a fully equipped kitchen with a bar, and many other amenities.
How much is the Grand Lake View Suite at the Bellagio? Don't stress. It's only $10,000 a night.
Click here for more details and rates.
The Mansion at MGM Grand Is the Ultimate Playground for the Rich and Famous
For those seeking the utmost in luxury and exclusivity, The Mansion at the MGM Grand Las Vegas is a true hidden gem. This private, invitation-only hotel-within-a-hotel features 29 individually designed villas and offers guests a world-class experience from start to finish.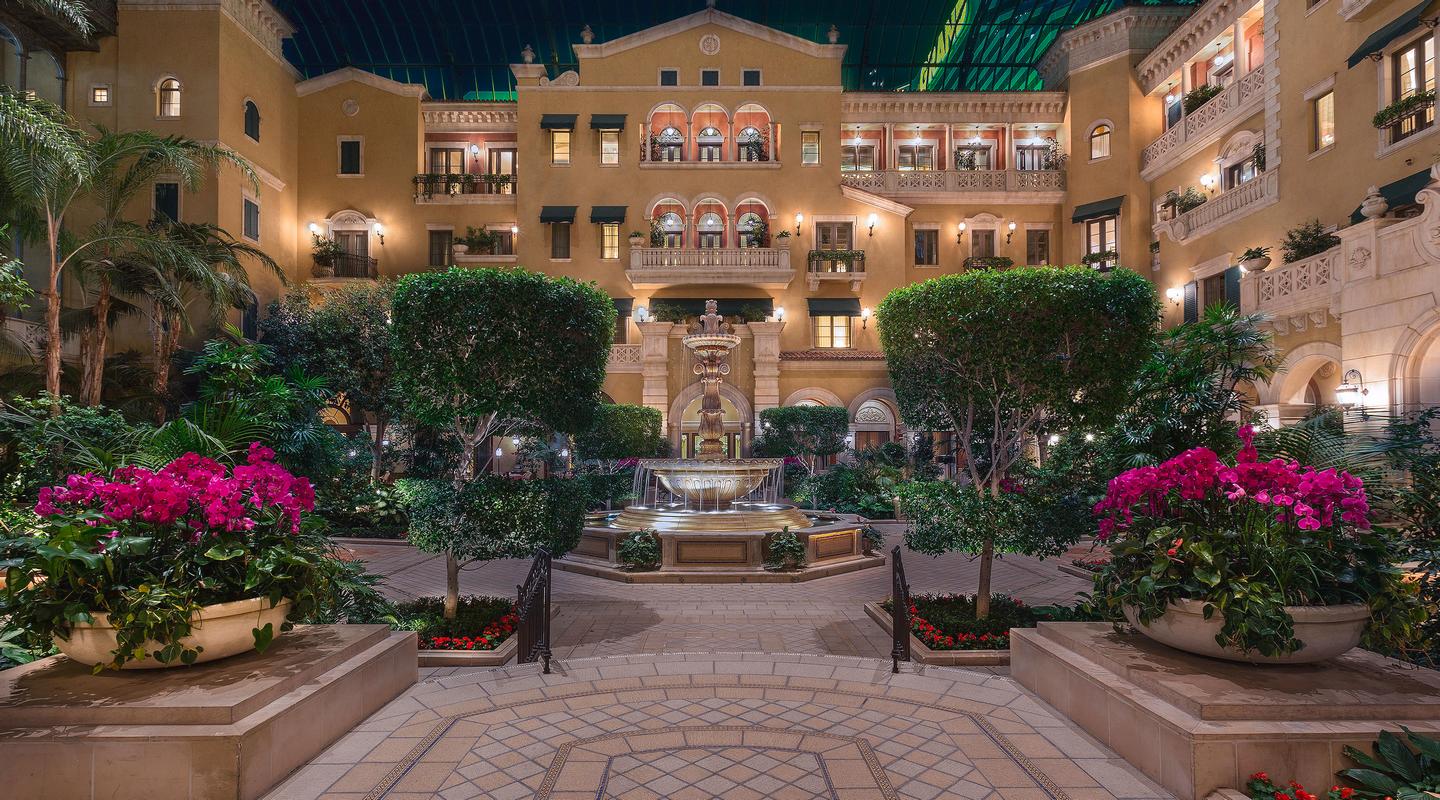 The Mansion's villas are some of the largest and most opulent suites in Las Vegas, with private elevators, grand entrances, and ultra-luxe amenities such as grand pianos, extensive art collection, stunning landscaped gardens, and private pools,
But what truly sets the Mansion apart is its unparalleled level of personalized service. Each guest is assigned a team of Mansion butlers who are available 24/7 to cater to their every need, from arranging in-room massages and spa treatments to organizing private shopping trips and helicopter tours over the Las Vegas Strip.
The Mansion at MGM Grand is the ultimate luxury experience for those seeking privacy, exclusivity, and the highest level of personalized service.
Final Thoughts: Which Suite Will You Choose?
Las Vegas offers some of the most luxurious and breathtaking accommodations in the world. From the over-the-top opulence of The Mansion to the sleek sophistication of the Sky Suites at Aria, these suites truly set the standard for luxury travel. While most of us may never have the opportunity to stay in these incredible suites, it's still fun to dream about them and imagine what it would be like to live the High Roller life!
We hope you've enjoyed our roundup of the 13 most luxurious suites in Las Vegas. Did we miss any of your favorites? Let us know in the comments! And if you've been lucky enough to stay in one of these incredible suites, we'd love to hear about your experience. Share your stories with us in the comments below.