Vegas Memories Last Forever With Scents From Aroma Retail
Aroma Retail Promo Code
Save 10% off any order at Aroma Retail when using our special promo code LVJ10 at checkout.
Aroma Retail sits in a quiet shopping and industrial center, just west of the world-famous Las Vegas Strip, and within eyeshot of Allegiant Stadium.
From the parking lot, you might catch the distinctive whiff of a nearby dispensary, but don't worry. You'll quickly forget that skunky smell once you head inside the scenting shop's sweeter-smelling pastures.
A locally owned company, Aroma Retail carries on-the-nose recreations of the scents found at major Las Vegas resorts as well as original blends, created for restaurants, resorts, banks, nursing facilities, and amusement rides across the country—and even a signature scent for the Henderson Silver Knights (the American Hockey League affiliate of the Vegas Golden Knights).
You can buy any scent for your home or your business from the company's growing library of 90-plus fragrance blends, available in the form of oils, candles, reed diffusers, linen sprays, and wax melts.
Want your home to smell like an ice cream shop? You're covered. A luxury spa? There's that too. Set the mood to spark creativity or happiness, induce relaxation, or tap into holiday nostalgia. Bookstores, country clubs, wineries, swimming pools, a specific Las Vegas casino—the list goes on and on.
"Scents create a multi-sensory experience," said Cristina Reding, who founded Aroma Retail along with her husband, Jim Reding. "You know how we decorate in certain colors? We also scent in certain notes."
The Nose Knows
Perfumes have delighted senses around the globe for thousands of years with the link between smell and memory long noted in science and literature. As for the timeline for scent marketing, it's a bit more recent, dating to the late 20th century.
The Las Vegas casino-resort industry stuck its nose into scenting around the 1990s (which is a little bit like ancient history in Sin City time). Nowadays, just about all Las Vegas casino resorts have their own signature scent.
The benefits of scenting for businesses are backed up by multiple researchers. In a 1995 study, for instance, the director of the Smell & Taste Treatment and Research Foundation in Chicago, Alan Hirsch, found that players in the casino gambled an average of 45 percent more on a floor with a pleasant scent.
In her 2009 master's thesis for the University of Nevada, Las Vegas, TEDxUNLV host and author Gael Hancock wrote that fragrances also significantly affect the coin-in rates of slot-machine players in a casino setting.
It doesn't only apply to gambling.
Consumers in a 1991 study by Hirsch were 84 percent more likely to purchase Nike running shoes placed in a scented room. In 2012, Washington State University researchers found that the presence of an orange aroma led to an average 20 percent increase in guest spending at a home décor store.
"Research studies, more and more, have shown the relationship between scent, mood, and feelings, even health," said Cristina. "This is why businesses choose scent … it does really influence the sales volume and the length of time people are shopping in your store."
Sweet Smell of Success
The first thing you'll notice upon entering Aroma Retail is the featured scent, which rotates monthly at the front desk, known as The Smelly Bar. Here, you can seek expert advice, sample scents, and purchase products including the company's professional, home and travel scent machines.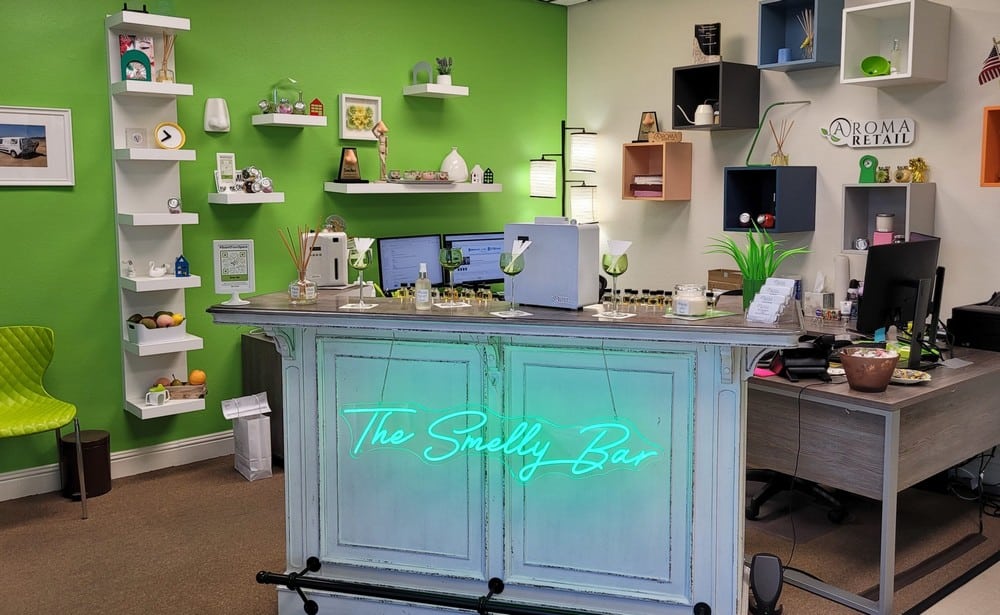 Beyond the Smelly Bar and administrative offices, Aroma Retail houses its own manufacturing facility, cleverly named the Ol' Factory. This is where all the scent machines are assembled and the scents are mixed, filled, and shipped.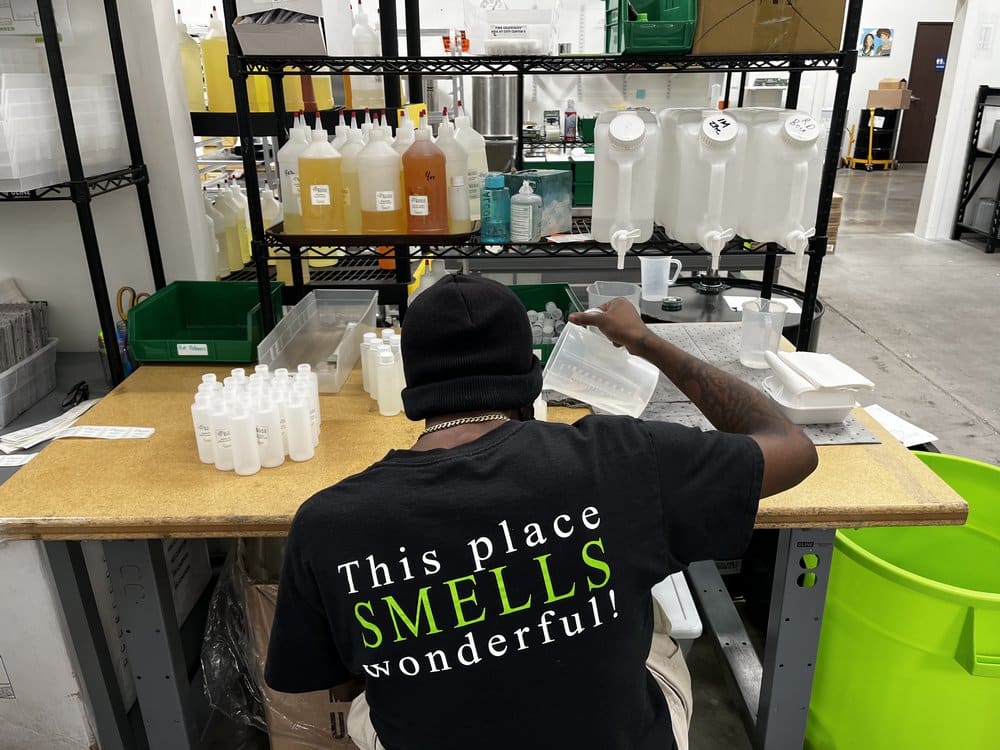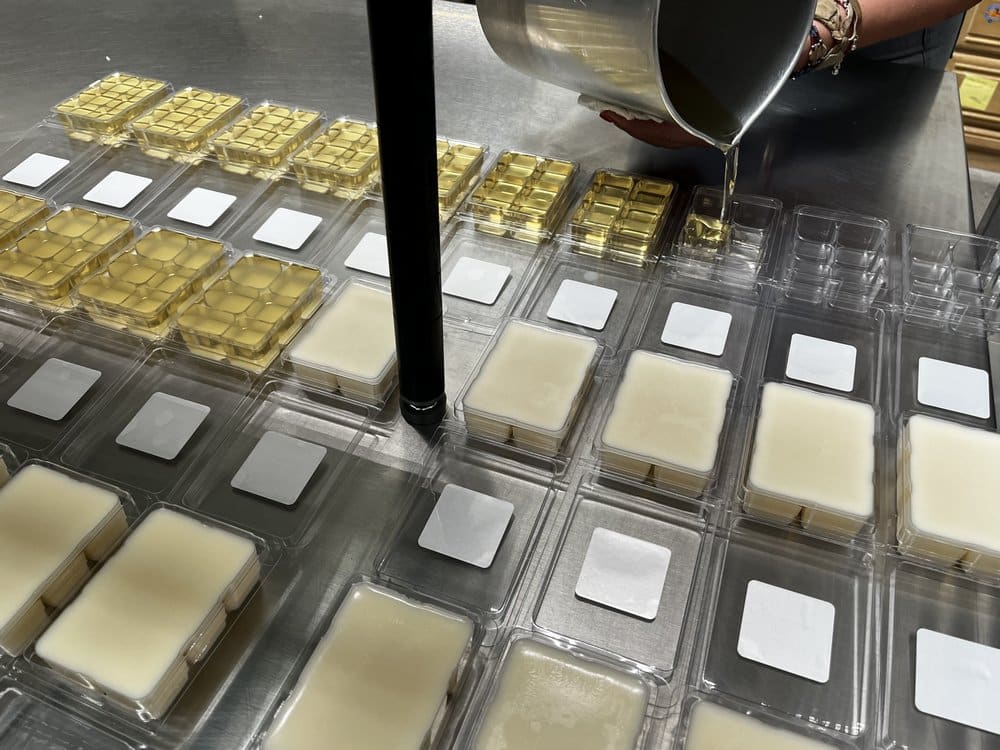 Scents from Aroma Retail don't contain phthalates, allergens, or Volatile Organic Compounds (VOCs). Droplets expelled by the scent machines are "finer than a morning fog," said Jim, "under .05-micron droplet size."
Jim, who previously handled scenting contracts as general manager for the Grand Canal Shoppes at the Venetian, offers signature scent development to clients at no cost. He describes the process as one which requires some trial and error, and lots of feedback.
Another consideration when developing a scent is what's going to be happening in the space. "Are there any other odors present?" Jim asked, noting that "there's going to be stuff in the space we have to harmonize with."
For the Henderson Silver Knight's scent, "Conquer," Aroma Retail went with a blend of freshly forged swords, eucalyptus, and mint, with mid notes of an enchanted forest and masculine base notes. The scent can be purchased in the form of a candle, a room spray, or a reed diffuser at Aroma Retail or the team's arena, the Dollar Loan Center in Henderson.
Casino scents, meanwhile, share a similarity with banks in that "you want people to have raised cognition, which feeds optimism and activity."
There's also the possibility that the same scents will smell differently in different spaces.
The Marriott brand uses the citrus blend of "Attune" for its properties around the world, but its Times Square location in New York uses "Pacific Breeze." It turns out that "Pacific Breeze" is the same scent used by the Station Casinos properties, including Red Rock Casino Resort and Spa in Las Vegas.
"You wouldn't recognize it," said Cristina, "because everything else is different."
Mark Your Scent
Cristina urges interested customers to stop by Aroma Retail on their next Vegas visit and experience the store's giant scent collection in person.
Added Jim: "You can start by smelling the top sellers and then, from there, decide what you like better and go down that pathway. Our care team is really good at drilling down to the right scent, based on reactions."
If you're shopping for scents online rather than in person and have no idea where to start, check out the simple fragrance test on the Aroma Retail website, aromaretail.com. Just answer a few questions to soon discover your personal signature scent.
Aroma Retail Discount Coupon
Once you are ready to order at Aroma Retail make sure to use our exclusive coupon to save 10% on your order!
Just follow this link, order anything you want and once in your Cart, enter promo code LVJ10 and click on Apply Coupon for an instant 10% discount! (see example below)
Aroma Retail, 5525 S. Valley View Blvd., Suite 2 in Las Vegas, is open Monday through Friday, from 10 a.m. to 4 p.m. For more information on home scenting, Aroma Retail hosts a monthly podcast live from the Smelly Bar on the first Monday of every month.