What are the Best Casinos in Las Vegas?
What happens in Vegas, stays in Vegas.
That classic Vegas mantra may be true. But that doesn't mean we can't share some of our favorite insider tips for enjoying a trip to Sin City.
There's a reason why Las Vegas attracts over 39 million visitors every year: casinos. But hold off before heading to the nearest $5 blackjack table.
There are plenty of quality casinos that combine great gambling, glitz, and excitement right on the Vegas Strip. If you want to make your trip to Las Vegas memorable, you need to check out the greatest casinos. Read on to discover the best casinos in Las Vegas.
MGM Grand Hotel & Casino
There's no shortage of casinos in Las Vegas. But none are quite as iconic as the MGM Grand.
You might recognize the MGM Grand for its green building or the large golden lion that guards the entrance. Of course, the MGM Grand also hosted a number of famous boxing matches, basketball games, and other sporting events.
Really, though, the MGM Grand is all about gambling. This massive casino is home to over 170,000 square feet of gaming space.
There are plenty of table games for true gamblers. You'll find tons of tables offering blackjack, craps, and roulette. But you'll also find lesser-known games like Baccarat and Pai Gow Tiles. Gamblers looking for a skill game can also enjoy the poker room.
Are you a sports fan? You won't want to miss MGM's famous sportsbook.
Their huge sportsbook offers seating for 104 guests and has thirty-six 65-inch LCDs and twenty-four 42-inch plasma televisions and even private skyboxes. It's a great place to watch a game whether or not you're putting money down.
Afterward, you can visit the famous Hakkasan nightclub. This six-story club hosts some of the biggest DJs in the world.
Downtown Grand Hotel & Casino
Let's face it: gambling in Vegas is expensive.
But you don't have to break the bank to get in on the action. Make a quick trip off the Strip instead.
Downtown Grand Hotel & Casino is in the historic downtown Fremont Street. It used to be a hotspot before the Las Vegas Strip that we know today.
Fremont Street is still known for its vibrant nightlife, street performers, and cheap gambling. Downtown Grand is the best spot to post up if you're looking to gamble. They have a 25,000-square-foot casino with inexpensive table games and slot machines.
You can also enjoy the Downtown Grand's famous rooftop pool. The Citrus Grand Pool Deck is home to private cabanas, live music, and raucous crowds.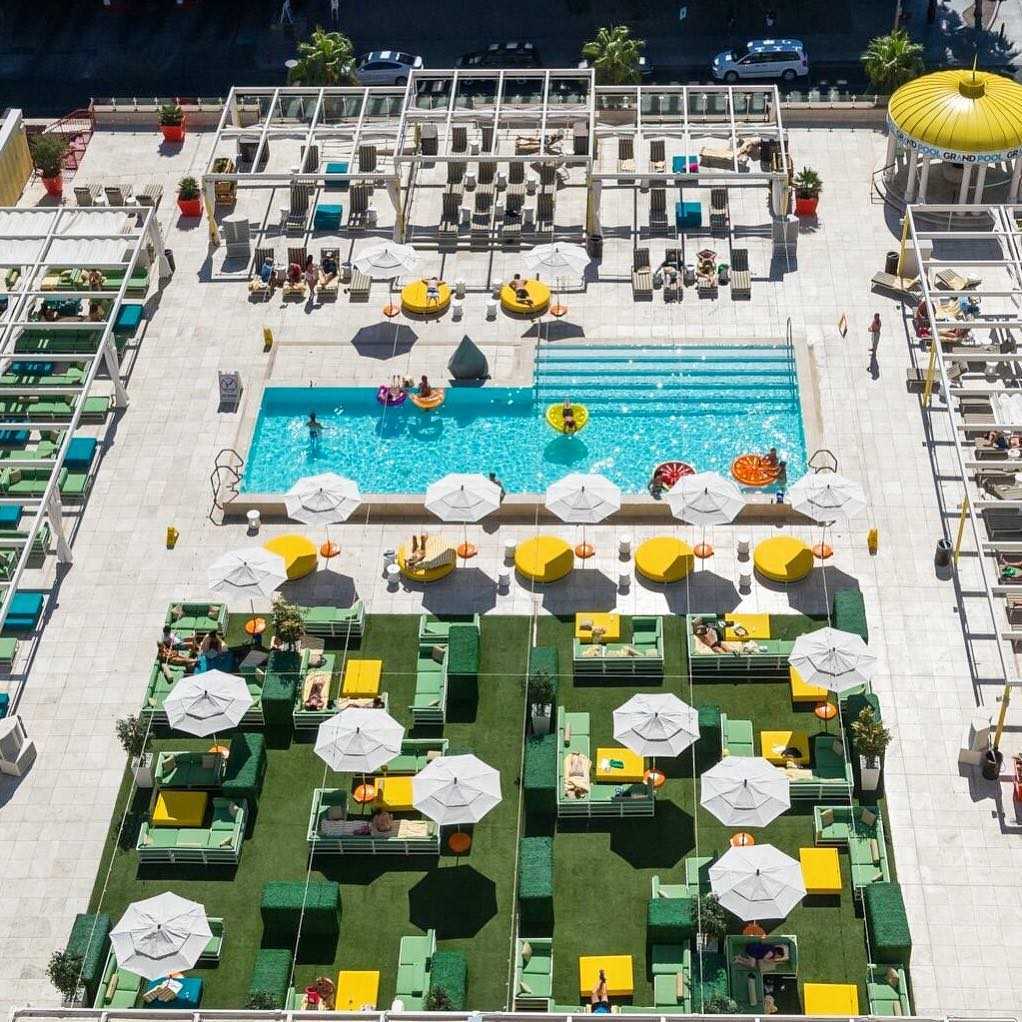 Caesars Palace
No list of casinos in Las Vegas is complete without Caesars Palace.
This casino is a famous mainstay in popular culture. It's featured in everything from Friends to The Hangover trilogy.
Caesars isn't only one of the most famous Vegas casinos, it's also one of the most historic. This classic casino first opened in 1966 and helped mold modern Las Vegas casinos into what they are today.
Today, the casino remains a staple of the Las Vegas Strip. It offers a myriad of gambling games including blackjack, craps, roulette, and baccarat. It also has a 16-table poker room for tournaments and cash games of all stakes!
The Caesars Palace also has an impressive sportsbook, fine dining, and the Omnia nightclub. You'll also find an indoor shopping mall known as The Forum Shops.
The Forum Shops is an enormous, elegant mall featuring high-end stores and even Roman statues from Italy. You won't find another casino that offers a mix of thrills, luxury, and convenience on the entire Strip.
M Resort Spa Casino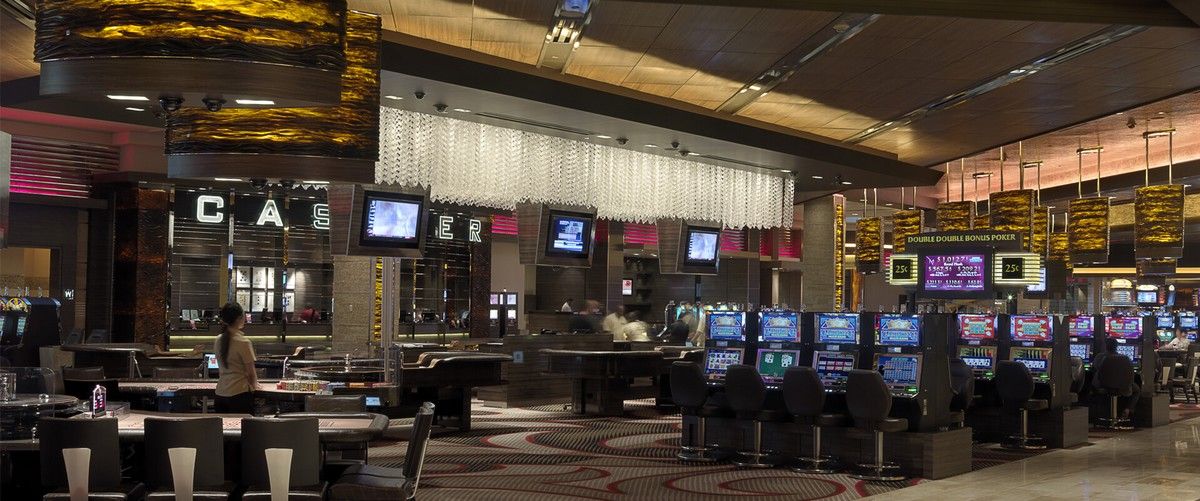 What do you want out of casinos in Las Vegas? Do you want modern luxuries? What about affordable table games and slots?
You'll find all of this and more at the M Resort Spa Casino. This legendary casino is about 15 minutes from the busy Las Vegas Strip.
That means you'll find plenty of open tables at this huge 90,000-square-foot casino. You'll also find a mix of great bars, restaurants, and entertainment options.
Want to know the best part? M Resort Spa Casino sits atop a hill south of the Strip. That means you'll have stunning views of the Las Vegas Strip and its dazzling lights.
The Cosmopolitan
Forget about cheap drinks, games, and buffets. Many people come to Vegas for the glitz, glamor, and luxury.
If that's your fancy, you won't want to miss a trip to The Cosmopolitan. This sleek, elegant casino is in the center of the Las Vegas Strip.
It's famous for its sparkling chandeliers and glass walls. You'll find a great selection of restaurants, handcrafted cocktails, and a beautiful interior at this famous hotel.
The Cosmopolitan isn't just known for its beauty. It's also known for its casino. Their 100,000-square-foot casino has everything from classic table games to modern slot machines. They even added the new Fortune Cup horse racing machine which is the modern version of the popular Sigma Derby:
The Cosmopolitan is also home to the famous Marquee Day + Nightclub. This renowned venue hosts wild pool parties during the day. At night, it transforms into an indoor club with dancers, DJs, and music from around the globe.
The Venetian
It's no secret that The Venetian is one of the best casinos in Las Vegas. But you might not know just how impressive this massive casino is.
The Venetian is one of the largest casinos in Las Vegas and the world. It has over 4000 rooms, making it the fourth-largest Las Vegas hotel.
The epic, 120,000-square-foot casino offers some of the best gambling on the entire Strip. You'll find Asian-inspired games like Pai Gow poker in addition to classic table games.
That's not the only reason to visit this impressive hotel and casino. It's also a spectacle of fine architecture, beautiful design, and ingenuity.
Its classic Italian design is on full display in The Venetian Gondolas. You can take a gondola ride that will transport you directly to the streets of Venice.
Feeling hungry? The Venetian is also home to 22 restaurants and some of the best dining experiences in Las Vegas.
More Casinos in Las Vegas
Are you looking to book a stay in Las Vegas? We can help.
Check out our hotel deals and discounts to start planning your getaway today.