Most Instagrammable Places in Las Vegas
Las Vegas is a city that is synonymous with glitz, glamour, and over-the-top entertainment. With its bright lights, neon signs, and iconic landmarks, Las Vegas is a dream destination for those seeking the perfect Instagram shot.
Table of Contents
From world-renowned fountains to towering observation wheels, colorful art installations, and luxurious hotels, the city offers an endless array of Instagrammable locations. Discover The Top Rooftop Bars in Las Vegas here.
In this bustling metropolis, there are plenty of opportunities to capture stunning photos and videos that will leave your followers in awe.
In this article, we'll take a closer look at the top Instagrammable places in Las Vegas.
Here Are The Top Spots For The Most Instagrammable Places In Las Vegas
1. The Bellagio Fountains
Located in front of the Bellagio Hotel, the fountains dance to a range of music, including classical, pop, and Broadway tunes, providing a mesmerizing backdrop for photos and videos. It's one of Las Vegas most iconic sites, which means it's a must when looking for Instagram photos throughout the city. The best time to visit is at sunset and when the fountains are lit up each evening.
Address: 3600 S Las Vegas Blvd, Las Vegas, NV 89109
2. Welcome to Las Vegas Sign
Chances are, you've seen a photo of this sign before! This iconic Welcome to Las Vegas sign is located at the southern end of the Las Vegas Strip and, is a must-visit spot for anyone looking to capture the essence of Las Vegas.
The sign provides a perfect photo opportunity and is easily accessible as there is a free dedicated parking lot right next to it. (Note that you can only access the sign parking lot when driving south on Las Vegas Boulevard.)
Address: 5100 Las Vegas Blvd S, Las Vegas, NV 89119
3. The High Roller
The world's tallest observation wheel stands at 550 feet tall and offers breathtaking views of the city. The 30-minute ride in one of the spacious cabins offers an excellent opportunity to capture stunning photos. If looking to showcase a fun activity that offers 360-degree views of the surrounding area, The High Roller is a must for any visitor.
High Roller coupons can be found here.
Address: 3535 Las Vegas Blvd S, Las Vegas, NV 89109
4. The Neon Museum
This unique museum features a collection of vintage neon signs that have been rescued from demolition sites across the city. The colorful signs provide a fun and nostalgic backdrop for Instagram photos.
Address: 770 Las Vegas Blvd N, Las Vegas, NV 89101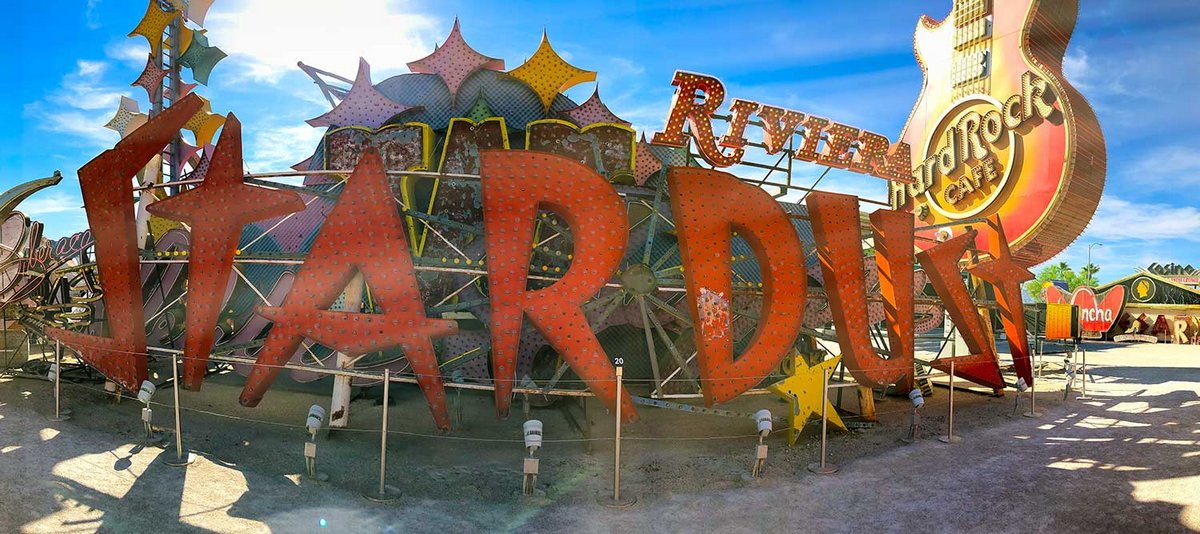 5. The Venetian
This luxurious Hotel and Resort offers a replica of Venice's famous canals, complete with gondolas and singing gondoliers. You might technically be in Las Vegas, but the Venetian transports your mind and photos across the Atlantic to Italy.
Around every corner is intricate architecture, making it an ideal location for Instagram photos.
Browse Venetian Hotel deals here.
Address: 3355 S Las Vegas Blvd, Las Vegas, NV 89109
6. Cafe Lola
Insta-foodies, this is for you! This charming cafe, located in the west side of Las Vegas, features pastel pink and green decor and offers a range of Instagram-worthy food and drinks, including floral lattes, macarons, and other sweet treats which is why is a must for Las Vegas Instagram spots.
It actually rose to fame after being featured in numerous viral TikTok and Instagram posts, so it doesn't get much more Instagrammable than this!
Address: 4280 S Hualapai Way Ste #109, Las Vegas, NV 89147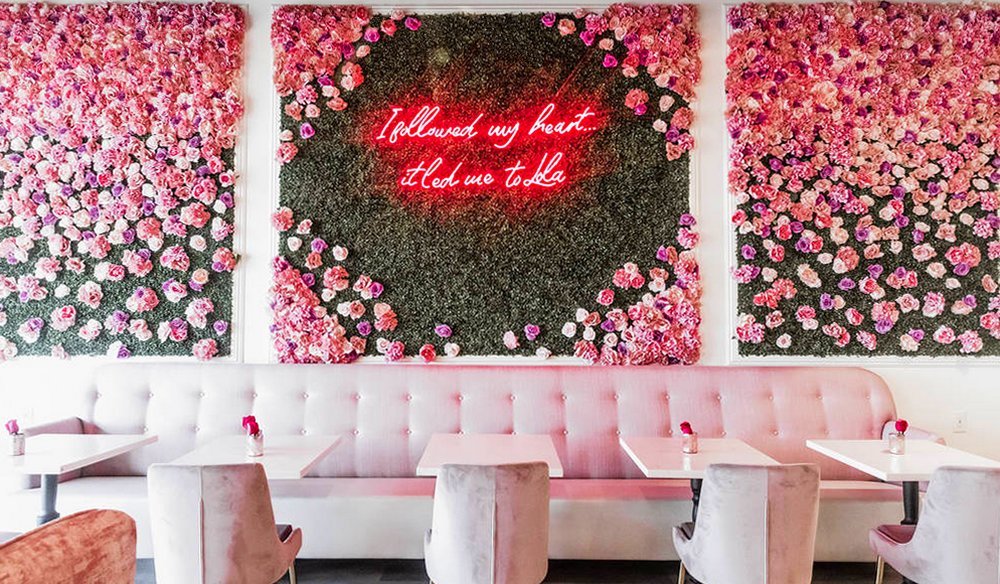 7. Meow Wolf Omega Mart
This art exhibit, located at AREA15, features a bizarre supermarket filled with unique and interactive installations. Once you arrive and start your way through this immersive experience, there are unlimited areas to capture fun & quirky photos.
Everywhere you go is filled with hidden pathways, neon signs, trippy designs, and unique puzzles that are sure to leave you wishing you had longer to explore every corner of this attraction.
Address: 3215 S Rancho Dr #100, Las Vegas, NV 89102
Get discount tickets for Omega Mart.
8. Red Rock Canyon
It's a perfect location for outdoor enthusiasts or those looking to capture a side of Las Vegas that is more remote, rugged, and showcases the area's unique natural beauty.
Address: Mountain Springs, NV 89161
9. The Wynn Atrium
This luxurious Hotel and Resort features a beautifully designed atrium filled with colorful flowers and trees, including a floral carousel and hot air balloon installation that both contain more than 110,000 flowers.
The Wynn is one of the most popular resorts in Las Vegas, and when you stay, you'll soon find out why! You can find Wynn Hotel deals here.
Address: 3131 Las Vegas Blvd S, Las Vegas, NV 89109
10. Seven Magic Mountains
This unique art installation features seven towering sculptures made of colorful boulders, each over 30 feet tall. It's a quick pit stop off I-15 on your way to Vegas from California, and definitely worth a stop if looking for Insta-worthy photos from your trip.
The vivid colors of the sculptures provide a beautiful backdrop for photos, especially during the golden hour. Head there at sunrise to avoid crowds.
Address: S Las Vegas Blvd, Las Vegas, NV 89054
11. The Boulevard Pool
The Boulevard Pool is a rooftop pool located on the 17th floor of The Cosmopolitan hotel in Las Vegas. It features panoramic views of the city skyline and the Strip, and its unique design includes a cantilevered deck that extends over the edge of the building.
The pool deck offers a variety of seating options, including daybeds, cabanas, and lounge chairs, and there are multiple bars and restaurants on-site.
View Cosmopolitan Hotel deals here.
Address: 3708 Las Vegas Blvd S, Las Vegas, NV 89109
12. Las Vegas Helicopter Tour
Las Vegas & Grand Canyon helicopter tours are a unique and adrenaline-pumping way for photographers looking to capture stunning aerial shots of Las Vegas and the surrounding area that other visitors rarely see.
The high altitude and unique vantage point provide an opportunity to capture breathtaking panoramic views of the city and the beauty of the nearby Grand Canyon.
Address: 6075 S Las Vegas Blvd, Las Vegas, NV 89119
Tips for Taking Instagrammable Photos
Find good lighting: Lighting is key for taking great photos. Look for natural light or bright, evenly-lit indoor spaces to create flattering and well-lit photos.
Use the rule of thirds: The rule of thirds is a composition technique that involves dividing the frame into thirds and placing the subject at the intersection of the lines. This creates a visually pleasing and balanced photo.
Experiment with angles and perspectives: Changing the angle and perspective can add interest and depth to your photos. Try shooting from different heights or angles to find the most flattering and visually interesting shot.
Edit your photos: Editing your photos can help enhance their quality and make them stand out. Use editing apps or features to adjust brightness, contrast, saturation, and add filters or effects.
Tell a story: A great Instagram photo should tell a story or convey an emotion. Consider the message or mood you want to convey in your photo and use composition and editing techniques to help convey that message.
Las Vegas offers a plethora of Instagrammable locations that are sure to impress. From the iconic Bellagio Fountains to the colorful Seven Magic Mountains, there's no shortage of beautiful and unique locations to capture stunning photos. Whether you're a seasoned Las Vegas visitor or this is your first time to Sin City, there are plenty of stunning locations for photos & fun! If you plan to explore Las Vegas, you can view our top deals for hotels, activities, dining, and more on our website: