Real Bodies at Horseshoe Gives Inside Look at COVID-19
You've likely heard a lot about the spread of COVID-19 and how you can avoid catching it when you visit Las Vegas. Now you can safely examine the virus while you're vacationing here.
Real Bodies at Horseshoe Las Vegas Hotel & Casino on the Las Vegas Strip (not to be confused with Bodies, the exhibition at Luxor Las Vegas) recently unveiled several new experiences related to the novel coronavirus, including:
An art installation with dozens of 3-D printed models of the virus.
A short film about COVID-19, how it reacts to your body, and how it is spread.
Fast facts about the virus, such as how it affects your digestive, circulatory, respiratory, and other body systems.
Social distancing floor decals, which are functional and educational, with additional facts on COVID-19 and messages like, "Do your part. Stay six feet apart."
Real Bodies at Horseshoe houses 20 human bodies and more than 200 anatomical specimens, all kept from the natural process of decay through polymer preservation with liquid silicon rubber. The exhibition contrasts the physical body with emotional insights about human life, revealing the connections between biology and the human experience—breathing, hunger, the rhythm of the heart, love, motion, and thought—from birth to death.
After visiting the exhibit late last year, Joyce L. of Honolulu, HI wrote on Yelp how amazing it was to see the complexities of the human body.
"I have a weak stomach for blood and skin cuts, but I wanted to experience seeing real bodies and I'm glad I did because human body is such a complex thing," she wrote. "We take our bodies for granted."Hatim A. of Orlando, FL., visited the exhibition right before Las Vegas businesses were shut down in March due to the pandemic. He called it a great experience and a wake-up call. "We underestimate our bodies every day and take them for granted," he wrote on Yelp. "You learn so much in the little place."
The exhibit's COVID-19 additions are put in context with human anatomy and based on the latest scientific information about the virus. They aim to provide visitors with a better understanding of the coronavirus, the way it affects our health and the various efforts related to treating it. It also provides an inside look at the snowballing effects of the pandemic on human health and the greater healthcare system.
The Real Bodies at Horseshoe additions were created by Imagine Exhibitions along with its medical advisor. The doctor is an emergency medicine physician and epidemiologist in Atlanta, Ga., who has experience in the field of emerging infectious disease preparedness and response.
"I am excited to share with the public the amazing work that our team created to enhance the exhibition in an effort to answer everyday questions about COVID-19," said CEO of Imagine Exhibitions Tom Zaller in a press release. "Our goal is to share with people the current findings about how this new virus affects the different systems of the body in an easy-to-digest form. The hope is that we all come out of the exhibition knowing a little more than when we went in."
While patrons learn about COVID-19 throughout the exhibit's 11 galleries, Real Bodies at Horseshoe is also taking its own measures to ensure the health and safety of visitors. For instance, the attraction will be operating with reduced capacity to ensure proper social distancing is maintained. Patrons are encouraged to "look and learn, but don't touch" so everyone can safely maneuver through the educational and informative space.
Other protective measures and protocols taken by Real Bodies at Horseshoe include plexiglass barriers at the ticketing counters, hand sanitizer stations throughout the exhibition and stringent disinfection of the space per Centers for Disease Control (CDC) recommendations.
As mandated throughout Nevada, face coverings are required for guests and employees while inside the exhibition. Staff will undergo daily health screenings and guests will be given a health survey before entering to assess possible exposure to the virus.
Real Bodies at Horseshoe is located on Horseshoe lower Level, near the resort's Flamingo Road entrance. The exhibit is open Thursdays through Sundays, 10 a.m.-9 p.m. Cost is $29.95 (plus fees) for adults and $18 (plus fees) for children, ages 3-12. Click here for more info and tickets!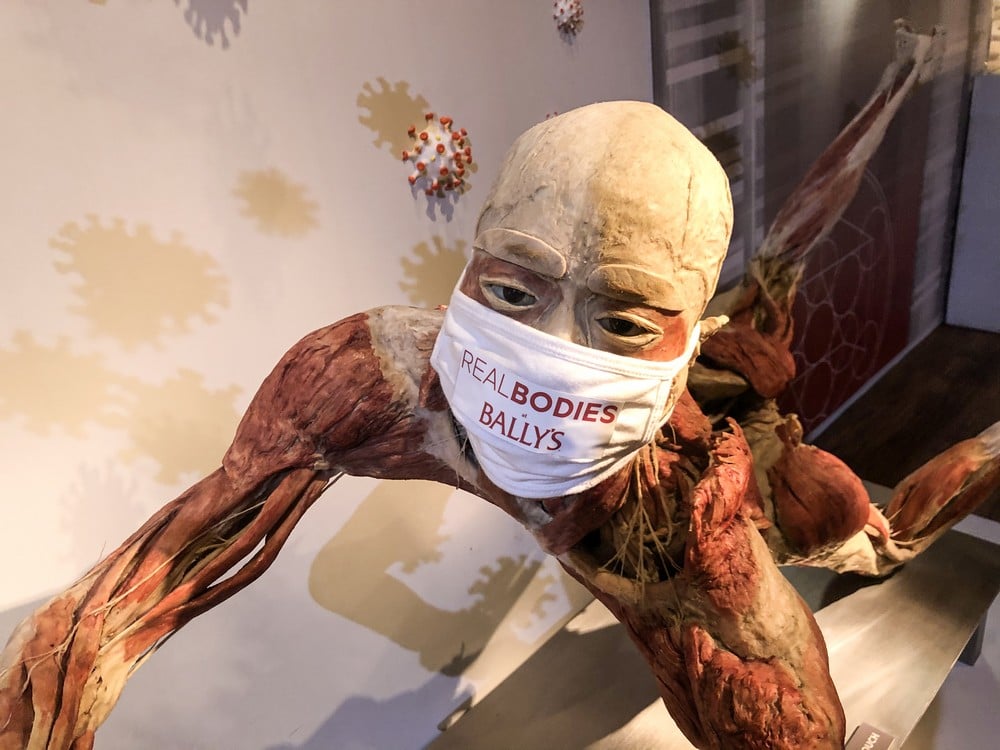 The Doctor Is In
In other coronavirus news, guests at JW Marriott Las Vegas Resort & Spa and Rampart Casino will now have access to telemedicine visits and other health services in case they aren't feeling well.
The resort-casino, located 20 minutes from the Las Vegas Strip in the city's upscale Summerlin suburb, is partnering with healthcare non-profit Intermountain Healthcare so the properties can go "beyond basic methods of safety for our visitors," according to JW Marriot's Vice President and General Manager Michelle Bacigalupi.
Through the partnership, the properties will:
Provide iPads for telemedicine visits for both guests and associates
Refer patients seeking further treatment to a nearby clinic
Provide COVID-19 testing to guests as needed
Assist with contact tracing, should a case arise
JW Marriot and Rampart Casino also consulted with Intermountain Healthcare on additional health and safety protocols for the properties, to supplement those already set forth by local, state, and national governing bodies.
"In partnering with the JW Marriott Las Vegas, we intend to offer guests reassurance knowing a physician is a phone call away," Dr. Warren Volker, chief clinical officer for Intermountain Healthcare in Nevada, told the press. "Part of continuing to be safe means catching any symptoms early on, and if that should happen while traveling, we want to be sure, for everyone's sake, we're able to mitigate a potential spread while getting patients the care they need."
Vegas Smart
While there are currently no travel restrictions to Las Vegas, or within the domestic U.S., the Las Vegas Convention and Visitor's Authority's Stay Smart campaign encourages responsible behavior among visitors and keep people in the know about Las Vegas resort policies as well as the latest updates. As of early August, the state's Governor Steve Sisolak reinforced helping to stem the spread of COVID-19 through social distancing, maintaining 6 feet of space between individuals, wearing face coverings, and limiting unnecessary social interactions.