13 Truths and Myths About Las Vegas
Las Vegas is full of glimmering lights, high-stakes gambling, and secrets. Most people think they have this city figured out.
On the contrary, there's still a lot we don't know. Are there people living underneath the famous Strip in flood tunnels? Gambling is legal but what about when it comes to playing the lottery?
To answer these questions, we'll dive deep into 13 truths and myths about Las Vegas not a lot of visitors (and residents) know about. Curious to read all about them? Let's get into it!
Truth: Gambling in Vegas Was Illegal

Imagine a world where gambling was illegal in Las Vegas. Well, it happened!
Back in 1905, an antigambling law practiced in the state of Nevada made betting illegal. Those with an urge to gamble moved their doings underground.
However, the law didn't last for too long. In 1931, gambling was once again legalized and has been ever since.
As for the lottery, you can't grab tickets in the city. Ever since Nevada became a state in 1864, lotteries have been illegal. There have been times when a bill for it came close to passing but as we stand today, playing the lottery in Vegas is a no-go.
The closest place to grab a lotto ticket is in Primm, California. It's about 40 miles southwest of Vegas.
Myth: Las Vegas Is Cheap
Back in the day, over 40 years ago or so, and before the mega hotel chains set up camp along Las Vegas Boulevard, Las Vegas was known for $2.99 steak dinners and cheap hotel rooms. It was not unusual to go and have an inexpensive weekend while seeing top Hollywood acts and eating well.
Those days are gone. Long gone. Top buffets can be very expensive overall, popular shows with big-name shows can easily cost $150 per ticket, and good luck trying to find a decent steak dinner for under five dollars.
Myth: You Must Gamble in Order to Have Fun
While gambling is just about everywhere in Las Vegas, including the airport, you don't need to hit the slot machines or cozy up to the poker tables to have fun. Many come here for a variety of reasons, such as business, conventions (over 20,000 are given each year), shopping, shows, attractions, and some of the most luxurious hotels and spas in the world.
Truth: FedEx Wouldn't Be Here if It Weren't for Gambling
Let's say you had a struggling business. You didn't have enough to pay a big bill; what do you do?
Some would file for bankruptcy. Others would try to take out as many loans as they could or negotiate the price of the bill.
Frederick W. Smith, the founder of the shipping company FedEx, did neither of those options. Instead, he took the company's last remaining $5,000 and used it to gamble in Vegas.
Ultimately, he pressed his luck and succeeded. Playing blackjack, he won $27,000.
That was enough to save his company, paying off the $24,000 fuel bill. Without this stroke of luck, it would've been unlikely for FedEx to still be around today.
Myth: Vegas Isn't Family-Friendly
While Las Vegas is known as more of an adult-friendly city, that doesn't mean kids aren't allowed. Plenty of people travel to Sin City with their kids in tow.
They can have fun too, without being confined to the hotel's arcade all day. Take Circus Circus for example.
It's a carnival-themed casino and hotel with two dedicated places for kids—AdventureDome and the Midway. The Midway is a floor full of carnival games where kids can win prizes. AdventureDome, on the other hand, is an indoor amusement park suited with rides for all ages; even adults can get in on the fun!
There are also tons of shows they can see as well. One that's for the whole family is the Blue Man Group.
Myth: Las Vegas Is Hot Year Round!
There is no doubt that during the summer Las Vegas is extremely hot, but when traveling to this Nevada desert in the winter, it can be cold! Living in a desert climate means you can experience a wide range of temperatures throughout the year.
The average temps in Vegas during the months of December to February are 58 degrees with lows in the mid 30's. It is always suggested to bring a warm coat and scarf during these months. And when you add the wind to it, it can be downright freezing.
Truth: People Live Underneath the Strip
The Strip is glamorous, shiny, and high-end. What lies beneath it is anything but.
Underneath all the hotels, casinos, and restaurants are 200 miles of flood tunnels, which around 1,000 people call home. Those who dwell in the underbelly are the ones who fell on hard times.
They found an obscure place which, while it doesn't provide natural light, does give them a place to sleep. Most who live there carve out their living spaces with furniture and clothes thrown away by others.
Founded by Beneath the Neon author Matthew O'Brien in 2009, Shine a Light is a Freedom House Sober Living program that provides housing, counseling, and other services to the people living in the underground flood channels of Las Vegas. If you'd like to help them you can make a donation on their website.
Myth: Las Vegas Isn't Near Anything!
What else is there to do in Las Vegas if you want to escape from all of the activity? Many tourists believe that once you arrive in Las Vegas, you are stuck until it's time to go back home. But Las Vegas is surrounded by some of the most beautiful natural resources and mind-boggling man-made engineering feats.

Grand Canyon, Hoover Dam, Lake Mead, Red Rock Canyon, Mount Charleston and so much more are all close by if you love the great outdoors. Of course, plan on spending at least a few days at the Grand Canyon to get a good overview.
Myth: You Can Drink Anything on the Strip and Downtown
While it's true you can drink in public on the Strip and downtown, there's a catch. You can't walk around drinking just anything.
There are certain laws depending on where you are and what you're drinking. You can't drink within 1,000 feet of a church, school, or homeless shelter.
As for what you can drink, it can be any liquor as long as it's in an open container and not made of glass. Plastic cups qualify as open containers. If you bought a bottle of beer and are planning to walk the Strip, asks the bartender to transfer it into a plastic cup—this way, you won't get in trouble.
Truth: The Mirage Is Made of Gold
It's a towering gold building that's hard to miss while visiting the Strip. But there's one thing not a lot of people know about the extravagant gold color: it's real. Well, it's technically real. While it's not crafted from melted gold bars (imagine the cost of that), the windows are tinted with gold dust. When it opened in November 1989, it was the most expensive casino in history, coming in at $630 million.
Myth: Prostitution Is Legal
It's hard to travel the Strip without seeing one or two advertisements with half-naked women on them. Not only that but Vegas has a few gentlemen's clubs as well.
However, prostitution is illegal in Las Vegas. Most people wouldn't know that, judging by the many suggestive advertisements and shows.
For those looking for legal brothels, there are small towns in Nevada that have them. One that's popular is the Moonlite BunnyRanch, owned by the late Dennis Hof. It's located east of Carson City.
Myth: You'll Never Win Big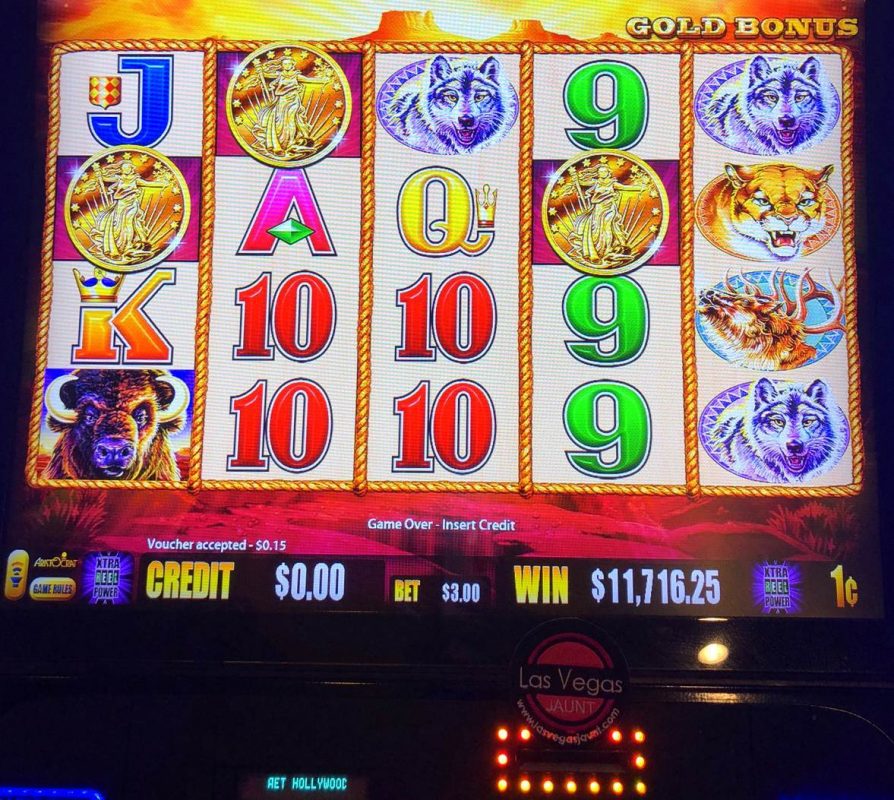 A lot of people assume casinos have algorithms in place that prevent guests from winning huge jackpots. That's just not true.
To win big, a lot of luck is required. Instead of trying to win a jackpot by dumping your life savings into slot machines, start slow and set a gambling budget.
Put in $20 and aim to double it. Learn the games and hit the tables. As always, head to smaller casinos off the Strip where the slots are normally looser.
Myth: Las Vegas Is Too Noisy, Too Busy and Too Crazy!
For some tourists, this may be true as they visit to gamble, drink, and party nonstop. But for many, many others, Las Vegas offers a tranquil, peaceful environment that doesn't require a casino or visiting the Strip.

Just 17 miles away is Red Rock Canyon, Nevada's first national conservation area, which provides a relaxing and rejuvenating hike among some spectacular desert scenery. Springs Preserve is a 180-acre park that has been described as "Las Vegas' Central Park." Also, there are many spas, golf courses, and museums that are well worth seeing.
Know the Truth About Sin City
From its very origin, Las Vegas has been saddled with myths, half-truths, and legendary stories that have taken a life of their own as the years go by.
Don't believe everything you've heard or seen about Las Vegas. There's more to the city than meets the eye.
And now that you know a few myths and truths about Las Vegas, use this knowledge to enhance your trip.