A Beginner's Guide to Gambling in Las Vegas
Las Vegas casinos are truly where dreams are made, and fortunes can be won! If you're a first-time gambler, this town can be overwhelming. Our beginner's guide to gambling in Las Vegas will take you through everything you need to know. Gambling in Las Vegas doesn't have to be complicated, and we will show you how to have a blast without going broke.
Table of Contents
A Smorgasbord of Options for Games
Las Vegas offers a vast array of gambling games, each with its own unique charm. From classic slot machines with various themes and jackpots to the strategic card games of poker and blackjack, you'll find something that suits your style. Here are some popular games you can try your luck at:
Slots: These vibrant machines are the heartbeat of Las Vegas casinos, and you'll find hundreds of them with exciting themes and features.
Poker: This timeless card game combines skill and luck. You can find variations like Texas Hold 'em, 7 Card Stud, and Omaha Hi-Lo.
Blackjack: This popular table game offers players good odds for winning. The goal is to beat the dealer's hand without going over 21 with your cards.
Roulette: Bet on red, black, or specific numbers while the wheel spins to see if luck is on your side.
Craps: Roll the dice and wager on the outcome of a roll, or a series of rolls.
Bingo: Join in the fun by buying cards and matching numbers as they're called during the game.
If you are looking to learn how to play poker or any other games, you can find plenty of tutorials online to sharpen your skills. Before you hit the casinos or tables, browse this guide to gambling in Las Vegas for all the tips and tricks to make the most of your next vacation.
Easiest Games for Beginners to Win
For beginners, venturing into the world of gambling can be both exhilarating and a little nerve-wracking. Fortunately, there are games perfectly tailored for newcomers to dip their toes into the casino scene. Slot machines and bingo are excellent choices for beginners as they rely predominantly on luck rather than complex strategies.
With slot machines, you pull the lever and let Lady Luck determine your fate. Similarly, bingo is a straightforward game where players buy cards and match numbers called during the game, making it easy to understand and enjoy.
However, table games like blackjack and roulette are fantastic options for those looking to add a touch of strategy to their gameplay. Though they may seem intimidating at first, these games can be quickly learned, especially with the plethora of online resources and tutorials available. By making well-informed betting choices, you can increase your odds of winning and experience the excitement of beating the house.
Whether you opt for the simplicity of slots and bingo or the strategic thrill of table games, Las Vegas casinos offer an array of games catering to every level of expertise.
How to Gamble in Las Vegas with $100
Being strategic with your choices can stretch your entertainment value if you're on a budget and have $100 to spare for gambling. While slots are undeniably popular and offer their own allure, table games like blackjack and poker should be on your radar if you're looking for better returns on your investment. These games require a bit of skill and strategy, which can improve your chances of winning.
The Beginners Guide to Gambling in Las Vegas Top Tips
When gambling in Las Vegas, you will want to adopt some key practices to ensure a fun and responsible experience.
First, set a budget for your gambling activities and stick to it. This will help you avoid overspending and maintain control over your finances.
To make it easier to stick to your budget, consider using the envelope method. Before your trip, divide your total gambling budget into daily allowances. Place each day's allowance in a separate envelope. When you hit the casino, only take that day's envelope with you. Once the money in the envelope is gone, that's it for the day—no dipping into tomorrow's funds. This tactile approach helps you maintain discipline and keeps your spending in check.
Additionally, always keep your winnings separate from your initial gambling budget. This way, you'll know exactly how much you won or lost during gaming sessions.
Understanding the odds of each game you play is essential. Different games offer varying chances of winning, so familiarize yourself with the probabilities to make informed decisions.
Signing up for a "player's card" at the casino can be highly advantageous. It allows you to earn rewards based on the amount you gamble, including discounts, freebies, or even complimentary stays at the casino's hotel.
Consider playing with cash-ins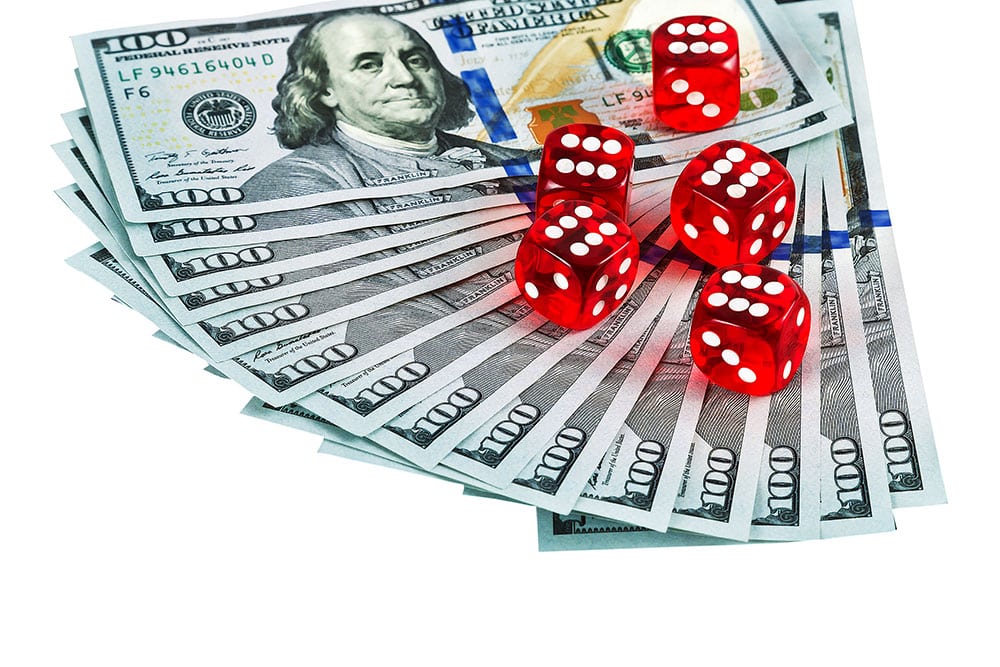 Instead of using credit or debit cards to track your spending better. This way, you'll have a clearer picture of how much you're betting and be less likely to exceed your budget.
Finally, remember that gambling should be an enjoyable part of your overall Vegas experience. Take breaks to relax and explore other attractions and activities the city offers. This way, you can maximize your trip and savor the entire Las Vegas adventure. Check out our list of 100 Free Things to do in Las Vegas!
Gambling Safety in Las Vegas
While Las Vegas is relatively safe, it's essential to be cautious and aware of your surroundings:
Stick to gambling inside reputable casinos and avoid street games.
Be mindful of your alcohol consumption, and don't let it affect your judgment.
Stay alert and aware of your belongings to avoid pickpocketing.
Avoid deals that sound too good to be true, especially from strangers.
Check out our Guide On How To Travel Safely to Las Vegas.
Keep This Guide to Gambling in Las Vegas Handy
Whether you need to know how to play poker or want the basics of how to gamble in Las Vegas, you will want to remember these few tips. Always gamble responsibly and have fun, whether testing your luck at the slot machines or playing strategic card games. This guide to gambling in Las Vegas provides a few tips to plan wisely and set limits so you'll enjoy this mesmerizing city of lights. Good luck, and enjoy your unforgettable casino adventure in Las Vegas!
Now, it's time to let loose, embrace the shimmering lights, and dance with Lady Luck herself! With a sprinkle of luck and a dash of strategy, you'll be on your way to a truly mesmerizing and unforgettable casino adventure in the heart of Sin City. If you are looking for the best deals in Las Vegas, make sure to check out Las Vegas Jaunt. We have everything you want to help you plan and book an exciting and enjoyable trip.