Las Vegas Most Delicious Celebrity Chef-Owned Restaurants (UPDATED 2023)
After a long yet exciting day of exploring Sin City, going through a laundry list of restaurants is the last thing you want to do when you're starving. Basically, there are roughly 45 casinos occupying the Strip, and inside each and everyone are about 7 to 10 restaurants.
A lot of options isn't always a good thing.
Fast-food doesn't sound good nor does constantly getting up to fetch food at a buffet. You want a sit-down place with good drinks and mind-blowing food.
Places with atmosphere and good times to be had are celebrity chef-owned restaurants. That's why we did the hard work for you by listing the best ones.
Next time you're exploring the Strip, you won't have to question where to eat.
Ready to know all the best eateries owned by celebrity chefs? Here are our picks sure to satisfy your appetite.
Let's Dive Deeper Into These Celebrity Chef Owned Restaurants!
Nobu
Nobu is a world-renowned Japanese restaurant chain, with 3 locations in Las Vegas owned by celebrity chef Nobu Matsuhisa.
The menu features a mix of traditional Japanese dishes, such as sushi and sashimi, as well as innovative fusion cuisine. Some of the signature dishes on the menu include the Black Cod Miso, Yellowtail Sashimi with Jalapeño, and the Lobster Shiitake Salad. The restaurant also features an extensive selection of sake and an impressive cocktail menu.
The atmosphere at Nobu is upscale and intimate, with dim lighting and a minimalist decor that lets the food take center stage. Overall, Nobu offers an exceptional dining experience with high-quality food and top-notch service, making it a favorite among foodies and celebrities alike. Choose from three fabulous locations at Caesars Palace, Virgin Hotels, or The Paris Hotel Las Vegas.
Wahlburgers
Wahlburgers is a popular celebrity-owned restaurant in Las Vegas that has gained a reputation for its delicious burgers and relaxed atmosphere. Owned by the Wahlberg brothers, Mark, Donnie, and Paul, Wahlburgers prides itself on its use of high-quality ingredients and its commitment to customer satisfaction.
With two locations, one in the Grand Bazaar Shops in front of The Horseshoe and one inside in The Shoppes at Mandalay Place inside Mandalay Bay, the menu features a variety of burgers, sandwiches, and salads, as well as sides like tater tots and onion rings. One popular item is the "Our Burger," which includes government cheese, housemade pickles, and signature sauce. In addition to burgers, Wahlburgers also offers a full bar with cocktails and beer on tap, as well as a kid-friendly menu and vegetarian options.
The restaurant's decor is inspired by the Wahlberg family's roots in Boston, with exposed brick walls, wooden accents, and photos of the brothers throughout the space. Overall, Wahlburgers is a must-visit destination for burger lovers and fans of the Wahlberg brothers alike, offering delicious food and a fun, relaxed atmosphere.
Chica
Chica is a popular Latin-themed restaurant located in the Venetian Resort in Las Vegas, owned by celebrity chef Lorena Garcia. Known for its lively atmosphere and delicious food, Chica offers a unique dining experience with a menu that showcases Latin cuisine from various countries such as Mexico, Brazil, and Peru.
Some of the standout dishes on the menu include the "Elote" street corn, the "Churrasco" skirt steak, and the "Pollo a la Brasa" roasted chicken. The restaurant also offers a variety of seafood dishes, including ceviche and shrimp cocktails. In addition to its diverse menu, Chica has an impressive cocktail program with a variety of margaritas and mojitos, as well as a tequila bar with over 100 different types of tequila to choose from.
The restaurant's decor features vibrant colors and festive Latin American artwork, adding to the lively atmosphere. Overall, Chica, owned by the acclaimed celebrity chef Lorena Garcia, is a must-visit destination for those looking for a fun and flavorful dining experience with a Latin twist in Las Vegas.
Buddy V's Ristorante
Buddy V's Ristorante is an Italian-American restaurant located in the Venetian Resort in Las Vegas, owned by celebrity chef Buddy Valastro. The restaurant offers a warm and inviting atmosphere with a decor that showcases Buddy's Italian heritage, including family photos and memorabilia from his hit TV show "Cake Boss."
The menu features classic Italian-American dishes, such as the Chicken Parmesan and Linguine with Clams, as well as creative twists on traditional favorites, such as the Lobster Mac & Cheese. The restaurant also offers an extensive dessert menu, with Buddy's signature cakes and pastries taking center stage. The atmosphere at Buddy V's Ristorante is lively and energetic, with a welcoming vibe that makes it a popular spot for families and groups of friends.
Overall, Buddy V's Ristorante offers a delicious and comforting dining experience with top-notch service and a fun, family-friendly atmosphere, making it a must-visit for anyone looking for an authentic Italian-American meal in Las Vegas.
Jaleo
Jaleo is a popular Spanish restaurant located in the Cosmopolitan Hotel in Las Vegas, owned by celebrity chef José Andrés.
The restaurant offers a lively and energetic atmosphere with a decor that showcases Spain's vibrant colors and culture. The menu features a mix of traditional and contemporary Spanish cuisine, with standout dishes such as the Spanish-style beef tartare and the paella with lobster and rabbit. Jaleo also offers an impressive selection of tapas, including the classic patatas bravas and the croquetas de jamón. The restaurant also has an extensive cocktail program, with a variety of sangrias and Spanish-inspired cocktails.
The atmosphere at Jaleo is lively and festive, with an open kitchen that adds to the energy of the space. Overall, Jaleo, owned by the acclaimed celebrity chef José Andrés, is a must-visit destination for those looking for a fun and flavorful dining experience with a Spanish twist in Las Vegas.
Hell's Kitchen
Does this name ring a bell? It's named after the hit TV show.
For those unfamiliar with Hell's Kitchen, it stars Gordon Ramsay guiding professional chefs as they vie for a head chef position at one of his famous restaurants. There's a good amount of cussing, crying, and frustration amongst the contestants as they're put through interesting challenges to test their cooking and leadership skills.
The restaurant at Caesars Palace is a replication of the studio set. It includes floor-to-ceiling windows with hints of red and blue throughout to represent the teams.
Dishes include staples from the show like beef Wellington and lobster risotto. As far as drinks go, there's a mixology bar serving crafty cocktails along with wine and beer.
They're open for lunch and dinner. With it being in a prime location, make sure to book your reservation in advance.
CUT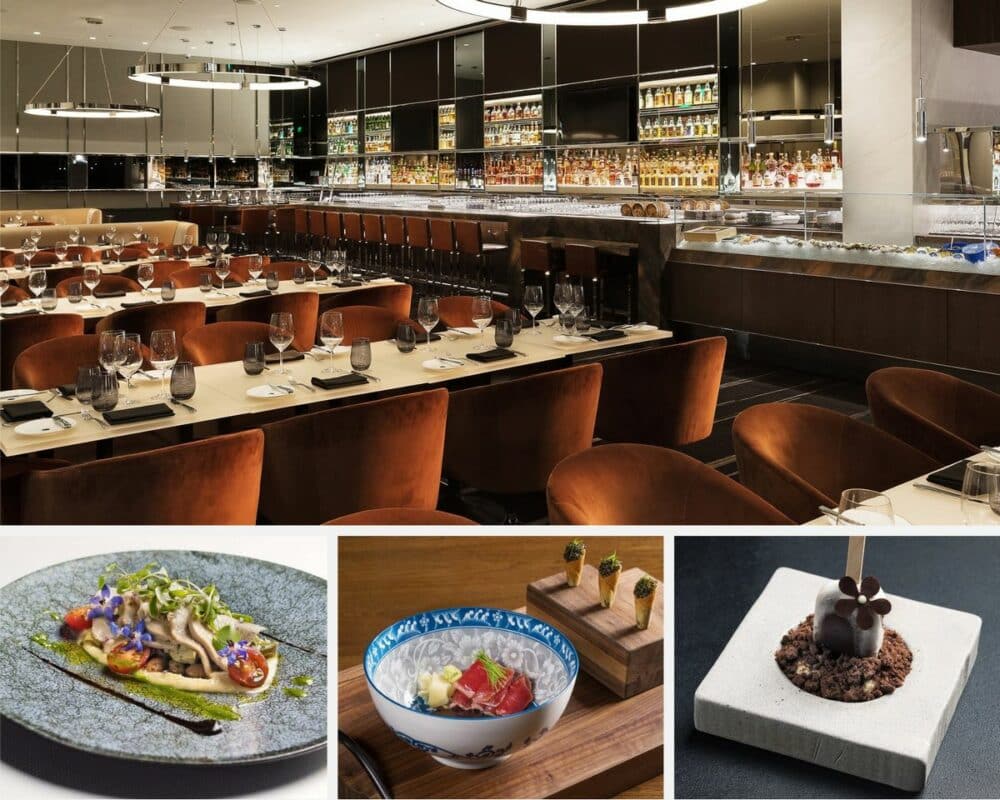 One thing Vegas gets right is steakhouses. However, one stands above the rest. That's CUT by Culinary Hall of Famer Wolfgang Puck. It's a modern take on refining the classic American steakhouse.
It's the premier place for upscale meats like wet-aged beef, wagyu short ribs, and pork chops. It also includes prime cuts like bone-in New York sirloin, bone-in rib-eye steak, and filet mignon.
If you don't consider yourself a "meat connoisseur," their servers will assist you in choosing the right cut for you.
All ingredients are humanely treated and are the freshest available. Quality and innovation are at their finest so you can walk in with the highest of expectations and not be disappointed.
Guy Fieri's Vegas Kitchen & Bar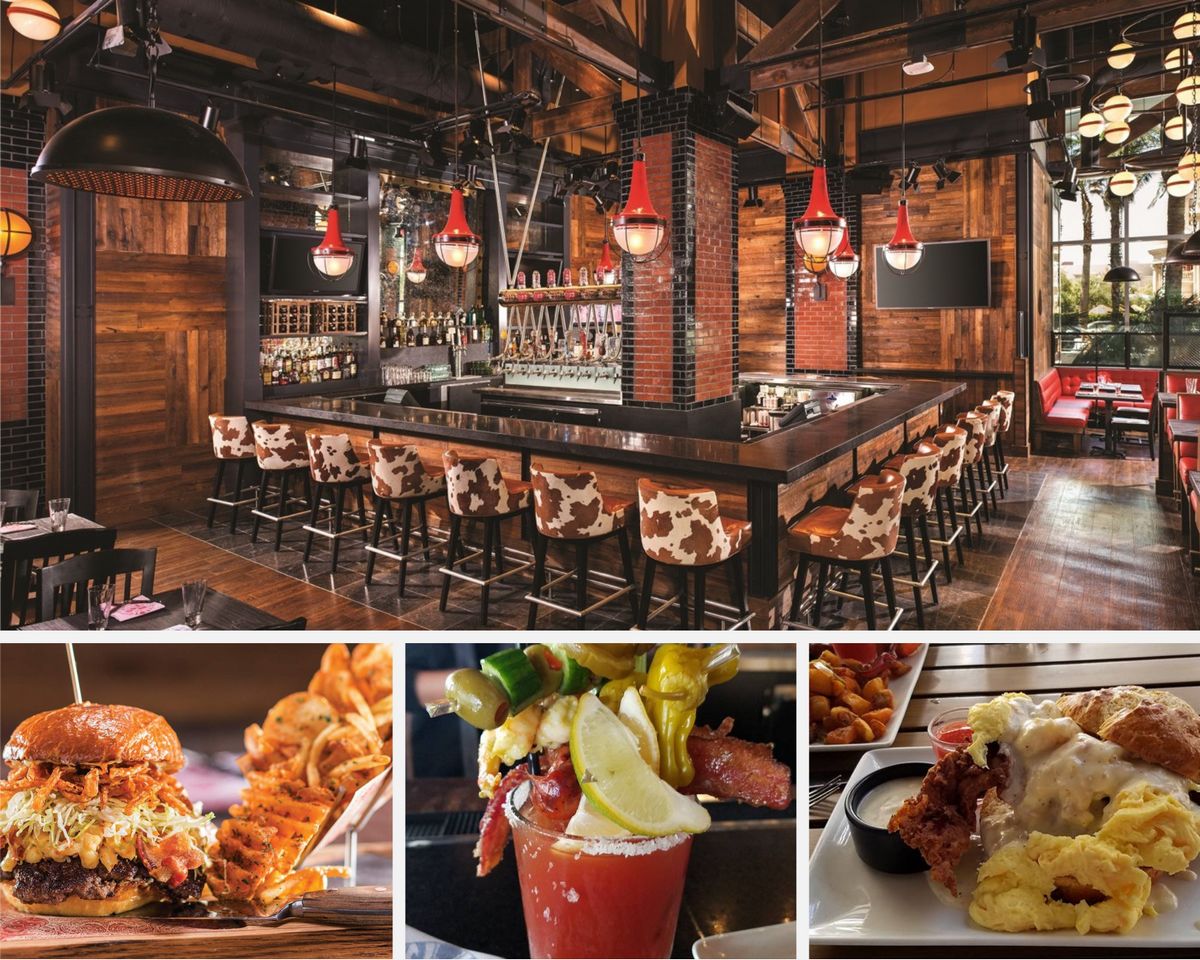 A UNLV alumnus, it only made sense for Guy Fieri to open an industrial-themed restaurant and bar at The Linq in Las Vegas. The interior is similar to his kitchen at home with accents of wood and metal. There's also a large outdoor dining space with a view of the Strip.
The dishes embody Guy's personality and cooking style—bold and fun. You can see hints of his tattoos amongst design elements on napkins, coasters, and more. Signature entrees include trash can brisket nachos, bacon mac 'n' cheeseburger, and double-barrel BBQ wings.
You'll need a drink to wash down these hearty dishes so why not a Bloody Mary topped with everything but the kitchen sink? You can craft your own by choosing from a variety of liquors, garnishes, and heat levels.
They're open for breakfast, lunch, and late night. So when you have a hankering for a big, juicy burger after 10 PM, this is the place to go.
Giada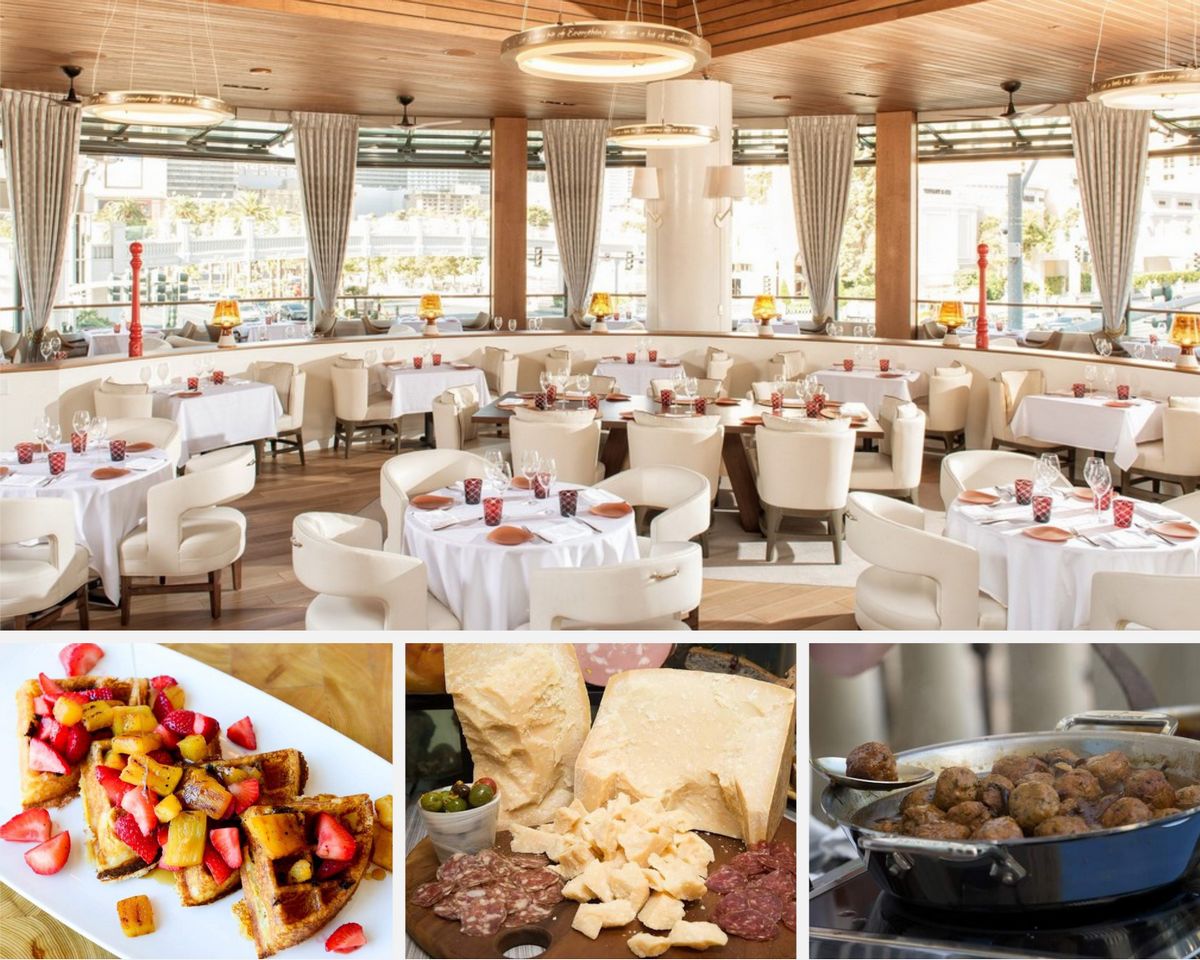 Giada De Laurentiis was famous on Food Network long before she opened her namesake restaurant inside The Cromwell. Known for her love of authentic Italian food, this eatery is the best of Italian cuisine fused with Giada's Californian influence.
There's something for everyone with vegan and gluten-free entrees. Family-style options are also available so be sure to bring the kiddos!
Dishes include refreshing lemon spaghetti, Marsala herb chicken meatballs, and vegetable Bolognese rigatoni.
It's a warm, inviting place similar to Giada's personality. You'll enjoy your meals overlooking the Bellagio fountains and Caesars Palace.
You'll also be entertained by the open kitchen with chefs making bread, fresh pasta, and desserts.
Bouchon
French cuisine mastermind Thomas Keller opened Bouchon inside the Venetian. You'll come for the menu but stay for the ambiance and extensive wine list.
There's an oyster bar for you to enjoy starting at 3 PM along with a dinner menu consisting of extravagant dishes like foie gras, steak frites, and Boudin Blanc. It's a modern take on traditional French food.
They're also open for breakfast and brunch.
Aside from the menu options, the interior makes it feel as if you're truly sitting in a French bistro. Warm wood tones, sconces, and crisp, white tablecloths create a relaxing atmosphere. There's plenty of patio space to enjoy brunch or dinner outside in the fresh air.
Morimoto Las Vegas
The Iron Chef himself opened a namesake restaurant right in the heart of the MGM Grand. It's Japanese food at its finest.
You'll be dazzled by stunning presentations where every ingredient shines. It's like edible artwork on a plate.
Morimoto Las Vegas is quite the experience. You feel as if you're sitting at a five-star restaurant smack dab in Japan. The cuisine is authentic but not scary in the least. You'll find familiarity with dishes like their tuna pizza and mizuhiki Caesar salad.
You can watch your food being prepared similar to how a Hibachi restaurant operates. Behind the chefs are breathtaking photographs of Japanese architecture and landmarks.
If you're tired of the average burger joint or steakhouse, this is an experience to be had during your visit. Be Sure To Check Out The Best Brunch Spots In Las Vegas!
Thoughts On These Celebrity Chefs? It's Time To Eat Your Heart Out!
Las Vegas is home to a wide range of celebrity-owned restaurants, each offering its own unique dining experience. From classic Italian-American cuisine at Buddy V's Ristorante to innovative Spanish fare at Jaleo, there is something to satisfy every craving. Not only do these restaurants offer exceptional food and service, but they also provide a glimpse into the world of celebrity chefs and their culinary expertise. If you're planning a trip to Las Vegas, booking your stay with Las Vegas Jaunt can help you find the best deals on Las Vegas hotels, restaurants, and entertainment in Sin City. So don't miss out on the chance to experience the world-class dining options available in Las Vegas and indulge in the delicious creations of some of the most renowned celebrity chefs in the world.
How does dinner and a show sound? Check out what discounts you can score on tickets today!