Best Brunch Spots in Las Vegas | On & Off The Strip
Welcome to your ultimate guide on the best brunch spots in Las Vegas! Get ready for a journey through the top brunch spots in Las Vegas, both on and off the Las Vegas Strip. From delightful French-inspired fare at Bouchon Bistro to creative and comfortable family-style dishes at Hash House A Go Go, we'll uncover all the city's culinary gems that cater to every taste and craving.
Table of Contents

Hotel Brunches
Local Brunches
So get ready to embark on a gastronomic adventure as we explore the best brunch destinations, ensuring your Las Vegas visit is filled with delicious memories. And remember, with Las Vegas Jaunt, you can book your stay and discover exclusive hotel promotions to enhance your trip.
Top Hotel Brunches in Las Vegas
Bouchon Bistro
Located at The Venetian, Bouchon Bistro offers a delightful French-inspired brunch where you can indulge in classics like Croque Madame and Quiche Lorraine. The elegant ambiance and impeccable service transport you to a Parisian café, making it a perfect spot to enjoy a leisurely brunch experience.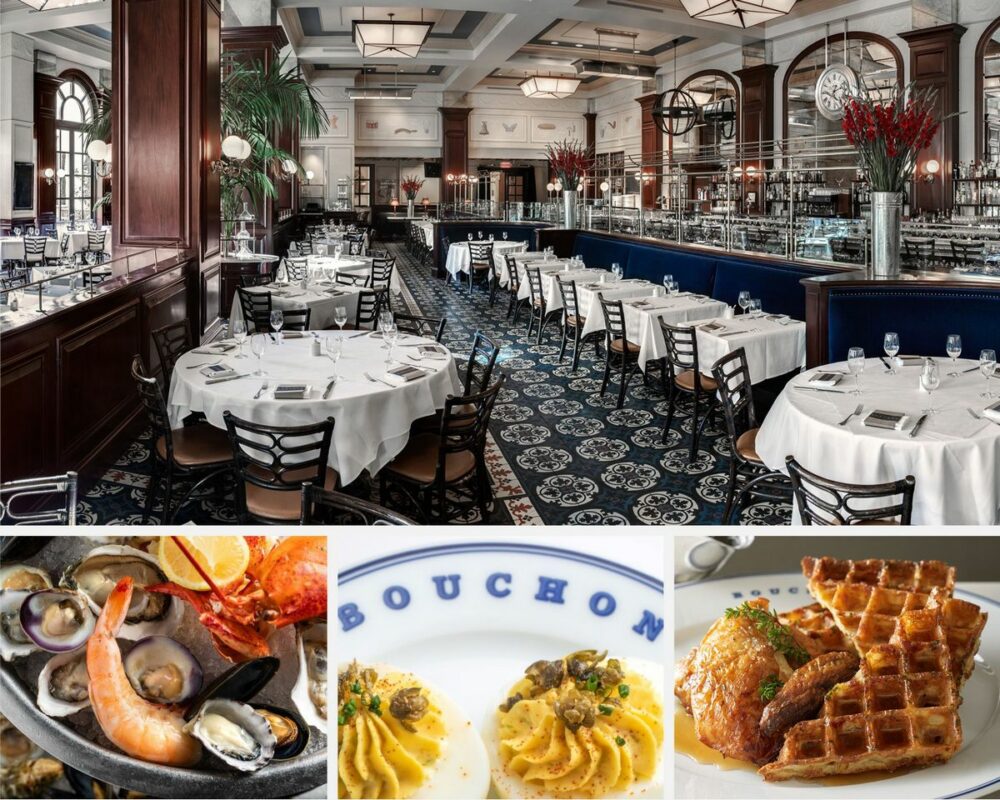 Giada
Giada, located in The Cromwell, offers a brunch experience curated by celebrity chef Giada De Laurentiis. The restaurant showcases a menu that blends Italian and Californian influences, featuring dishes like lemon ricotta pancakes, salmon benedict, and Italian-inspired pastries. With its elegant atmosphere, stunning views of the Strip, and delectable brunch options, Giada is a must-visit brunch spot in Las Vegas for those seeking a sophisticated and flavorful dining experience.
Bardot Brasserie
Situated at ARIA Resort & Casino, Bardot Brasserie presents a delectable brunch that showcases French classics such as Steak Frites and Duck Confit Hash. The restaurant's stylish interior and sophisticated atmosphere create an inviting setting to savor the rich flavors and culinary artistry of French cuisine.
Eggslut
Found at The Cosmopolitan, Eggslut is a popular brunch spot known for its creative and indulgent egg-based dishes. From the famous Slut, featuring a coddled egg over smooth potato puree, to other innovative menu items like the Fairfax Sandwich, Eggslut offers a unique brunch experience that will satisfy your breakfast cravings.
Mon Ami Gabi
Located at The Paris Las Vegas Hotel & Casino, Mon Ami Gabi charms guests with its French bistro atmosphere and delectable brunch menu. Indulge in favorites like Crème Brûlée French Toast or savor the classic Steak Frites while enjoying the lively ambiance and views of the Las Vegas Strip from the restaurant's outdoor patio.
The Wicked Spoon
Located at The Cosmopolitan, The Wicked Spoon stands out as a popular buffet-style brunch spot with an array of dishes from various cuisines. Offering fresh seafood, sushi, breakfast favorites, and tempting desserts, this brunch experience allows you to curate your own diverse and indulgent meal.
Lago by Julian Serrano
Located at Bellagio, Lago by Julian Serrano provides a brunch experience with stunning views of the Fountains of Bellagio. Indulge in Italian-inspired dishes such as fresh seafood, flavorful pasta, and creative small plates, all while immersing yourself in the beauty of the iconic Las Vegas fountain show.
La Cave Wine and Food Hideaway
Found at Wynn Las Vegas, La Cave Wine and Food Hideaway offers a cozy and intimate setting for brunch. With a menu featuring shareable plates, artisanal charcuterie and cheese boards, and an extensive wine list, this hidden gem provides the perfect atmosphere to relax and savor a delightful brunch with friends or loved ones.
Best Local Brunches in Las Vegas
DW Bistro
Located near Downtown Las Vegas, DW Bistro offers a Caribbean-inspired brunch featuring a fusion of flavors. From Jamaican jerk chicken and waffles to eggs benedict with a tropical twist, their menu delights taste buds with bold and vibrant Caribbean influences. Take advantage of their island-inspired cocktails that perfectly complement the flavorful dishes.
Honey Salt
Situated in Summerlin, Honey Salt embraces a farm-to-table concept, offering a brunch experience that showcases locally sourced ingredients. Indulge in comforting dishes like buttermilk fried chicken and biscuits or savory shrimp and grits, all crafted with a focus on quality and sustainability. Complete your meal with freshly baked pastries that embody the essence of homemade goodness.
Echo & Rig
Located in Tivoli Village and The District in Henderson, Echo & Rig presents a brunch menu that celebrates quality meats and ingredients. From savory steak and eggs to indulgent eggs benedict, their dishes showcase culinary craftsmanship. Savor the flavors of their expertly prepared omelets and experience a brunch highlighting the artistry of ingredient selection and preparation.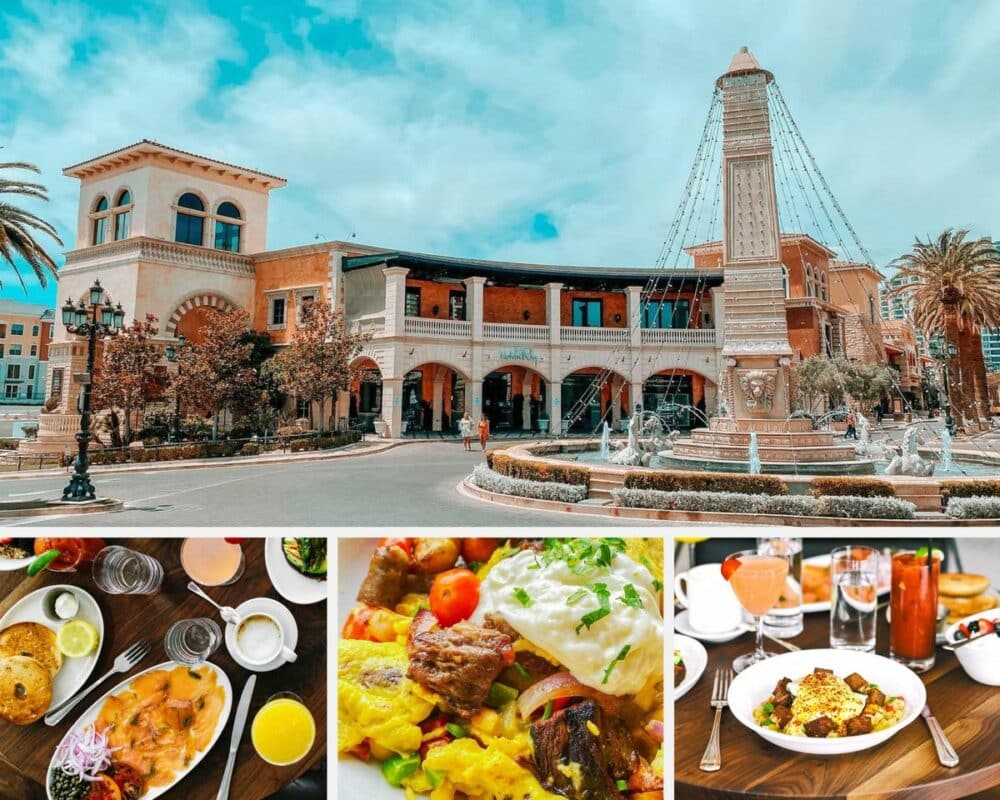 Baby Birds Cafe
Baby Birds Cafe in Lake Las Vegas is a charming brunch spot known for its cozy and welcoming ambiance. Their brunch menu features a variety of creative and delicious dishes, from fluffy pancakes and avocado toast to hearty breakfast bowls and flavorful sandwiches. With its friendly staff, relaxed atmosphere, and mouthwatering brunch offerings, Baby Birds Cafe is the perfect place to start your day.
Esther's Kitchen
Esther's Kitchen in Las Vegas offers a delightful brunch experience that captures the essence of Italian cuisine with a modern twist. Their brunch menu showcases a range of mouthwatering dishes, from fluffy lemon ricotta pancakes to savory frittatas and comforting pasta dishes. The inviting atmosphere, attentive service, and delectable brunch options make Esters Kitchen a must-visit spot for brunch enthusiasts in Las Vegas.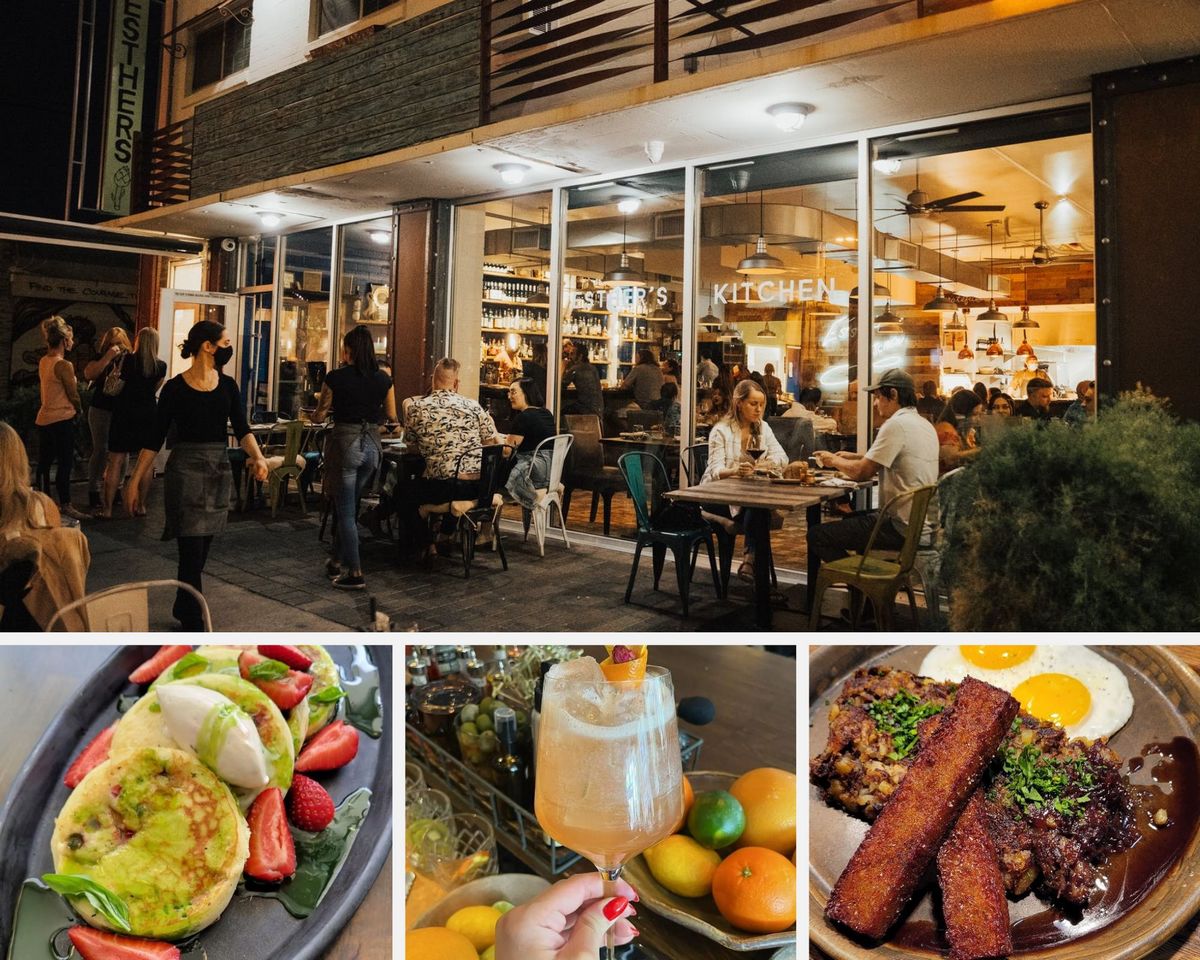 Hash House A Go Go
With multiple locations in Las Vegas, Hash House A Go Go is renowned for its generous portions and inventive brunch creations. Indulge in their famous twisted farm food, signature hashes, flapjacks, and unique chicken and waffle dishes. Visit one of their locations on the Strip in The Linq Hotel, West Sahara Avenue, or Henderson for a memorable and satisfying brunch experience.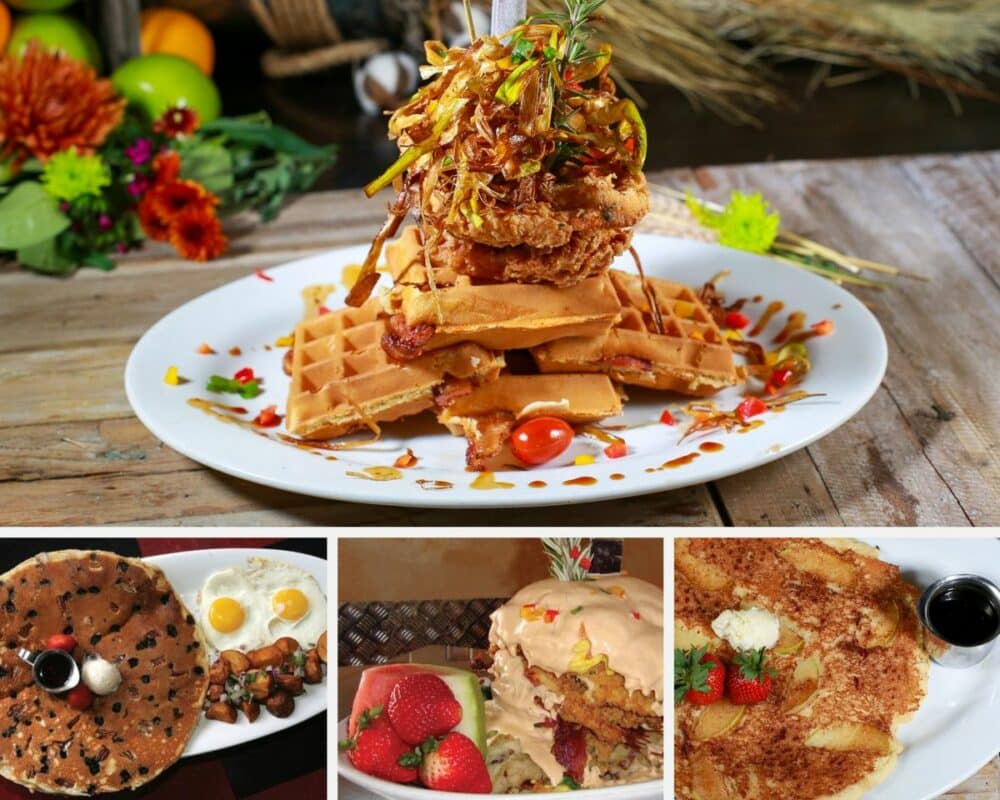 These off-Strip brunch spots offer fantastic culinary experiences and a chance to explore different neighborhoods outside the Las Vegas Strip while enjoying a delicious brunch.
Deciding On The Best Brunch in Las Vegas
As we conclude our exploration of the top brunch spots in Las Vegas, we hope you're feeling inspired to embark on a culinary journey through this exciting city. Whether you prefer French classics at Bardot Brasserie or indulgent egg creations at Eggslut, Las Vegas offers diverse brunch experiences to satisfy every palate. Check out these happy hour spots you don't wanna miss!
Remember, Las Vegas Jaunt is here to assist you in making the most of your visit, from booking your Las Vegas stay to uncovering exclusive deals on grand canyon tours & attractions. So, plan your brunch adventures and prepare to indulge in the flavors and ambiance that make Las Vegas a food lover's paradise. Cheers to unforgettable brunches and unforgettable memories in the Entertainment Capital of the World! Curious about The Wynn and Venetian? Read what they have to offer here at Wynn vs. Venetian: A Luxurious Resort Showdown.