The Top 10 Las Vegas Shows to See in 2018
They say what happens in Vegas stays in Vegas. Sometimes, though, you want to make memories you won't mind sharing when you get back home. Make your trip one you'll never forget by adding a few of the most famous Las Vegas shows to your itinerary.
Las Vegas isn't called the entertainment capital of the world for nothing. Last year, over 36 million people visited Vegas, and only 5 percent said they came primarily to gamble.
Whether you're into comedy, music, or magic, there's a show in Sin City that's perfect for you. Plan the trip of a lifetime with this list of the top 10 must-see shows currently running in Vegas.
1. Zumanity by Cirque Du Soleil
Provocative and seductive, Zumanity by Cirque Du Soliel is one of the most popular Las Vegas Shows. It's been called the sexiest show in Vegas and is sure to give you a voyeuristic thrill. Experience stunning acrobatics with the unparalleled magic touch that only Cirque Du Soleil can bring.
This is an 18 and over show, performing only at the New York-New York Hotel and Casino. Explore your hidden passions with the cast of Zumanity before it's too late.
Note: In November 2020 Cirque du Soleil permanently closed Zumanity.
2. Criss Angel – Mindfreak Live!
After retiring one of the most successful magic shows in Vegas, Criss Angel is back to blow your mind once again. Based on the hit A&E TV series Criss Angel Mindfreak, this show will leave you begging for more.
From the genius minds of Criss Angel and executives from Cirque Du Soleil, this show offers a unique combination of brand new illusions accompanied by live music, lasers, pyrotechnics, holograms, and more.
Click here for the best deals & discounts on Criss Angel Mindfreak Live! tickets!
3. Thunder from Down Under
Perfect for a girl's night out of an epic Vegas bachelorette party, Thunder from Down Under brings you some of Australia's hottest men.
These guys are chiseled and oiled up, ready to blow your mind with their seductive dance moves. You can expect to get a hands-on experience during this wildly interactive show.
Ladies, you'll want to leave your husbands and boyfriends home for this one.
You'll enjoy watching the dancers recreate some of your favorite mainstream characters, like Captain Jack Sparrow, as they take their time going from fully clothed to barely-there.
Click here for the best deals & discounts on Thunder From Down Under tickets!
4. Blue Man Group
Blue Man Group has been creating fun shows with their unique, rhythmic style for years. This family-friendly show is great for all ages and sure to be a crowd-pleaser.
The latest version of the show features new instruments, unexpected themes, and original music. Whether you've seen the show before or are experiencing it for the first time, it's sure to rock your world.
This show runs nightly, so be sure to work it into your Vegas vacation plans.
Click here for the best deals & discounts on Blue Man Group tickets!
5. The Beatles Love by Cirque Du Soleil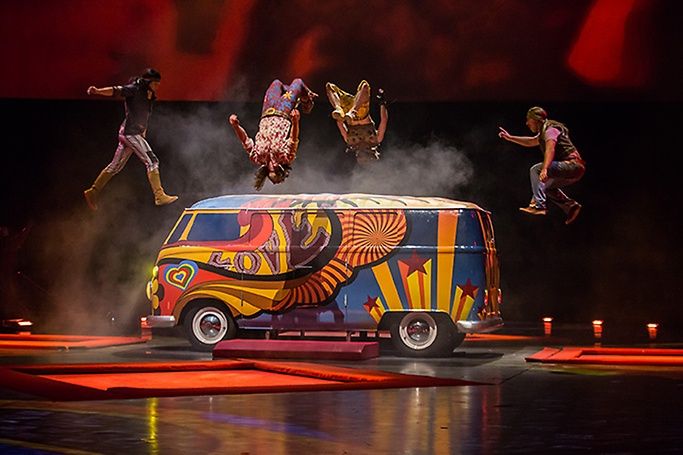 Yes another Cirque du Soleil production in this list but it's hard to pick one of their products when they create so many great Vegas shows!. The Beatles Love is a show that is different from what a usual Cirque du Soleil show is about.
Fans of the musical group the Beatles must see Love while visiting Vegas. Production of the Love show is estimated to have cost $125 million!
Love tells the story of the Beatles through their music mixed with the visuals and acrobatics of Cirque du Soleil. Fans of music and theater will love seeing this trip through the history of the Beatles.
Click here for the best deals & discounts on Love tickets!
6. Penn And Teller
Often called the "bad boys of magic" Penn and Teller have been performing together for 21 years running. With the perfect combination of comedy and illusion, these two have created a unique chemistry that works wonders for their audience.
This magic show is one of a kind, in that they'll tell you exactly how they do their tricks, only to blindside you with another one you never saw coming.
During the show, which varies nightly, you'll see both sleight-of-hand and mind-bending creative tricks involving knives, guns, fire, and more.
Make sure you stick around for the personal meet-and-greet that is held after every show. This unique opportunity to meet the stars in person is open to all ticket holders.
Click here for the best deals & discounts on Penn & Teller tickets!
7. Inferno: The Fire Spectacular
If you like fire, magic, and death-defying stunts, Inferno: The Fire Spectacular is for you.
Backed by an all-female group of fire performers from London, internationally acclaimed European magician Joe Labero creates a show that is magical, entertaining, and sexy.
This gasoline-fueled extravaganza is perfect for every pyrotechnic-lover and will leave both adults and kids in awe.
Unfortunately, Inferno: The Fire Spectacular closed in July 2018.
8. Legends in Concert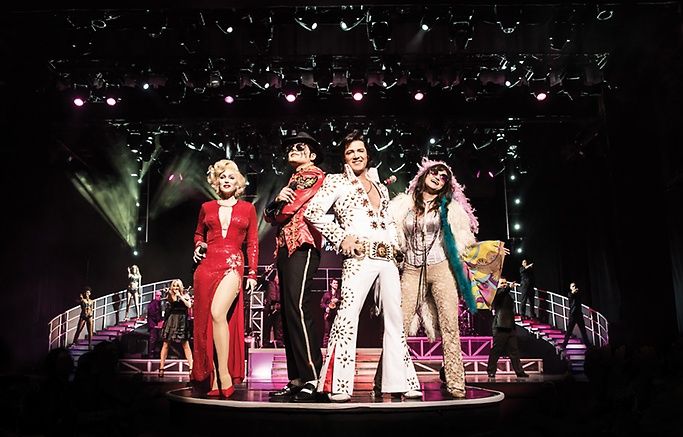 A list of great Las Vegas shows wouldn't be complete without at least one celebrity impersonator. Legends in Concert takes this to the next level, allowing you to see all your favorites in a single night.
One of the most popular shows in Vegas, it's been running for 30 years and pulls in top talent from around the world.
Have you ever wanted to see Elvis Presley, Michael Jackson, or Lady Gaga live in concert? This is your chance.
Click here for the best deals & discounts on Legends in Concert tickets!
9. Menopause the Musical
Prepare to laugh your pants off during the musical parody Menopause the Musical. This fun and captivating performance has been running in Vegas for nine years. It features an all-female cast who hilariously bonds over the sisterhood of "the change."
Harrah's Cabaret offers an intimate setting that you can't get at most other Vegas shows. Enjoy a recently updated production with a new stage, costumes, lighting, and sound.
Click here for the best deals & discounts on Menopause The Musical tickets!
10. Terry Fator
Looking for something different to enjoy while you're in Vegas? Look no further than Terry Fator's captivating puppet show. This talented ventriloquist entertains audiences with his spot-on impersonations, singing, and hilarious comedy skits.
Joined by a live band, this previous "America's Got Talent" winner will wow you with his one-of-a-kind performance.
Click here for the best deals & discounts on Terry Fator tickets!
Best Way to Book Tickets to the Hottest Las Vegas Shows?
Make your Vegas trip one to remember by booking your show tickets ahead of time. At Las Vegas Jaunt, we offer tickets to all of the most popular Las Vegas shows with discounts of up to 60 percent.
With savings like this, you'll have plenty of money to enjoy a fine dining experience or some of the most exciting Las Vegas attractions.
Don't see what you're looking for or have more questions? Contact us today and we're happy to help.