Activities in Vegas for Adrenaline-Junkies
Anytime you're on vacation, the last thing you want to do is be confined to your hotel room. When you're out on the town seeing the lights and meeting new people, you have a need for more excitement.
What's the point of being somewhere new if you can't find at least one fun thing to do?
Luckily for you, Las Vegas is full of fun and exciting things to do for those who crave an adrenaline rush. And we aren't talking about gambling.
Curious to know what this city has in store for you?
Here are the best activities to do in Las Vegas for adrenaline-junkies!
Throw Sharp Objects
Struggling with jet lag? Upset about the talkative person sitting next to you on your flight?
Get out your aggression in a safe way! We're talking about axe throwing at Axe Monkeys.
With a name like that, you know you're in for a good time. They have 23 indoor lanes specifically for throwing.
But don't think you're stuck with only axes. If you don't want to pretend you're a lumberjack, there are also knives, ninja stars, and even cards.
They also have a rage room, which allows you to smash objects like computers, bottles, and furniture. Your weapons consist of hammers, baseball bats, and even golf clubs.
Click here for more info and discounts on Axe Monkeys!
Vegas Indoor Skydiving
For those who dream of skydiving one day, you can make it possible by earning your wings at Vegas Indoor Skydiving! With a 1,000 horsepower motor, you'll be floating, flying, and free falling. Wind speeds reach up to 120 MPH to make the experience feel real.
Trained instructors are there to guide you in a safe environment. They'll take you through the proper ways of controlled skydiving, along with instructions for how to pull off awesome tricks.
The best part about this attraction is you can bring the whole family! Kids of all ages will love the chance to fly like their favorite superhero.
Click here for more info and discounts on Indoor skydiving Las Vegas!
Ride a Roller Coaster
No, Vegas doesn't have a Six Flags or an amusement park (unless you count Adventuredome at Circus Circus). What it does have though is an epic roller coaster at New York New York.
You'll go through heart-stopping drops, high climbs, loops, and the world's first 180-degree "heartline" twist featuring a dive maneuver. There's already been 1.4 million riders who've taken the plunge, will you?
To enhance the adrenaline rush, you can ride with a VR headset. You'll battle alien monsters all while defying death to escape with your life. If you can stomach it, this is an awesome way to ride a roller coaster!
Click here for more info and discounts on Big Apple Roller Coaster At New York-New York!
See Vegas from the High Roller
Did you know Vegas now has the highest observation wheel? It beats out the one in London!
See the bright lights of the shining Las Vegas Strip while you're 550 feet above it. You'll enjoy a 30-minute ride in one of its glass-enclosed cabins.
To make it more special, opt for one of their specialty cabins. Those who want to enjoy a drink in the sky should opt for their open bar cabin. It even has a bartender to serve you the best cocktails!
Another awesome option is their chocolate cabin. You read that right, you'll sample liqueur-infused chocolate from Ethel M Chocolates, located in Vegas. Of course, this is for adults only.
Click here for more info and discounts on The High Roller Wheel at The Linq!
Fly Through the Strip
The same place where the High Roller is also features a zip lining experience. It's the only zipline on the Strip so you know it's going to be good.
You'll be 12 stories above the LINQ Promenade and you can choose from three ways to fly. Your choices are seated, superhero style, and backwards.
You'll soar across the sights at speeds up to 35 MPH. It's one exhilarating ride you can't afford to miss while visiting Las Vegas!
Click here for more info and discounts on The Fly LINQ Zipline!
Drive Fast Cars
Can't afford a Lamborghini but always dreamt of driving one? Now your dream can become a reality.
Enter Exotics Racing, located at the Las Vegas Motor Speedway (home to a few NASCAR races). They allow you to live out your dream in the fast lane by offering a wide array of hot cars to drive.
The hardest part of this experience is deciding which car to go with. There are over 50 exotic cars (including Lamborghinis and McLarens), 25 racecars, and 25 go-carts.
Can't pick just one? No problem! You can create a multi-car package to drive up to 19 supercars all in one day.
Click here for more info and discounts on Exotics Racing Las Vegas!
Visit the Eiffel Tower
While this doesn't seem like an ordinary adrenaline-junkie activity, it's still exciting. You'll be 46 stories high so this is definitely not for the faint of heart.
While there, you'll get 360-degree views of the Las Vegas Strip. There's also a light show that happens nightly.
This is the perfect attraction for those looking for a beautiful view of the city while getting a taste of adrenaline.
Click here for more info and discounts on Eiffel Tower Viewing Deck Experience!
Wreck Stuff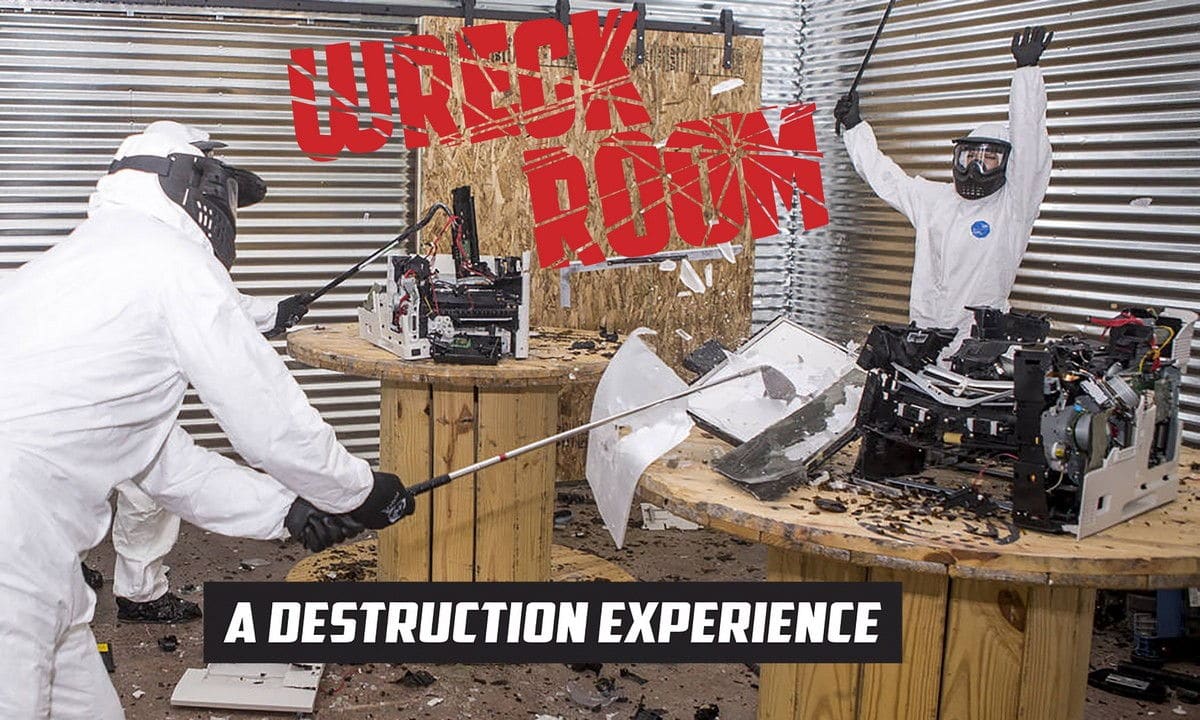 Feel like breaking stuff for no reason? The Wreck Room is the best place to be!
They fill rooms with a bunch of breakable objects for your wrecking pleasure. You'll be geared up in head-to-toe protection gear and equipped with a bat or crowbar.
No matter what weapon you choose, you get to smash everything in the room, hence the name "Wreck Room." Get out your aggression or try this unique experience next time you're in Sin City! It's also a great place to bring friends and family too to let them in on the fun.
Click here for the best deals & discounts on Wreck Room Las Vegas!
Get Your Adrenaline Rush Today
Don't think Vegas is full of fun and exciting activities? You thought wrong!
Las Vegas has all the attractions suited for those who'd call themselves adrenaline junkies. It's just a matter of experiencing them all in one day!