The Best Restaurants in Las Vegas
Las Vegas is basically heaven if you're a foodie. Any kind of food you can think of can be found somewhere in Las Vegas. The restaurants range from dirt cheap diner food to 3 star Michelin restaurants.
There are so many amazing restaurants in Vegas that it can be hard to decide which one to check out. You could spend hours scrolling through pages on Yelp trying to figure out what you want.
To save you some time, we put together this list of the best restaurants in Las Vegas, based on the kind of meal and experience you're looking to have.
Best Cheap Meal in Las Vegas
Saving money in Vegas is key, especially if you're headed to the casinos. So, knowing where you can get a great meal on the cheap is crucial.
One of the absolute best cheap dinners in Vegas is at Tacos El Gordo on Las Vegas Boulevard. The tacos may be cheap, but that doesn't mean they're not delicious. They're made with handmade corn tortillas, fresh vegetables, and top-quality meats. And you can get as much as your heart desires for about $10.
Another favorite cheap eats spot is Evel Pie, an Evel Knievel themed pizza place on Fremont Street. The place is just as retro and kitschy as you'd expect, so eating there is an experience in itself. And you can get a giant slice and a drink for $6 or a pitcher and a pie for $20.
Looking for more places to eat on a budget? Check out a list of our favorites.
Best Fancy Date Night Dinner in Las Vegas
Looking for a date night that doesn't involve a chapel and an Elvis impersonator? Then you'll definitely want to check out one of the wildly romantic restaurants that Vegas has to offer.
There's a fancy date night restaurant for literally any kind of cuisine you want to eat. And there are more celebrity-chef owned restaurants in Vegas than almost anywhere else in the country. So, you know you'll be getting amazing food.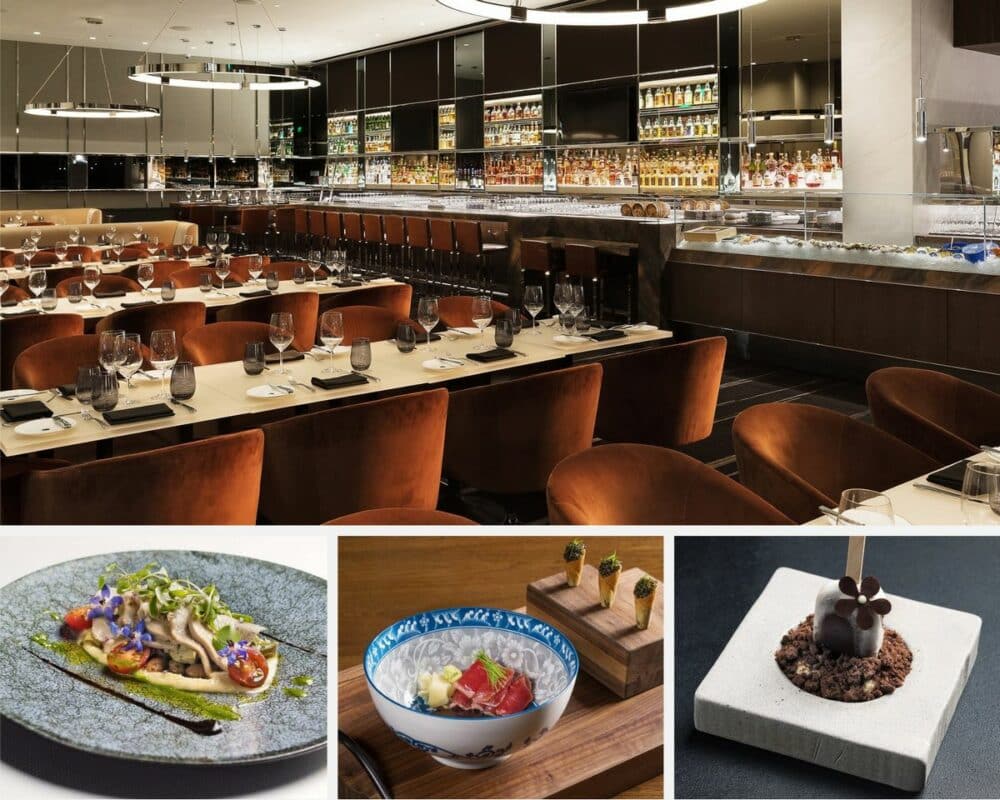 If you want to check out a celebrity-chef owned restaurant, head to Wolfgang Puck's CUT. This American style steakhouse in The Venetian has the best steak you'll ever taste. The diverse, globally-inspired menu goes way beyond steak, so no matter what you're craving you'll be in culinary heaven.
For an intimate, classy dining experience head to Michael's Gourmet Room at the South Point Casino. The plush furniture and cozy tables will make you and your date feel like there's no one else in the room. And the his and hers menus ensure a completely unique dining experience.
Best Themed Restaurant in Las Vegas
Vegas is the epicenter of themed restaurants. All the chain-themed restaurants like Hard Rock Cafe, Planet Hollywood, Rainforest Cafe, and House of Blues have locations in Vegas. And there are plenty of unique themed restaurants that can only be found in Vegas.
For a truly unique dining experience, head to Blackout. As the name implies, your entire dining experience is done in a pitch-black room. No light-emitting devices are permitted in the dining room, and yes, that includes your cell phone!
This may sound like a bizarre way to eat, but it actually enhances the dining experience by heightening all your other senses. And you'll find yourself chatting away as your inhibitions disappear in the dark. You'll enjoy an incredible seven-course meal in a way you've never enjoyed a meal before.
If you're looking for a cultured experience, head over to Picasso, the restaurant that's about the art on the walls as much as it's about the food. This authentic French restaurant is a work of art, or at least it's covered in works of art. There are authentic Picassos on the walls and many more paintings from classic French artists. You can trade art critiques while you share an amazing French meal.
Best Meal With a View in Las Vegas
The views of Las Vegas are breathtaking. The bright lights, the fountains, the incredible architecture. It's truly a sight to behold.
And there's no better way to take in these sights than with a delicious meal. Dinner with a view isn't hard to find in Vegas. But which restaurants have the best view?
Arguably the best dinner and a view in Vegas is at the Eiffel Tower Restaurant in the Paris Hotel on Las Vegas Boulevard. Eiffel Tower Restaurant has some of the best French food in the city. And it gives an excellent view of the Las Vegas Strip and the Bellagio fountains. Plus, you're eating in a replica of the Eiffel Tower!
Another amazing restaurant with a view is the Hotel Bar in the Waldorf Astoria. You're literally looking down on the city from the sky in this 23rd-floor restaurant. You'll get an amazing view of the Strip, the Eiffel Tower, the fountains, and all the city lights. Hotel Bar focuses mostly on creative cocktails, but they also have a bar menu with eclectic twists on your favorite bar foods.
Best Dinner and a Show in Las Vegas
Vegas is all about live performances. Theater, bands, superstar singers, stand-up comedy, and of course dinner shows. If you're looking for dinner that's not just dinner, but an interactive experience, you need to check out one of Vegas' many dinner shows.
For a twist on the classic murder mystery dinner, check out Marriage Can Be Murder. This show combines comedy and interactive detective work with a delicious dinner. Cast members are hidden in the audience and the story keeps you laughing and guessing through the whole three-course meal.
If you're looking for something really unique, check out the Tournament of Kings. You'll experience a three-course Medieval banquet at King Arthur's Round Table. While you dine, you'll watch knights battle it out in the joust and sorcerors crash the party.
More of the Best Restaurants in Las Vegas
Las Vegas has some of the best places to eat in the country. You can enjoy any type of cuisine you want, prepared by the best chefs in the world, in an environment you can't find anywhere else.
These are just a few of the best restaurants in Las Vegas. Looking for more stellar dining suggestions in Las Vegas? Check out our blog.