Why You Need to Try Indoor Skydiving in Las Vegas
Last year, 42.9 million people got a taste of the quintessential Vegas experience. And there's no doubt that the majority of them gambled, saw a show, and caught a tan while visiting Sin City.
With entertainment around every corner, it's hard not to have fun. Still, a lot of visitors like to catch a break from the glitz and indulgence of the gambling capital of the world.
And believe it or not, many are choosing to experience gravity when they need a break from the casinos.
Indoor skydiving is becoming a popular activity among tourists and locals alike. This new Vegas pastime brings the ultimate rush – without having to jump out of an airplane!
If you didn't think Vegas could get any more daring and exciting – think again!
Here's why you should try skydiving indoors on your upcoming Vegas adventure…
Indoor Skydiving vs. Actual Skydiving
People typically associate skydiving with falling out of airplanes and parachuting.
These reasons alone are why so many people shudder away from skydiving altogether. Because let's face it – jumping out of an airplane is scary, unsettling, and not for the faint at heart.
So, the biggest appeal of skydiving indoors is that it doesn't entail falling out of an airplane. Nor does it involve falling thousands of feet through the air.
It's a physical simulation of free-falling in a vertical wind tunnel. An engine and propeller create wind speeds as fast as 120 mph from the center of the tunnel.
Below the propeller is a layer of reinforced netting and caging. Cushioning and padding cover the interior of the wind chamber. This way, people can experience free falling in a safe and controlled environment.
Skydiving Made Easy
At some facilities, participants immediately get sucked into the chamber upon entering. At Vegas indoor skydiving, flyers enter the chamber before the propellers turn on.
Then, they lie belly down over the protective barrier between them and the propeller. Once they're in position, the propeller starts, and they soon take flight.
At first, the power of 120 mph winds takes some getting used to. It's normal for first-time flyers to take several minutes to get used to the feeling.
Once they're confident, flyers can experiment with their body movements in the air.
The Ultimate Adrenaline Rush
Your mind and body won't just build up with anticipation before taking flight.
Indoor skydiving produces enough adrenaline to leave you pumped for hours afterward.
Sure, winning at the casino is a rush all in itself. And so is partying it up in one of Vegas' finest nightclubs.
But none of these rushes compare to what it's like to fly off the ground amidst 120 mph winds!
Once you've gotten the hang of it, you'll be on your way to trying new movements and tricks. You can try flying upside down, doing flips, or even striking different poses – all in the air!
An Exhilarating Workout
Indoor skydiving is not just becoming a popular hobby nationwide. It's also garnering recognition as an up-and-coming workout!
That's right. People are skydiving indoors for exercise, and you can burn up to 300 calories in a single flying session!
Who knew flying was exercise?
It's no secret that you'll be eating and drinking well in Las Vegas. And chances are you'll be doing a lot of sitting around the Vegas pools and in the casinos.
Don't let excess calories build up during your Vegas getaway. Luckily, you can exercise and have fun while skydiving indoors!
Some first-time flyers report feeling sore after the initial flight. Talk to your instructor and learn how to reduce soreness and best prepare for skydiving indoors.
The First Indoor Facility in North America
Humans have attempted to fly and defy gravity since the beginning of time. But the first vertical wind tunnels got their start in the 19th century. These early skydiving simulations helped researchers test parachutes and aircraft technology.
In 1982, the first commercial wind tunnel opened in Las Vegas. This was the first indoor facility to ever open in the United States!
The facility was later named Vegas indoor skydiving. And today, thousands experience the ultimate rush of free-falling – every year!
Be a part of the action and experience skydiving at the first indoor facility in all of North America!
Fun-Filled Activity for the Entire Family
Las Vegas isn't just a playground for adults.
Indoor skydiving is one of the most popular activities for families to do in Vegas. Children can experience gravity for the first time in their lives right in Las Vegas.
To do so, children must weigh at least 40 pounds and complete a safety training course. The training course is brief, and they learn about skydiving, safety, and how it all works.
It's not only fun – but educational!
Discover a New Hobby
If you enjoy skydiving indoors, you can continue the fun even after your vacation. There are indoor skydive facilities almost everywhere, and it's easy to find a skydiving community where you live.
And you can discover your newest hobby right in Vegas! People will love hearing about how you discovered indoor flying right in Sin city!
What to Expect Before Flying
There's some preparation involved before someone can actually fly at Vegas indoor skydiving.
People with neck, shoulder, or back injuries should avoid skydiving altogether. The power of the wind puts enormous pressure on the body and can further complicate injuries.
There are weight restrictions for both men and women. These weight restrictions are in place to ensure that each flyer can lift up into the air safely.
Every flyer – young and old – must attend a brief training class before taking flight. During training, every flyer learns about safety and proper body posture. They also learn about flying techniques and hand gestures to use during.
The facility provides a full-body jumpsuit for the participants. Participants are also given goggles, earplugs, gloves, and a helmet.
Once they're trained and suited up, they can begin!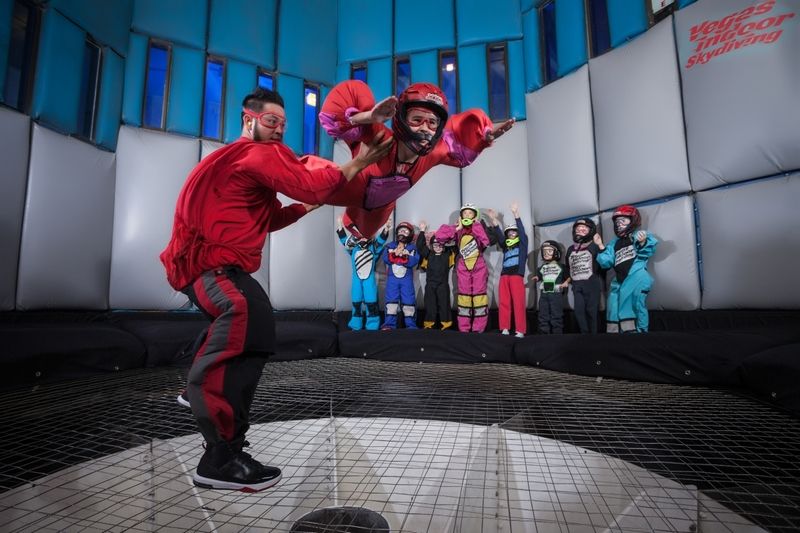 Make Indoor Skydiving Part of Your Las Vegas Experience
Need to break up your time at the casinos and hotel?
Looking to top off your Vegas vacation with the ultimate adrenaline rush?
Experience gravity like never before!
You too can experience what it's like to free-fall through the sky right in Sin City. And you can without having to jump thousands of feet out of an airplane!
We have the scoop on everything fun and exciting going on here at Las Vegas Jaunt. Check out our indoor skydiving deals and promotions.
And let us help you make your upcoming trip to Vegas the most epic vacation yet!