Yes, There Are Things to Do in Las Vegas With Kids!
Las Vegas was long known as Sin City, but no longer.
That's right – Vegas is now a great family destination! There are many things to do in Las Vegas with kids. From family-friendly attractions on the Strip to recreation nearby, Vegas is a great choice for the whole family.
There's no need to worry about boring the kids on a trip to Vegas, or worse, wishing they'd stayed at home. You'll find plenty to do in this exciting, modern city, which has so much more to offer than just gambling.
Learn about the things to do in Las Vegas with kids, and start planning your next vacation today.
10 Things to Do in Las Vegas With Kids
1. Circus Circus Adventure Dome
The hotel Circus Circus is more than just a place to stay. Inside, you'll find an entire amusement park, featuring a roller coaster and other exciting rides.
This is a great choice for older kids and teens, as there aren't many rides for smaller children. However, there is also a 4D cinema that the whole family can enjoy.
This is also an affordable option. Individual rides cost about $5-8, but day passes are just $27 for adults and $17 for children under 48 inches.
2. Excalibur's Tournament of Kings
If your kids are fascinated by history or love fantasy books, they'll adore an escape into the Tournament of Kings at Excalibur.
You get a complete package here, including a medieval dinner and a show for the evening. You'll cheer on the knight that's associated with the section where you're seated. In a spirit of fun historical accuracy, the three-course dinner is eaten with the fingers. There were no forks in medieval days!
With knights, jousting, horses, swords, and plenty of opportunities to bang flagons of soda on the table, what's not to love?
This show is exciting, but not frightening, so don't hesitate to bring kids of any age. The whole package is very affordable – just $59 each, and free for kids under three.
3. The Eiffel Tower Experience
Head to Paris – Paris Las Vegas Hotel, that is – for an evening of Francophile fun.
The Paris Hotel's Eiffel Tower is one-third the height of the real thing, still providing a view from a thrilling height. Take the elevator to the top and get a birds-eye view of the Vegas Strip.
Small children are welcome here, as the platform at the top is safely caged in. Just make sure no one has a fear of heights!
For this attraction, you'll only pay $10.50 for adults and $7.50 for kids by day. At night, there's a slight increase to $15.50 for adults and $10.50 for kids, but it's worth it to see the lights of the city from above.
4. The Venetian Gondola Ride
Keep moving on your Vegas world tour by heading to the Venetian next. The gondola ride takes you through Venetian canals under a (realistically fake) blue sky. On your trip, a singing gondolier will provide classic Italian songs to keep you smiling.
Each gondola seats up to four people, charging $16 each. Even kids under two are welcome – they're just required to sit on the lap of an adult.
Get your nature fix by seeing the sights at the Vegas aquarium. There's at least an hour's worth of exhibits here, not just sharks.
Watch and learn about everything from turtles to jellyfish, octopus to crocodiles, and even Komodo dragons. Kids will love watching the piranhas get fed!
There's also a fun touch pool, where the kids can get a feel for harmless sharks, rays, and fish.
The aquarium costs $18 for adults, but just $12 for kids 5-12, and free for anyone younger.
6. Go into the Stratosphere
If you and your kids are into thrills, head to the Strat Hotel. With a viewing platform that goes above 1,100 feet, this is a great choice if you have older kids who will crave some excitement.
Each ride is $15/per ride including admission to the tower, or you can buy an unlimited thrill rides pass for $39.95 for their amazing rides: X-Scream, Insanity, and Big Shot!
This is a great, unique, educational experience for you and your curious kids. With adult and baby dolphins in the dolphin habitat, you can watch through an underwater viewing window or watch the babies swim in the dolphin "kiddie" pool.
Then, head over to the Secret Garden to see Siegfried & Roy's famous big cats. From panthers to lions, tigers, and leopards, seeing these cats will thrill the young animal lovers in your family.
Tickets are $20 for adults and $15 for kids ages 4-12, free for younger kids, and discounted for hotel guests.
8. Planet Hollywood's Popovich Comedy Pet Theater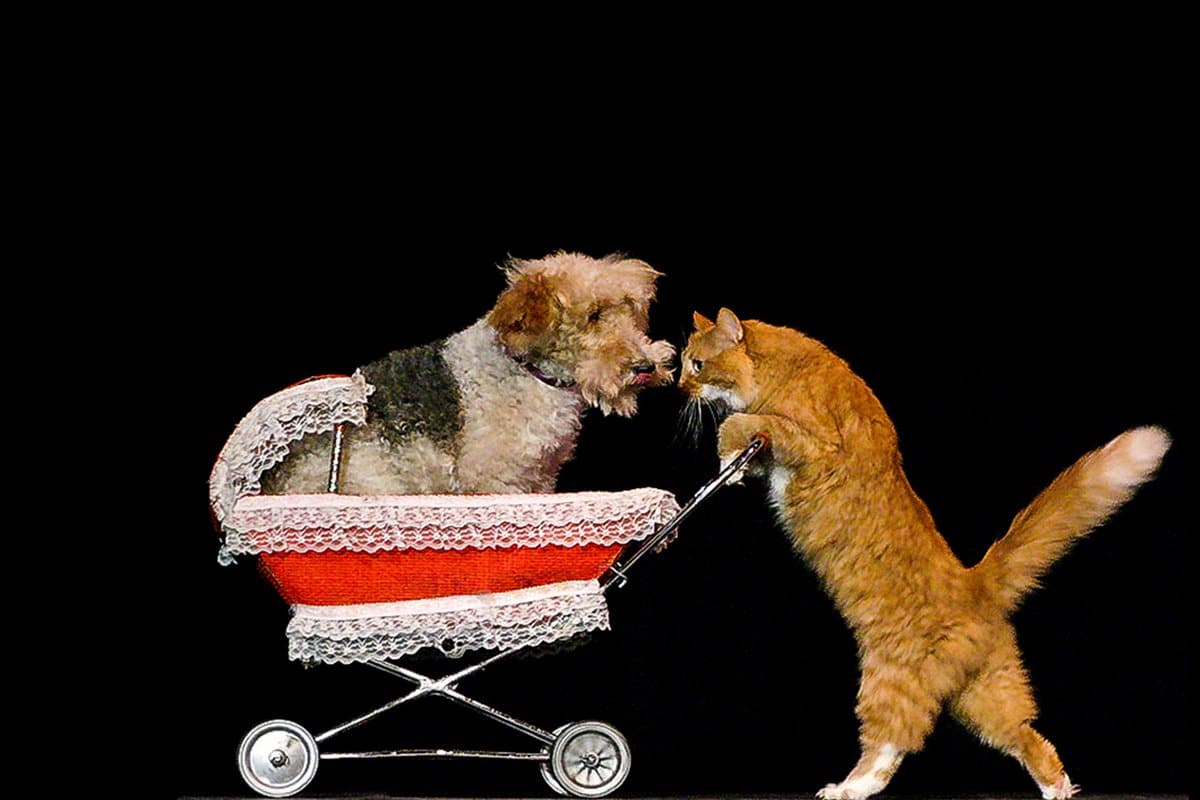 Vegas is known for its shows, but they're often thought of as appropriate for adults only. Not anymore! Shows are a great part of the things to do in Las Vegas with kids.
Planet Hollywood's Popovich Comedy pet theater is probably the most kid-friendly of all the options. It starts at 4 pm, so you can catch the show and still head to dinner afterward.
With content designed to be family friendly, and incredibly talented animal actors, your kids will love the show and adults will enjoy it too.
9. The Golden Nugget's Shark Tank Waterslide
Yes, you read that right. It's a shark tank combined with a waterslide – but don't worry, it's perfectly safe!
As long as your kids aren't scared of sharks, they'll love the experience of sliding down a three-story waterslide right through a shark tank.
As a bonus, if you're not already a Golden Nugget hotel guest, your admission fee will allow you to use their hotel pool and Jacuzzi. You'll pay $25 for adults, but kids get in free.
10. The Mirage's Volcano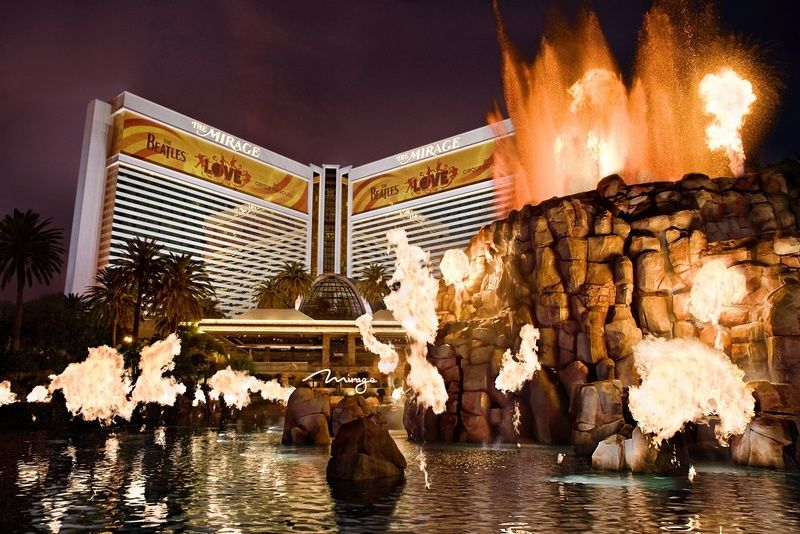 This amazing, free attraction features erupting "lava" and "fireballs" which is timed along with tribal music. Although exciting, it's not scary, so even little kids can watch the fun.
There's plenty of time to catch this show every night, with shows happening every hour between 6 and 11 pm. Viewing spots fill up fast, though, so make sure you get there 10 minutes early to get the best spot.
With so many affordable, or free things to do in Las Vegas with kids, there's no need to wait. Start planning your Vegas family vacation now – trust us, the kids will love it.
Need help planning or getting the best hotel deals? Contact us.