The 17 Best Shows in Las Vegas to See in 2023
Are you looking for the best shows in Vegas? This city is a huge place filled to the brim with entertainment. Visiting Las Vegas is about letting loose and having a great time.
Known as the Entertainment Capital of the World, Las Vegas is home to a variety of shows. There's everything from magic and comedy to good old adult fun. Whatever you're in the mood for, you're sure to find it on the Strip and beyond.
But don't think you have to be a local to find the best shows in Las Vegas. Everywhere you turn, casinos are becoming host to the hottest new show to hit the Strip. You'll never run out of things to see so obviously that means more trips to Sin City, right?
You'll want to get tickets to these shows as early as possible. Our website has deals & discounts for popular Vegas Shows tickets.
Ready to see what Vegas has to offer? Check out our picks for the best Las Vegas shows you have to see tonight!
1. Absinthe
For some adult fun, Absinthe is where it's at. It's a provocative but tastefully done variety show that takes on more of a circus theme. It's part carnival, part daring stunt show.
Absinthe is inspired by the 19th century cabarets that took place in Europe. So that means it takes on aspects of burlesque, a circus, and vaudeville.
There's plenty of humor with outrageous comedy acts and just the right amount of edge. This show is perfect for those who can't decide what to see while visiting Las Vegas.
Beautiful female acrobats glide throughout the venue. The venue that hosts Absinthe is a small but intimate location.
Talent will go out into the audience and acts will perform above your head. You'll watch amazing feats of strength and balance mixed with a raunchy comedy vibe.
You might get called out by the special host but the humor in this show is all in good fun.
Remember, it is for adults only so no one younger than 18 can see Absinthe. And it's definitely not for the faint of heart or those uncomfortable with racy themes.
Check out our Absinthe deals & discount tickets page!
2. Donny Osmond The Las Vegas Residency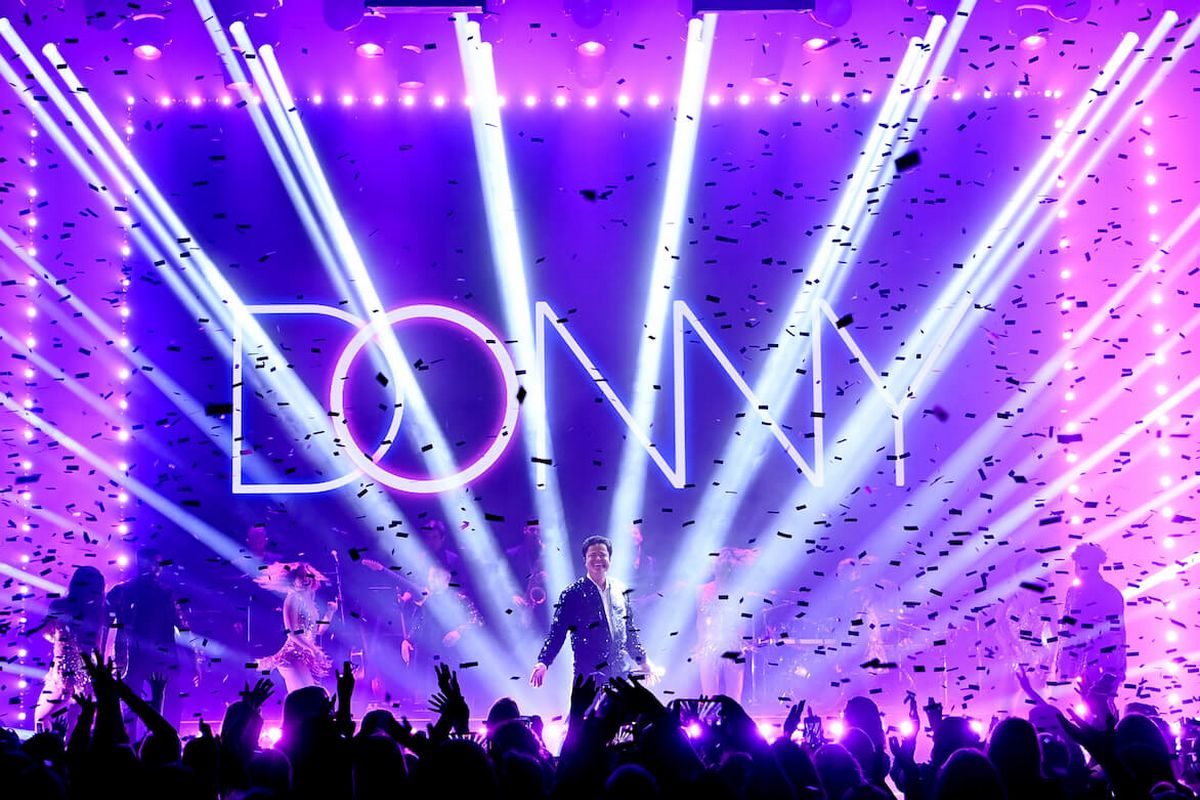 Named "Best Headliner" and "Best New Show" in Las Vegas, legendary entertainer, and music icon, Donny Osmond, brings his first-ever solo residency to Harrah's!
Be treated to a party as Osmond performs his hits from "Puppy Love" to "Soldier of Love." He also introduces brand new songs, like his new single "Who," and interacts with the crowd in a completely reimagined song and dance celebration.
Osmond brings on the nostalgia with greatest show-stopping memories through an "Auto-rap-ography" – a crowd-favorite rap song accompanied by photos and videos of his impressive career milestones.
Check out our Donny Osmond Las Vegas deals & discount tickets page!
3. Mat Franco – Magic Reinvented Nightly
Doing well on the hit show "America's Got Talent" is an amazing feat. Mat Franco not only won "America's Got Talent," he was the first magician to ever receive this honor.
You'll see magic tricks in a close setting that are beyond belief. Mat Franco's Vegas show called Magic Reinvented Nightly is a must see magic show.
You'll be in awe of the mixture of traditional and groundbreaking magic, but Mat's show isn't just about the magic tricks.
Franco blends his charisma and comedic style into a Vegas magic show you don't want to miss.
Check out our Mat Franco deals & discount tickets page!
4. Carrot Top
Another longtime running show on the Strip, Carrot Top will make you laugh until you're red (or orange, in this case) in the face. He's been named "Best Male Stand-Up Comedian" and for good reason.
His sense of humor is unlike any other as each show he whips out crazy props and inventions.
He likes to think of himself as a mix of three famous comedians—George Carlin, Steven Wright, and Gallagher. Gorge was known for his observational humor while Steven had more of a dark, twisted approach, and Gallagher utilize props in his shows.
You can clearly see a blend of all three of these comedian's styles throughout his show interpreted in his own way. And how can you not go see a funny guy with bright orange hair?
​Check out our Carrot Top deals & discount tickets page!
5. Penn & Teller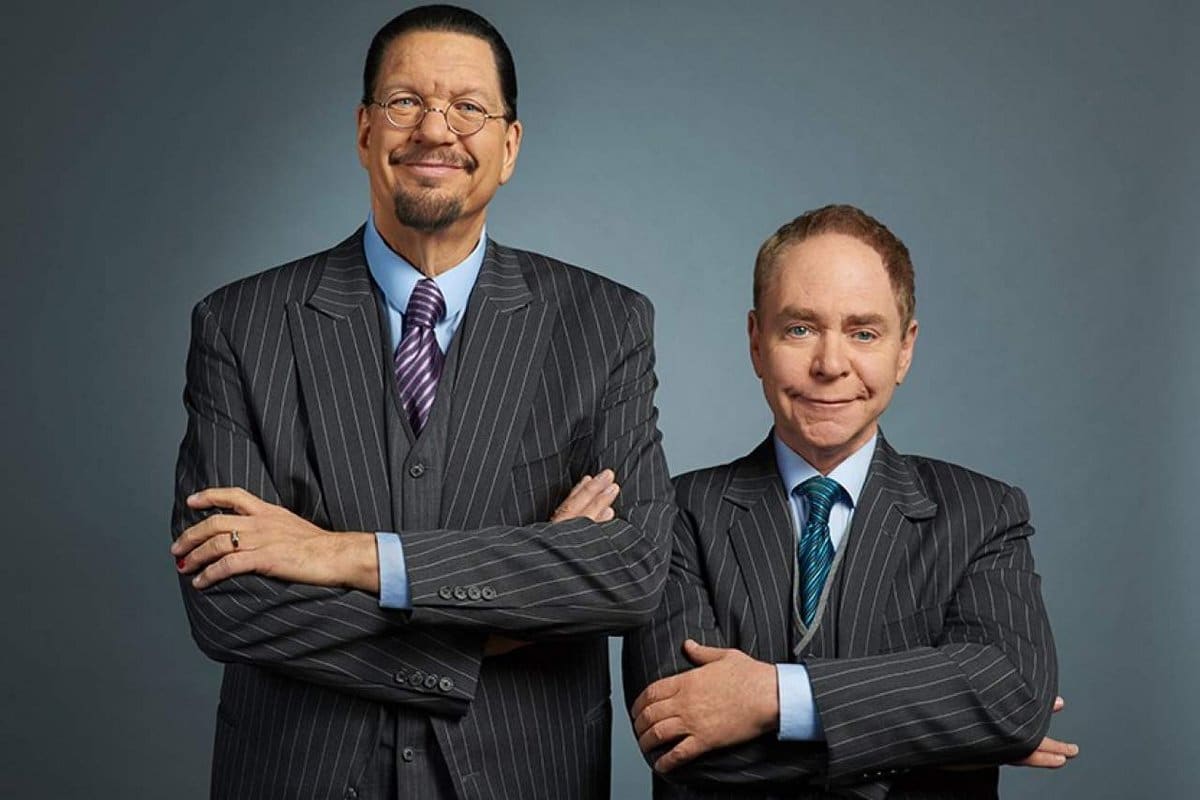 Magicians extraordinaire Penn & Teller hit the Las Vegas stage to debut their hilarious antics when it comes to debunking magic tricks. The pair have been performing together since 1975 and at the Rio since 2001. That makes them the longest-running headliners at one hotel!
At their namesake show, they dazzle the audience with cunning-edge magic tricks that may or may not involve knives, guns, even a cow or two. Each show slightly differs from the last so it's a show worth seeing more than once.
And be sure to stick around after the show! Regardless of the kind of ticket you bought, Penn & Teller love to get to know their fans. They do a meet-and-greet session outside the theater every night.
​Check out our Penn & Teller deals & discount tickets page!
6. Blue Man Group
Brought the whole family with you? One show that's nothing but fun for everyone has to be the Blue Man Group.
The Blue Man Group is one of the most unique shows in the world. The stars of this group are three intriguing bald guys painted in blue except for their black clothing. You'll watch their performance and wonder what planet this group is from.
Experiencing this production is about more than how this group looks. The Blue Man Group use innovative ways of mixing audio and visual elements. You'll see these men combine music, comedy, and theater to form a one of a kind show.
Some of their show's highlights include their famous paint drumming, where an explosion of color happens with each beat. And probably their most unique instrument is the Drumbone. It's part drum and trombone, emitting sound you won't hear elsewhere.
The Blue Man Group is one of those Vegas shows that you must see at least once. These men are true innovators of putting on a show for an audience that wows all five senses. The Huffington Post called seeing the Blue Man Group an "eye-popping and inventive" experience.
Check out our Blue Man Group deals & discount tickets page!
7. O by Cirque du Soleil
O is a show that focuses on elements of water and fire. This show features the legendary group Cirque du Soleil. This skilled group of performers tells a story in a way only they can.
O is filled with beautiful visuals, amazing acrobatics, and much more. Be amazed as acts fly in the air, swim underwater, and perform on the ground. There is always something to see while watching O.
This production is set in a venue that seats about 1,800 guests. The venue is designed to have a similar look and feel to that of an opera house.
​Check out our Cirque du Soleil O deals & discount tickets page!
8. Beatles Love by Cirque du Soleil
Yes, this is another Cirque du Soleil production on this list. It's hard to pick one of their products when they create many Vegas shows. Love is a show that is different from what a usual Cirque du Soleil show is about.
Fans of the musical group the Beatles have to see Love while visiting Vegas. Production of the Love show is estimated to have cost $125 million.
Love tells the story of the Beatles through their music mixed with the visuals of Cirque du Soleil. Fans of music and theater will love seeing this trip through the history of the Beatles.
​Check out our Beatles Love deals & discount tickets page!
9. Shin Lim: Limitless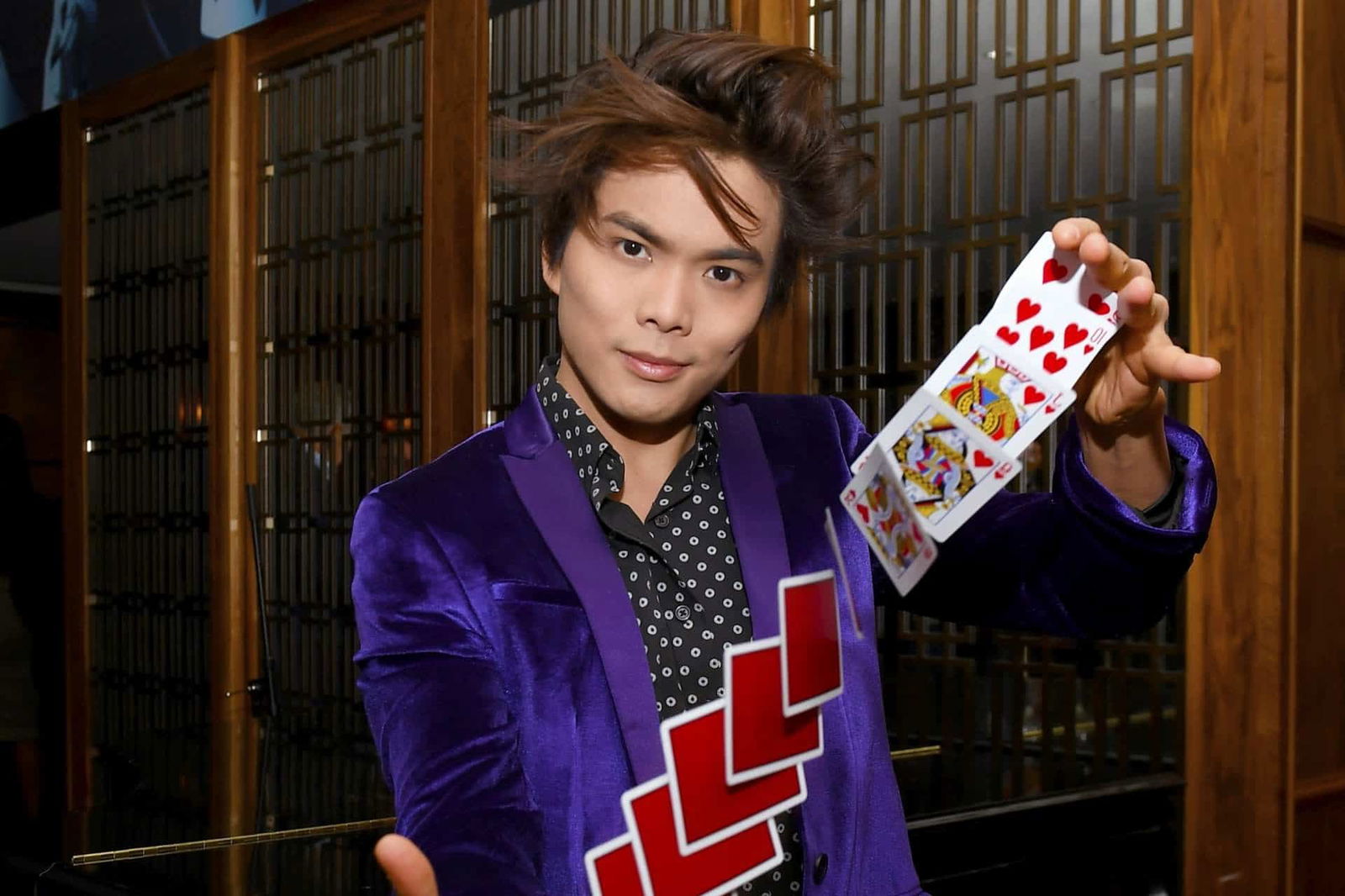 Shin Lim has the prestigious accolade of being the only person to ever win America's Got Talent twice. Both times, he has astounded the audience with his wizardry and manipulation of physics and the environment. He is joined by the master of the mind, Colin Cloud, often dubbed the real-life Sherlock Holmes.
Lim's Limitless show is located at the Mirage Theatre. A VIP meet and greet is also available.
​Check out our Shin Lim deals & discount tickets page!
10. Terry Fator
Not all comedy in Las Vegas has to be for adults only. There are people doing impressions everywhere. Terry Fator goes above and beyond to use puppets for his amazing impressions, songs, and comedy bits.
You have to see Terry's uncanny impersonations to believe them. Fator is the second entry on this list to have won "America's Got Talent." He has set the bar for ventriloquism acts around the nation.
Not only does Terry Fator have one of the best shows in Vegas, it's also one of the best family friendly attractions in town.
​Check out our Terry Fator deals & discount tickets page!
11. Brad Garrett's Comedy Club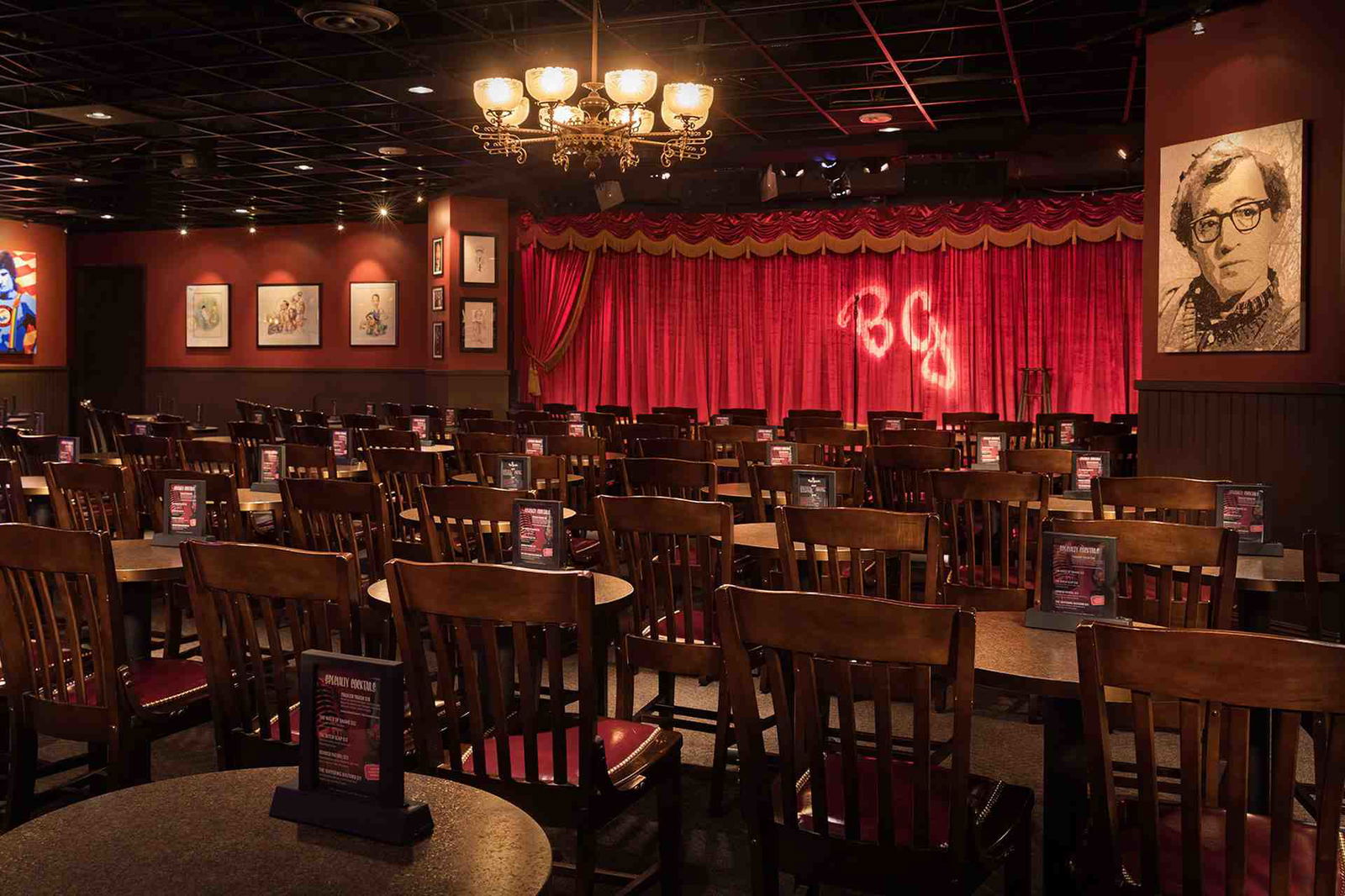 Down at the MGM Grand is where you'll find Brad Garrett's Comedy Club. Brad, known for his iconic role on Everybody Loves Raymond as Robert Barone, established a hip club where lovers of comedy can enjoy the craft.
This hotspot features known and up-and-coming talent. Even Brad Garrett himself shows up from time to time to perform.
This is a great club to bring friends to enjoy good drinks and share a lot of laughs together. If you're wanting to see top-notch comedians and are guaranteed to laugh until you cry, this is the place to be.
​Check out our Brad Garrett's Comedy Club deals & discount tickets page!
12. V The Ultimate Variety Show
V does everything the title may suggest. This is perfect if you are looking for one of the best Las Vegas 2023 shows but are not sure what type of entertainment you want.
Mind-boggling magicians will follow death-defying acrobats. Comedians will make you laugh and dancers will make you groove. There is a little bit of something for everyone, making it one of the best Las Vegas shows for kids as well as adults.
​Check out our V The Ultimate Variety Show deals & discount tickets page!
13. Tournament of Kings
When you think of dinner and a show, you don't think of the experience being all-in-one. But that's exactly what the Tournament of Kings is all about.
You're transported into medieval times, where Kings and Queens reign and fight to rule their lands. Knights in shining armor ride their horses while jousting those who dare oppose them. If you couldn't tell, it's based on the story of King Arthur (and yes, there's even a wizard).
While watching the action go down, you're treated to a three-course meal featuring Cornish Game Hen. Did we mention that since this is medieval times you also have to eat with your hands? That's right, no utensils are given—it's like you're really living in the 1400s.
This show is a blast for people of all ages and kids will get a kick out of the live-action performances.
​Check out our Tournament of Kings deals & discount tickets page!
14. Jabbawockeez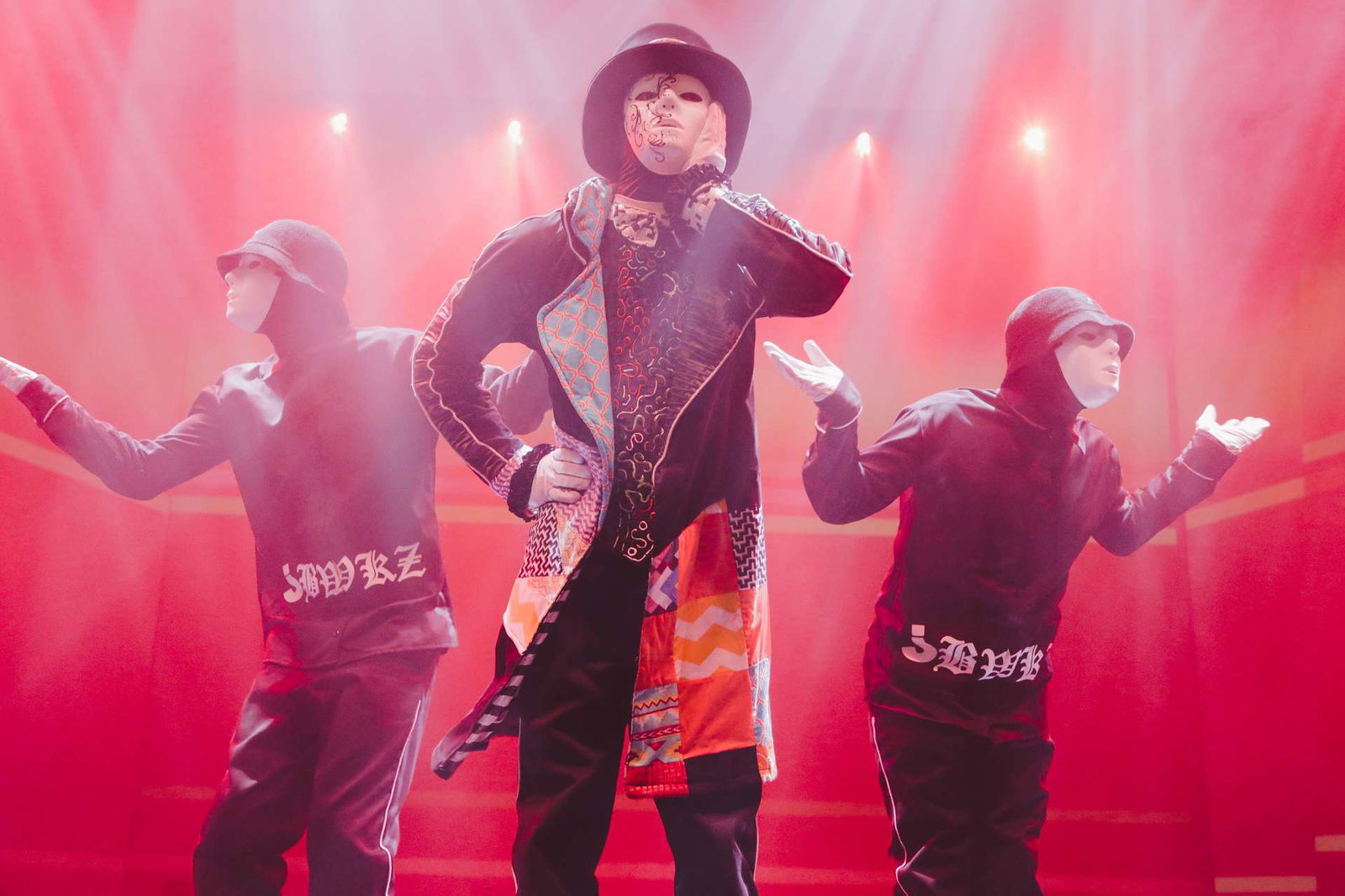 If you are from outside the US, you may not have heard of Jabbawockeez. From San Diego, they rose to prominence after winning America's Best Dance Crew in 2008. For the last decade, they have been performing on the Vegas strip, and can now be found at the MGM Grand.
Noticeable by their signature moves and blank masks, their new performance is something special. Timeless is a journey through the universe and time itself, using lights, dance, and costumes to create an engaging narrative with all the funkiness you would expect.
Check out our Jabbawockeez deals & discount tickets page!
15. David Copperfield
Arguably one of the world's most famous magicians, David Copperfield continues his run in the city with his Las Vegas 2023 shows. Copperfield rose to fame with huge, grand illusions that included making the Statue of Liberty vanish. While his on-stage stunts may not be as big, they certainly push the envelope on what is possible.
When you visit his shows, expect illusions aplenty. They will leave you dumbfounded for days and weeks to come.
Shows run every night and you can pick up tickets easily online. It is also possible to organize a meet and greet to get a picture of yourself with the star himself.
Check out our David Copperfield deals & discount tickets page!
16. Criss Angel Mindfreak
Are you a Mindfreak? Criss Angel, the legendary magician and illusionist, is now at Planet Hollywood. He performs at his namesake theater, the Criss Angel Theater.
His show "Mindfreak" encompasses original experiences seen on the TV show of the same name. Since moving to Planet Hollywood, his show is bigger and better than ever.
There are over 75 illusions along with 20 of them that have never before been seen. There are new lighting effects, pyrotechnics, and an interactive theater lobby.
It's a truly immersive experience you have to see!
​Check out our Criss Angel Mindfreaks deals & discount tickets page!
17. Lake of Dreams
How about a free show for a change?
Unlike the other shows on this list, this one can be viewed for free from the Parasol Up and Parasol Down Lounges and does not require a ticket! Shows are complimentary and run nightly every half hour beginning at dusk. You can also watch the show while dining on the lake-level patio at SW Steakhouse or Lakeside.
This is one of the shows in Las Vegas for 2023 that is best experienced as a romantic outing. Performed at the prestigious Wynn Las Vegas, it is a blend of puppetry and technological visual effects.
All of this is played out over the water attraction built into the complex. With a 90 foot waterfall, 1500 pine trees, and a stage size of 3 acres you are unlikely to see anything like this elsewhere.
Ready to Be Entertained?
There are many amazing shows to see in Las Vegas!
When you're in the Entertainment Capital of the World, you want to be two things: impressed and entertained. That's why when you see any one of these shows above, you won't be disappointed. There's plenty of fun to go around.
Have you been to any of the shows on our list? We would love to hear about your experience. Please leave a comment below.