How to Enjoy Las Vegas on a Tight Budget
Don't hold off on having the ideal vacation in fabulous Las Vegas because of money. Forget what you see in the movies—Sin City isn't reserved for the rich and famous. In fact, there's plenty of ways to have a great time even on a tight budget.
From money-saving tips and tricks to knowing the best affordable places on the Strip, we have your answers for visiting Vegas without the need of all the money in the world.
Keep reading for everything you need to know to live the high-roller life on a low-baller budget!
Book with the Hotel Directly
Unlike third-party booking sites, you'll get a better price if you book with the hotel directly. Using a third party means you're paying extra fees.
Booking directly offers the best price without added fees. And, if you find a cheaper deal elsewhere, some hotels are willing to match it. Not only that but they might even give you extra discounts for restaurants or shopping.
To save money, be sure to check out our hotel deals where you can book directly and receive credit for the hottest spas or enjoy a free buffet!
Know When to Fly
When choosing the time for your flight, non-peak times are usually cheaper. Weekends are expensive so if you don't mind flying in on a Tuesday, you'll get the better deal that way.
Booking your flight early in the morning or late at night (think 1 am or 12 pm) saves money as well. Also, if you can help it, don't book your flight during a holiday. Another thing to be on the lookout for is the convention center schedule. Prices are increased during events like CES and other big trade shows.
Stay at These Budget-Friendly Hotels
With so many casinos on the Las Vegas Strip, not all of them are for high-rollers only. You just need to know where to look for the budget-friendly ones. Most of the time, they're located off the Strip but for those who want to stay in that area, you're in luck.
Some of the more cheaper on-the-Strip hotels include:
Excalibur
Luxor
Tropicana
Flamingo
Horseshoe
Harrah's
These hotels often go for under $70 a night.
If you don't mind staying away from the Strip, the newly renovated Palms and the Rio All-Suite are down the road. Their prices are affordable and you can easily access the Strip from there.
Inquire About Waiving Your Resort Fee
If you haven't heard, most casinos are charging what's called a resort fee. These fees sneak up on you when you least expect it, mostly on your bill when you check out. The amount can be more than $45 in some cases.
These fees, put simply, are for the convenience of the amenities at the hotel: access to WiFi, the swimming pool, and their business center among other things. Even if you don't use any of those amenities, you're still charged.
However, if you've come to Vegas with at least a little bit of a gambling budget, depending on how much you spend and play, that might be enough to get the resort fee waived. Before checking out, ask if they're able to comp some or all of it.
And remember: they can track how much you play through your player's card. These are free to sign up for.
Get Free Drinks
While a Vegas vacation becomes more expensive, one thing you can enjoy for free at most casinos is alcohol. At least, that's how it used to be.
Nowadays, not every casino is handing out free drinks. Before, you could score a drink just by standing in the casino area. Now, they want to make sure you're putting money into the machines.
You'll have to spend certain amounts in order to get on the cocktail waitress' radar. Preferably, placing a maximum bet, depending on the type of machine, will get their attention.
But a tight budget doesn't always allow for a generous gambling spending limit. To score free drinks, sit in on table games instead. If you can swing it, tip the waitress generously as she'll be more inclined to keep serving you at a good pace.
Eat at the Food Court
If you didn't come to Vegas with the idea of splurging on fancy dinners, there's always the food court. It's normally a wide array of fast casual restaurants—McDonald's, Panda Express, and Subway. It'll feed a family for less than what you'd spend at a buffet or café.
Speaking of buffets, if you do want to dine at one, breakfast is the ideal time. It's cheaper than lunch or dinner. Plus, if you eat a big breakfast, you'll be less tempted to eat out during the day.
Research Promotions for Show Tickets
Looking to catch a show during your trip? Tickets can be expensive since the price depends on the type of show and the location of the seats.
To score the best deals, third-party sites often have them. Discounts run deep, with some offering up to 50% off. But before inputting sensitive information, check to make sure they're legit. You can do this with a simple Google search to look for reviews and information about specific sites.
Also, if you're staying in a hotel where the show is, call down to the reception area or concierge service to ask about discounts. Some run special rates for hotel guests.
Avoid Taxis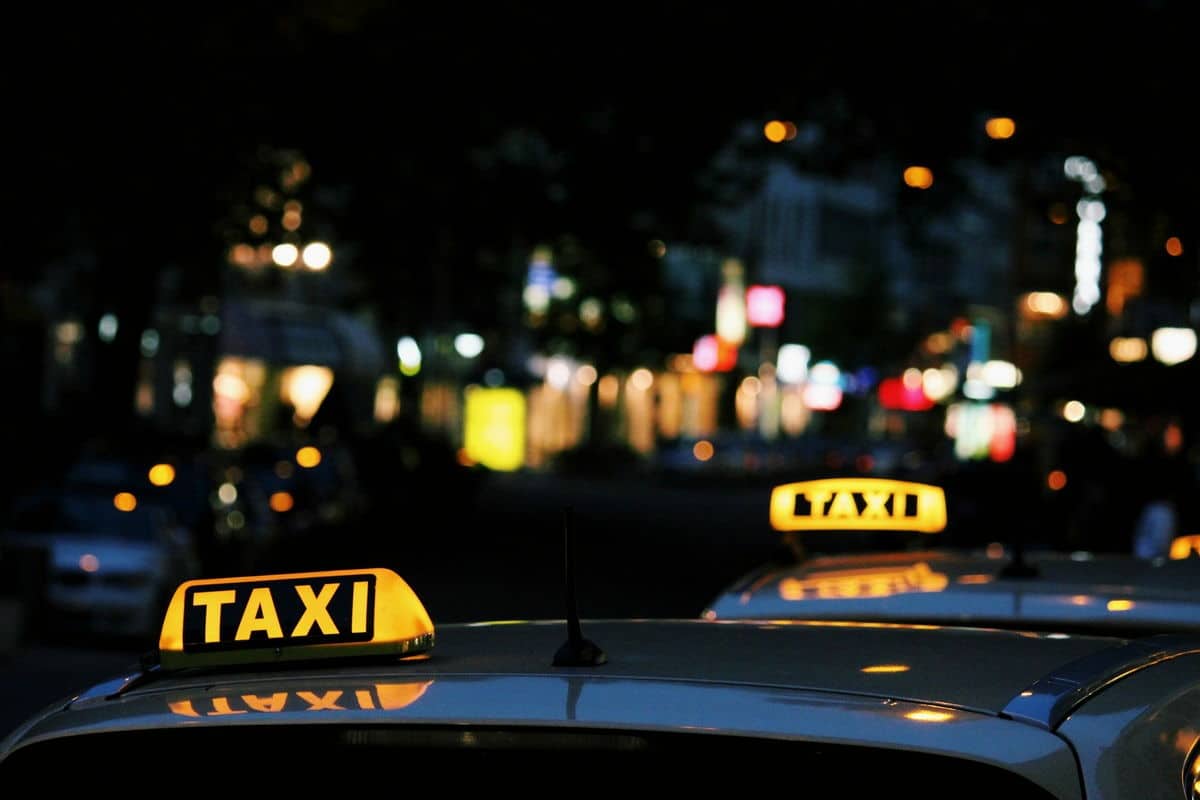 Taxis are convenient with plenty of them on the Strip, but you can get swindled if you use one. Once they find out you're a tourist, some of them will take you on a longer route, known as "long hauling." They do this so it racks up the meter.
Instead of taking a taxi, opt for an Uber or Lyft. You'll be able to track your route through the app and save money. There are also rideshare stations (just like the ones for taxis) so you don't have to wander away from your hotel to catch a ride.
Check Out Free Attractions
Not every place in Vegas comes with an entrance or admission fee. There's plenty of free things to do, such as interacting with mermaids, frolicking with actual flamingos, even participating in a poolside yoga session.
Check out our list of some free things to do in Las Vegas.
Don't Let a Budget Hold You Back
Limited funds don't mean you can't enjoy Sin City to the fullest. You and your family can still have plenty of fun—you just need to know where and when to spend money, as laid out in this article.
To help you save even more money, check out which coupons we offer!