Hidden Spots In Las Vegas: Secret Gems Beyond the Bright Lights
Chances are, you have a list of places you want to see when traveling to Las Vegas, such as the top casinos, big acts, popular restaurants, and some of the best shopping malls in the country. Yet, there is a whole other list of attractions you should consider visiting, including some hidden gems along the Strip and surrounding areas that many locals haven't discovered.
Here are our top-secret destinations you must experience on your next visit. This list has something for everyone, even the hardest to please visitors.
Pinball Hall of Fame
Location: 1610 E. Tropicana, Las Vegas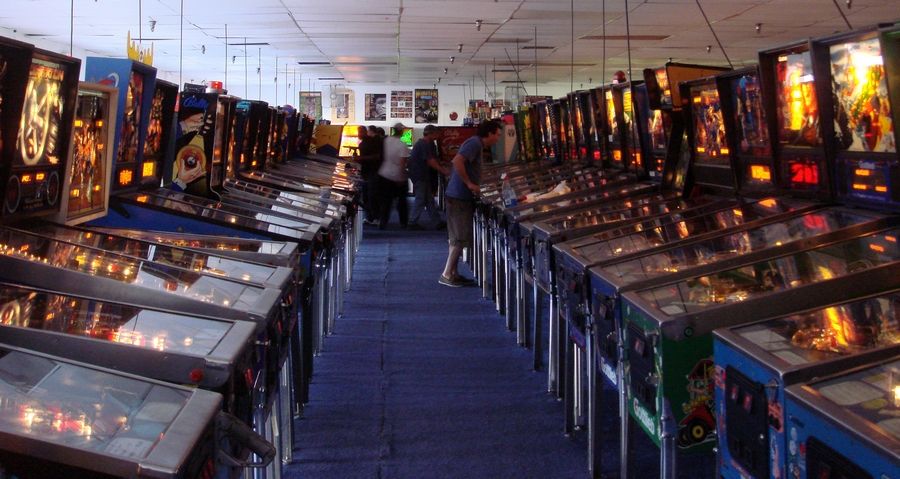 This brings out the kid in all of us. Here you will find over 10,000 square feet of vintage pinball machines. Don't forget to bring a few rolls of quarters and indulge in your inner childhood. You will discover pinball machines from the 1950s to newer 1990 models.
Cosmopolitan's Secret Pizza
Location: The Cosmopolitan, 3708 Las Vegas Blvd., Las Vegas / Located on the 3rd floor!
Imagine if you will, a "to-die-for" pizza that is described as one of the best along the Strip, hidden away from the crowds on the third floor of the Cosmopolitan. This 24-hour eatery is completely off the radar and if you didn't know what you were looking for, you would never find it. Ask just about anyone, and chances are, they have never heard of it. Perhaps no one wants the secret to leak because it's cheap, delicious and located in an unmarked corridor. In fact, this pizza joint doesn't even have a name, but it's worth finding.
Zombie Apocalypse Store
Location: 3420 Spring Mountain Road, Las Vegas
Just when you thought you saw everything in Las Vegas, you discover the Zombie Apocalypse Store. Situated near Chinatown in Las Vegas, this is where you can discover, well, everything you need to know about being a zombie. Shoppers will find machetes, Zombie Hammer "Brain Saw," or simple t-shirts with a "Hello Zombie" imprinted. Be prepared as this store is not for the weak of heart, but you will enjoy it anyway.
Mob Museum and Mob Bar
Location: 300 Stewart Ave (Downtown Las Vegas)
No doubt, at one time Las Vegas and the Mob were often used in the same sentence since it's no secret they had a well documented partnership. The Mob Museum reveals what really happened during the mob's heyday in Las Vegas. Here, you will discover the myths and the true history of organized crime in the United States. It's a fascinating tour that includes artifacts such as the barber chair Albert Anastasia (Murder, Inc. boss) was sitting in when he was murdered.
When you finish, hop next door to the Mob Bar, a prohibition-style bar reminiscent of a 1920's supper club. You won't find ordinary cocktails here, as drinks have been developed by renowned mixologists. It would be difficult to find a more unique drinking experience in downtown Las Vegas.
Frankie's Tiki Room
Location: 1712 W. Charleston Blvd (Downtown Las Vegas)
Craving an authentic rum drink? In what has been described humbly by Frankie's website as the "foremost tiki bar designer in all of the world," here you will find a Polynesian influenced decor with hand-carved seating by renowned artists, idols, artwork and a variety of odds and ends that make this a truly one of a kind drinking venue. Located in downtown Las Vegas, you can order from a selection of traditional cocktails and exotic rum drinks 24 hours a day.
Springs Preserve
Location: 333 S. Valley View Blvd. Las Vegas
If a casual walk in fresh, smoke-free air is needed after a long night in the casinos, be sure and visit the Springs Preserve, a welcome escape from the crazy Las Vegas party scene. Here you will discover botanical gardens, peaceful paths, and hiking along lush landscaping. You will also find nature exhibits, live animal shows and interactive science exhibits. A wonderful cafe is located on the grounds as well.
Seek out the unusual
Las Vegas is full of surprises, but none more than these unique, interesting, and often secluded getaways. While the Strip is a terrific source of unparalleled entertainment, the goal of any traveler should be to seek out the unusual. With the above interesting and unforgettable attractions, chances are your trip will offer some discoveries you never know existed.
What are your own favorite secret places in Vegas? Share them in the comment section below!