Top 10 Things to Do in Las Vegas When It's Too Hot Outside
Summer in Las Vegas can be brutally hot – take it from someone who lives here. Temperatures are regularly above 100° Fahrenheit (that's around 40° Celsius for the rest of the world) and the sun is relentlessly bright.
If you're visiting during the summer months, you're going to need this list of the top things to do in Las Vegas when it's ridiculously hot.
#10: Gamble
Casinos are designed to be comfortable. They want you to stay for a long time, so they keep the climate cool, even when it's blistering outside.
Besides, when someone asks what to do in Las Vegas, gambling is pretty much always on the list.
If you've never gambled before, it's easy to start learning the basics on slot machines. They're simple and fun, and a little time at a slot machine is perfect when you need an hour or two to just sit down and cool off between adventures.
#9: Sleep Late
New York is the city that never sleeps.
Las Vegas is the city that sleeps until noon, then goes out for brunch.
Take a cue from the desert wildlife, and nap during the hottest hours of the day. If you're coming from the east, take advantage of your jet lag and do some sightseeing in the early hours of the morning, right around sunrise, and then retreat to your hotel room for a cool afternoon nap when things start to heat up.
You'll be up just in time to:
#8: See a Show
When it gets hot in Las Vegas, it stays hot until well after the sun goes down. Give that pavement time to cool off by seeing a show.
If you're smart, you'll shop for discount Vegas show tickets online before your trip. That way, you can save a little money and come prepared.
Lots of people think they'll just buy tickets at the door or look for one of those ticket kiosks on the strip. Unfortunately, a lot of those people end up not seeing a show at all.
Either the show they want to see is sold out, they don't set aside enough money to cover tickets in addition to their other trip expenses, or they can't agree on which show everyone wants to see. Just skip the hassle and buy tickets in advance.
#7: Check Out Indoor Las Vegas Attractions
The Bellagio Lobby
Exhibits like the Titanic Artifact Exhibition at Luxor and Madame Tussauds Wax Museum at The Venetian are cost-effective, air-conditioned, and perfect for a hot Las Vegas summer day.
Every casino resort has something to do or see inside, and some – like the conservatory in Bellagio – are even free.
If you really want to cool off and have the time of your life, you should consider indoor skydiving. You get the sensation of skydiving while you're actually floating on air in a wind tunnel!
#6: Get a Spa Treatment
Kick back. Relax. Get a massage to relieve your sore muscles.
When you come to Las Vegas, you're probably going to do a lot more walking than you think. Even just strolling down The Strip looking at the flash and glamour is more exercise than most people expect.
While the sun is high, schedule a spa day and cool off in style.
#5: Have the Shopping Trip of Your Life
#4: Order Room Service
When you're staying at a luxury resort, you might as well enjoy your room, right?
Some of the nicest and most opulent hotel rooms in the world are in Las Vegas. Cozy up with someone special, order a bottle of champagne, and wine away the hottest part of the day together.
#3: Get Off The Strip
Red Rock Canyon
Whether or not you rented a car, you can still get around Vegas. You don't have to stay around your hotel.
The landscape around Las Vegas offers some of the most stunningly beautiful views in the world. From Red Rock Canyon (which has a scenic drive so you can see everything from your air conditioned car) to Valley of Fire, the natural beauty is incredible. You don't have to go out in the heat, either – take a helicopter tour of the Grand Canyon if you're not particularly outdoorsy.
If you're not up for that much of a jaunt, Seaquest Aquarium is just a short distance from The Strip, and you can snorkel with stingrays!
#2: Eat & Drink
Whether it's hot, cold, or practically perfect, you're going to have to eat and drink. When you're in Vegas, you've got a chance to eat some of the best food in the world.
Starting in the warm days of March, bars, and restaurants with patios put out misters (they create a fine water mist) to cool the air around their outdoor seating. It might not seem like much, but they work really, really well in the dry climate.
When you start feeling the heat, find a good vantage point for people-watching, order a tall drink and a cool snack, and rest your feet.
By the way, this isn't just a matter of comfort. Staying hydrated while you're in Vegas is important to prevent heat exhaustion!
#1: Lounge Around the Pool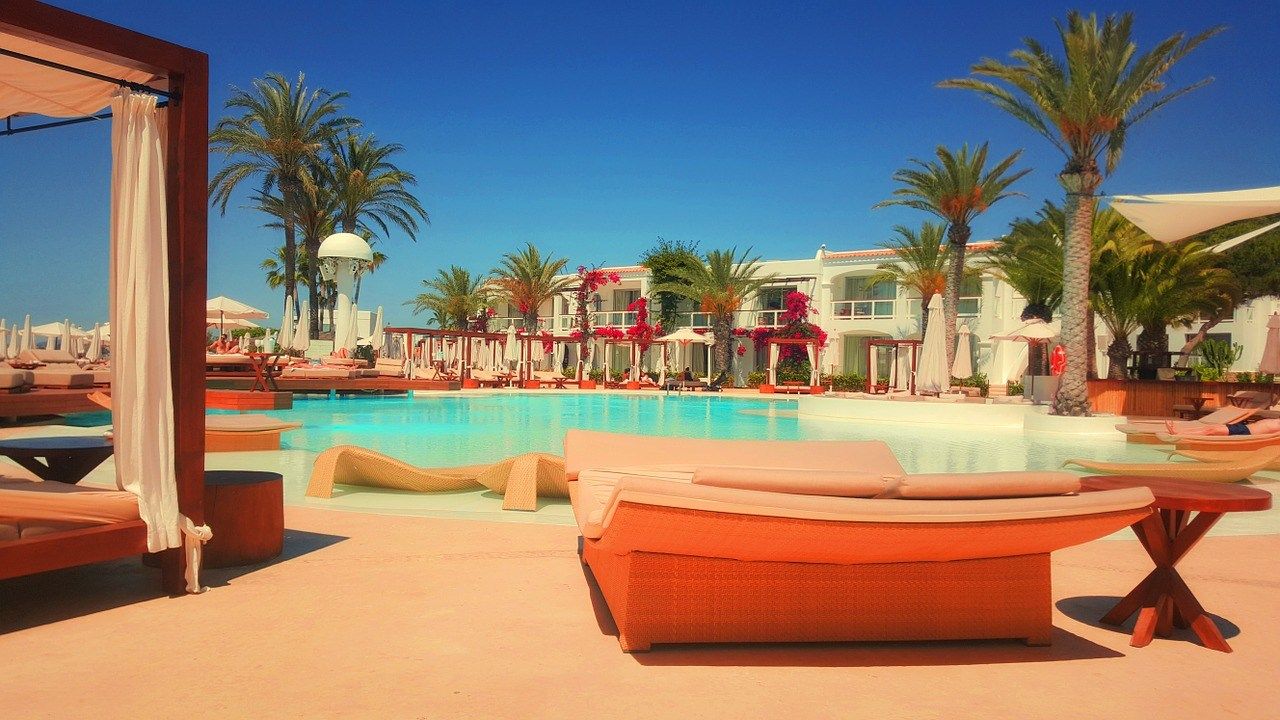 In Vegas, we have two seasons: winter, and pool season.
Summertime visitors are as likely to choose a hotel based on the quality of its pool as any other factor, and for good reason.
For some, it's all about the pool parties. Live music, light shows, cold drinks, and cabanas are synonymous with summer in Vegas.
Some pools are toptional, so women are free to forego their bikini tops if they're in the mood. These are strictly adults-only, and they're tucked away in private locations for a more mature 21+ crowd.
There are family-friendly "beaches," water parks with slides and rides, and even a waterslide through a shark tank at Golden Nugget.
For locals and visitors alike, the best way to beat the heat and survive a scorching Vegas summer is a dip in one of the excellent resort pools.