All About Area 15 and 15 Things to See There
The enigmatic Area 15 entertainment complex in Las Vegas continues to grow into its 390,000 square foot indoor and outdoor space in the covert bend of Interstate-15 and Desert Inn, at Rancho; a hop, skip and jump (about a mile) from the Las Vegas Strip, Chinatown Las Vegas and hotel-casino outliers like Palace Station and the Rio.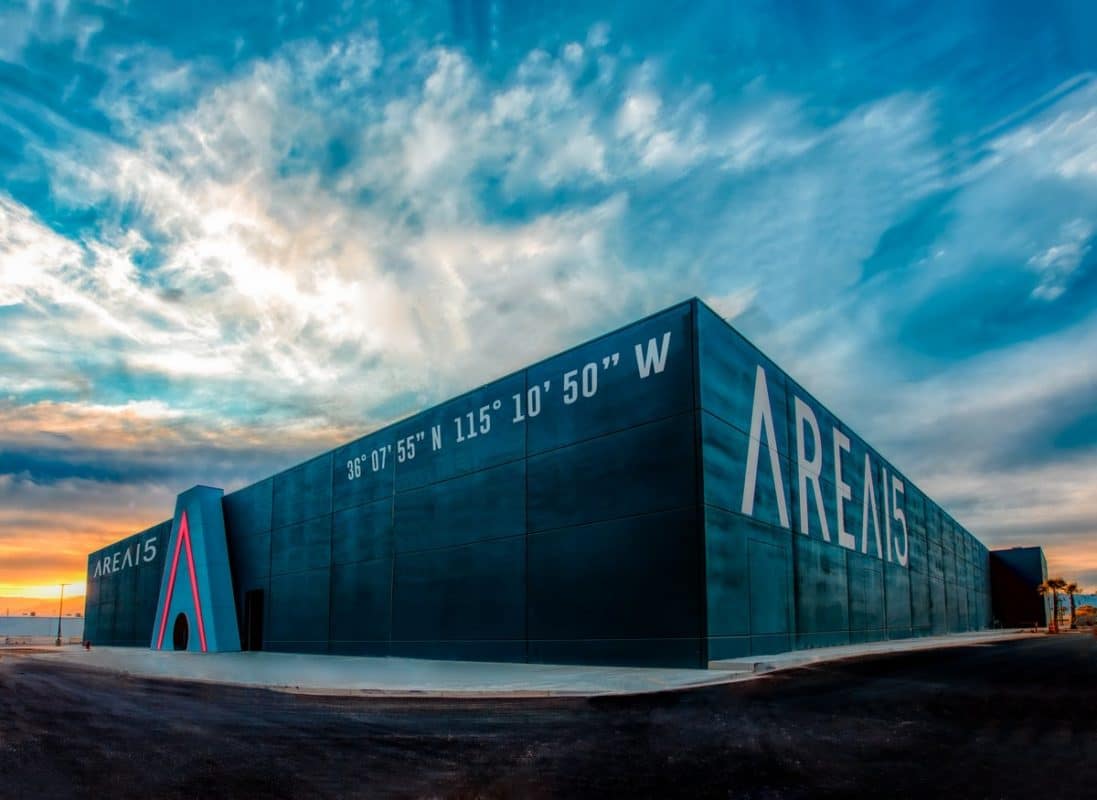 Grittier and less polished than other bastions of Las Vegas counterculture, like the downtown art district and Fremont Street East, the quiet industrial district close to the Area 15 complex is eclectic, to say the least, with views of iconic Strip hotels and a mixed fanny pack of businesses including dispensaries, churches, auto repair shops, an indoor machine gun range, a sex superstore, an iconic costume shop, and an erotic museum.
Offerings at Area 15, meanwhile, are more on the family-friendly side, apart from the alcoholic beverages (but that's pretty much par for the course in Las Vegas). Speaking of pars and courses, this neighborhood is familiar to those of us who fondly remember playing minigolf at the long-gone Scandia Fun Center (may it rest in peace). Once located at Ranch and Sirius, this Vegas memory is now home to Area 15's overflow parking lot and 20,000 square foot festival grounds.
How to get to Area 15
Driving to Area 15, located at 3215 South Rancho Drive, is relatively easy from most directions in the valley and there's easy access for visitors coming and going in rideshares. Parking in the lots is free (no longer a guarantee in Las Vegas), but most experiences are ticketed, once inside. The various retail, bars, and eateries aren't cheap, but the prices are comparative to other tourist destinations. Local discounts and bundle experiences are available. People watching costs you nothing.
What you'll find at Area 15
At first glance, Area 15 is a handful of subtly-lit rectangular buildings and a large parking lot—warehouse chic is the term that comes to mind. But, of course, there's more than meets the eye at this collaborative venture from real estate development firm Fisher Brothers and creative agency Beneville Studios. The largest building houses Area 15's star attraction, Meow Wolf's Omega Mart; it's also home to several more interactive exhibits, VR experiences, games, retail, dining, drinks, and an art-filled corridor known as The Spine. Gray on the exterior, the interior is another universe completely, with a kaleidoscopic yet utilitarian vibe, like private rave meets suburban mini-mall.
Fronting the main building, at the center of the south parking lot, Art Island is a free open-air gallery of large-scale sculptures, many of which were once on display at festivals like Miami's Art Basel and Nevada's Burning Man. Additional large-scale art pieces are on display inside the main building. The Art Island is where guests with tickets to an experience typically check-in upon arrival.
To the immediate west of Art Island, the vertical Liftoff ride is impossible to miss, rising 131 feet in the air from the Liftoff Lounge.
North of the main building, the four-acre festival grounds, called The Grounds, has a separate entrance and parking area for those attending shows. It is also accessible from the main building by a side door.
Area 15's newest attraction, Illuminarium, is a cinematic, sensory projection experience, housed in its own 36,000 square foot building, adjacent to the main building. The acclaimed Lost Spirits Distillery is a short walk away, located toward the southwest end of the south parking lot.
15 things to see at Area 15
Omega Mart
There isn't typically much intrigue to the chore of grocery shopping (unless you're a rabid deal hunter), but Omega Mart isn't your typical grocery store; it's so much more. It's essentially a portal to another world. There's even a bar. And slides. Created by Santa Fe-based artist collective Meow Wolf, this interactive art installation has more layers than an onion. Unravel its mysteries, laugh at its witticisms, or simply ogle and observe. It's not uncommon to spend hours going down the Omega Mart rabbit hole.
Check out our latest discounts and promotions for Omega Mart tickets.
Wink World
Created by Blue Man Group co-creator Chris Wink, the possibilities are limitless on this psychedelic, infinity mirror-filled journey. Lights, color, sounds, music, and motion combine to create a candy store for the eyes, ears, and soul.
Cluster at Museum Fiasco
This audiovisual light show from Playmodes Studio uses strobe and fog effects to mess with your perception and make geometry cool again.
The Beast by Todd English
With tasty options for both carnivores and herbivores, this self-described food hall comes from renowned chef Todd English, a four-time James Beard Award winner. There's an extensive menu for adults and a smaller menu for kids, as well as plenty of cocktail options at various price points. Have dinner and a drink all in one with The Bloody Mess!, a 32-ounce, Vegas-style take on the Bloody Mary, topped with a burger, four wings, a mini corn dog, potato spiral, pickled veggies, and celery sticks.
Oddwood
Drink a cocktail, like the 3.5 oz Eat Me, Drink Me potion from the We're All Mad Here menu, under 50,000 mesmerizing LED lights on the leaves of a 25-foot-tall digital Japanese maple tree, located in The Spine.
Silent Disco at the Sanctuary
The Sanctuary is a 1,900 square foot earthy space in The Spine with a 34-foot-high bamboo volcano structure by Elora Hardy. On Friday and Saturday nights, starting at 8:30 p.m. for all ages (but 21 and over after 10 p.m.), the 1,900 square foot earthy Sanctuary space transforms into a silent disco with complimentary glowing headphones. It's the quietest dance party curious onlookers have ever seen.
The Portal
It started with 360-degree digital exhibitions of artists Van Gogh and Klimt, and then a showing of Princess Bride stormed the castle, a.k.a. Area 15. The Portal is a 6,584 square foot space with four projection walls, housing these immersive experiences. It also provides a truly transformative environment for a select Saturday yoga class, led by well-known Las Vegas yoga instructor Dray Gardener.
Dueling Axes
Even if you didn't grow up chopping firewood, you can learn how to master an axe—well to throw one, at least. This indoor competitive axe throwing lounge hits the bullseye with 18 throwing lanes and a menu of signature cocktails.
Emporium Arcade Bar
Two floors of arcade games, a pool table, beer, and cocktails. Need we say more?
Rocket Fizz
Blast off for fun in a shop full of thousands of silly sodas, crave-worthy candy (including saltwater taffy), and gag gifts.
Liftoff Ride
Located in the south parking lot, the Liftoff ride slowly ascends from its launching point in the Liftoff Lounge, offering riders of all ages a chance to spend 7 minutes in (nearly) heaven, 131 feet in the sky, with a 360-degree view of the Las Vegas valley.
Illuminarium After Dark
Not only immersive but also interactive, Illuminarium is cool enough during the day with three compelling projection shows to choose from. In some ways, it reminds us of a 21st Century version of Star Trek's Holodeck. After dark, the 33,000 square foot venue transforms into a unique nightlife hotspot with a swank waitstaff, lowkey vibe, and popular tunes. Drink a cocktail under the sea or at a café in Tokyo in one room, then mosey into the next room to wander the surface of the moon, smell the flowers or go on a wild safari (depending on the show of the night). Tickets for the after-dark experience include admission and a free drink.
Lumin Café & Kitchen
Located in the Illuminarium building, this tasty dining destination from James Beard Award-nominated husband and wife, Elizabeth Blau and Chef Kim Canteenwalla, has a bright, naturally lit dining room and a cozy outdoor patio for noshing on tasty bites, craft cocktails and specialty coffee.
Lost Spirits Distillery
Tour a 35,000 square foot working distillery with multiple tasting rooms, strong drinks and live entertainers like snake charmers, acrobats, magicians, and animatronic birds. The distillery's co-founder, Brian Davis, invented a method for barrel aging distilled spirits in a laboratory, and word on the streets (of Area 15) is that these spirits are strong!
20,000 Leagues Under the Sea
Dine your way through this classic science fiction book chapter by chapter with a 16-course menu and cocktail pairings, prepared by Chef Taylor Persh. The ticket price includes admission to Lost Spirits Distillery.
Why visit Area 15
Area 15 is the kind of place where you can express yourself or hide in plain sight. It appeals to people of all ages and is a popular draw for tourists and locals alike; so much so that Area 15 recently announced it will open a second location in Orlando in 2024.
With popups like the upcoming Boozy Cauldron cocktail experience in June, huge concerts like the Daytime Stage at the iHeartRadio Music Festival in September and other special events, in addition to its permanent fixtures, Area 15 continues to expand and evolve. Maybe one day it'll even bring minigolf back to the grounds.