Top 10 Romantic Things to Do in Las Vegas
Las Vegas has the reputation as the place where you go to party with your friends.
You might take your bachelor party there, but not your fiance. People don't always think of it as the most romantic place in the world.
But, that's a misconception! Las Vegas is full of romance.
The lights of Vegas makes for the perfect backdrop for a lovers' vacation. With all the amazing restaurants, shows, and sights, there's plenty for a couple to do. You might be so swept off your feet you end the vacation with a wedding!
Planning a trip for two to the city that never sleeps? Read on for the top 10 romantic things to do in Las Vegas and see how many you can check off the list.
1. The High Roller at The Linq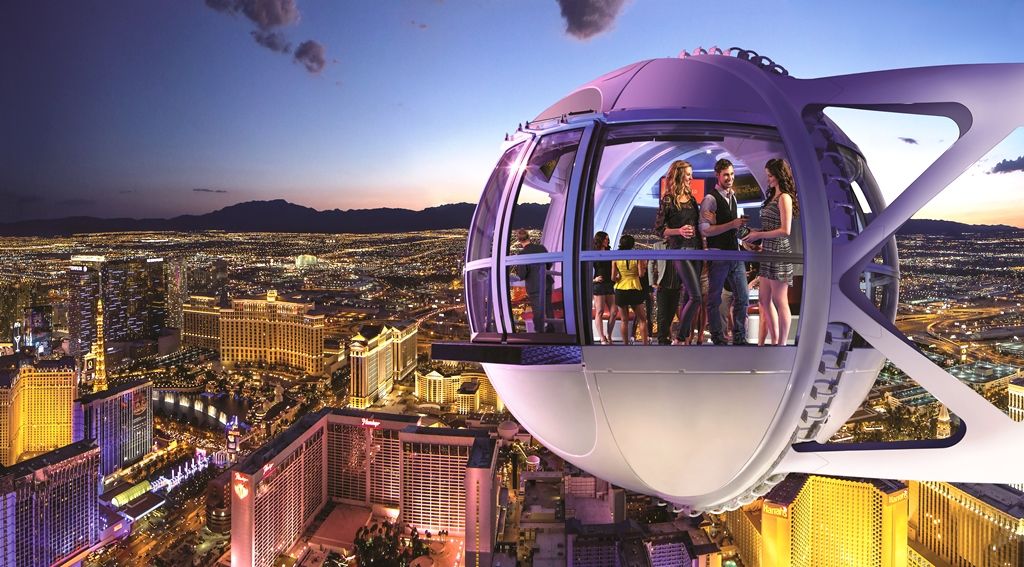 The High Roller at The Linq hotel is so much more than just a Ferris wheel ride. It's actually the world's tallest observation wheel. It clocks in at 550 feet tall.
If you or your partner are afraid of heights, that shouldn't keep you from taking a spin. It moves very slowly. One rotation takes about 30 minutes.
Take a ride at sunset or at night to see the lights twinkle on the strip.
One hot tip is to upgrade to an open bar ticket. You'll have a bartender mixing as many drinks as you want during your rotation.
2. Eiffel Tower Experience at The Paris Hotel
If you can't make it to France, Vegas is the next best thing.
The Eiffel Tower experience at the Paris hotel is one of the most romantic things to do in Las Vegas. Ride all the way up to the recreated Eiffel Tower. The observation deck gives you a view of the city at 46 stories high.
After taking in the sights you and your love can enjoy French food at their Eiffel Tower restaurant. By the time you get back down to the Strip you'll forget you weren't in Paris the whole time.
3. Get a Couples Massage at The Aria
Almost every hotel in Vegas has a luxurious spa where you can get pampered. Though, there are some spa stand-outs.
The Aria's spa was named one of the Top 5 Vegas Spa Experiences by Travel and Leisure Magazine.
After getting your couples massage, there's still so much more relaxing to do.
Kick back in the Shio Salt Room. The Himalayan salt air is said to be very therapeutic. There's also a quiet pool area where you can take a romantic dip.
4. Gondola Rides at The Venetian
There aren't many things more romantic than taking a gondola ride through Venice, Italy. But, when you can't go to Italy, bring Italy to you!
A ride around the Venetian hotel is $29 a person. But, if you really want a romantic moment (a proposal perhaps?) you can get a private ride. That will cost you $116.
As the gondolier takes you on a tour of Italy, don't forget to kiss for good luck! An Italian tradition is to steal a smooch whenever you pass under a bridge.
5. Zumanity at New York-New York
When in Vegas, you have to see a live show. Looking for something entertaining and tantalizing? Don't go for the regular topless showgirl revues.
Zumanity at the New York-New York hotel is sensual and classy. This is Cirque du Soleil's adults-only show. You'll be in the mood right away when you step into the dark cabaret setting.
The show includes the amazing acrobatics you'd expect from Cirque, with a lot of extra spice.
Note: In November 2020 Cirque du Soleil permanently closed Zumanity.
6. Conservatory Garden at the Bellagio
This is one of the best free and romantic things to do in Las Vegas. Take a stroll through the observatory and gardens on your way to dinner.
The installations and displays change year round for every season. No matter how many times you visit Vegas you can always see something new here!
7. The Observation Deck at The Strat
Having a beautiful vantage point of the lights of Vegas is always romantic. The Observation Deck at The Strat is one of the best!
The deck is 1,149 feet up in the air, and is the tallest free-standing observation tower. If you're a little nervous of heights, take the edge off with a cocktail at the deck's Airbar.
But, if you really want to get your love's pulse racing, try the Stratosphere's Sky Jump. That's right, for $119.99 you can bungee jump off the tower!
8. Shark Reef at Mandalay Bay
The Shark Reef at Mandalay Bay is a great romantic thing to do during the day. You can take a stroll along the beautiful aquarium tanks. It's the perfect backdrop for some cute selfies.
If you want an experience you'll never forget, together you can dive with the sharks. For $1,000 a couple, certified divers can swim with over 30 exotic sharks.
9. Dine at e by Jose Andres
E by Jose Andres at The Cosmopolitan hotel is one of the most romantic dining options on the strip.
It's an intimate spot, in a private area. Much of the walls and decor are red, the color of love. This famous chef put together an unforgettable, Spanish-style menu.
10. Get Married at Wynn
Sure, you could get married at a cheesy chapel with Elvis officiating. But, if you want something really romantic, say your "I do's" at the Wynn hotel.
Whether you want a big, elaborate wedding or an intimate elopement, there's something here for everyone.
Do something small in the Primrose Garden. Want something flashy? Try "The Intrigue Ceremony" set in their nightclub.
There are Many Romantic Things to Do in Las Vegas
You can see a show, eat a beautiful meal or just take a nighttime stroll among the neon lights. No matter what your budget, you can find plenty of romantic things to do in Las Vegas.
Are you planning a trip to Vegas? The great thing about this city is how many deals you can find. Sign up here to be on our VIP member list, and be the first to hear about discounts for your next Vegas vacation.